Splashing on a fresh coat of paint is the fastest, easiest and cheapest way to refresh your home interiors. Aside from just painting the walls, you can also use them as the room's accent or décor. Whether you're looking to add a splash in the living room or spruce up your bedroom wall decor, we've got the best painted accent wall ideas right here.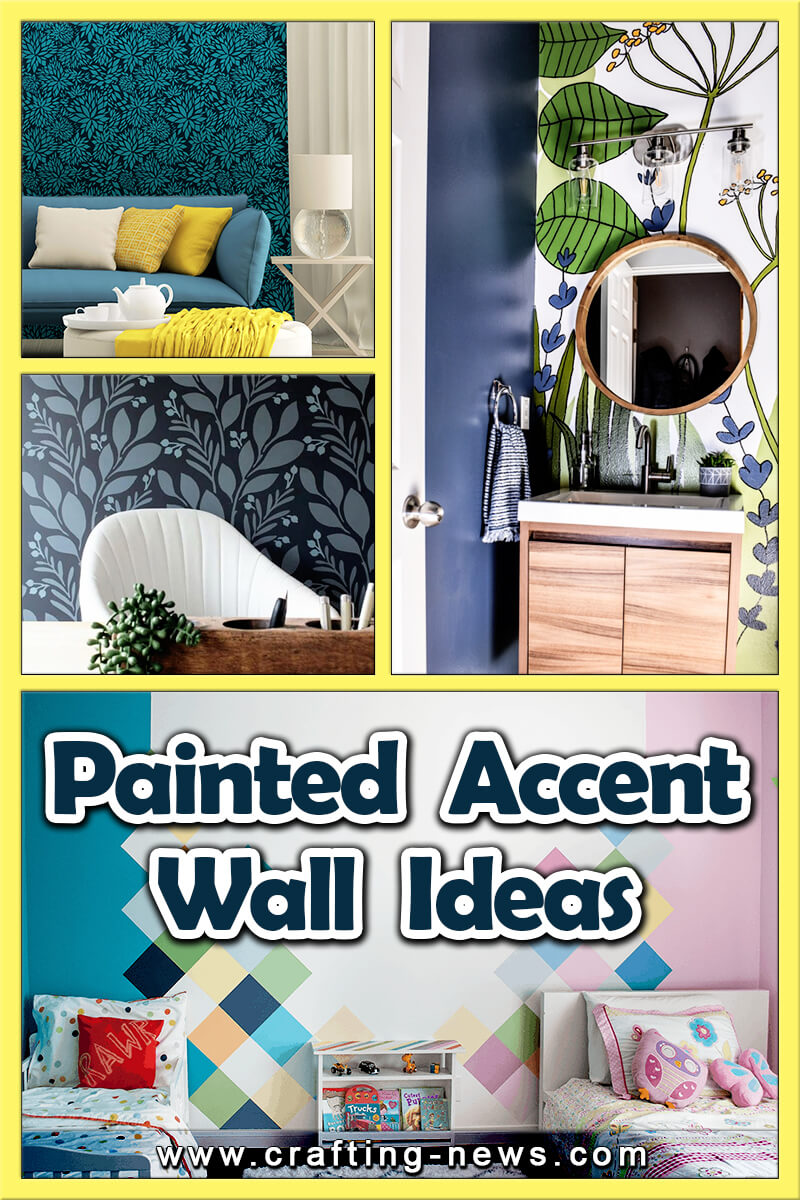 37 Stunning DIY Painted Accent Wall Ideas
With a little artistry and a lot of imagination, your walls can be highlights of the room or the house! Here are some easy DIY wall paint ideas that will instantly transform the wall from humdrum to fabulous.
Check these painted accent wall ideas and get ready for some painting!
1. Rainbow Corner Accent Wall Idea by A Beautiful Mess
One way to add color and fun to a playroom, or kids room, is to paint an accent wall. This DIY rainbow corner accent wall is beautiful! It's done in soft shades of pink for a more neutral rainbow.
Get the idea here
2. Denim Faux Finish Painted Wall Stencil Tutorial by The Heathered Nest
If you love that denim look, bring it to your walls with denim paint using this faux texture painting technique. Here's a step-by-step tutorial to achieve faux finish walls and add personality to your space.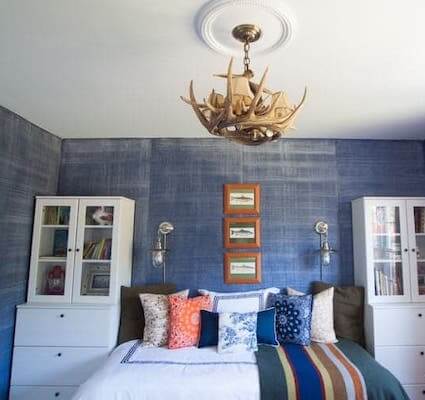 Get the idea here
3. Terrazzo Painted Accent Wall by House On A Sugar Hill
What a statement this DIY terrazzo accent wall makes in this space! It's like the entire wall is a modern piece of art.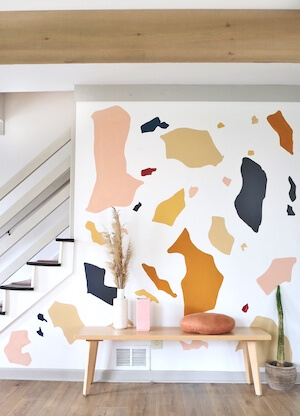 Get the idea here
4. Easy Sponge DIY Painted Accent Wall by Wild Rose Country Home
Not only is this technique simple, you can go bold with your color choices, or keep it neutral.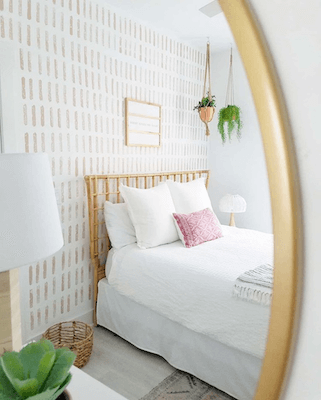 Get the idea here
5. Painted Terrazzo Confetti Accent Wall Stencil by A Kailo Chic Life
Is there anything more fun than confetti? How about a wall paint confetti accent wall?! You can't help but smile when you see this bright and cheerful space.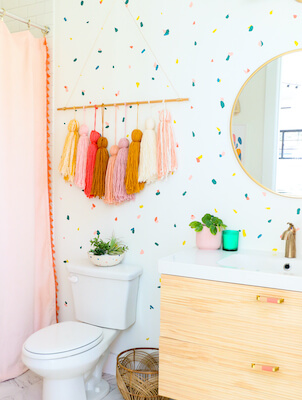 Get the idea here
6. Accent Wall Stencil by Stencils Lab NY
Try this modern painted wall stencil to create a stunning wall design! Use this simple form stencil with delicate colors or vice versa with a contrast color scheme of light and dark and you will easily achieve a stunning modern Scandinavian look!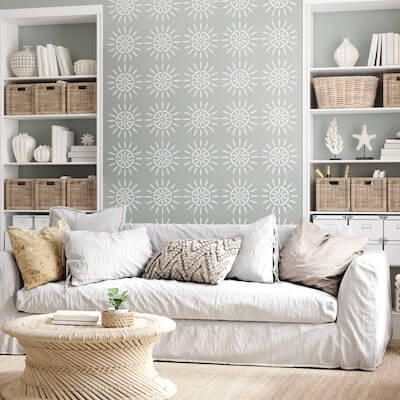 Get the stencil by Stencils Lab NY here
7. Ombre Hexagon Painted Accent Wall by The DIY Nuts
Create a beautiful DIY painted accent wall by simply using painter's tape and paint. You can create a modern geometric look for a super fun statement wall.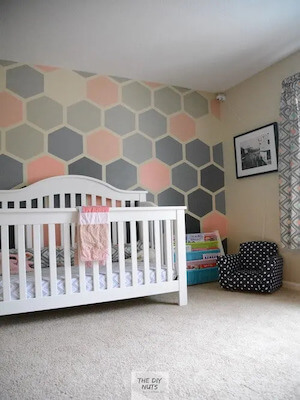 Get the idea here
8. Painted Geometric Accent Wall by Sugar & Cloth
Simple and bright lines in a punchy color make for a surprisingly powerful accent wall statement! You'll only need a few simple supplies for painting this accent wall, the hardest will be narrowing down which colors you want to go with!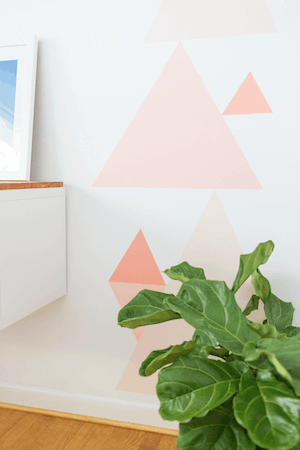 Get the idea here
9. Painted Buffalo Check Wall by The Learner Observer
Adding a design to your wall is no harder than a couple colours of paint and some frog tape! The results of this buffalo check wall are beautiful!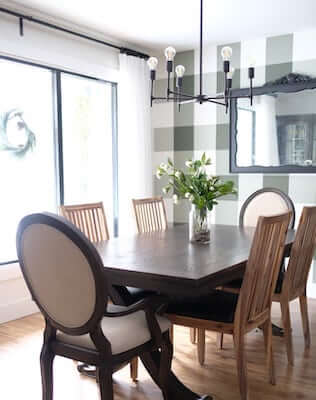 Get the idea here
10. DIY Watercolor Mountain Wall Mural by Crafted By The Hunts
A beautiful mountain wall adds a feeling a serenity to a space. Grab a sea sponge and a spray bottle and make this mountain wall a reality in less than an hour. It's significantly easier than it looks!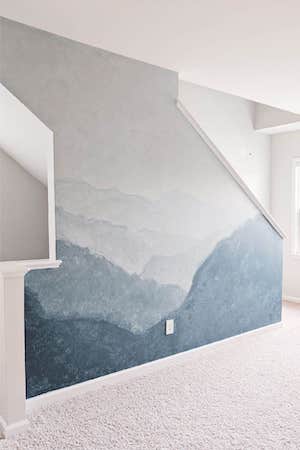 Get the idea here
11. Painted Stencilled Wall by Making It In The Mountains
Have you been dying to try painting a stencilled wall, but it just seems like so much work? You won't believe how quick and easy it really is!
The Palace Trellis Moroccan Wall Stencil is as regal as its name states! Perfect for an entry way or sitting area or a touch of elegance to any space.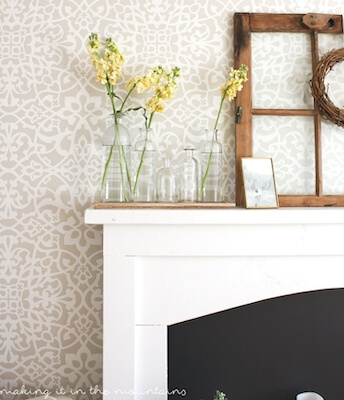 12. Painted Faux Concrete Wall by Songbird
Painting a faux concrete wall is easier than you might think and you don't need any special paints to get this effect. Concrete is becoming increasingly popular in the design world, so why not try mimicking the look on a wall?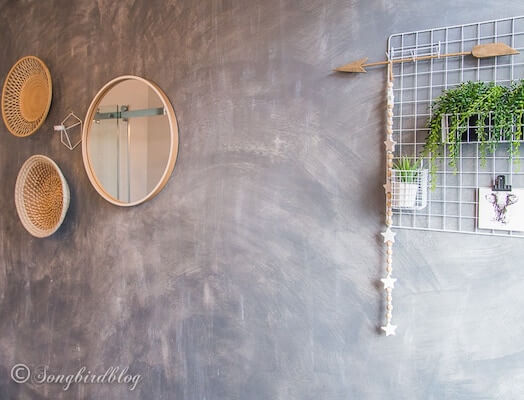 Get the idea here
13. Modern Flower Wall Stencil for Painting by Royal Stencils
The Petal Play Floral Damask Modern Wall Stencil is perfect for decorating walls and furniture with a flower pattern that is romantic yet whimsical.
Use this nature inspired flower stencil pattern for wall, floor, furniture, or fabric stencil projects.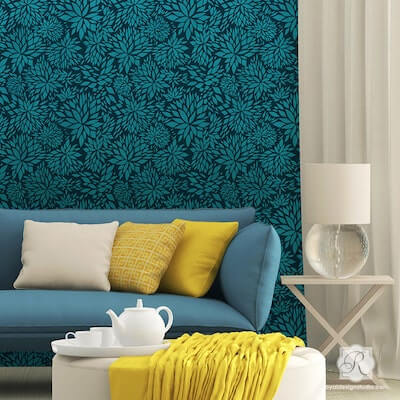 14. Herringbone Accent Wall Stencil by Stencils Lab NY
Try this modern minimalistic Hand Drawn Herringbone Accent Wall Stencil to create a stunning Scandinavian design! Use this simple form stencil with delicate colors or vice versa with contrast colors of light and dark- and you will easily achieve a stunning modern Nordic look!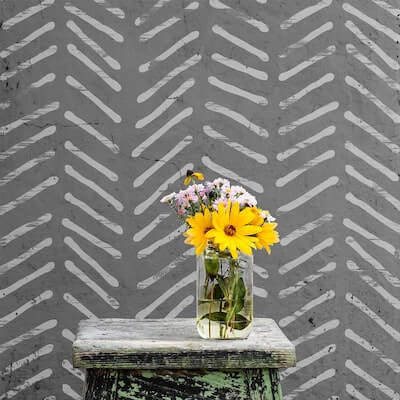 15. Aztec Tribal Triangles Wall Stencil by Royal Stencils
This Aztec Triangles Wall Stencil is inspired by the natural beauty of African and tribal design with a random pattern geometric shapes that makes it perfect for a modern accent wall.
Let your imagination run wild by pairing contrasting colors with this geometric triangle design!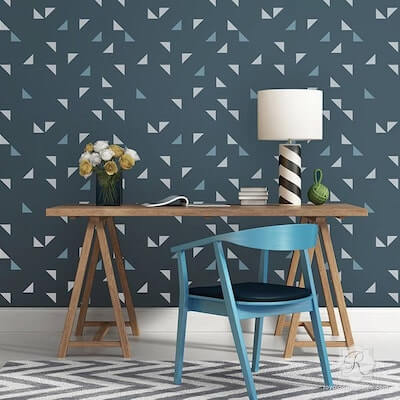 16. Washed Out Stripes Bathroom Accent Wall by Rain On A Tin Roof
This isn't your typical striped accent wall. Instead of bold, solid stripes, these are toned down, washed out stripes to create a gorgeous blue accent wall.
You can easily recreate this look with any colors of your choosing and have your own gorgeous bathroom accent wall in a day's time.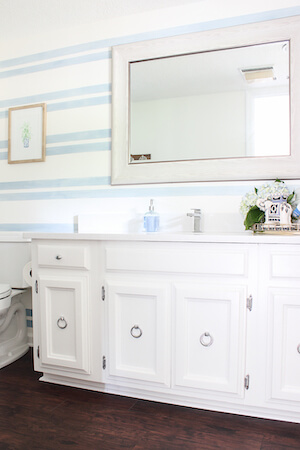 Get the idea here
17. Leaf Large Wall Stencil by Bomb City Stencil
Liven up any space or project with a chic contemporary pattern! This stencil for painting is 12" by 24" great for large projects like walls or floors, but can also be great for use on furniture projects as well!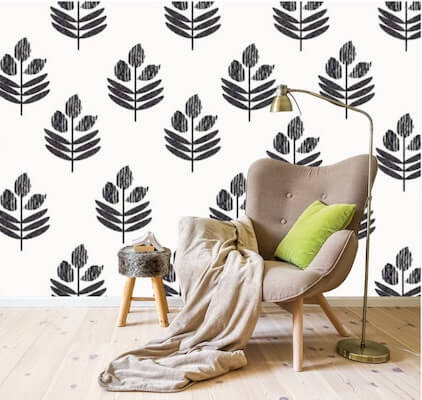 18. Art Deco Lattice Accent Wall Stencil by Stenciled Up
A beautiful Art Deco inspired accent wall stencil pattern. This design is easy to line-up to create an all-over wall covering. This large wall stencil for painting can also be used as a craft stencil.
19. Fish Scale Wall Stencil by Stencils Lab NY
Gorgeous classic allover wall stencil – Fish Scale! Try this Fish Scale Wall Stencil for your next DIY wall decorating project! This gorgeous reusable wall stencil give your a look of designer wallpaper for a much lower price.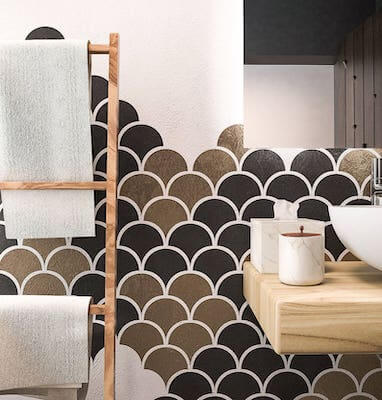 20. Beaded Pattern Wall Stencil by My Wall Stencils
This beaded pattern wall décor stencils will liven up any room! Use this pattern to tie together a nautical-themed den or liven up a beach-themed bathroom.
For the truly motivated, try alternating the direction of the stencil from vertical to horizontal on opposing walls.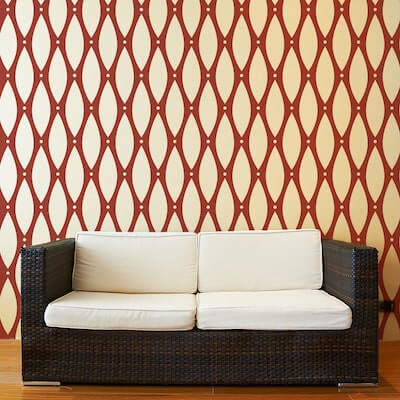 21. DIY Color Block Painted Accent Wall by Neatly Living
Go bold with a color block painted accent wall. Completely transform a room with your favorite colors. Such a great way to frame a television, or art work.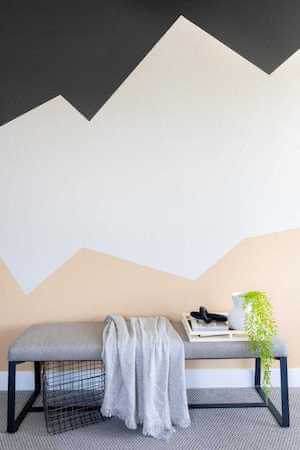 Get the idea here
22. Loose Weave Painted Wall Stencil by Royal Stencils
This Loose Weave Wall Stencil can either look like a natural woven design or modern geometric squares. Paint this wall pattern in natural hues like gray or beige for a cozy knit feel, or paint it colorful for a vibrant and contemporary look.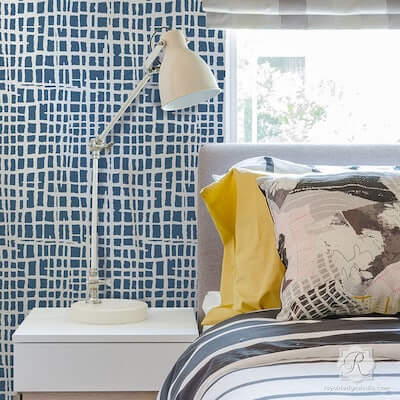 23. DIY Stamped Accent Wall by Remodelaholic
Painting doesn't have to involve rollers and gallons of paint! We love this approach to stamping your own beautiful accent wall.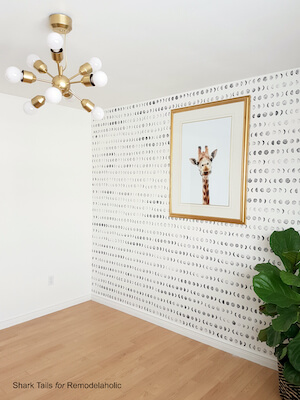 Get the idea here
24. Triangle Painted Accent Wall Idea by Lolly Jane
Create a bold focal wall in no time at all with quality paint and just a few supplies! This easy painted triangle accent wall turned a boring nursery into a work of art – just look at how quick it was to do!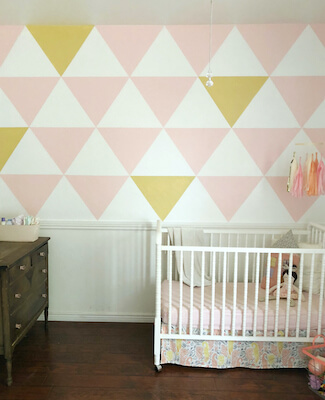 Get the idea here
25. Palm Leaf Wall Stencil by Stencil Labs NY
This sleek art deco wall stencil makes it simple to jazz up your space and add some Gatsby flair to any wall. Pair this wall stencil with rich, bold colors for a luxurious old Hollywood look or tone it down with pastels for a sweet vintage feel.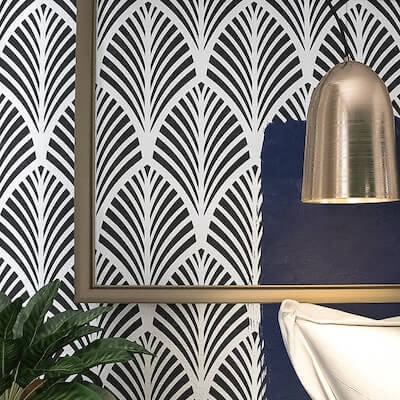 26. Rough Diamond Wall Stencil by Stenciled Up
This Rough Diamond Wall Stencil is a loose design and as such is perfect for beginners as you don't need to be too accurate with lining up and sharp edges.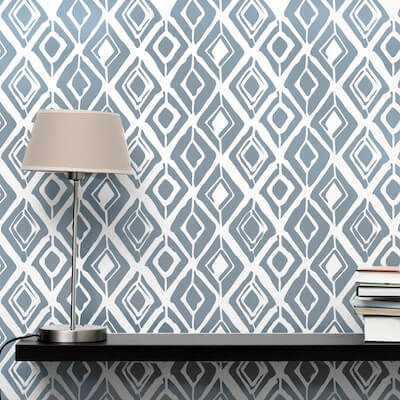 27. Colorful Accent Wall For Kids Room by Anika's DIY Life
Follow this step by step tutorial to easily paint a DIY geometric accent wall in under 6 hours. Perfect idea for the kids' room! Once done, you can also decorate the room's light switch covers with this tutorial.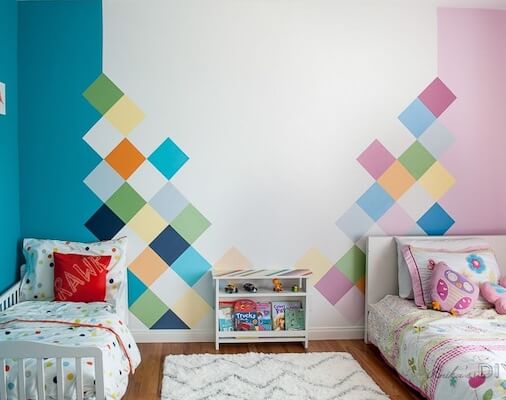 Get the idea here
28. Brushstroke Painted Wall by Delineate Your Dwelling
Learn the easy steps to create a gorgeous Brushstroke Wall Paint pattern in your home! It's simple to paint and so much easier than applying wallpaper to your space for a fun accent idea.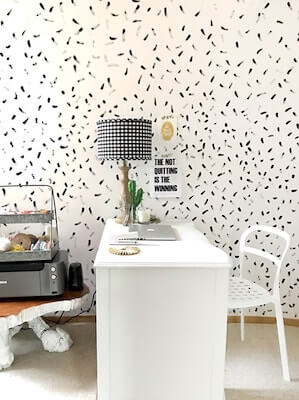 Get the idea here
29. Colorful Modern Herringbone Wall Stencil by Royal Stencils
A unique take on a herringbone stencil design, this Herringbone Shuffle Allover Wall Stencil combines geometric rectangular shapes with a modern feel. Ideal for contemporary interiors, you can stencil it on feature walls or as accents in the color of your choice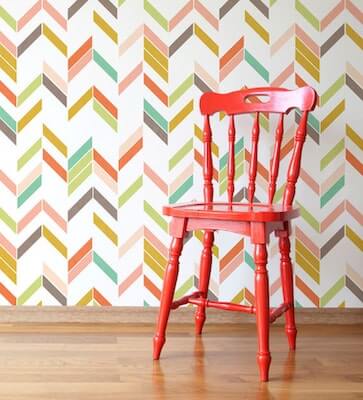 30. DIY Botanical Mural by Jessica Welling Interiors
Learn how to paint a mural the easy way with this simple tutorial. This DIY accent wall is a great and budget-friendly wallpaper alternative!
Add a personal touch to your home with a handpainted DIY accent wall. This botanical mural is absolutely stunning!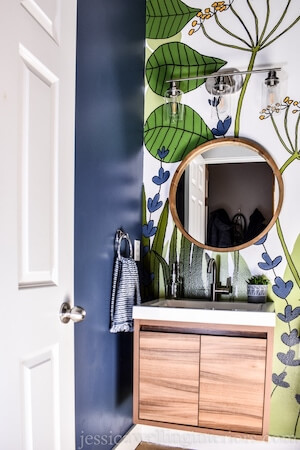 Get the idea here
31. Home Office Accent Wall by Bloom In The Black
Add a pretty DIY accent wall to your home using stencils. Think about the options for a home office, especially if you have Zoom meetings. You can really create an original backdrop in no time at all.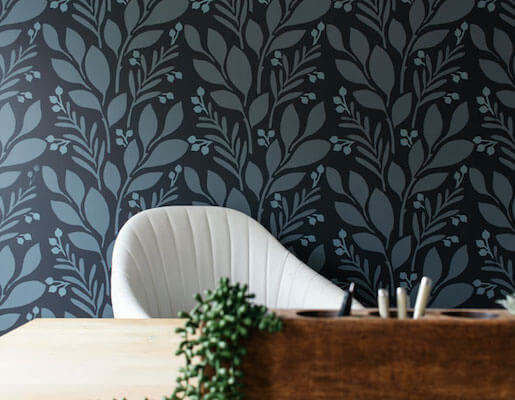 32. Sunflower Wall Stencil by Pinkipo Design
Where do the sunflowers grow? On your newly stenciled accent wall of course! With the help of this gorgeous Sunflower Wall Stencil and some paint, your walls can be transformed into a wild sunflower garden that's in bloom all year round.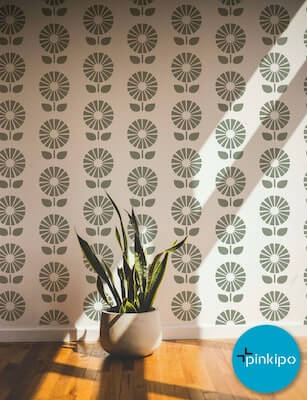 33. DIY Stenciled Wall by The Makerista
Learn how to stencil a gorgoues design onto your wall by creating your own template.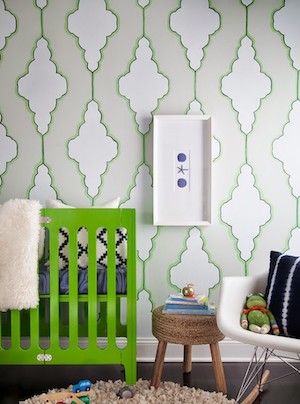 Get the idea here
34. Geometric Painted Accent Wall by A Beautiful Mess
With a geometric stencil and your favorite paint color, you can design your own customized "wallpaper." Feel free to devise your own graphic pattern, or print the template provided.
The result will be bold and unique, guaranteed to produce a gasp of admiration from friends and family.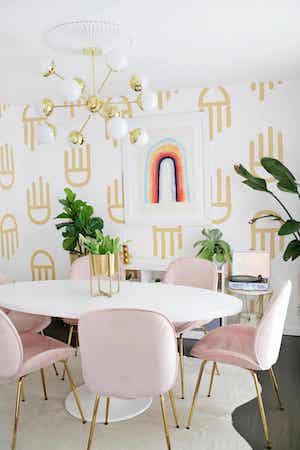 Get the idea here
35. Radiant Scallop Wall Stencil by Cutting Edges Stencils
You can use this wall design on a dining room wall, in a hallway, in a bath, or as a bedroom accent wall. Perfect scallop stencil design for midcentury interior or for a classy clean modern bedroom. Stencil it in metalics on a dark background color for a super glamorous effect!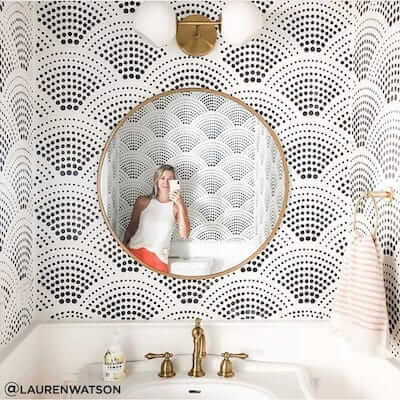 36. Painted Arch Accent Wall by Delineate Your Dwelling
Jump on this fun, easy interior trend and learn how to paint an Arch Accent Wall in your home. From a solid painted arch to a more graphic design, the DIY ideas are endless!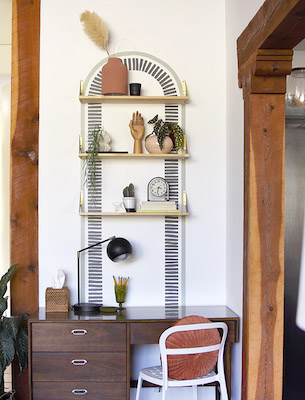 Get the idea here
37. Mudcloth Wall Stencil by Cutting Edges Stencils
Inspired by traditional mud-painted African textiles, this ethnic stencil fits perfectly into modern interiors with nomadic, global traveler flare. You can stencil this tribal design in a living room, dining room wall, in a bath, or as a stunning accent wall in your bedroom.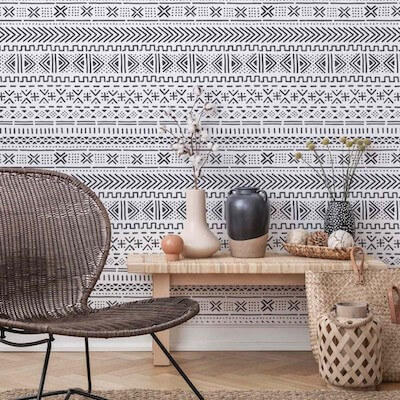 AMP UP THE APPEAL OF YOUR INTERIOR WALLS WITH A LITTLE PAINTER'S TAPE AND THESE PAINTED ACCENT WALL IDEAS!
Are you feeling inspired by any of these interior paint ideas? When you've re-vamped your space, be sure to share pictures of your final wall paint design with us on our Facebook Page!
And check out more home decor and painting crafts we have here on Crafting News.
Pick your favorite painted accent wall ideas and let the wall painting begin!