Calling all you 'quill' seekers, here are fun projects for you try. Paper quilling hearts! Quilling, if you have never tried it, is such a relaxing pastime and will help the stress melt away after a long day.

I love these paper crafts because the supplies are minimal and the possibilities are endless. They are crafts that work for all ages and I love that the finished products are fun creations that you can give as gifts.
How many different ways can we make hearts for Valentine's Day? The answer is: a lot! These quilled hearts are sweet valentines projects — and you could even keep them up year-round as a thoughtful gift for Mother's Day or even as a nice touch to someones birthday gift. Gather the supplies and get ready to fall in love with these quilling heart patterns!
15 Paper Quilling Heart Patterns
1. Paper Quilling Heart by Emily Dawe
To get started on this spectacular paper heart, head over to the full instructions in the link below. This will take a little bit of practice, but once you have it mastered you have the skill for life. Quill your design then stick it onto a card for a gift or frame it for your wall.
Materials
A4 piece of foam board or card
Scrap card
Thin card or paper in: bright pink, pale pink, gold, navy blue
Spectrascope Rainbow card in mint green, lilac, and yellow
Long ruler
Craft knife
Scissors
Cutting mat or equivalent
PVA glue
Pencil
Cocktail sticks
Mini pegs or bulldog clips
Making The Paper Heart Art
Get the Pattern here

2. Easy Quilling Heart Pattern For Kids by Red Ted Art
Awesome paper quilling valentine cards! We love homemade Valentine's Day Cards for kids and these paper quilled hearts are a great art project for kids to make. The results are beautiful and the process is super fun!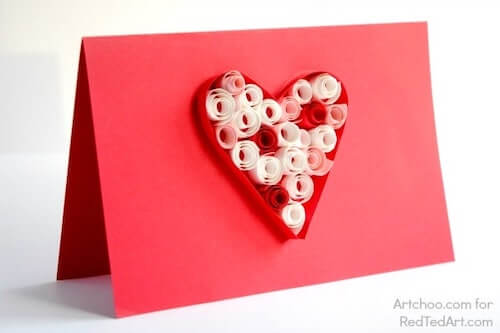 Get the Pattern here

3. Quilled Heart Photo Frame by She Saved
This fun quilled heart photo frame is perfect for Valentine's Day and a great way to give a gift from the heart. Keep in mind, you don't need to make the frame. If you are short on time (or patience) you can also buy a blank frame or just use a store bought photo mat for the same effect.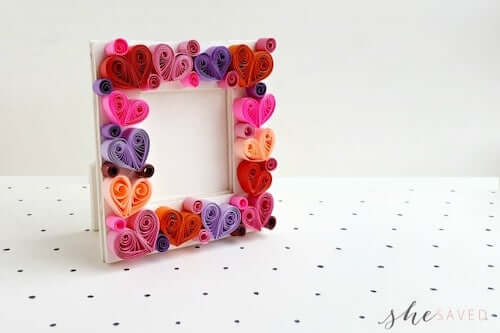 Get the Pattern here

4. Quilling Paper Hearts by The Papery Craftery
Learn paper quilling techniques that teach you how to create Quilled Hearts in Four Ways. Paper quilled hearts can be used for card making ideas, gifts, art, and more.

These four designs are each unique and easy to learn. The delicate detailed coils that produce these quilled hearts make them much better than any other paper hearts you may be thinking to use for embellishments.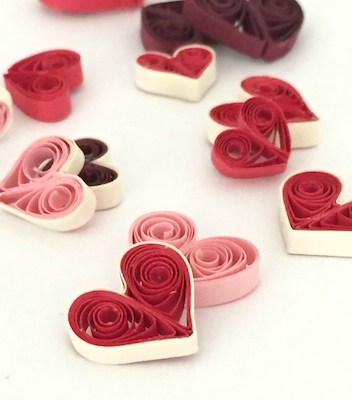 Get the Pattern here

5. Quilling Heart Decoration by Craft Ideas
Quilling with paper is a fun and relaxing pastime and is also a good way to use up left over paper, scrapbook paper, magazines, etc… To make this heart, red scrapbook paper pages were cut into stripes and used to create the quilled circles.

These pages had the advantage that the center of the paper was white, which gives the heart a softer look to it. This heart took a bit of time to finish, but looks great once completed.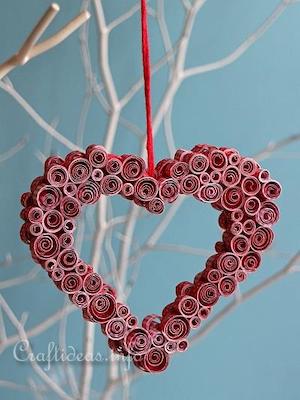 Get the Pattern here

6. Quilling Heart Pattern by Paperlicious BG
Add a beautiful look to any room in your home with this paper quilled heart! This budget-friendly paper craft won't take long to make and is a great way to upcycle paper scraps.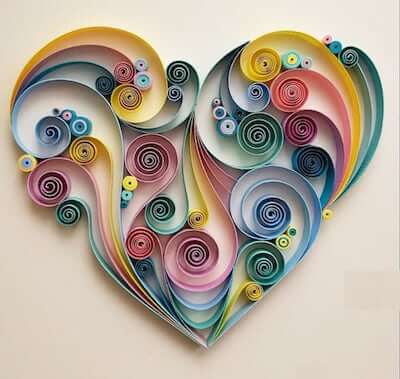 Get the Pattern by Paperlicious BG here

7. Paper Quilling Heart Balloon Cards by That Kids' Craft Site
How cute is this little paper quilled hearts balloon bouquet? This darling quilled paper heart craft activity will make a wonderful Valentine's Day card or gift for just about anyone and is such a neat way to show your love!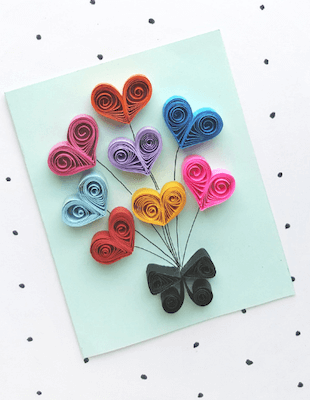 Get the Pattern here

8. Heart-Shaped Paper Quilling by Instructables
Making your own paper quilled heart is actually pretty simple to do at home or in the classroom, and it makes for a special Valentine for kids. Grab the free printable quilling project sheet or design your own for an easy Valentine's Day activity for one kiddo or a group.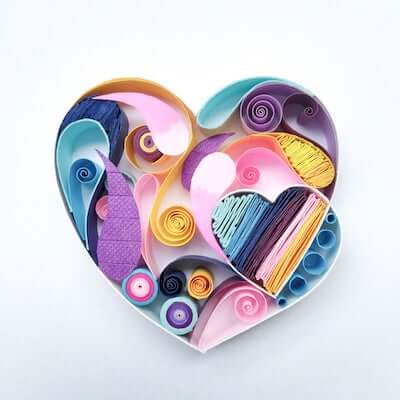 Get the Pattern here

9. Paper Quilling Heart Pattern by Larissa Zasadna
Use vibrant colors of paper to quill a heart that's lovely enough to keep on display long after Valentine's Day. It's bold, creative, and entirely made with love!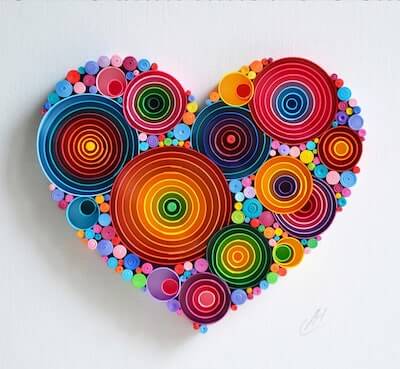 Get the Pattern by Larissa Zasadna here

10. Paper Quilled Heart Box by Instructables
This paper quilling heart box is both adorable and thrifty. Use white and brown paper recycled paper to craft this intricate decorative design. Perfect for Valentine's Day or for any occasion you are giving a gift to someone you love, this homemade gift box is a wonderful upcycled project.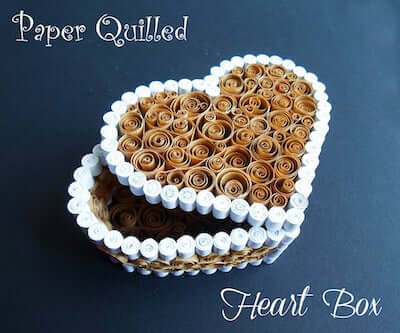 Get the Pattern here

11. Heart Quilling Paper Pattern by Larissa Zasadna
Feel the love with this cute heart quilling paper pattern! Once completed, you'll be left with a stunning heart design, perfect to give as a gift to that special someone. What's more lovely than receiving a handmade gift?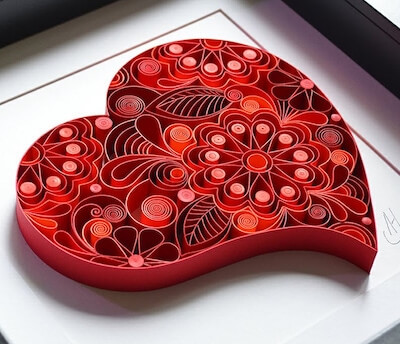 Get the Pattern by Larissa Zasadna here

12. Quilled Valentine Flower Card by All Things Paper
Valentine's Day just isn't the same without hearts and flowers. Turn quilled hearts into a gorgeous flower to adorn your card. You only need to create a few simple shapes in order to produce a marvelous new flower. Give a card that your dearest love will treasure when you create this project.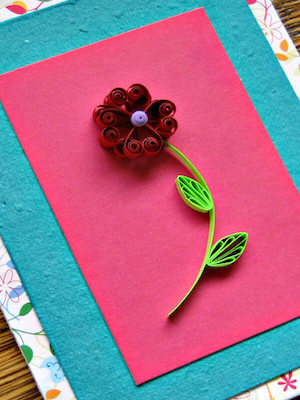 Get the Pattern here

13.
Quilled Paper Valentine Heart Balloon Card by Artsy Crafty Mom
With this adorable Quilled Paper Valentine Heart Balloon Card with clouds and a heart-shaped balloon , love is literally in the air! This project is a great way to add your own personality to a Valentine's craft that will be treasured for years to come.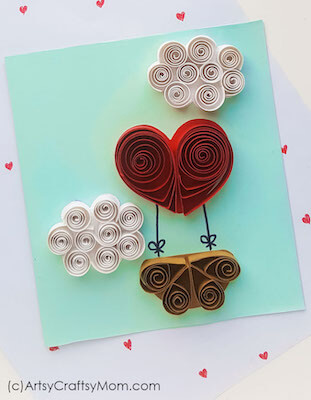 Get the Pattern here

14. Quilled Floral Heart Wreath Pattern by The Art Of Quilling
This beautiful heart made up of quilled flowers is the perfect way to express the beauty and wonder of love, whether you want to embellish a romantic Valentine's Day card, send best wishes to a couple celebrating an anniversary, or create a one-of-a-kind wedding that's sure to delight any bride.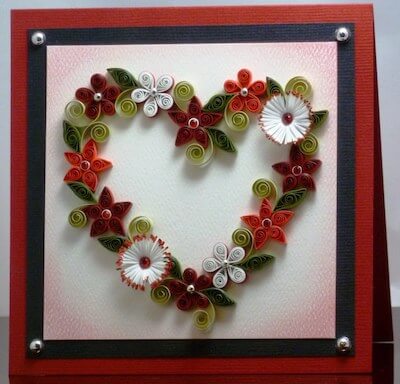 Get the Pattern by The Art Of Quilling here

15. Fruit Heart Quilling Heart by Larissa Zasadna
This heart is made up of quilled fruits that just screams summer! It's a unique Valentine's Day decor that can be used any time of the year. Once you are finished, why not frame it to hang in your home, it would certainly brighten up any room.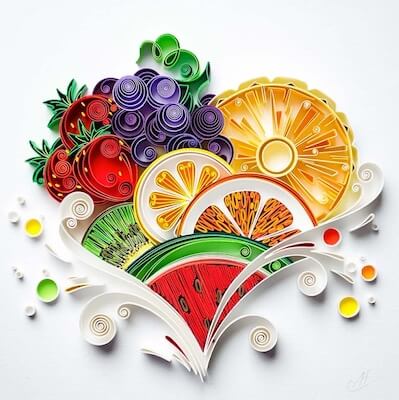 Get the Pattern by Larissa Zasadna here
DISCOVER THE ART OF QUILLING AND GET INSPIRED WITH THESE PAPER QUILLING HEARTS!
As always, we'd love to see your project and hear more about your crafting experience, so make sure to share with us your quilled hearts on our
Facebook Page
.
As you start creating, you will find yourself wanting to create more. So, if you want other ideas than the ones above, we've got you covered! You can browse more quilling designs — or check out our paper crafts archives.
With these paper quilling heart patterns, you're all set to impress your loved ones this year! Happy quilling, friends!