When it comes to crafting with the kids, is there anything more classic than paper plate crafts? They're cheap, easy, and you probably already have the paper plates on hand to get started! These paper plate jellyfish crafts are maybe one of the cutest crafts to make using this frugal material.

15 Jellyfish Paper Plate Tutorials
This collection of paper plate jellyfish art is sure to provide you with all kinds of creative inspiration for your unit on sea life or the ocean! They're fun and easy crafts that are suitable for the youngest of crafters!
1. Paper Plate Jellyfish Craft For Kids by Non-Toy Gifts
This paper plate jellyfish craft is a great summer craft to make for an ocean or sea unit study. Preschoolers and older kids will enjoy creating it and learning about these cute ocean animals.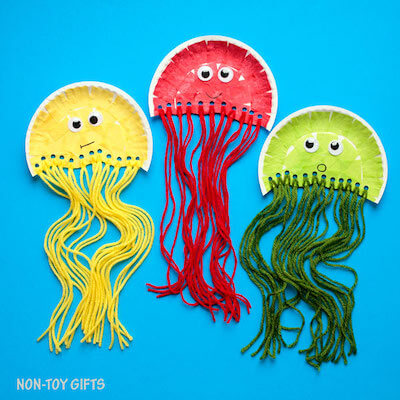 Follow the tutorial here
2. Paper Plate Jellyfish Craft by About A Mom
Summer fun can be as simple as pulling out some craft paints and paper plates. This fun paper plate jellyfish craft uses basic craft supplies and items found in your kitchen. It's oh-so fun and will provide hours of indoor fun on a hot summer afternoon.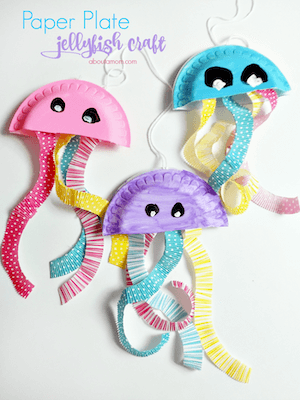 Follow the tutorial here
3. Making A Paper Plate Jellyfish Art by Thrifty Fun
Fun for children and adults to make – These look pretty hanging in the house, or even better on a sunny day blowing in a gentle breeze in the garden.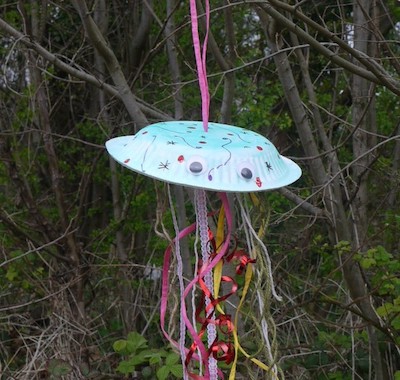 Follow the tutorial here
4. Swimming Paper Plate Jellyfish Craft by I Heart Crafty Things
Combine your love for paper plate crafts and ocean animals to create this darling swimming paper plate jellyfish craft that will have your kids screaming with delight!

We are all a big fan of crafts that children get to interact with after making them and this fun jellyfish craft is just that! Kids move the craft stick behind the paper plate and watch as their colorful jellyfish swims around and around on the paper plate. So much fun!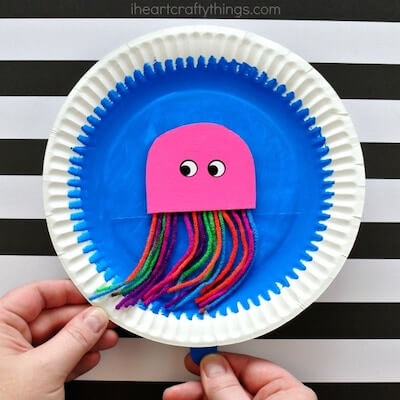 Follow the tutorial here
5. Bubble Wrap & Paper Plate Jellyfish Craft by The Resourceful Mama
Jellyfish are translucent and take on the color of their surroundings, making bubble wrap perfect for their long tentacles. This paper plate and bubble wrap jellyfish craft is super inexpensive and fun to make.
Save bubble wrap from your shipments and pick up paper plates and googly eyes at the Dollar Store.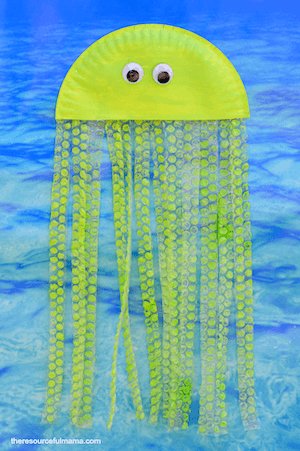 Follow the tutorial here
6. Pipe Cleaner & Paper Plate Jellyfish Craft by The Peaceful Nest
Who doesn't love a colorful Jellyfish? That is what makes this pipe cleaner jellyfish adorable! Especially since it's made out of a paper plate! This pipe cleaner jellyfish is both easy and fun to make!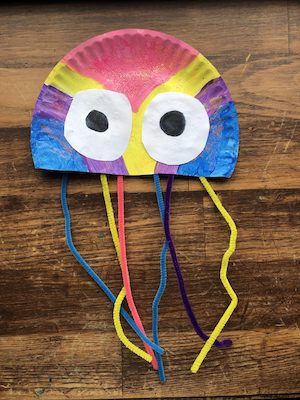 Follow the tutorial here
7. Paper Plate Jellyfish Craft by Toddler At Play
This Jellyfish ain't just a simple jellyfish craft. This is paper-plate-meets-tissue-paper jellyfish craft. It's fun, unique and simple enough for toddlers to make.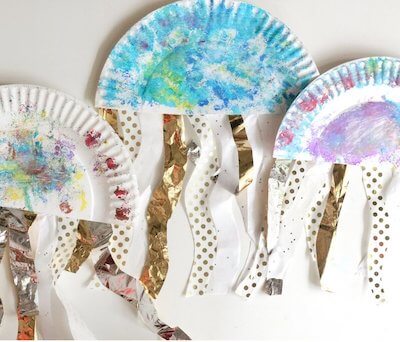 Follow the tutorial here
8. Paper Plate Jellyfish For Math by In The Bag Kids Crafts
This craft is about more than just creativity. Once you finish making these adorable paper plate jellyfish, you can also use them to educate.
Make them to meet the needs of your kiddos, if they are just counting, don't add any math symbols. If they are working on addition, add a plus sign and so on.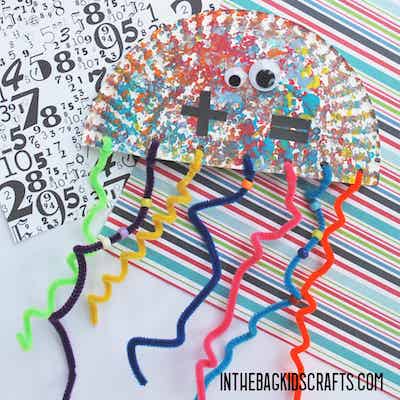 Follow the tutorial here
9. Easy Paper Plate Jellyfish Craft by Taming Little Monsters
This Paper Plate Jellyfish Craft would make a fantastic addition to an underwater scene in any classroom. With just a few common craft supplies your kids can make this beautiful sea creature. Give this easy craft a try this summer.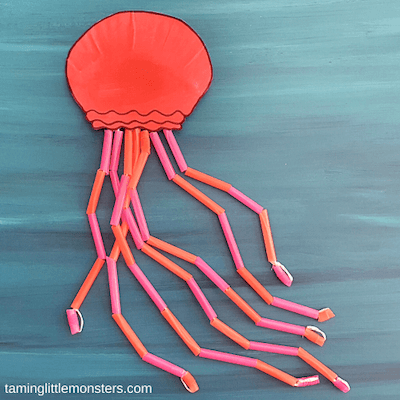 Follow the tutorial here
10. Jellyfish Paper Plate Craft For Preschoolers by Crystal & Co.
If you are a homeschool mom or just supplementing through the alphabet this craft is a great one to add to your list and you and your kiddos will love it!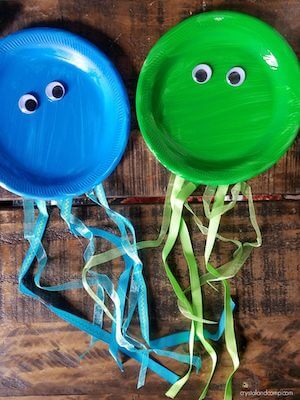 Follow the tutorial here
11. Paper Bowl Jellyfish Craft by A Little Pinch Of Perfect
Are you teaching your kids about marine life? If you are, here's a great craft idea for you! You need a paper bowl, cupcake liners, craft paint, and a few basic craft supplies to make this jiggling jellyfish. Fun and educational!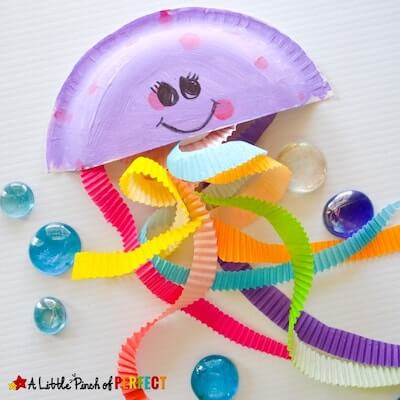 Follow the tutorial here
12. How To Make Paper Plate Jellyfish by Crafts Uprint
So you want to make a cheap, fun craft that doesn't require going to the store and buying supplies? This is simple and perfect for young children. It could be the start of an ocean-themed craft day at home!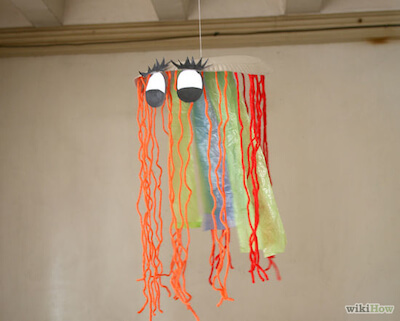 Follow the tutorial here
13. Paper Plate Jellyfish by Bright Ideas
This Paper Plate Jellyfish makes a cute addition to an underwater artwork display. Or why not try decorating both sides and suspending it from the ceiling as a hanging decoration? Either way, have a go at creating your own – all the details of how to make it are included in this tutorial.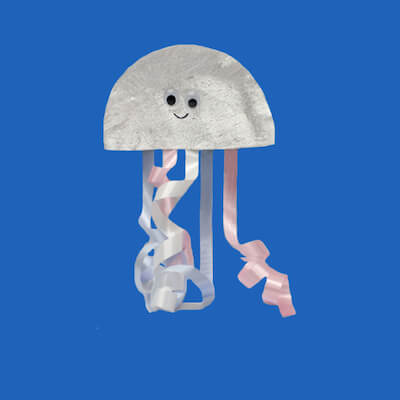 Follow the tutorial here
14. Jellyfish Paper Plate Craft by Sight And Sound Reading
Kids will love making these Letter J Craft: jellyfish paper plate when studying the letter J. You can also make this fun craft during an ocean theme, beach theme, or summer theme! Little ones will love the bright colors and the dangling tentacles that are present in this super fun craft.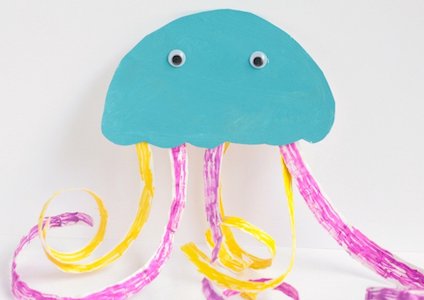 Follow the tutorial here
15. Paper Plate Jellyfish by Arty Crafty Kids
This adorable rainbow jellyfish craft is full of vibrant colors and easy to make. Paper plate, washable kid friendly paint, glitter shaker pots, and ribbon are all that are needed to make these cute hanging sea creatures.
These will look adorable hanging from the playroom, nursery, or your child's bedroom ceiling!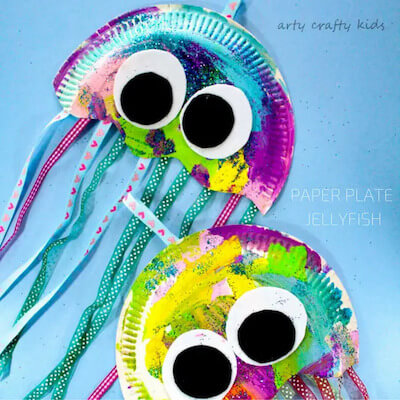 Follow the tutorial here
WHETHER SUMMER HOLIDAYS ARE AROUND THE CORNER OR KIDS ARE STUCK AT HOME DUE TO THE WEATHER, IT'S TIME TO TRY OUT SOME OF THE EASIEST PAPER PLATE JELLYFISH THAT DON'T REQUIRE ANY SPECIAL SKILLS, TOOLS, OR EVEN TIME TO MAKE.
Which of these crafts was your favorite? Share your makes with us on our Facebook Page. And please check out our massive list of Kids Crafts if you need more ideas to keep the kids entertained.
Want more paper crafts, have fun making these Paper Plate Animals Crafts, How To Make An Origami Boat, Paper Weaving, and Paper Mache Recipes.
Get your kids started on making their own paper plate jellyfish crafts with these tutorials today!