It's time for a to do list makeover—and we've got 15 awesome options to choose from. After this, you'll never use a normal Post-it note or basic planner again.
With work, kids, stress, we sometimes lose track of things to do and we end up with our home and schedule in a mess. Don't know where to start? Hopefully, the answers are often right here, in the small things we can craft to stay focused. Today, we are sharing awesome tutorials on how to make a DIY to-do list with few inexpensive materials for a stunning result.

1. DIY Reusable To-Do List by Modern Prints Messy Kids
Have five minutes to spare? Because that's all the time it takes to put together this sticky note to-do list. Take a shadow box, throw on some colorful sticky notes, and you're set!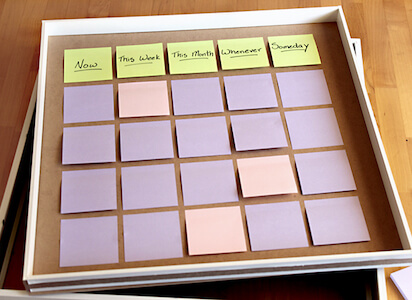 Follow the tutorial here

2. DIY Magnetic To Do List by TOMFO
Perfect for all you minimalists out there, this magnetic shopping/to-do list is a visually pleasing, simple piece of art you can show off on your refrigerator.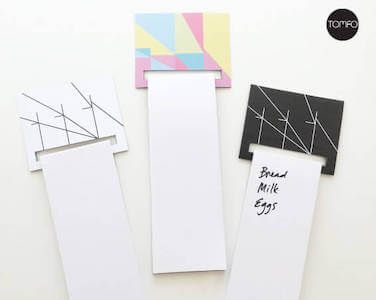 Follow the tutorial here
3. Free Printable To-Do List Notepad by Gathering Beauty
This simple printable to-do list is a sure way to help you get organised. Print it out and use it as a daily or weekly checklist. Jot down all those things you need to get done and keep them all in one handy place.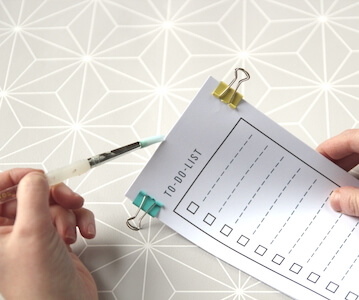 Follow the tutorial here

4. DIY Door Hanger To Do List Craft by In The Playroom
Giving kids their own to do list is a great way to help them stay on task with their responsibilities. Visual reminders are useful for adults, and it tends to be even more so the case for kids. This hands on to-do list craft is fun to make, and helpful for kids to keep on track with their morning or bed time routines.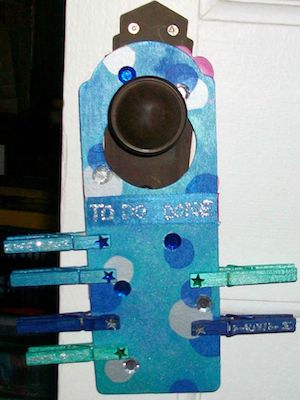 Follow the tutorial here

5. DIY Rotating Goal List by Pop Sugar
What better way to keep yourself on track in the new year than with this rotating goal list? What you will love about this DIY is you can easily change your goals by adding or removing Post-Its — it's way more tidy than crossing items off a list.

And if you want to change the deadline, there's another spot for a time-frame Post-It note. There, you can mark when to accomplish your goals by, whether it be this week, month, season, or year.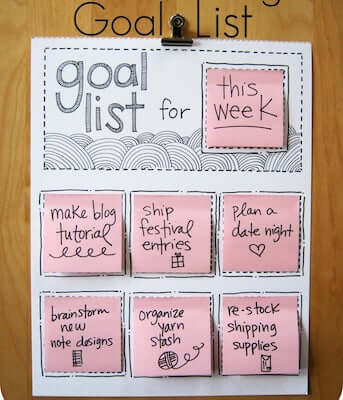 Follow the tutorial here

6. DIY To Do List Notepad by Creme De La Craft
Looking for the perfect notepad that is both practical and stylish? Try this DIY To Do List Notepad that you can hang above your desk and will keep you productive everyday. If you find it as helpful, make a bunch for yourself and share it with your friends too!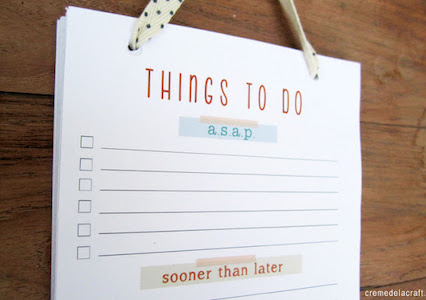 Follow the tutorial here

7. Toddler-Friendly To-Do List by The DIY Lighthouse
When it comes to to-do lists for kids, most often times they take the form of charts or checklists. This one in particular, will help children take responsibility for making sure they complete certain tasks at certain times of the day, such as getting dressed, brushing their teeth, and making sure that say their prayers every night.
Follow the tutorial here

8. DIY Erase To-Do List by Idea Land
Using a simple glass-front frame from the dollar store, some colorful labels, and a non-permanent marker, you can quickly make up a dry erase to-do list board that will keep you organized. This cute dry erase board is a perfect table-top-to-do lost, place to leave love notes or could even be magnetized to stick to the fridge. It's also super easy and inexpensive to make!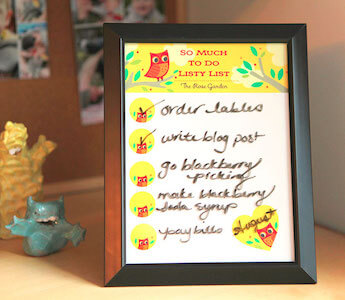 Follow the tutorial here

9. Reusable To-Do List by Instructables
Instead of wasting paper each day, try this nice trick for creating a reusable to-do list. Not only will you be on your way to a green office, but you'll always have your agenda on hand!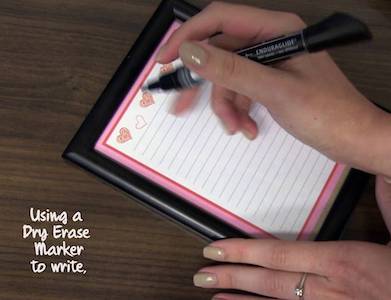 Follow the tutorial here

10. DIY Days Of The Week To-Do List by Dream Green DIY
How fun and practical would it be to use this DIY Days Of The Week To-Do List Calendar to countdown all of your very favorite festive traditions?! We're talking Christmas movie nights, greeting card addressing, baking and decorating sugar cookies, maybe even an annual local wreath-making workshop.

When Christmas is over, though, you'll be able to use the clothespin calendar for any and all of your weekly obligations and events.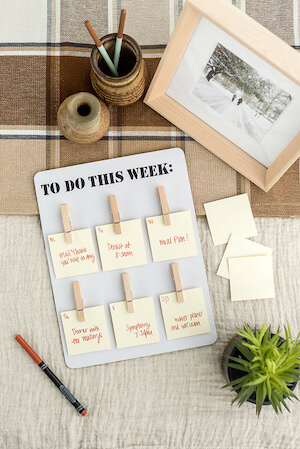 Follow the tutorial here

11. DIY Rip Off To Do List Booklet by Look What I Made
If you feel like your tasks are growing over your head, why not make yourself this DIY Rip Off To Do List Booklet to keep track. They are easy to make and will track you tasks not only much easier but also fun!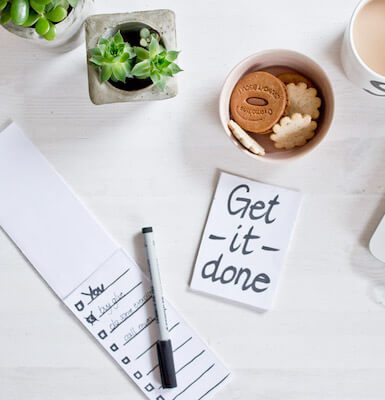 Follow the tutorial here

12. DIY To Do List by Hallmark
Who knew taking a wood paddle board and hanging it on your kitchen wall could not only be a cute piece of decor, but also a functional way to jot down your to do list? It looks complicated, but it's actually easy to put together. Grab a roll of receipt paper, clamps, push pins, twine, hot glue, glue sticks, and get going.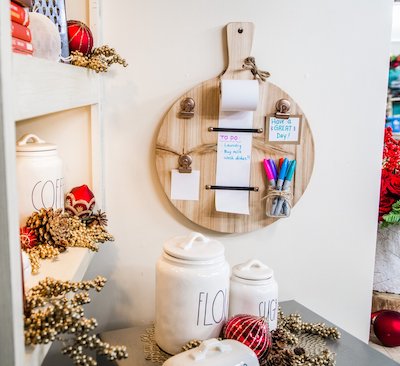 Follow the tutorial here

13. DIY Pallet To Do List Organizer by Deco Art
Your "To Do" lists will be front and center with this wall organizer. For those who don't mind getting their hands dirty and really digging in, this one will require you to take a trip to Lowe's or Home Depot and pick up a pallet, chalkboard paint, clothespins and a few other items from the hardware store.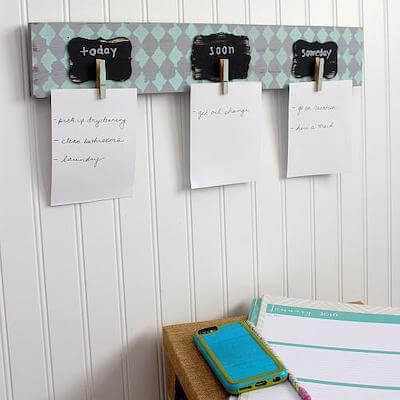 Follow the tutorial here

14. DIY Organization Board by Girl Loves Glam
If you're sick and tired of having lists everywhere – to do list, grocery list, menu list, and schedule, it's time to put all of your junk in one place!

This one also incorporates picture frames and dry-erase markers, but it takes it one step further — organizing your entire life on one board. It is a command center for your family so you can all keep your lives straight!
Follow the tutorial here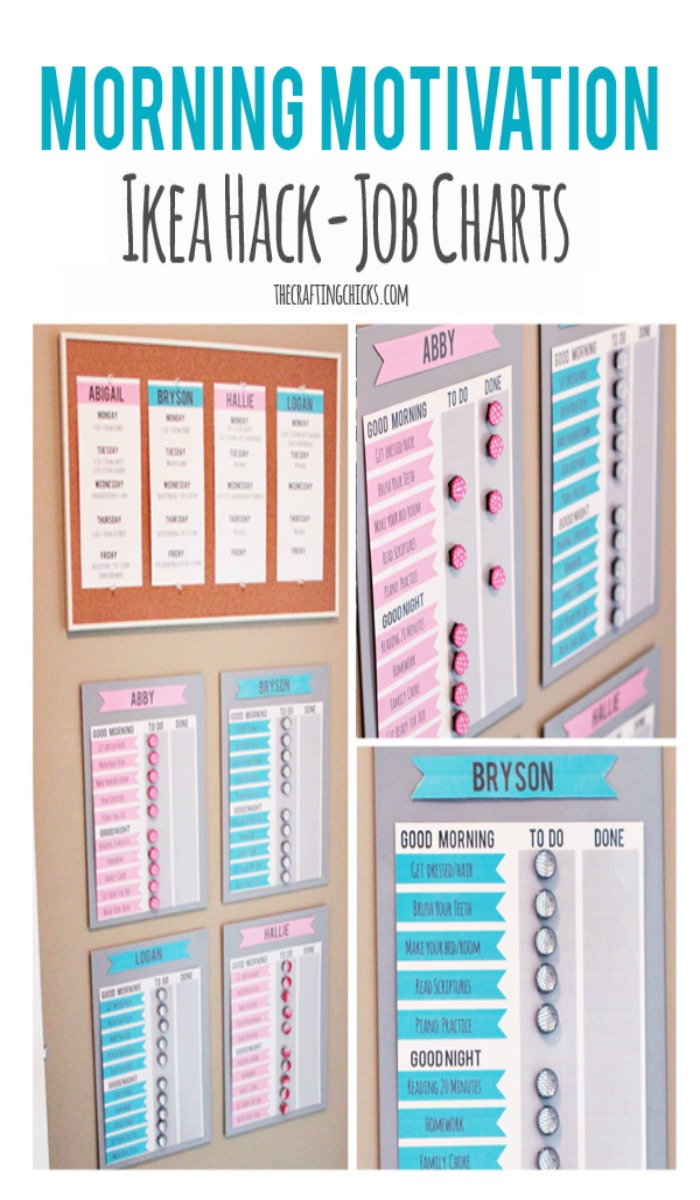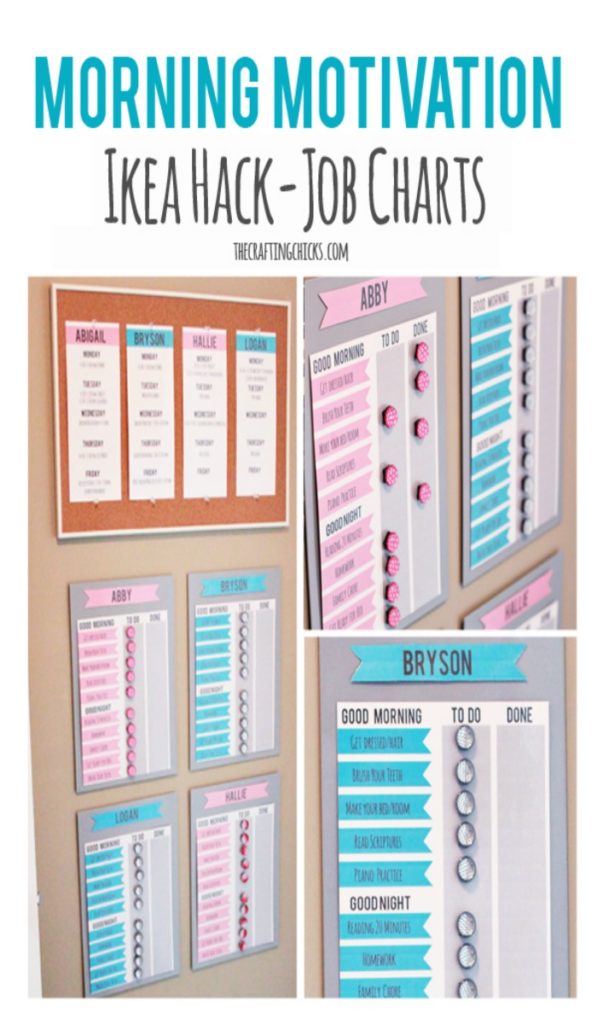 To Do List – Make It Yourself For The Whole Family
We all know the "To Do List" and how hard it can be organize a household when you have kids running around. Especially when they won't listen to a word you say! Why not try creating individual 'to do lists' or motivation boards for the whole family to follow.
They will look great and keep everyone in check. Now they can never use the 'I didn't know' excuse.
These boards are great for motivating the kids into doing daily activities, such as getting ready for school, reading and keeping their rooms clean. It works on the basis of that great feeling that you get when you cross something of a list.
With these boards, instead of crossing off each activity, a magnet will be moved from the 'to do' section into the 'done' section. The kids love getting to move the magnets over once a task has been completed.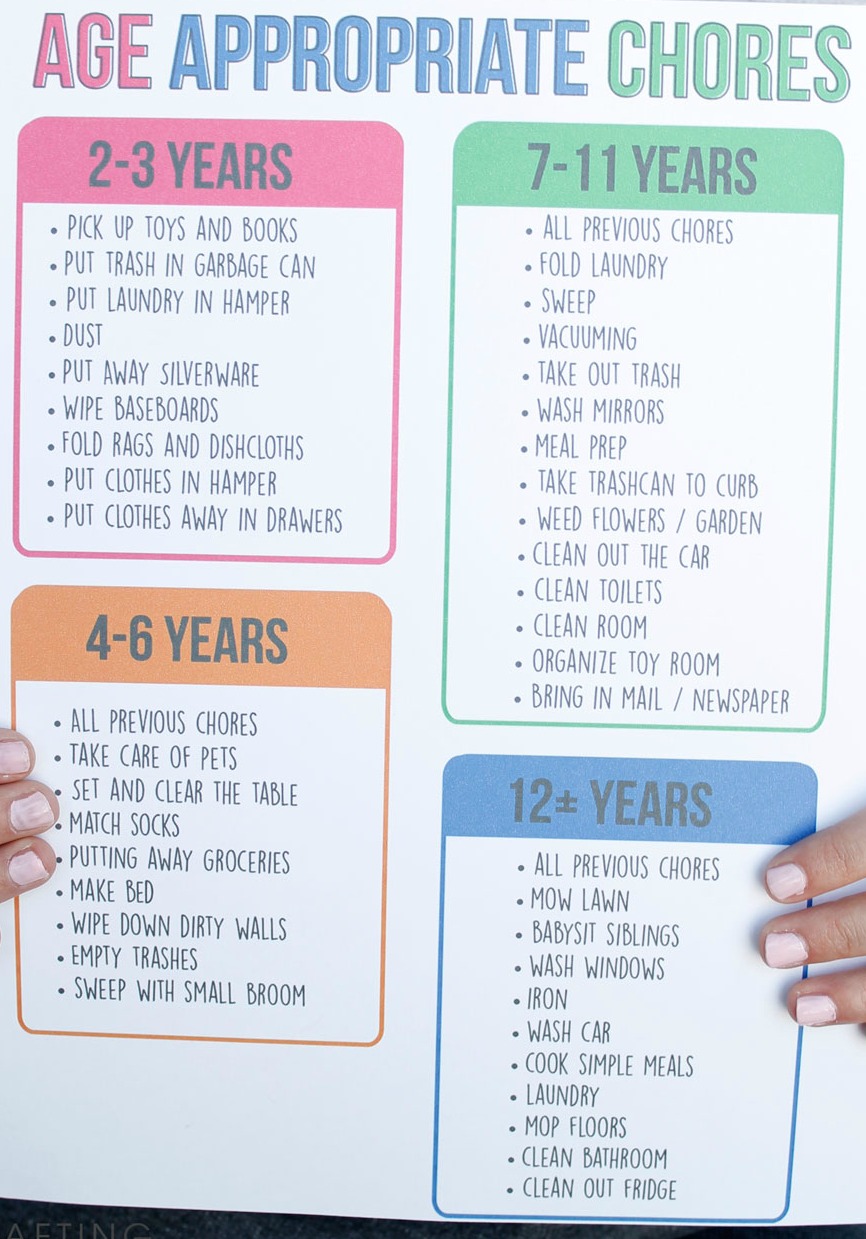 Materials
You will need to take a trip down to your local IKEA, craft store or newsagent for the materials for this craft. Of course, you can always order online for deliver straight to your door.
Magnetic board
Magnets
Printer
Standard office paper (or thicker paper if you prefer)
To Make The 'To Do List' Motivational Board
Once you have your magnetic board, this is a very simple task of printing off the downloadable sheets below, filling in the details and sticking them onto the board.
The downloadable sheet is separated into tasks to complete in the morning and others to complete in the evenings, after school.
You may want to fill the sheet in with tasks such as brushing teeth, making the bed, reading for 30 minutes, completing homework and soccer practice. Of course you will tailor this to suit your children's hobbies and needs.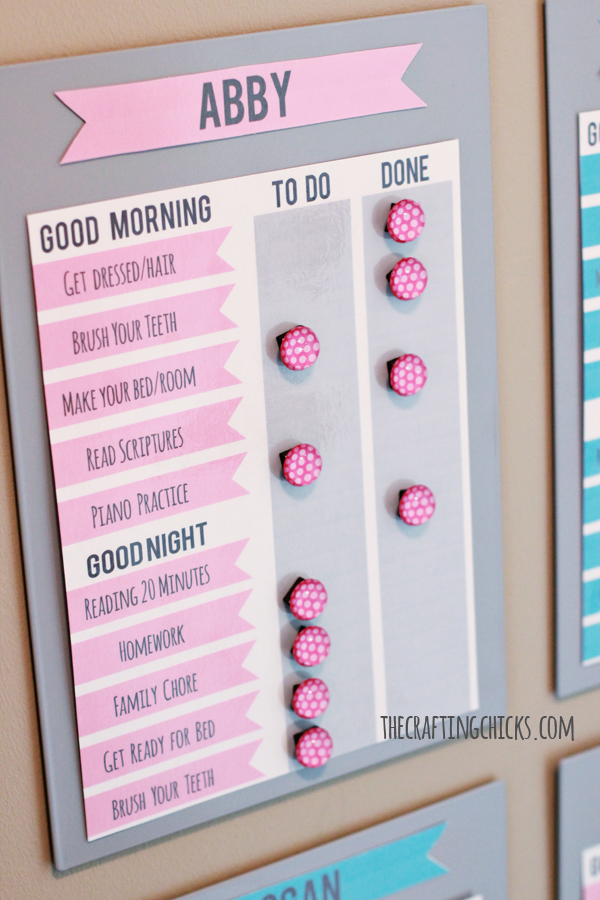 Have fun making this, we're sure it will motivate the kids into completing all of their tasks.
You can see the full tutorial here
For more crafting ideas, also see Make Your Own Fathers Day Card Tutorial.