Whether you need a centerpiece for a turkey dinner or some big pillar candles to light up your darkened windows once the sun goes down, there are all sorts of festive ways to dress up your candles easily and cheaply. Here are 17 wine glass candle holders to create!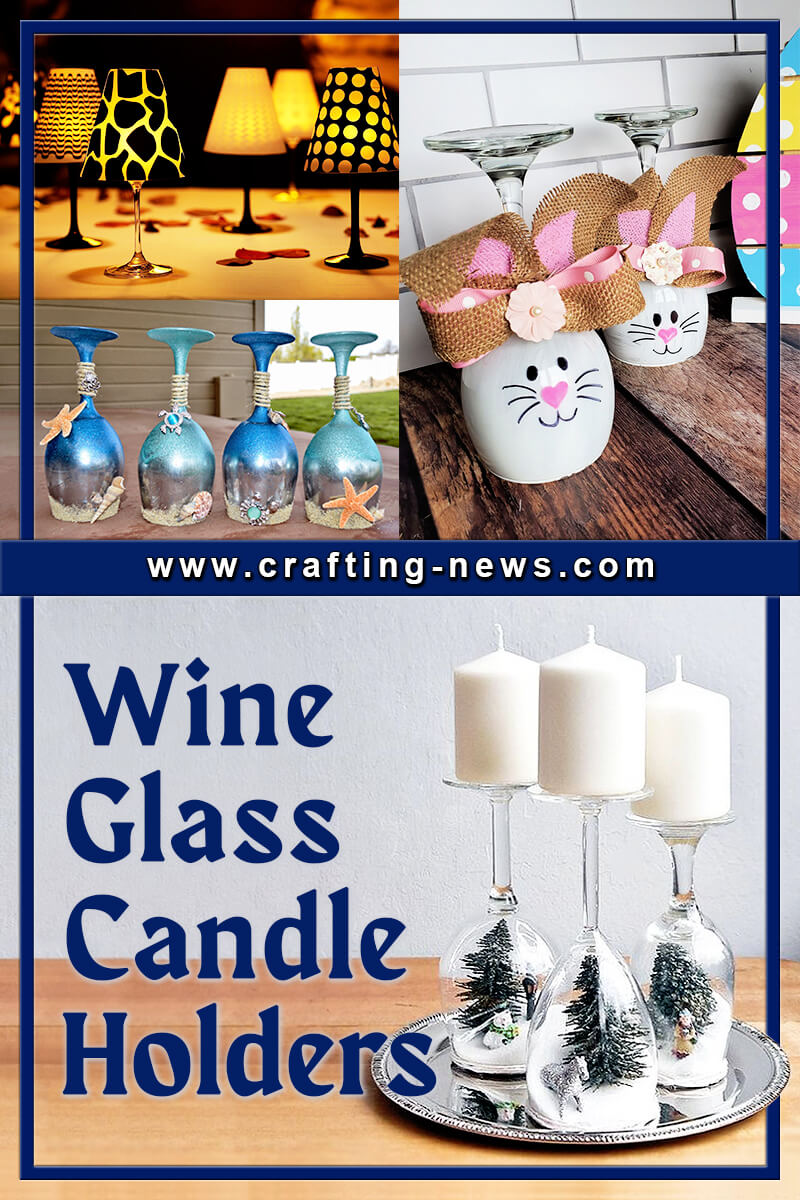 Many of us may have a spare wine glass that doesn't match any others in our collection (if not, they can easily be found at any thrift store). These are the perfect projects to put those wine glasses to use!
17 Wine Glass Candle Holder Ideas
These homemade wine glass candle holders are an easy way to decorate, no matter what the occasion may be. Grab some paint or decorations, and wine glasses to get started on these festive crafts!
1. Wine Glass Candle Holders by Smart School House
These Wine Glass Candle Holders with starfish, seashells, and sea glass are delicately gorgeous and elegant. You can either find various supplies at the beach, or you can find all the supplies at a craft store.
Consider going to the dollar store to purchase the wine glasses! Apart from the nautical supplies, you will also need hot glue, floral embellishments, and cardboard or a thick paper plate.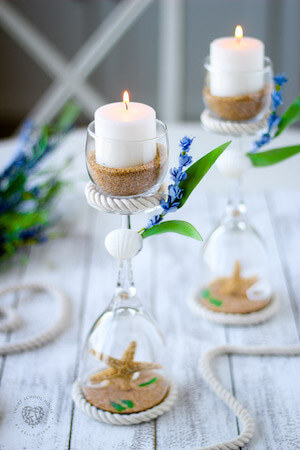 Follow the tutorial here
2. Wine Glass Christmas Candle Holder by If Only April
The idea of this Wine Glass Christmas Candle Holder is so cute and looks amazing on the dining table as a Christmas winter centerpiece. You can customize the insides of the glass as you like and tell winter magic stories. It could be full of flowers, or snow, or different animal scenes. The sky is the limit!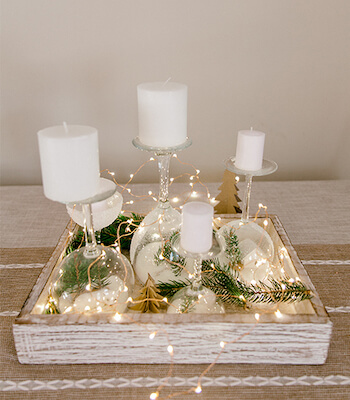 Follow the tutorial here
3. Halloween Wine Glass Candle Holders by Crafts By Amanda
These Halloween wine glass candle holders are perfect for DIY Halloween decor or for your Halloween party centerpiece. They would be great for a Pumpkin Painting Party right on the food table!

These Halloween wine glass candles are sure to get a few comments at your Halloween party, and they are so easy to make! Personalize the wine glass monsters however you like, or try new characters, such as a witch or a vampire.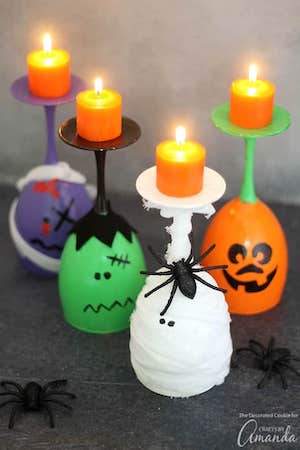 Follow the tutorial here
4. Wine Glass Bunny Candle Holders by Crafty Morning
Make some cute wine glass bunny candle holders for some Easter decor! They are so fun to make and are adorable displayed.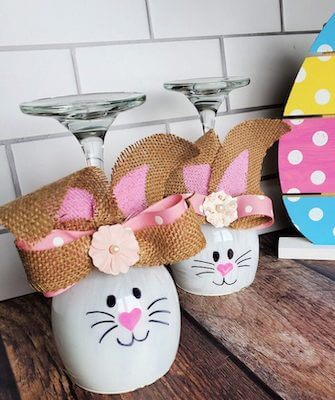 Follow the tutorial here
5. Wine Glass Gel Candles by The Spruce Crafts
You may say "in vino veritas" but with these wine glass gel candles, you'll also be able to say "vinum in lucem" or, in wine there is light. This project will guide you through how to make a gel wax candle that looks just like a glass of red wine.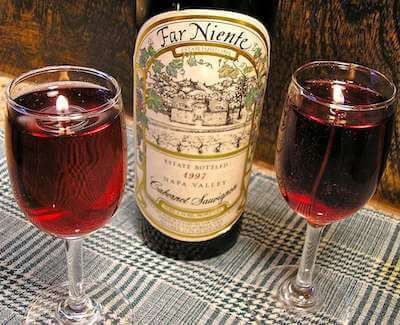 Follow the tutorial here
6. DIY Wine Glass Candle Holders by Popsugar Smart Living
Head to the dollar store and pick up a collection of wine glasses, a box of sugar, and a few kitschy holiday figurines — or even plastic ornaments — for making these easy holiday dioramas.

And if you've got a young friend or relative, you can even make one together with a plastic bottle with really cute (and safe!) results. The finished decorations look lovely adorning your holiday table or mantel topped with dollar-store candles.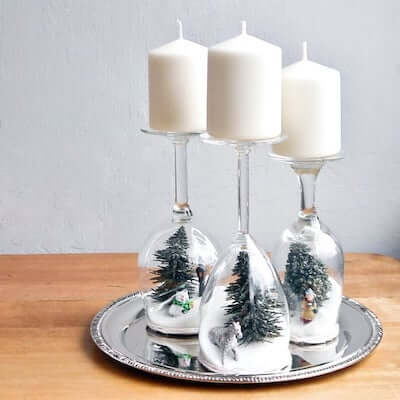 Follow the tutorial here
7. DIY Christmas Wine Glass Candle Holder by Food Wine Sunshine
This Christmas wine glass candle holder is easy to make and a festive holiday decoration. It would look great both on the mantel or as a holiday table centerpiece.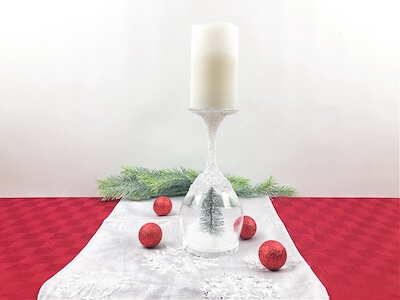 Follow the tutorial here
8. DIY Wine Glass Candle Holder by Fresh Outta Time
These wine glass candle holders are a great way to upcycle a dollar store wine glass. They are so adorable and could be made based on any theme, season, or holiday! These ones are made in particular to the Christmas Holiday. They make for an awesome decoration and are easy to make!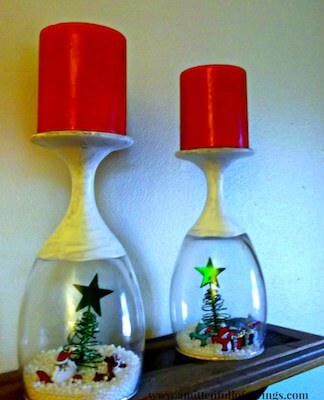 Follow the tutorial here
9. Wine Glass Candle Lampshades by Wonderful DIY
Transform a few basic wineglasses and a bunch of basic tea lights into the most incredibly enchanting decorative lighting features to be used in any room of the home.

Create a DIY fancy glass candle lampshade to be placed at each diner's position at a dinner party, create a mood of pure romance or arm yourself with the most amazing gifts for any occasion across the board – these elegant little works of art are quite uniquely versatile!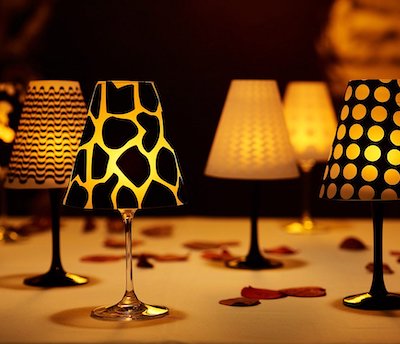 Follow the tutorial here
10. Wine Glass Snow Globe Candle Holders by Crafty Morning
Make these adorable little wine glass snow globe candle holders for Christmas decor! They are so cute and easy to make!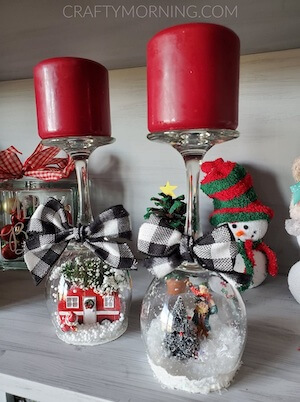 Follow the tutorial here
11. Tea Light Christmas Decorations by Craft Ideas
Candlelight is an attractive way to decorate your rooms at Christmas and gives us a warm feeling inside on the cold and dreary days.
If you have a lot of guests for Christmas dinner and not a lot of space on the dinner table for extravagant centerpieces, this idea is just perfect. This project is so quick and easy as a last minute idea and but also makes nice take along gifts as well.
For more Christmas decoration Ideas, check them all here.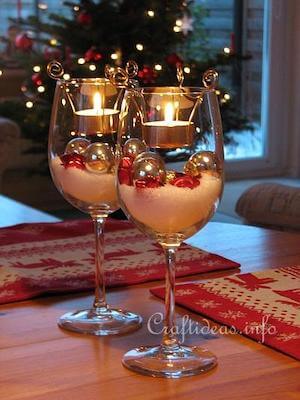 Follow the tutorial here
12. Holiday Wine Glass Candle Holder by Daily DIY Life
Transform a simple dollar store wine glass into an adorable Christmas Candle Holder for your Holiday table! With a few coats of glass paint and some cute accessories, turn a boring clear wine glass into Santa, Frosty, the Gingerbread man, and the Grinch!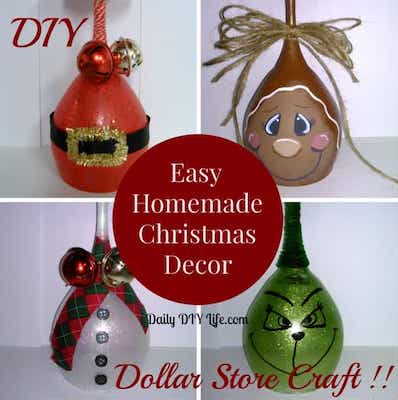 Follow the tutorial here
13. DIY Sand And Pearls Wine Glass Candle Holder by Entertaining Diva
These elegant candle centerpieces made with sand and faux pearls are inexpensive, versatile and very easy to make. Between the sand and the candles, you can create them in pretty much any color scheme to match your decor or party theme.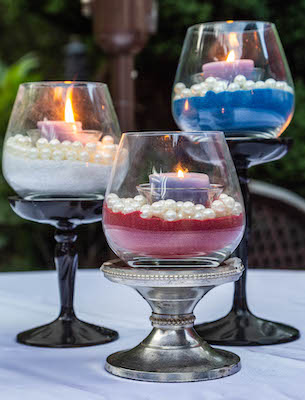 Follow the tutorial here
14. DIY Rustic Wine Glass Candle Holder by DIY & Crafts
Are you ready to make a rustic candle holder out of an old wine glass? In this tutorial, you'll discover how you can make a rustic candle holder using a regular wine glass and a few other simple supplies.

After you create your rustic candle holder, you can display it anywhere around your home, or you can use it to enhance a dinner table. A rustic candle holder can make a nice gift for someone who enjoys the DIY homespun look as well.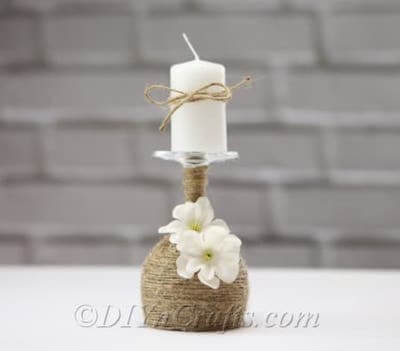 Follow the tutorial here
15. Wine Glass Candle Holders Summer And Sea Pattern
Here's another craft to make you go WOW! These look really good. You will need to invest in a few supplies to make them, but once you have your cans of spray paint and some cheap Dollar Store wine glasses, the sand, twine, shells etc, you should be able to make a whole bunch of these from your supplies.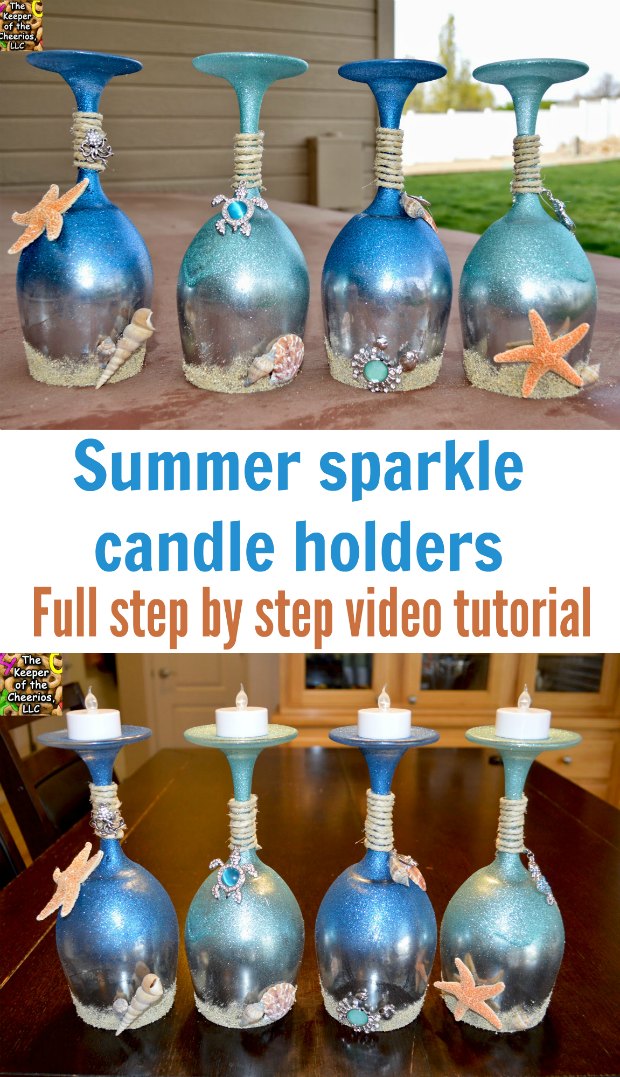 Once you've made the first set, expect people to ask where you got them – and if you can make some for them! These would look lovely on your dinner table and especially gorgeous for a summer dinner outside.
Make some as hostess gifts, or these look so good you could probably get a really good price if you made these to sell!
Materials you will need:
Glitter Blast Spray in Sapphire Shimmer and Sparkling Waters
Dollar Store Wine Glasses
Sand
Hemp
Glue
Shells and Starfish, other embellishments
LED candle lights

16. Pumpkin Wine Glass Candle Holders by Little Deby's Delights
These inverted wine glasses are painted as pumpkins and few touchers like autumn leaves are added. Arrange a few of these pumpkins in varied heights to create a beautiful table centerpiece for your Thanksgiving table decor!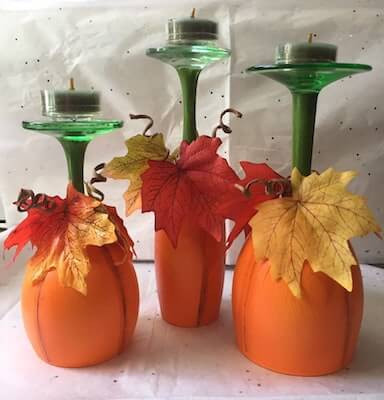 17. Succulent Wine Glass Candle Holder by Sparkle Shine Unwind
This wine glass candle holder offers the perfect decor for the most elegant parts of your home. Decorated with a charming succulent with glittery gold or tan rustic accents. It's the perfect gift for someone you love!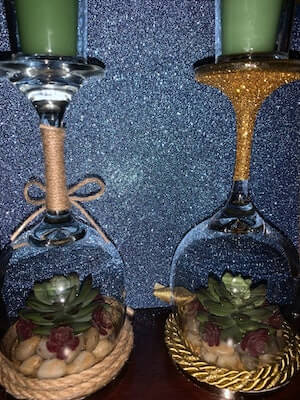 FROM THE SEVERAL WINE GLASS CANDLE HOLDERS ABOVE, WHICH ONES INSPIRE YOU?
Wine glass candles are a great choice when you need a simple, elegant centerpiece or gift, and they are easy to make at home, giving them that extra touch that comes from something handmade.
If you end up making something from this list, don't hesitate to share photo with us on our Facebook Page.
For more home crafting decor ideas, don't miss our tutorial on How to Make Decorative Yarn Ball, DIY Coffee Candles and How to Make an Origami Crane both you and your kids will surely enjoy.

Your guests for your parties are going to simply swoon over these delicate wine glass candle holders laid neatly on the table. Happy crafting!