Craft storage rooms are a must for crafters. And they are a lot fun to set up. But before you begin, take time to plan out the space. When crafting, it is important to stay organized.
You do not want to waste time looking for supplies. So, you will want to incorporate storage solutions for all your supplies.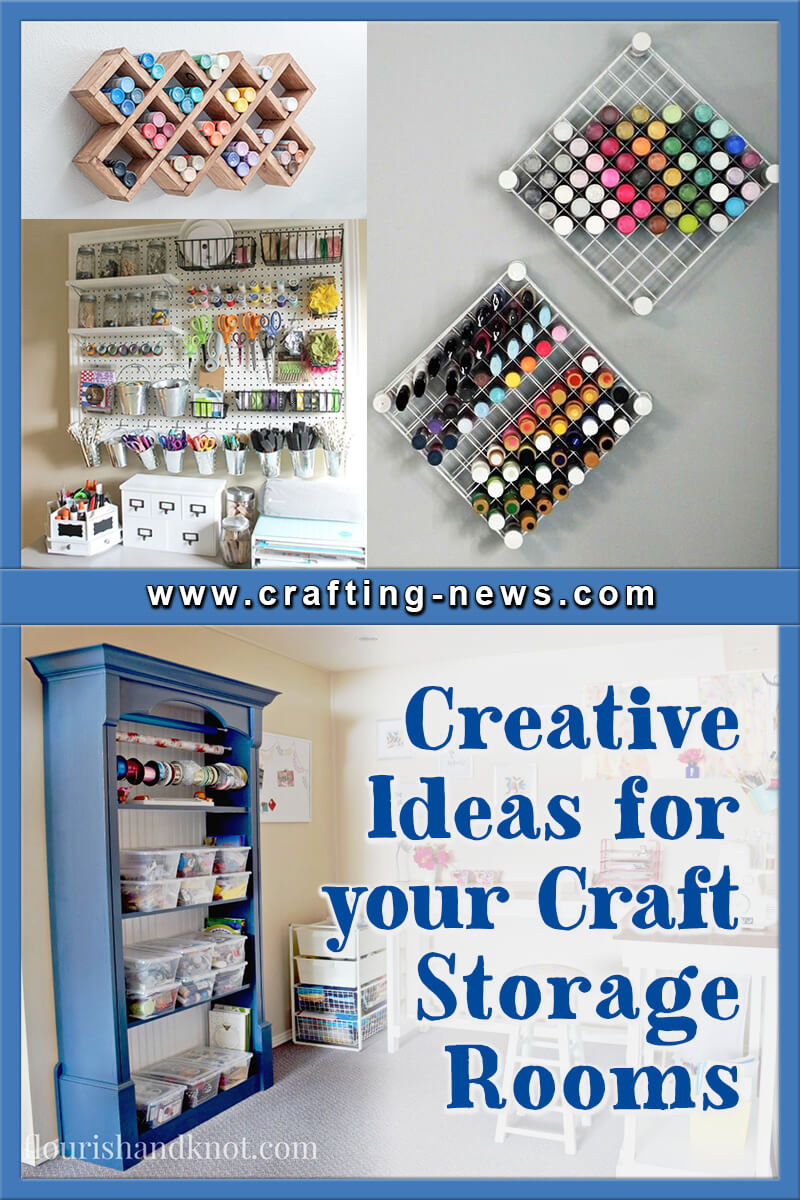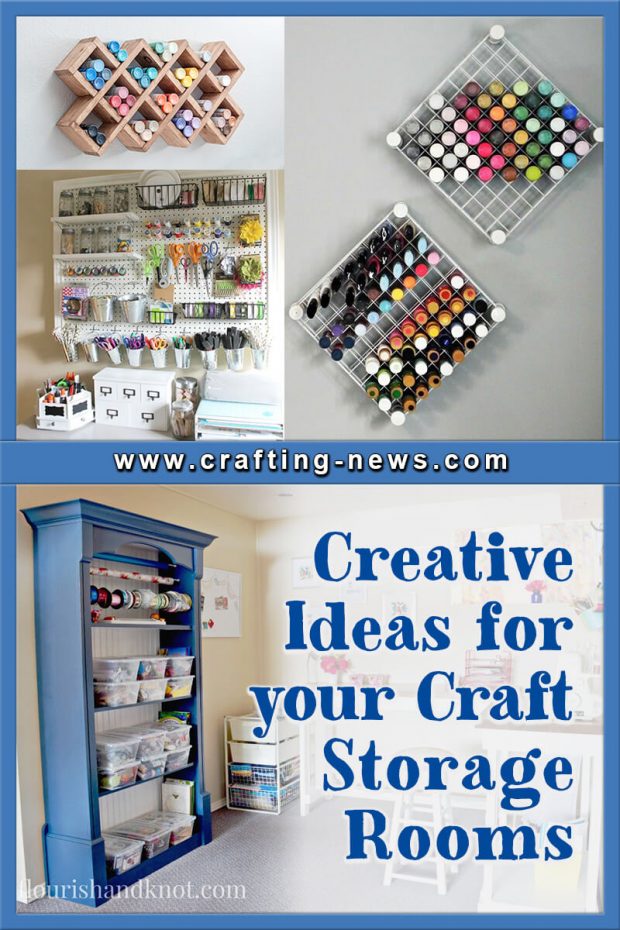 Below are 30 ingenious organization ideas for craft storage rooms. There are ideas for every crafter and every size room. We are certain you will find more than one of these ideas for craft storage rooms to integrate into your craft area.
Benefits of Designated Craft Storage Rooms
Do people really need craft storage rooms? That depends on how much crafting they actually do. If they are always making something, then yes, craft storage rooms are a must. If they only find themselves making a Christmas gift once a year. Then, probably not.
Benefits of designated craft storage rooms include:
Improves creativity
Keeps you organised
Helps you be more productive
Provides storage
You can craft anytime
Lowers stress
Increases focus
You can express yourself
Tips for Designing Craft Storage Rooms
When designing craft storage rooms, there are some things you will want to take into consideration.
The size of the room is a big factor in what you can do with the room. If the room is small, you will want to utilise as much of the wall space as you can.
Before you even start moving stuff into the craft room, get rid of clutter. If the object can dampen your creativity or slow you down, you do not need it.
Can You Use the Back of the Door?
The back of the door is a great place to hang items. You can even hang your ironing board.
Closets are great to have in craft storage rooms. But instead of having just a clothes rack, add shelving. You can take the door off for easy access, or leave the door on to hide some of your supplies.
Make sure you have a workspace that is bigger than what you think you need. You can never have enough workspace. But the workspace can be too small. And nobody likes to work on a project when there is not enough space.
What Supplies Do You Have?
When setting up your new craft room, you will quickly realise you have a lot of crafting supplies. Before you design the craft room, know exactly what you have. Then decide how you are going to organise it and store it.
Choose colours that make you happy.
Lighting is extremely important in craft storage rooms. Make sure that you have plenty of it. Working in a dark area can be difficult and frustrating.
It will also make you strain your eyes. When choosing lighting, look for daylight lights. Unlike traditional bulbs that have a yellow tint, daylight bulbs mimic the sun's natural light.
30 Craft Room Storage Ideas
1. Pegboard Organization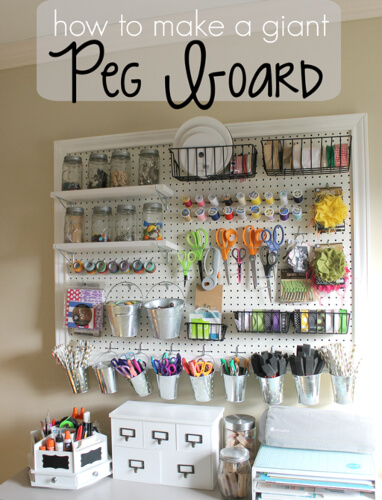 Pegboards are extremely versatile. You can use them to hang and organise a wide variety of crafting supplies. Instead of hanging up a plain, ugly pegboard, frame it a make it a piece of artwork you will be proud to show off.
2. Wine Cabinet DIY Yarn Storage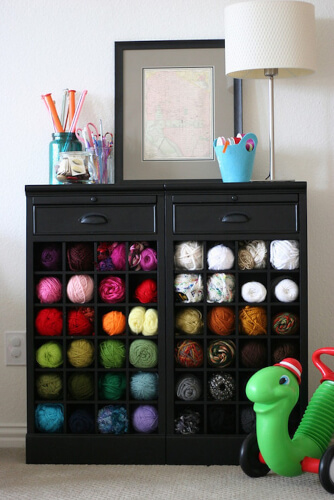 You can use your wine cabinet to store your collection of wine or your collection of yarn. The small cubes are the perfect size and shape. You will no longer have to dig through your stash. It will all be right there at your fingertips.
3. Hidden Door Storage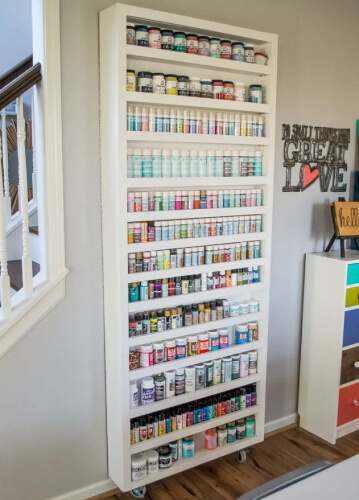 If you have the wall space, but are lacking extra floor space, make a swinging door with hidden storage. You can use the back of the door to hang your cutting mats, rulers, etc. You can even hang your ironing board on the wall behind the door.
4. Cube Desk Craft Storage Rooms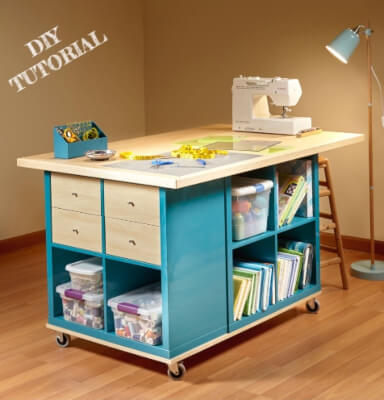 Craft desks are designed to give you a workspace and storage. You can find a wide variety of craft desks for sale, or you can make your own using cube organisers and a wood top. You can even add casters, so you can move it around easily.
5. Vinyl Rack DIY Craft Room Storage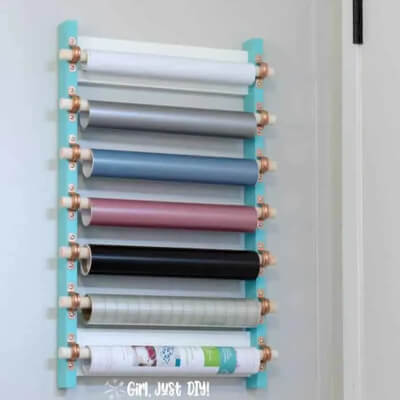 Hang your rolls of vinyl on the back of your door with a DIY vinyl storage rack. You can get to the vinyl easily, and they will be out of sight when the door is open. You could also use this rack idea to store your ribbon.
6. Rubber Stamp Ledges Craft Room Organizer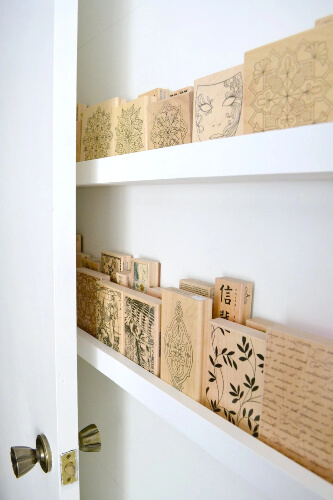 Mounted rubber stamps can take up a massive amount of room. And when they are stored away, it can take a long time to find the stamp you are looking for. Craft stores use shelving to display all of their stamps, and it looks amazing. You can do the same thing.
7. Sewing Tables with Storage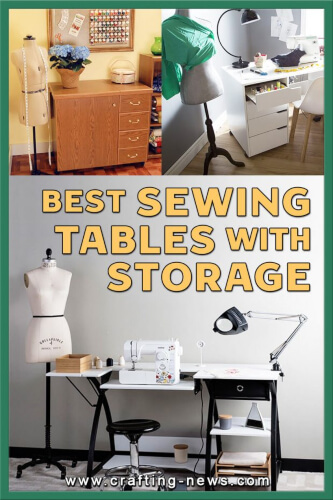 Sewing tables were designed to make sewing easier. And they often provide you with storage for all your essentials.
8. DIY Ribbon Craft Room Storage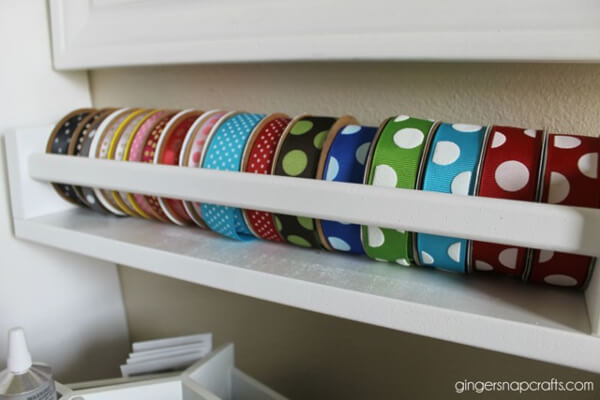 Ribbon can be messy and hard to store away. So, you probably toss it all in a bin. But you bought the ribbon because you like it. So, why not show it off and keep it handy? It is easy to do with a ribbon storage shelf.
9. Use Kitchen Cabinets | DIY Craft Room Storage
Kitchen cabinets are not only for the kitchen. They are great for craft rooms. They supply plenty of storage space and countertops. You do not have to buy the fancy, expensive cabinets. Instead, look for the cheap ones. You can paint them to match your craft room.
10. Bookshelf Craft Room Organizer
You can never have too many bookshelves. You can use them to store your crafting books, or crafting supplies. When storing supplies, you can use plastic containers, or baskets. You can even add tension rods to hang ribbon or wrapping paper.
11. PVC Pipe Yarn Craft Storage Room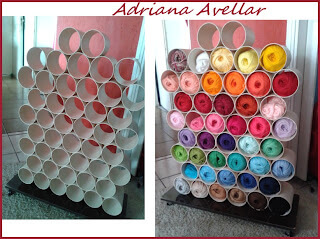 Make your own yarn storage with PVC pipes. This is an easy DIY craft room storage idea. And you can make it any size you want. Make a small display and put it on wheels, so you can move it around easily. Or, if you have a lot of yarn, make a whole wall of storage.
12. Mini Bolt Fabric Bolt Storage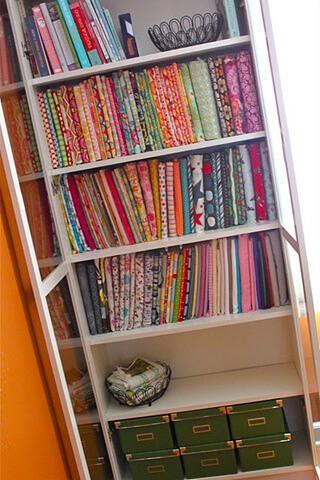 Craft stores use bolts of fabric so you can see exactly what they have. The bolts keep the fabric organised and secure. You can also use this same idea to store fabric in your craft room. Instead of having large bolts of fabric, you can create little ones and store them on a bookshelf or in a cabinet.
13. Repurpose an Armoire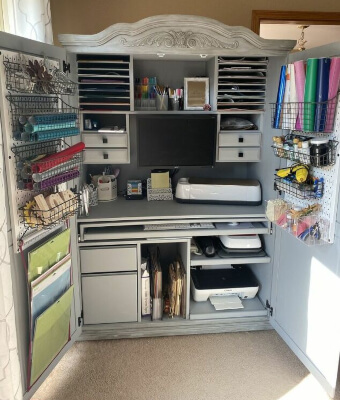 Armoires used to be very popular. However, they were big and bulky. If you still have an armoire, do not get rid of it. Instead, repurpose the piece of furniture into an amazing craft storage unit.
14. Use a Spice Rack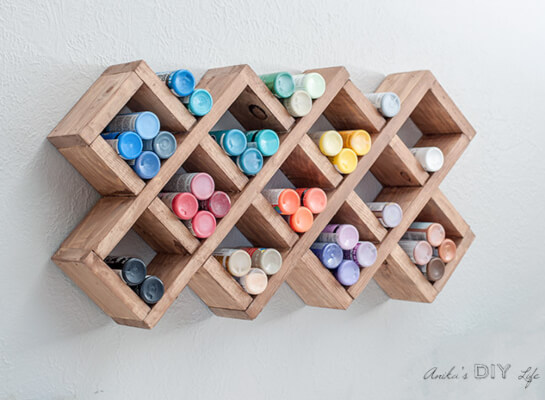 Spice racks are not only for the kitchen. You can use them to store paint and other crafting supplies. You can often find inexpensive rack at the dollar store. Or use this free DIY tutorial and make this striking rack. It can sit on a desk, or you can hang it on a wall.
Find the Spice Rack Storage Idea Here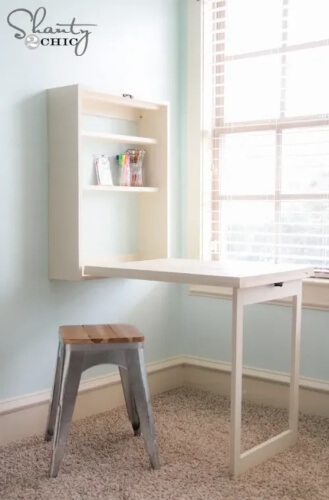 If you are short on space, yet want a dedicated space to craft, install a murphy desk. Just as with a murphy bed, the desk folds up and down, so you can use it whenever you need it and put it up when you are done. You can even add shelves to hide your supplies.
16. Use Labels for your Craft Room Organizers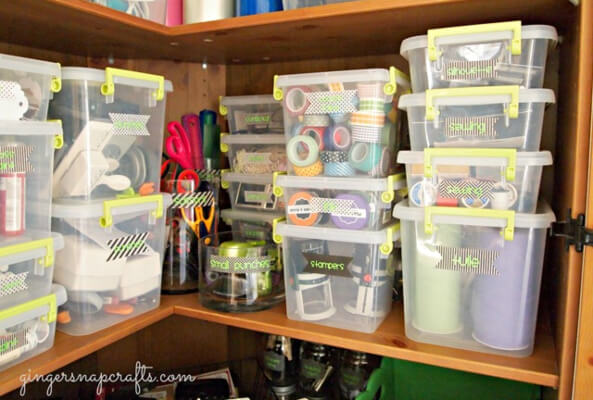 Do not try to remember where you put everything. Use labels. They do not have to be plain white labels. This is your craft room, right? Get crafty and make some attractive labels. (Find the DIY Clear Sticker Label Tutorial here)
17. Nail Polish Holder for Thread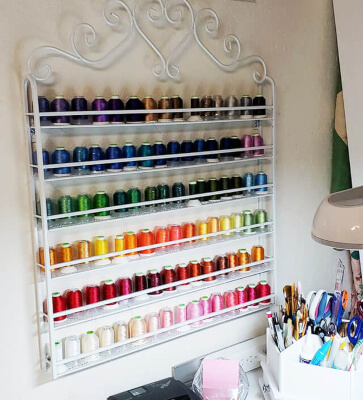 Keep your thread organised with a nail polish holder. There are a variety of holders you can find, from simple acrylic desktop shelves to ornate metal wire racks.
18. Sewing Thread Holder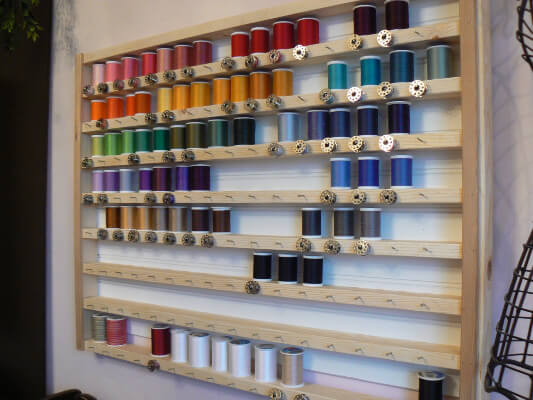 Spools of thread are easily misplaced, and the matching bobbin can be almost impossible to find. Instead of tossing the thread in a box, drawer, or old cookie tin, make this thread organiser. Not only does it display and organise all your beautiful thread, but there is also a place to attach the matching bobbin too!
19. Show off your Fabric Stash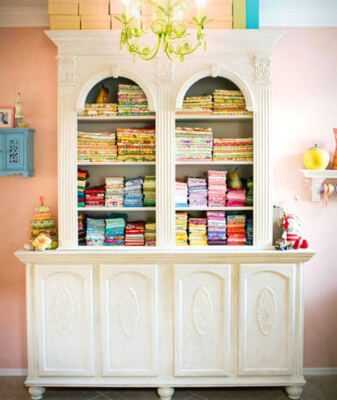 Instead of storing your fabric away, show it off. You can use a bookshelf or a hutch. Just fold the fabric up nicely and organise it by colour or pattern.
20. Thin Die Framed Storage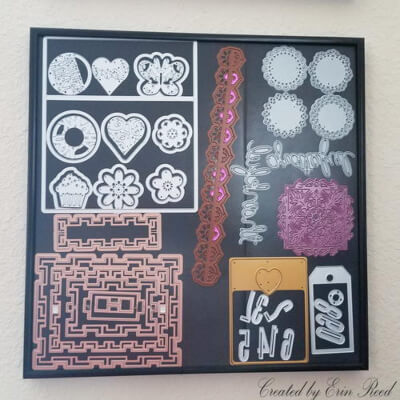 Metal dies are one of those crafting supplies that can easily be misplaced. They are wafer thin and lightweight. You can store them in their original packaging, but it is so bulky and inconvenient.
Instead of damaging the dies by storing them in a drawer, hang them on your wall using framed magnet craft sheets.
21. Hang Your Mats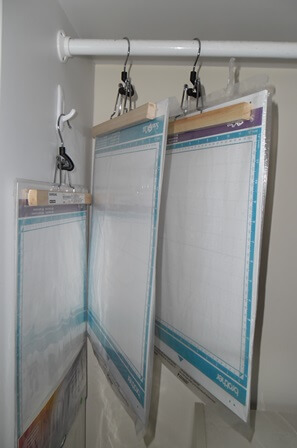 Cutting mats have been getting in the way ever since the first home die cutting machine was introduced. Instead of shoving them wherever they will fit to get them out of the way, hang them up. This craft storage technique is so simple we cannot believe we did not think of it before.
22. Hang Your Ironing Board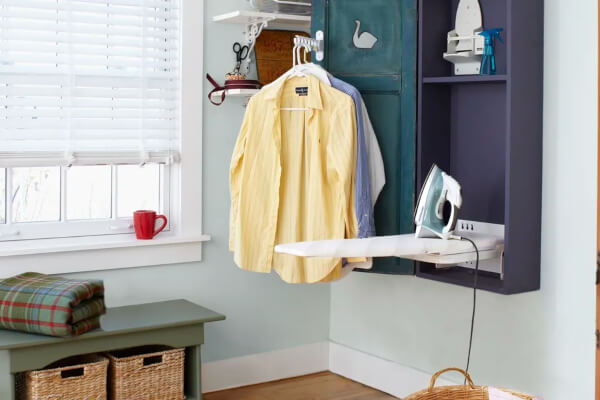 If you sew, you are always dragging around your ironing board. Instead of folding it up and moving it out of the way every time you use it, install a permanent ironing board on the wall.
Whenever you need it, simply open the door, and fold the board down. And you can add additional storage for your iron.
23. Paper Storage Towers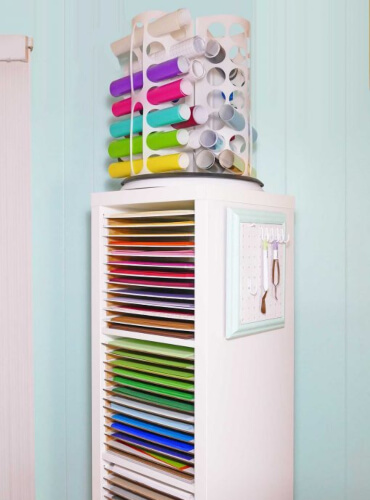 Storage towers are one of the best ways to store your scrapbook paper. It keeps the paper nice and crisp and gives you the ability to see exactly what you have. You can buy premade towers or make your own using this DIY paper storage tower tutorial.
24. Tiered Paint Craft Storage Rooms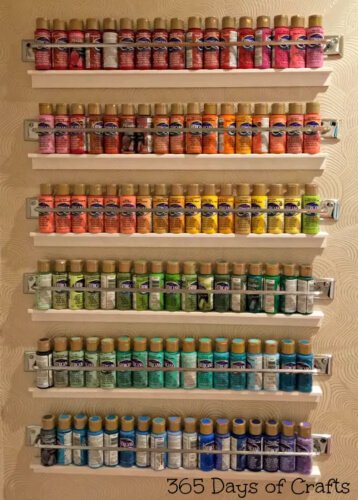 Do you have a lot of paint bottles? If so, you know how hard they are to store away. And why would you want to hide all the beautiful colours? Instead of shoving them in a box or cabinet, hang them on the wall using towel bars and wood trim.
25. Organize Your Patterns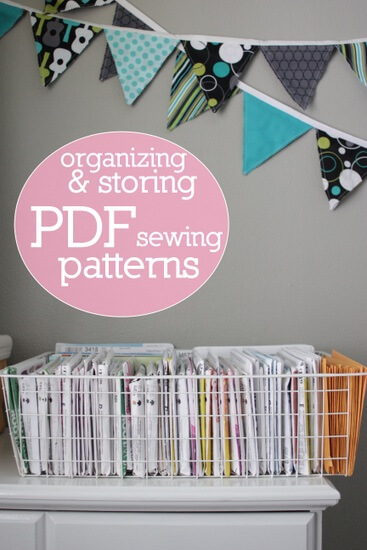 Store bought patterns often come in a handy little envelope. And these envelopes are basically the same size. This makes them easy to organise and store away.
But what about all the printed sewing patterns you have laying around. You can store them right along with your other patterns using 6" x 9" clasp envelopes.
26. Curtain Rod Ribbon Holders
If you have a lot of ribbon, it is probably stashed away in a fabric cube, box, or plastic storage container. This can make it very difficult to find the ribbon you are looking for.
Not to mention, the ribbon is always coming undone. Instead of throwing all your ribbon in a container, display them on the wall using curtain rods.
27. Vinyl Roll Holder
Rolls of vinyl can get damaged easily. They can be impossible to store. And when they are all shoved in a drawer or container, you cannot see all the colours you have to work with.
Instead of hiding these vinyl rolls away, use this clever hack to keep the vinyl in pristine shape and at your fingertips.
28. Gift Wrapping Station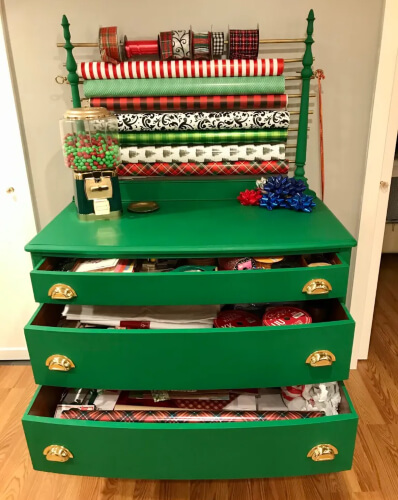 Upcycle an old dresser into a gift-wrapping station. The drawers provide you with ample storage. You can hang rolls of wrapping paper on the wall behind the dresser or make a tower of dowel rods.
29. Wire Shelf Paint Storage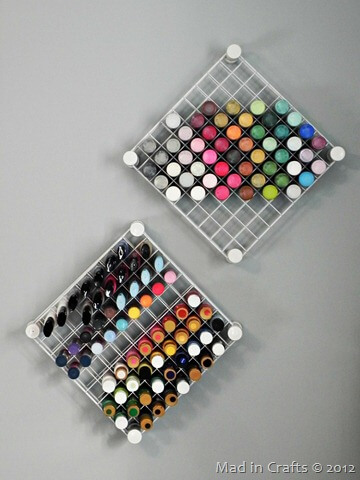 Have you seen the wire shelf cubes? You do not have to use them for their intended purpose. Instead, stack the individual pieces using spacers to create a unique paint storage system.
30. Unmounted Rubber Stamp Storage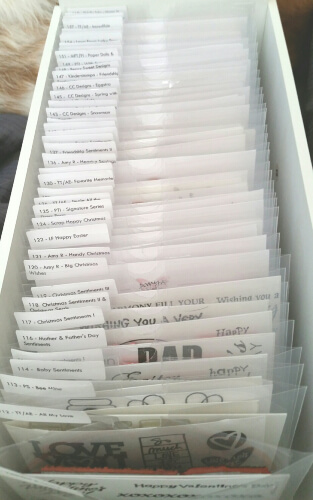 Unmounted rubber stamps are a great option since they do not take up as much room as mounted stamps. But they can be hard to keep track of since the packages are so slim and small. If you have a lot of unmounted rubber stamps, give the storage hack a try.
Designated craft storage rooms can improve your creativity and keep you organized.
You can also incorporated these ideas when you re-vamp your craft storage rooms: Decorative Light Switch Covers, Wall Painting Ideas and Window Storage Bench Ideas.
If you're on Facebook, stop over to our Facebook Page and share photos of your works for everyone to see!
Setting up and organising a craft storage room can just be as much fun as crafting itself. If you are ready to get organised and have a designated crafting space, what are you waiting for? Use some of these ideas for craft storage rooms to get started today.