In today's era of mass production and plastic, there may well be no other woodworking project as rewarding to build as these DIY wooden toys. A wooden toy gets back to the basics of handmade craftsmanship, natural and safe materials, and best of all, good old-fashioned fun!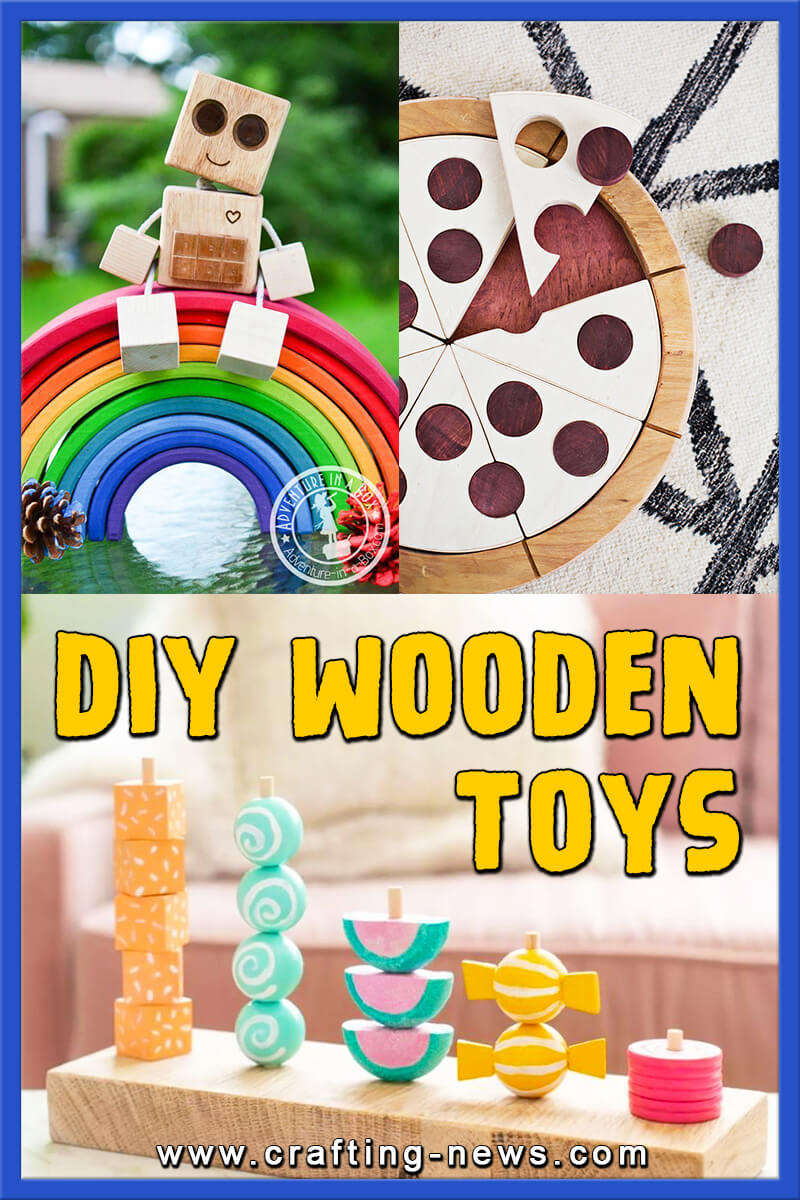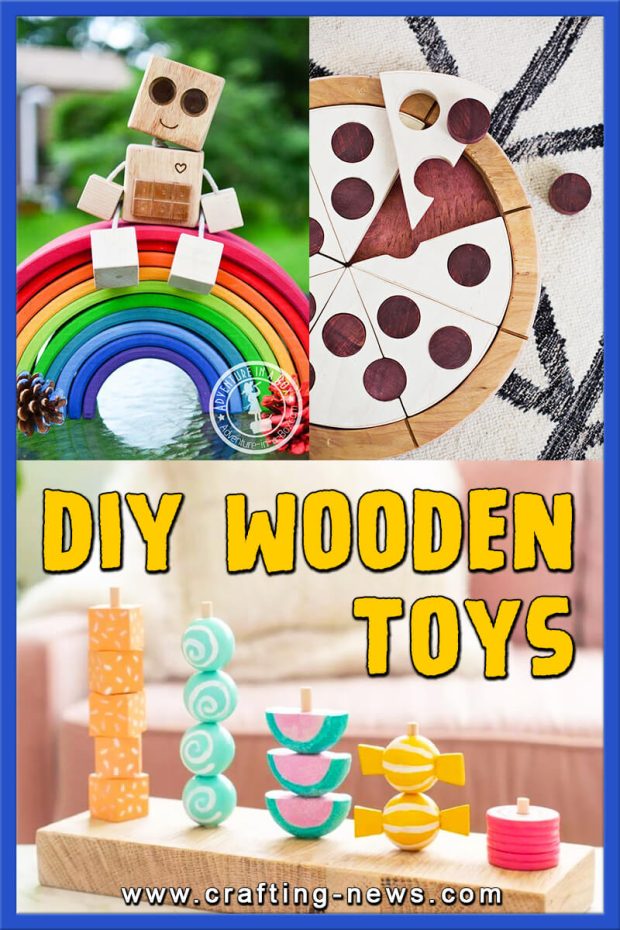 To help you find the right wooden toy to make, we scoured the internet to curate this list of the best ones we could find, from wooden toys for teething babies, ones for toddlers working on their fine motor skills, toys that encourage pretend play, and toys that will help kids develop a wide range of skills.

Plastic and store-bought toys have increasingly found to contain toxic components – another reason we chose to create safer options for our children. And no batteries to replace!
1. DIY Toy Wooden Houses by Inspire My Play
These little wooden play houses are perfect for all sorts of small world play. They are so simple to make and cost a fraction to DIY compared to similar wooden houses you can buy.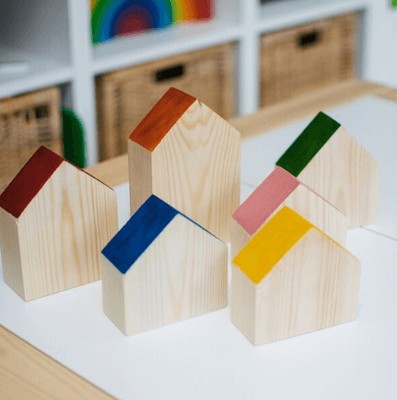 Follow the tutorial here

2. DIY Stacking Big Mac Toy by Jaime Costiglio
This stacking burger toy is meant for kids but with all the layering possibilities, adults might find it fun too! This stacking big mac toy has 13 layers! And it wouldn't be complete without the McDonald's napkin base. If you have a burger loving kid this might just be the best gift idea ever.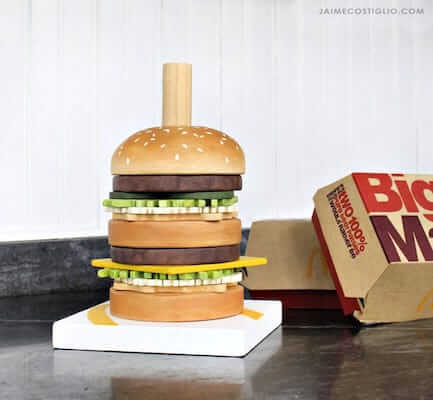 Follow the tutorial here

3. DIY Wooden Robot Toy by Adventure In A Box
Do you want to make a wood robot toy? Or maybe looking for the first woodworking project for kids? Try this one! While the wooden robot lacks realism or fantastic articulation, he definitely possesses all the charm of a toy made with love.
Why else would he be wearing his heart where everyone can see it?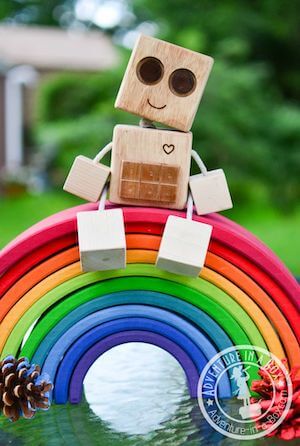 Follow the tutorial here

4. Oversized Tic Tac Toe Game by Her Tool Belt
This Oversized Tic Tac Toe Game features Christmas motifs, but you can always make a classic version, or personalize the game according to your own taste.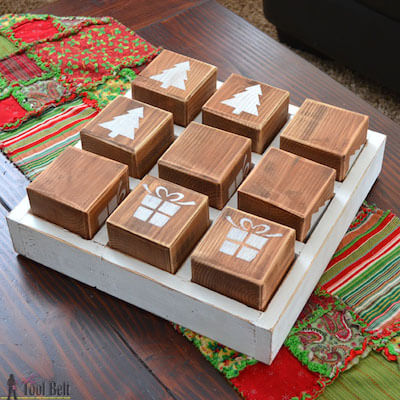 Follow the tutorial here

5. DIY Play Beauty Box Vanity by Jaime Costilgio
Making all the childhood dreams come true these days with this DIY Play Beauty Box Vanity. It's the ultimate gift for any little one who loves playing with make up and beauty products. Of course we say it's for kids but let's be honest, we're all loving this play vanity as an adult!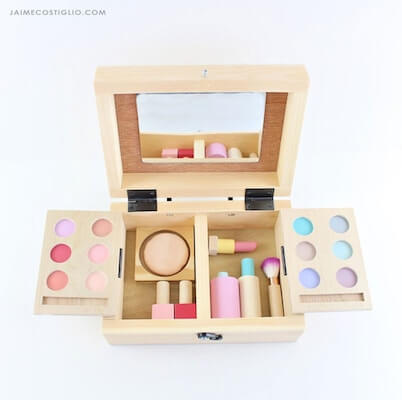 Follow the tutorial here

6. DIY Wooden Toy For Kids by Lovely Indeed
Make a wooden toy for kids with this fun and easy tutorial! This "candy stacker" toy will be a hit with your little ones. It's perfect for sorting, stacking, and lots of creative play.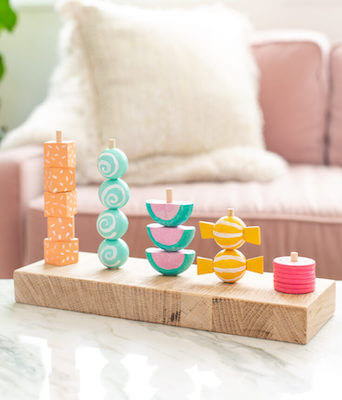 Follow the tutorial here

7. DIY Wooden Father's Day Car by Hello Wonderful
Make dad a rad car he can play with his favorite little guy (or gal). These make cute handmade wooden toys that will lead to lots of fun playtime!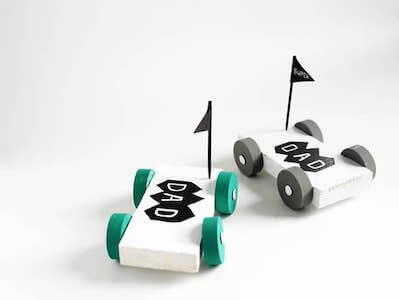 Follow the tutorial here

8. DIY Wooden Toy Barn by Houseful Of Handmade
With Christmas around the corner, it's time to start thinking about fun DIY gifts. And what kids doesn't love a dollhouse? But this isn't just any dollhouse – it's a realistic toy barn dollhouse for your toy horses!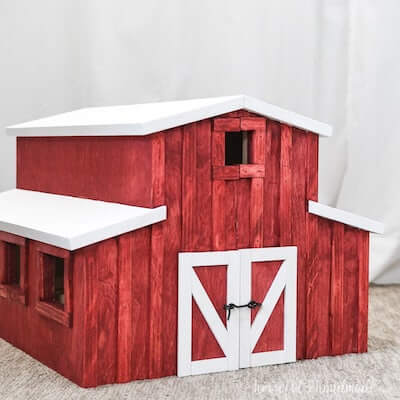 Follow the tutorial here

9. Waldorf-Inspired Nature Blocks by Adventure In A Box
Would you like to add a touch of nature to your playroom? Here is our DIY tutorial on how to make a set of Waldorf-inspired nature blocks that are great for imaginative play with animals!
Just looking at them seemed to evoke images and memories of walking down a forest path on a crisp fall afternoon.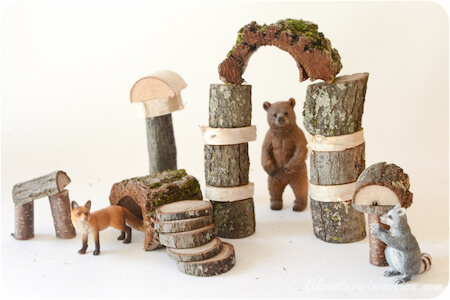 Follow the tutorial here

10. DIY Kids Scooter by Pretty Handy Girl
Encourage kids to go outside and be physically active with these colorful wooden scooters. If you happen to have a piece of 2×12 scrap wood lying around then this project is made for you.
The chunky 1 1/2″ thick material is solid and sturdy and can be painted any color you choose.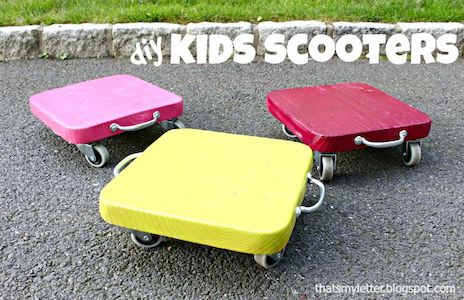 Follow the tutorial here

11. DIY Wooden Pizza Puzzle Toy by A Beautiful Mess
This pizza puzzle can also be used as pretend food for a child's pizza party, giving you two toys in one! Who doesn't love pizza? Even if this is not edible, pizza is always a great choice!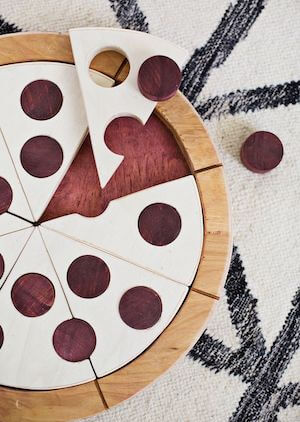 Follow the tutorial here

12. DIY Wooden Block Stacker by Bamboo Family Mag
Remember the good old plastic stacking toys you used to play with as a kid – or the ones your babies used to play with? This is a timber version, and it is lovely.

The colors alone are excellent for keeping kids amused, and you can make the blocks in various sizes to teach them stacking skills. This one is straightforward and would make a perfect DIY gift for any toddler.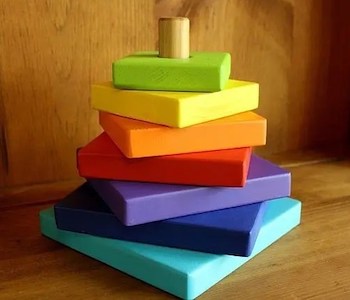 Follow the tutorial here

13. DIY Wooden Teethers by Adventure In A Box
Cute enough to be displayed as works of art, these wooden rattles and teether are the perfect gift for the new parent in your life! You can make them in a variety of shaped and styles, so you can create everything from a lion to a fox or dinosaur for the little one to play.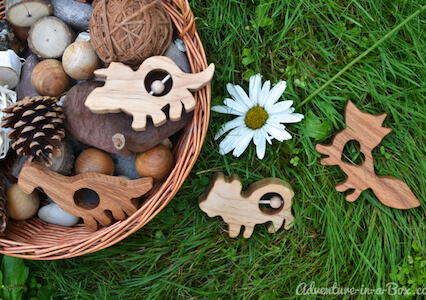 Follow the tutorial here

14. DIY Wooden Baby Gym by The Merry Thought
All babies love a baby gym especially when they aren't yet able to walk. So rather than buy one, why not make this simple and stylish DIY Wooden Baby Gym that can be handed down for generations to come.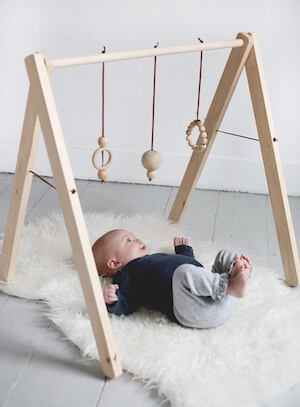 Follow the tutorial here

15. Mirror Wooden Blocks by Adventure In A Box
There is always a place for a set of wooden blocks in a playroom, and everyone like playing with them. Specialty blocks – with transparent windows, sand and water in them – add a new dimension to the play, and for a Christmas gift this year, prepare a handmade version of mirror blocks for the kids!
Follow the tutorial here

16. DIY Wooden Roads And Ramps For Toy Cars by Buggy And Buddy
Here's how to make wooden roads and ramps for toy cars. These DIY car tracks are perfect for both indoor and outdoor play and is super easy to make! You can move them in any formation you'd like, creating ramps and roads to play with in just about any setting!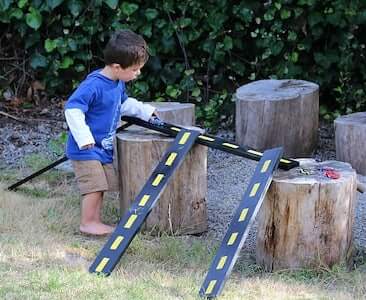 Follow the tutorial here

17. DIY Painted Wooden Toy Bowling Set by Color Made Happy
This little bowling pin wooden toy set is not only a great project to do with kids, but it also makes for a very creative and unique gift for special occasions and birthdays. If you show up to a party with this little set, everyone will want to know how you made it.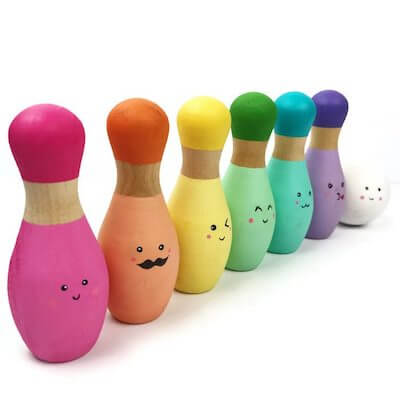 18. DIY Wooden Toy Camera by Lil Blue Boo
With some woodworking, you can construct a replica of a classic Holga camera, in any color you want. The details here are amazing!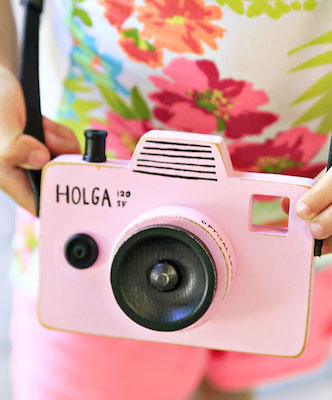 Follow the tutorial here

19. DIY Balance Board by Jaime Costiglio
This is a DIY tutorial to make a balance board. Easy to make wooden balance board provides kids with a fun challenge. You can paint the tops with fun colors and designs to keep it interesting.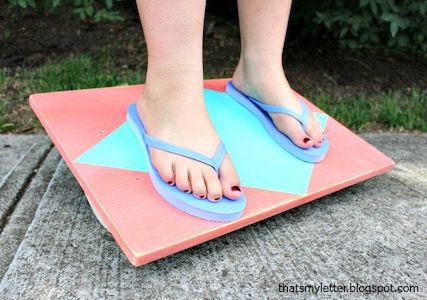 Follow the tutorial here

20. DIY Balloon-Powered Wooden Toy Boat by Adventure In A Box
Bath time equals fun time for all kids. And this DIY Wooden Toy Boat powered with a balloon is just the thing to make bath times even more fun.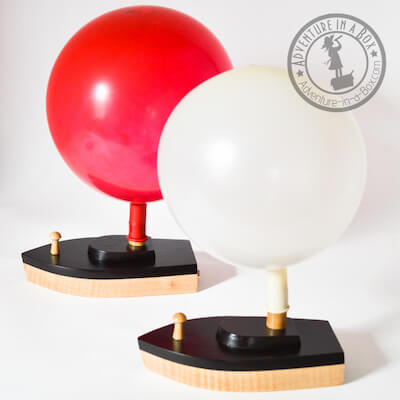 Follow the tutorial here
21. DIY Wooden Blocks Toddlers Stacking Toy by Apple Green Cottage
DIY Wooden Blocks Toddlers Stacking Toy is super simple to make.Here's a simple tutorial for you to make a colorful homemade wooden stacking toy for your child. It also makes an excellent DIY present for your friends' toddlers!
Being such a simple design and very easy to put together this project will only take a several hours to complete.


You'll need:
several wooden building blocks from your kid's playset (use what your child already has, or get an affordable set)
Wood Glue
Wood Paint
Follow the tutorial here
THESE DIY WOODEN TOYS ARE A JOY TO BUILD, REWARDING TO GIVE, AND ENDLESS FUN TO PLAY WITH!
If your kids enjoyed playing with these wooden toys then wait until they see these Castle Craft Ideas and DIY Fairy Jars. Seeing your finished projects brings us so much joy!
We'd love for you to share them on our Facebook Page and show us your DIY successes (or even-less-than-successes!).

Can't get enough? Here are more woodworking crafts and crochet toys to make!

Everyone will surely love these DIY wooden toys since they are useful, attractive, and have that ultimate rustic charm! Don't forget to involve the kids in the making process!