When the days are getting longer, the weather's getting warmer, and the world is starting to become a little more colorful – spring is on its way! If the change of seasons has got you feeling inspired, we've got a selection of beautiful flower quilt patterns for you to lose yourself in.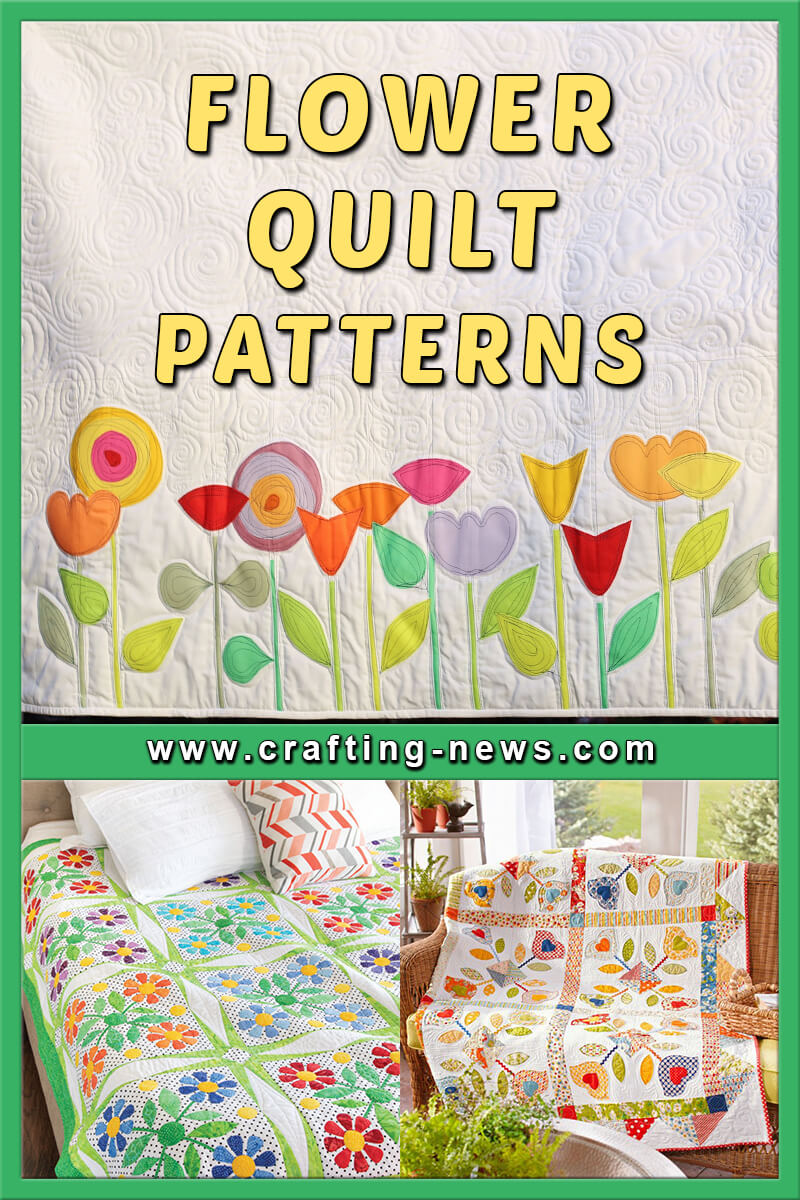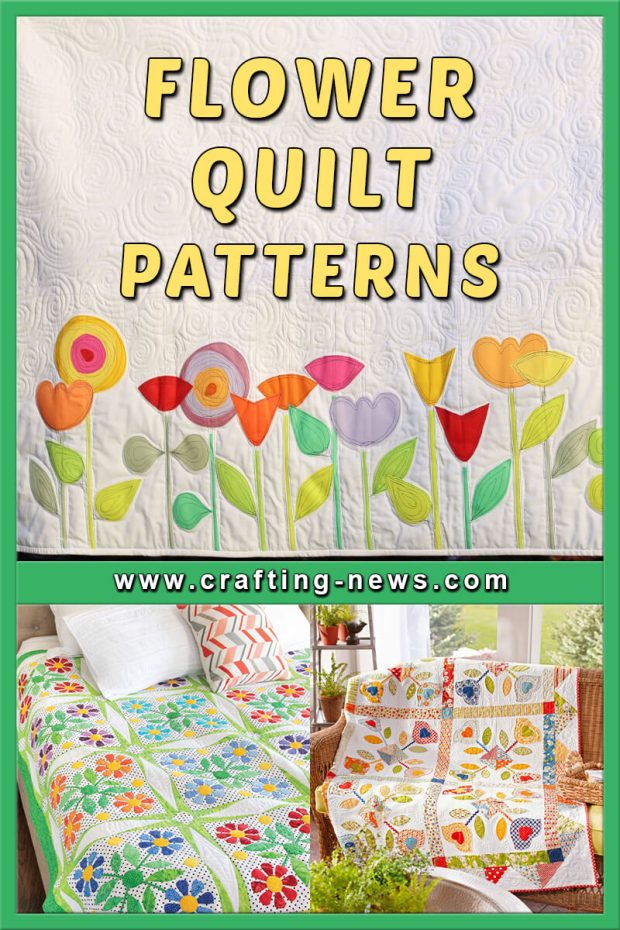 The first thing that comes to mind when we think of spring is all the beautiful blooms that make an appearance at this time of year!
Say goodbye to winter by making one of these fantastic flower quilts, guaranteed to brighten up your home for many years to come. You won't be able to draw your eyes away from these beautiful flowers ahead!

1. Country Flower Quilt Pattern by Jedi Craft Girl
You will love this charming little quilt inspired by flower fields in the country. Country Flowers is perfect for hanging on a wall, putting on a table, or giving to a friend. The finished quilt measures 26″ and the finished block measures 10″.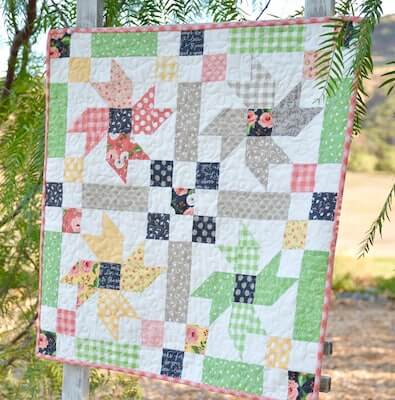 Get the Pattern by Jedi Craft Girl here

2. Flower Power Quilt Pattern by Kelli Fannin Quilts
Flower Power is a beginner friendly quilt pattern that is super fun to stitch up. These modern yet retro blooms are also fat quarter friendly! Cover quilt finishes at 74 x 74″, but pattern includes four additional sizes: crib/lap, twin, queen, and king.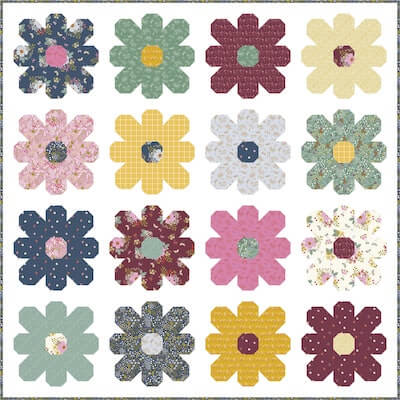 Get the Pattern by Kelli Fannin Quilts here

3. Flower Crown Quilt Pattern by Quilting Daily
This formal design is livened up by a vibrant assortment of fabrics and a foundation pieced sashing. Each block features 2 assorted print fabrics in its petals. You can cut each set of 16 matching petals from an 8″ square of fabric, a great way to use up pretty scraps!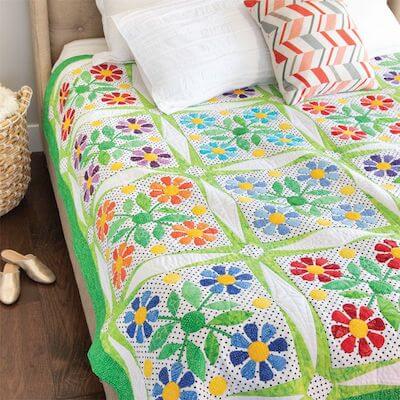 Get the Pattern here

4. Tulip Festival Free Flower Quilt Pattern by All People Quilt
Rickrack stems and pretty tulip appliqués topped with hearts make the simple piecing stand out on this throw. The airy appliqué foundations showcase intricate quilting.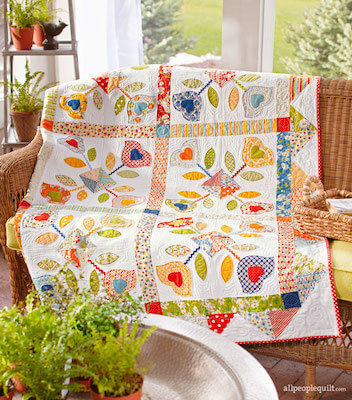 Get the Pattern here

5. Flower Quilt Pattern by Sew Fresh Quilts
This spring inspired quilt design is provided in two sizes. Full finishes at 70″ x 90″ and Lap finishes 70″ x 70″. This pretty floral quilt pattern is perfect for those who can't get enough of their flower garden. Use a rainbow of fabrics against a light background to show off those flower and butterfly blocks.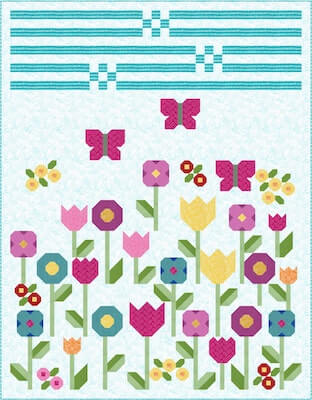 Get the Pattern by Sew Fresh Quilts here

6. Log Cabin Flower Garden Mini Quilt Pattern by Thread Bare Creations
This Log Cabin Flower Garden Mini Quilt is a sweet and simple paper pieced mini flower quilt pattern inspired by the classic Log Cabin block.

This fun mini quilt will add that Spring/Summer touch to your home decorating. It celebrates the Daisy, Rose and Lily flowers and each block finishes at around 6″ square.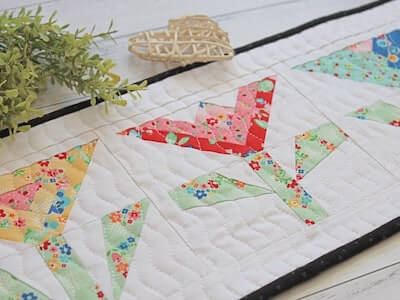 Get the Pattern by Thread Bare Creations here

7. Flower Garden Quilt Pattern by Quilting Cubby
The petals in these pieced flower blocks are the perfect shape. Pretty patchwork at the center of the bloom provides an extra pop of fabric, as the flowers blossom for a new season! Pink red and mint green is soft and lush, just like a fresh Spring garden, or choose your own fabrics for the display.

Use any fabric for this Flower Garden quilt pattern. However, if you love florals, the quilt is spilling with sweet country dainties. There's no stress in fabric selection. Choose a favorite Spring/Summer collection and put them together to beautify these blooms.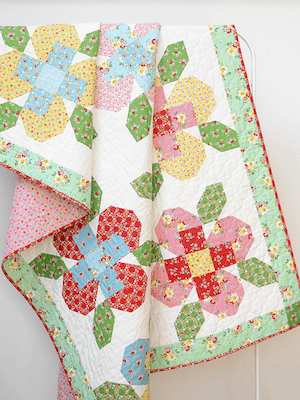 Get the Pattern here

8. Cutting Flower Garden Quilt Pattern by Poppy Print
This beautiful scrappy garden quilt is sure to cheer any home or porch swing. It is a generous lap size finishing at 58″ x 70″, featuring a charming rainbow colour wash of leafy stalks topped by primitive, sweet blooms.

A perfect quilt for using up scraps and trading with friends or guild-mates! A one-stalk table runner featuring a bloom at either end is a simpler option for those looking to make a smaller project.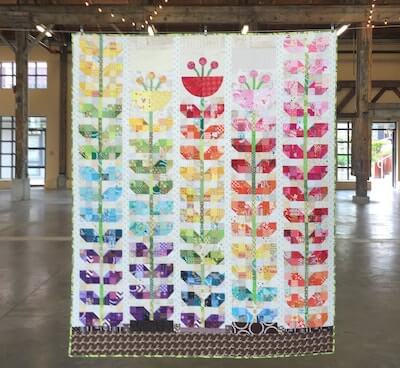 Get the Pattern by Poppy Print here

9. Bud Bouquet Quilt Pattern by Missouri Star Blog
Quilted flowers are always a good idea! Fill your home with these darling buds and enjoy beauty each and every day. Before you begin sewing, gather up two packages of your favorite 5″ squares, add coordinating background fabric, and before you know it, your quilt will be in bloom!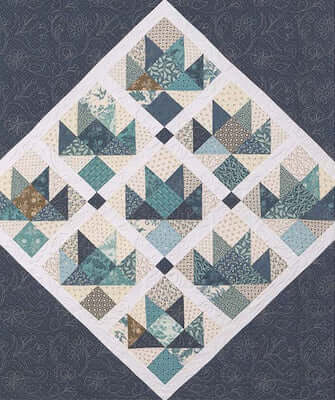 Get the Pattern here

10. Olive Blossom Quilt Pattern by KE Collins Designs
The Olive Blossom Quilt is a modern curved-piecing pattern with retro, mid-century flair! This pattern features large blooms amidst a field of leaves, and is perfect for mixing favorite fabrics and using up scraps – or going modern with solids.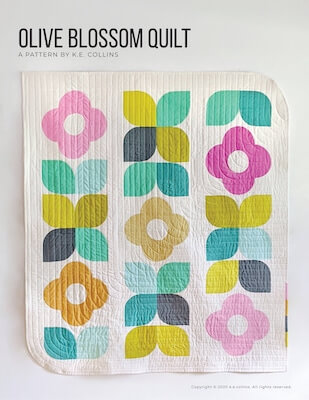 Get the Pattern by KE Collins Designs here

11. Desert Rose Flower Quilt Pattern by Happy Quilting Melissa
Desert Rose is a delightful quilt with beautiful blocks that make a bold statement. And this quilt is Fat Quarter Friendly so it's easy to pick a bundle or grab from your Stash!

These happy flower/star blocks are big so the quilt will go together fast. Whatever size you choose, you are sure to have a finish that is absolutely stunning!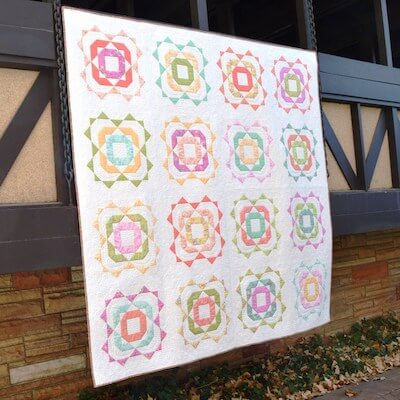 Get the Pattern by Happy Quilting Melissa here

12. Cactus Blooms Quilt Pattern by Quilting Daily
This Cactus Blooms gives you 30 opportunities to mix and match assorted fabrics to create an entire field of flowers. With stars as their centers, these pieced flower blocks are again on the stylized end of things, but each definitely gives the look of a full-open bloom.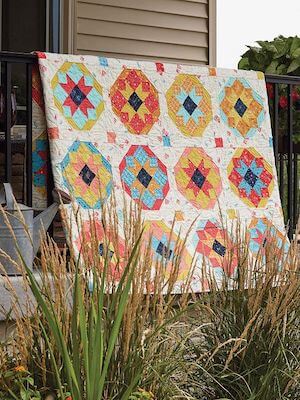 Get the Pattern here

13. Summer Free Flower Quilt Pattern by Connie Kresin
If you enjoy applique flowers, you are going to enjoy making this Summer Flowers Quilt that has eight different beautiful flowers to applique on a strip pieced background. It's a 44″ x 60″ inch quilt that combines string piecing and flower applique.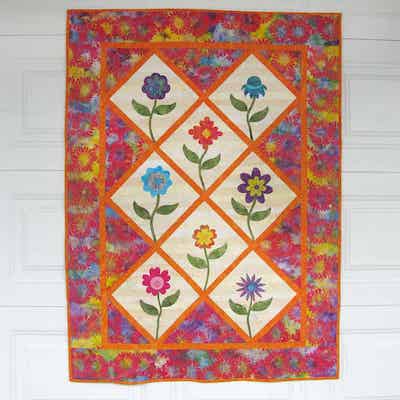 Get the Pattern here

14. Flower Pots Quilt Pattern by Helen Philipps Designs
This is a very happy scrappy quilt with a bright and cheerful summer vibe. Perfect for scrap busting, or to use smaller pre cuts, you can have fun making different flower filled pots using simple templates and fusible web with a little stitching. Add a vibrant backing fabric for the perfect summer quilt.
Get the Pattern by Helen Philipps Designs here

15. Pocket Full Of Posies Floral Quilt Pattern by Rachael Daisy Designs
Flowers make the world go round! So do quilts! Put them together and create magic! It's time to use those denim jeans you've been saving up for a special project.

This flower garden quilt pattern will lead you through the making of your own delightful denim garden, from different ways of piecing denim in an improv style, a variety of applique techniques, flower designs through to hand quilting, with lots of colorful photos, and handy tips and tricks.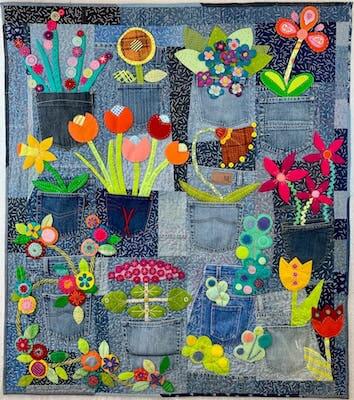 Get the Pattern by Rachael Daisy Designs here

16. Spring Flower Quilt Pattern by Fabric
Spring is right around the corner, and that means bright and cheery quilts that are full of color! This Spring Flowers Quilt Pattern is an homage to those early Spring flowers that will give your home a modern garden feel.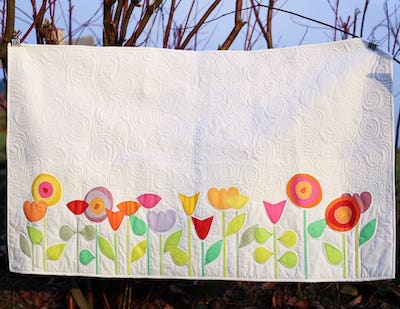 Get the Pattern here

17. Flower Wall Hanging Quilt Pattern by Yarnspirations
Dig into your scrap box (or go shopping) and find lots of pretty greens. Make the background, then, let the flowers bloom! The background is machine pieced then either hand or machine quilted. Raw edge applique for the flowers and leaves is very forgiving, and fun! Sew by hand or machine, it's your choice.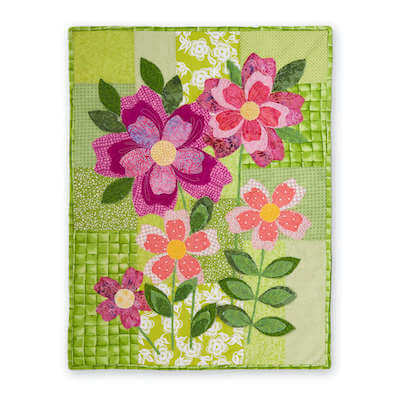 Get the Pattern here

18. Flowers Squared Quilt Pattern by Connecting Threads
This colorful quilt is great fun to make and a perfect way to use up some of your smallest scraps. Finished blocks are just 5 inches square, and no two need to be the same. Three dimensional flying geese points add a bit of interest, as does the random colored blocks in the border.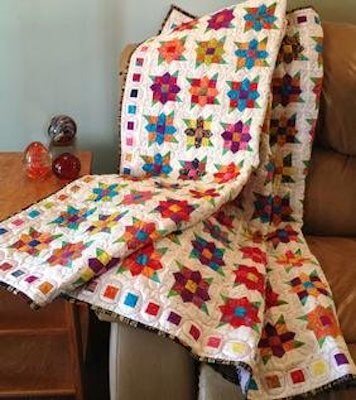 Get the Pattern here

19. Hexie Blooms Quilt Pattern by Cotton And Joy Quilts
Hexie Blooms is a modern take on the classic Grandmother's Flower Garden quilts. This block-based pattern uses no y-seams and no hand sewing, and it includes three design options for maximum flexibility – sew a scrappy version with fabric from your stash or your favorite precut. Use FQs for a stunning full bloom version, or use yardage for a classic 2-color version.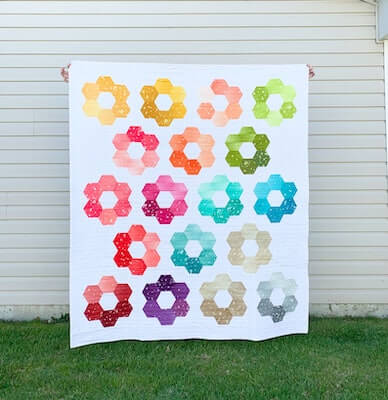 Get the Pattern by Cotton And Joy Quilts here

20. Fresh As A Daisy Quilt Pattern by Pen And Paper Patterns
This Fresh as a Daisy Pattern is a traditionally pieced quilt pattern that includes instructions for two different versions – modern and scrappy.

The scrappy version is fat quarter and jelly roll friendly. The pattern comes in two sizes: baby (48″ square) and throw (59 1/2″ x 63 1/2″). The pattern also includes instructions for making a single block. Perfect for mini quilts, pillows, and sewing from your stash.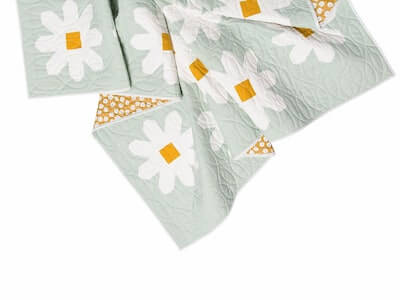 Get the Pattern by Pen And Paper Patterns here

21. Whimsical Garden Wall Quilt Pattern by Tina Curran
This pattern is for a very cheerful quilt that gets raves wherever you show it. You will like the mix of the styles of the flowers in this composition – with some more realistic, some quite cartoonish, and the rest somewhere in between. And the rays of sun coming in from the corner is reminiscent of children's drawings.

The look of the quilt will vary given the flower fabrics you already own or can obtain and how you fussy cut the flower heads. As not everyone collects floral fabrics, you can also make your own flowers from any fabric by cutting flower shapes – or individual petal shapes and building your own flowers.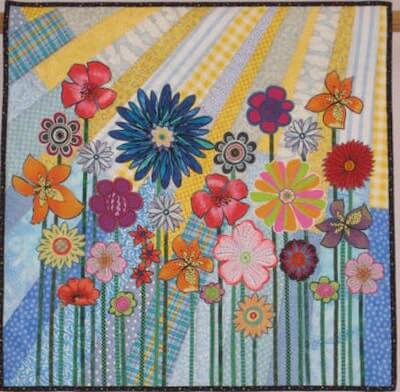 Get the Pattern by Tina Curran here

22. Totally Tulips Quilt Pattern by Missouri Quilt Co
By using 10″ squares of of precut fabric, you can create an entire garden full of tulips as your next project. These tulips are just too cute to believe! Draw some attention towards them and add a little fun by selecting an overly bright fabric that will make this flowers pop!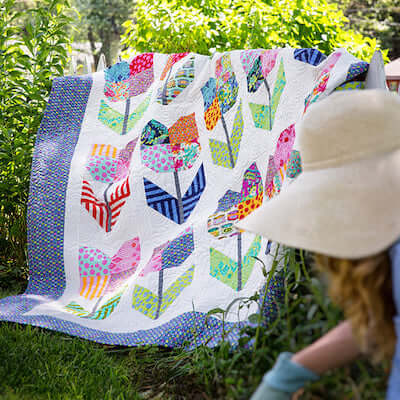 Get the Pattern here

23. Flower Tile Quilt Pattern by Carried Away Quilting
Flower Tile is inspired by the delicate symmetry found on beautiful painted floor tiles in historic homes. Thin sashing mimics crisp grout lines, while a repeated pattern of softly colored prints creates a lovely cohesive effect.
It's the perfect pattern to show off your favorite charm pack. Sew up Flower Tile and you will have a beautiful wall hanging, table topper, or child's quilt!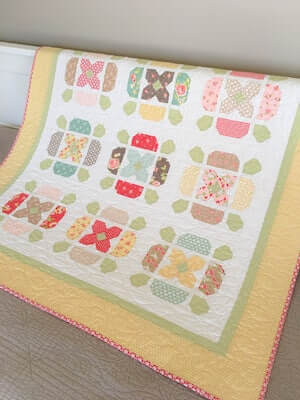 Get the Pattern by Carried Away Quilting here

24. Naughty Garden Quilt Pattern by Aunt Ems Place
This funky free form garden breaks all the rules. Learn to make free form roses, violets, asters, daisies, and tulips. Then make up your own layout or use the suggested one in the pattern.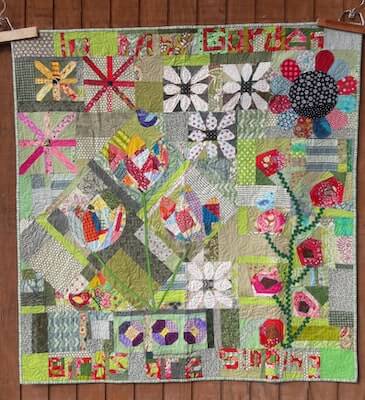 Get the Pattern by Aunt Ems Place here

25. Fan Flower Quilt Pattern by Tilda
Such a pretty and exotic-looking piece that you might want to try out so and proudly say you quilted it. It features bold flowers created using an easy Dresden wedge technique for making the petals.

The leaf block is simple but eye-catching and it is made from half-rectangle triange units. Some turned-edge applique adds to the charming look.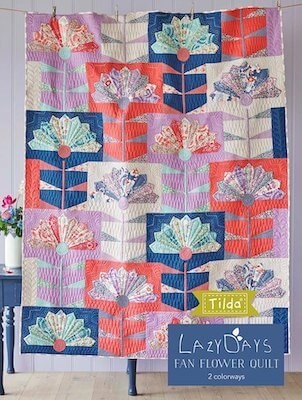 WE'RE CRUSHING HARD ON FLOWER QUILTS, SO WE'VE ROUNDED UP THIS QUILT GALLERY OF SOME OF OUR FAVORITE FLOWER QUILT PATTERNS TO INSPIRE YOU!
Show us your quilting successes on our Facebook Page. We love to see! Whether you're inside or out in the garden, adding some flower power to your next quilting project is the best way to capture the peaceful spring mornings.

Looking for more quilt patterns? Try some of these!
Stitch up a garden of quilts with these flower quilt patterns! These are sure to brighten up any spot, no matter how out-dated!