Looking to get glowing skin and have a little fun in the kitchen? We've got you covered. Whether your skin is dry, acne-prone, oily, aging, or just in need of a boost, there is a homemade natural DIY body scrub for your needs!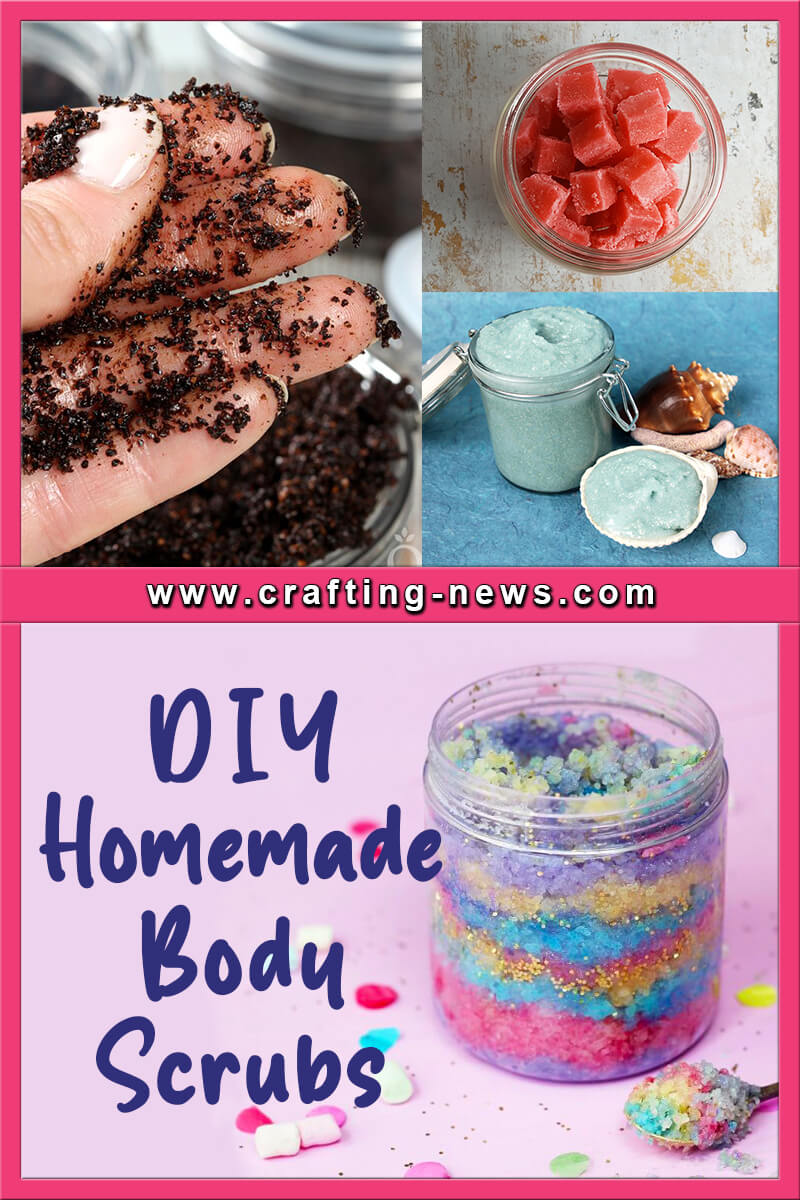 There's nothing quite like a homemade body scrub. Sure, you can splurge on fancy exfoliants (and there's nothing wrong with that), but there's something satisfying about crafting your own bespoke homemade blend, whether the goal is to help boost circulation, exfoliate away dead skin, or just improve the overall look and feel of your skin.

20 DIY Body Scrub Recipes
And doing all of this on a budget is just the icing on the cake. Down to give one a try? Keep reading for the absolute best DIY body scrubs that only require a few ingredients you definitely have in your kitchen (think: sugar, salt, coffee).
1. Coconut Lime Mint Sugar Body Scrub by A Spectacled Owl
Make this sugar scrub to help physically exfoliate the dead skin cell buildup. It's a rich skin moisturizer and leave your skin smell like a tropical vacation with the scents of mint, lime and coconut!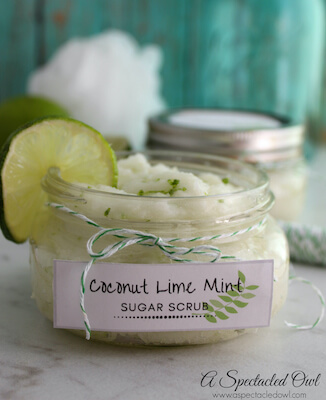 Follow the tutorial here
2. Chocolate Sugar Scrub by Simply Stacie
For those of you who are fellow chocoholics, try a chocolate sugar body scrub recipe that you make yourself with a few simple ingredients. It's 100% edible, but works better if you use it on your body and not as a snack!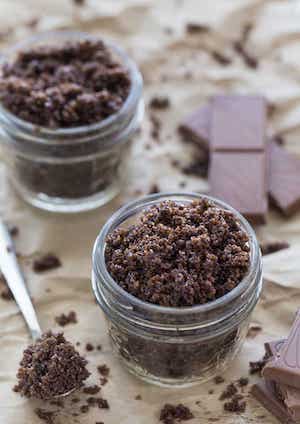 Follow the tutorial here
3. DIY Unicorn Body Scrub at Home by Caro DIY
With its pretty pastel colors and sprinkling of gold glitter, this DIY unicorn body scrub is just what the doctor ordered. Make several batches of this fun and simple recipe, before packaging it up into dainty little jars to give to your loved ones.
This homemade body scrub recipe would make perfect party favors!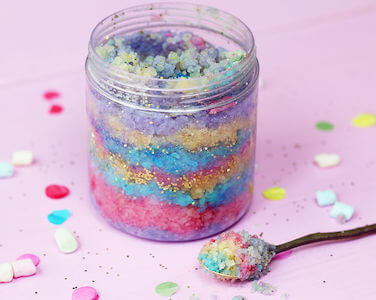 Follow the tutorial here
4. Citrus Brown Sugar Face Scrub by Simply Designing With Ashley
This Citrus Brown Sugar Face Scrub is a natural way to exfoliate your skin from the comfort of your own home, an easy DIY, and a great way to save money.

To make a brown sugar scrub, you simply mix together brown sugar, fractionated coconut oil, Unscented Castile Soap, and Citrus Fresh essential oil until they are well combined.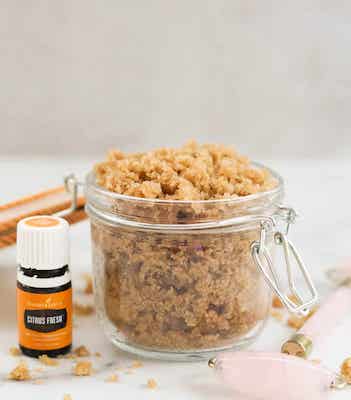 Follow the tutorial here
5. DIY Turmeric Sugar Scrub by Ruffles And Rain Boots
If you love turmeric and it's anti-inflammatory properties, then this DIY turmeric sugar scrub is perfect for you. It's a great beginner sugar body scrub recipe because it is quick to come together and involves no colorants.

White and brown sugars combine to make this DIY turmeric sugar scrub recipe the perfect remedy for winter skin. Whip up a batch in just minutes and take a little time for self-care.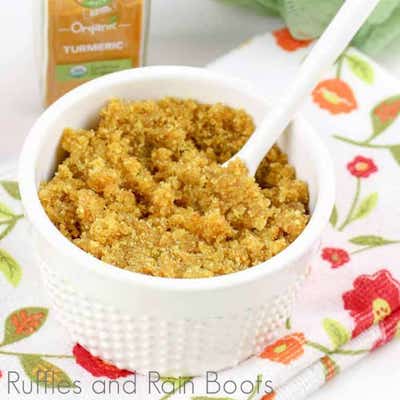 Follow the tutorial here
6. Lemon Sugar Scrub by Beauty Crafter
This invigorating DIY lemon sugar scrub is an easy gift idea, your recipient will love. The ingredients in lemon sugar scrub are ideal for acne, skin lightening and a generally fresh and healthy complexion.

The scrub is good for lips and facial treatments as well as a body scrub. This easy and inexpensive to make beauty product is more than worth the small effort to make a batch.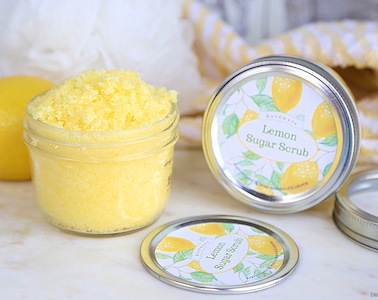 Follow the tutorial here
7. Salt Scrub Recipe by Healthy Maven
Looking to learn how to make a salt scrub recipe? This basic recipe will help you customize it to your liking so you can maximize the detox benefits of this therapeutic scrub.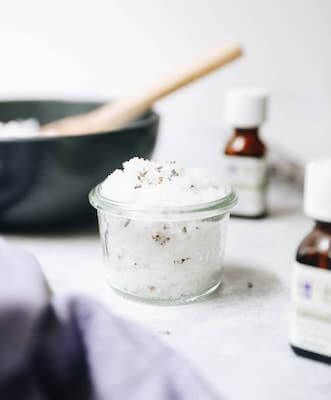 Follow the tutorial here
8. Shimmering Sea Salt Scrub Recipe by Soap Queen
With spring quickly approaching, it's time to get skin in tip-top shape. This Shimmering Sea Salt Scrub is created with exfoliating dead sea salt and moisturizing shea butter and coconut oil.
The sea salt removes dead skin, while the oils leave skin feeling hydrated and smooth. The end result is moisturized, extra soft skin!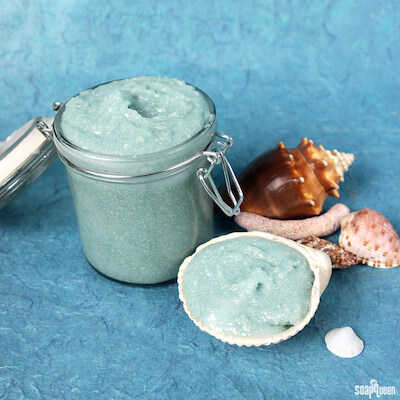 Follow the tutorial here
9. 5-Minute DIY Foaming Sand Scrub Recipe by Dream A Little Bigger
In only five minutes, you can have a lovely foaming beach sand scrub that is an amazing exfoliator to get your bod beach-ready and a fab summer craft!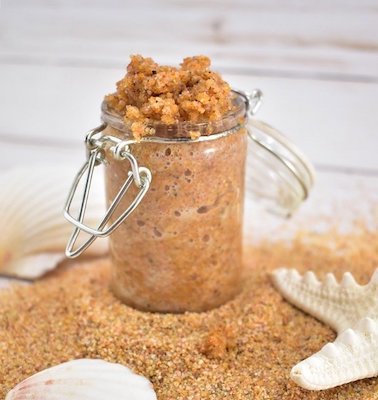 Follow the tutorial here
10. 4 DIY Holiday Sugar Scrub Recipes by A Life Adjacent
Learn how to make holiday body scrubs in 4 delicious, festive varieties: Christmas sugar cookie, gingerbread, eggnog and peppermint candy cane. Each sugar scrub is scented with essential oils and makes for a lovely DIY Christmas gift.

Considering the holiday rush that sometimes sneaks up, they're the perfect gift to whip up when you're extremely short on time. You could easily make one of these scrubs in 10 minutes or less!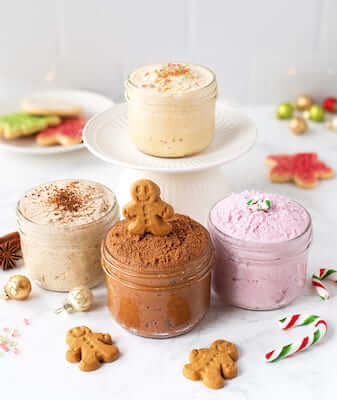 Follow the tutorial here
11. Sleepy Baby Sugar Scrub by Smart School House
Learn how to make the easiest and best sugar scrub recipe for glowing and moisturized skin! This gently scented sugar scrub recipe will leave you feeling relaxed, even if you aren't ready for bed.

The recipe for Sleepy Baby is rather simple. You only need 3 ingredients: white sugar, baby oil, and nighttime baby wash. Who doesn't love the smell of nighttime baby wash?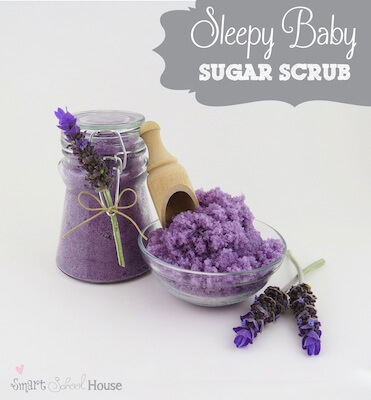 Follow the tutorial here
12. DIY Coffee Body Scrub by Soap Queen
Made with coffee grounds, coffee butter and coffee oil, this easy scrub is perfect for any coffee-lover. Coffee grounds exfoliate away dead skin, while the coffee oil and coffee butter leave skin feeling smooth.

This scrub is quite "dry," but leaves behind a light oily-feel on the skin. While the coffee oil is quite dark, the scrub doesn't leave any color on the skin, thanks to the potassium cocoate.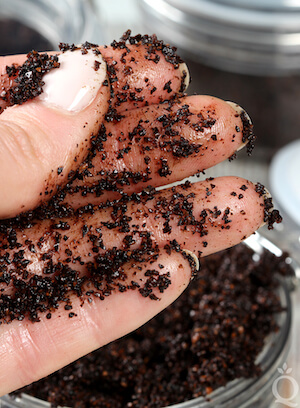 Follow the tutorial here
13. Mermaid Foot Scrub by Ruffles And Rain Boots
One session with this mermaid foot scrub and you'll want summer to get here in a hurry. Winter feet need a summer refresh from this mermaid sugar scrub! It's a quick and easy beauty DIY to smooth and soothe tired feet.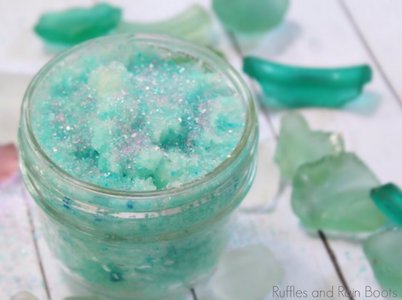 Follow the tutorial here
14. DIY Coffee Body Scrub Recipes by A Life Adjacent
Learn how to make 6 easy DIY coffee body scrub recipes that look real. Each scrub is crafted after a popular coffee drink flavour and scented with essential oils. Choose between dalgona coffee, vanilla latte, caramel latte and more!

Each scrub's realistic appearance makes them enjoyable to use, but you can feel free to skip the extras if you're looking for something more simple.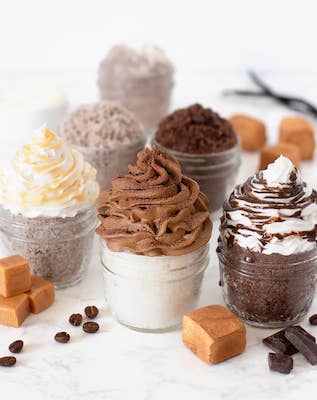 Follow the tutorial here
15. DIY Face Scrub Recipe by Creative Green Living
Making a homemade face scrub isn't hard! You can whip up this easy DIY face scrub recipe and have a soothing spa experience at home all for pennies on the dollar compared to expensive pre-made face scrub. This homemade face scrub is made with aloe, sugar and lavender oil.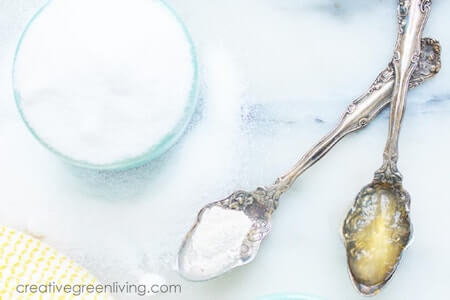 Follow the tutorial here
16. DIY Activated Charcoal Coffee Scrub by Happy Mothering
Coffee scrubs are a great alternative to the more commonly used sugar scrubs and they work just as effectively to exfoliate your skin and moisturize like a sugar scrub would, but they have the added bonus of smelling like coffee.

This coffee scrub is different entirely from most coffee scrubs because it also contains activated charcoal, which is great for your skin's overall appearance.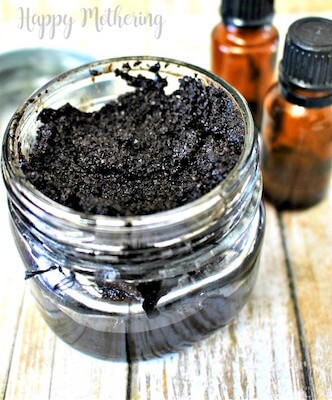 Follow the tutorial here
17. Sugar Scrub Cube Recipe by Mommy Enterprises
DIY sugar scrub cubes are a great bath product because they're conveniently served up in individual pieces. No more sticking a wet hand into a jar of sugar scrub to scoop out of a messy handful and then ruining the rest!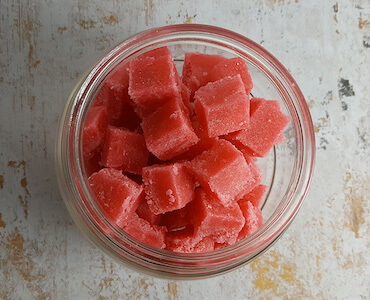 Follow the tutorial here
18. DIY Piña Colada Sugar Scrub by Happiness Is Homemade
Pineapple + coconut are a deliciously tropical combination, and this DIY Piña Colada Sugar Scrub is the perfect way to keep your summer skin refreshed and ready to show off! This quick & easy craft takes less than 10 minutes to make! You can totally do this!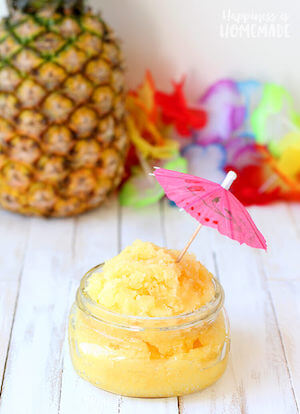 Follow the tutorial here
19. Exfoliating Peppermint Foot Scrub by Our Oily House
Do you have dry, cracked skin on the bottom of your feet and heels? If yes, this recipe is for you! This DIY exfoliating scrub is the best foot scrub for removing the dead skin from the bottom of the feet and will leave your feet feeling soft and fresh.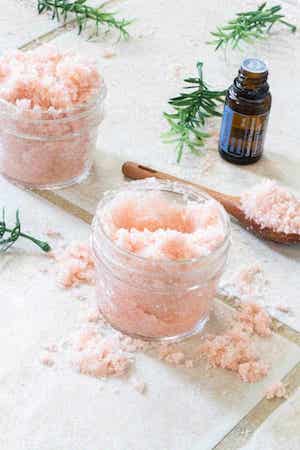 Follow the tutorial here
20. Homemade Body Scrub by Reasons To Skip The Housework
We are crazy for a lovely homemade body scrub. Especially when It uses only four simple ingredients and takes 5 minutes to whip up. This is a wonderful recipe to make up for your own use, or to make as a gift to someone.
Imagine receiving a beautiful jar of homemade body scrub as a gift, it would be heavenly. And it would look super cute with a nice label and ribbon wrapped around the jar.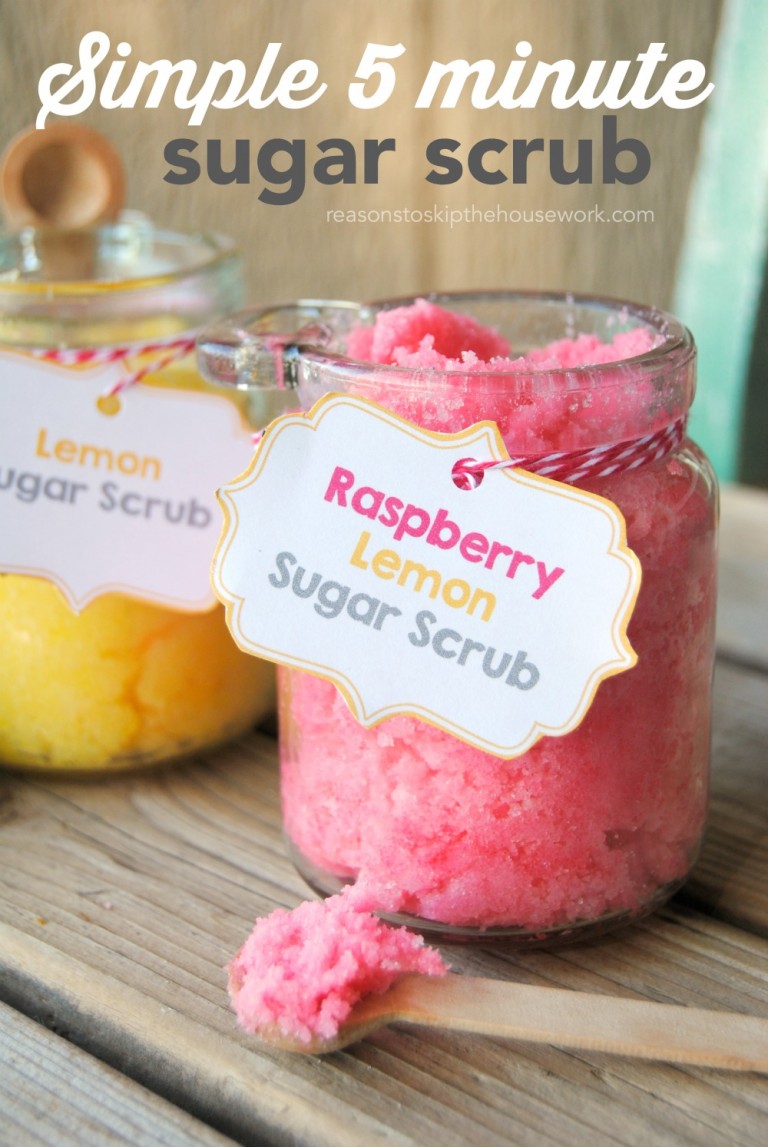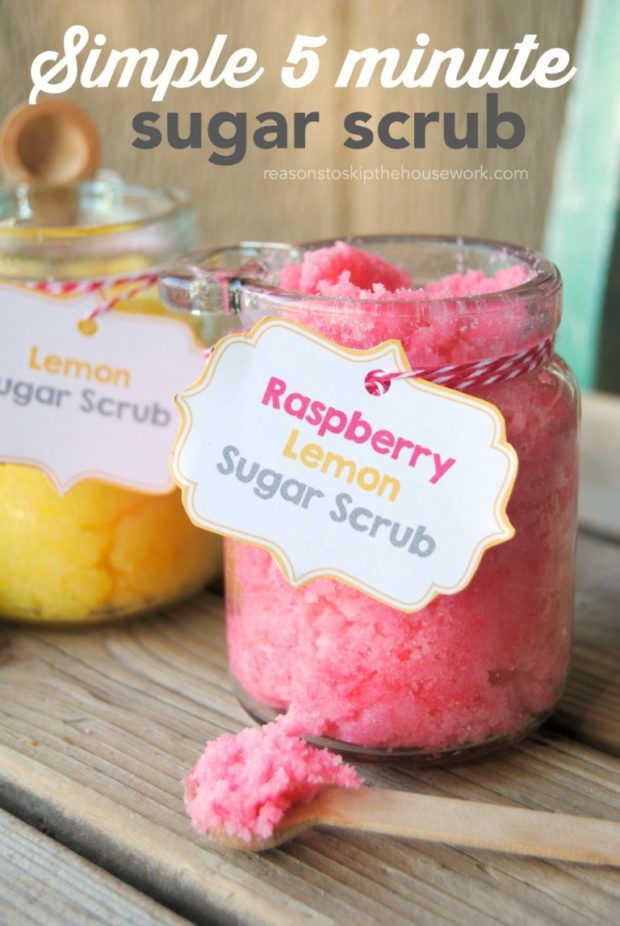 Ingredients
For this recipe you will need 4 simple ingredients, which you will most likely already have sitting in your pantry.
1/4 cup Coconut oil
3/4 cup Granulated white sugar
2-4 drops Food coloring
10-15 drops Essential oil
You can chose any essential oil, or combination of oils, which pleases you. We love lemon the best, it gives your body scrub a fresh and zingy lift. And you can chose a food coloring which will match the scent which you have chosen.
For instance, I would pick a yellow food coloring for the lemon essential oil, red for a raspberry scent, or brown for a chocolate/cocoa scent.
You will also need:
A jar (for storing the body scrub)
A saucepan
Labels or ribbon (optional)
Method
Step 1 Melt the coconut oil over the stove on a gentle heat. Take it off the heat as soon as it is melted, it won't take long.
Step 2 Mix in the sugar. If the mixture has too much liquid, add a some more sugar a little bit at a time and mix through
Step 3 Add a couple of drops of food coloring, until you get your desired color
Step 4 Add the essential oil and mix well
Wasn't that easy? If you are making this as a gift you can add a pretty ribbon to the jar, or tie on a cute label. Click on the link below to download Some printable labels for your luscious homemade body scrub.
THESE DIY BODY SCRUB RECIPES ARE NOT ONLY GENUINELY EASY TO CREATE, BUT ALSO INCREDIBLY EFFECTIVE.
So, which one of these homemade body scrubs are your going to try? Share your makes with us on our Facebook Page and for a more enjoyable bath, check out our How to Make a Bath Bomb, How to Make Homemade Soap Bars and DIY Foot Scrub Recipes.
Get ready for your new favorite at-home spa treatment with these DIY body scrubs. Make an extra batch and give it as a gift this holiday season!