No matter what you need a balloon arch for you can save a ton of money by knowing how to make balloon arch yourself.
Balloon arches are the perfect décor piece for all most every type of event. They draw attention and can add a touch of colour. They are highly requested for parties and sales promotions. And they can be customized to be beautiful and classy or bright and whimsical.

What is a Balloon Arch?
A balloon arch is a collection of balloons that have been formed into an arch. The large display can be used as a backdrop or over doorways, pathways or displays. The large arch is dramatic and will catch the eye.
Anyone that enters a room will see the balloon arch right away.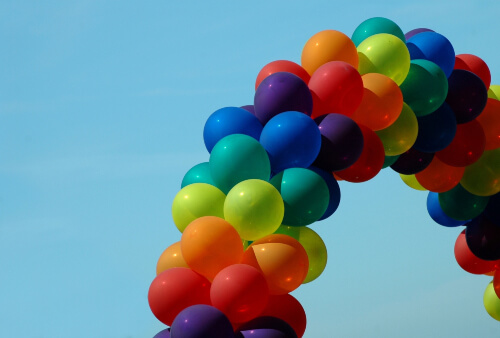 The Different Types of Balloon Arches
There are 3 main types of balloon arches. Changing the colour sequence of the design can change the whole appearance of the arch.
The 3 main arch types are:
1. Packed Balloon Arches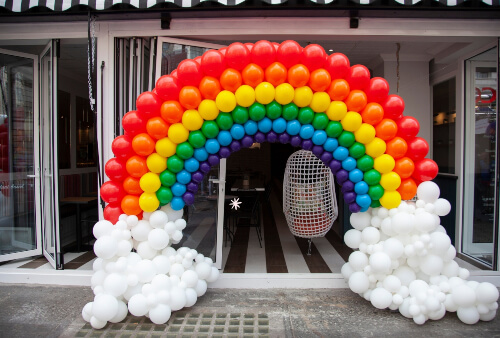 Just as the name implies, packed balloon arches are packed with balloons. These arches can be created in different patterns. The most common patterns are the spiral, zig-zag, arrow, diamond, square, arrow and flower.
2. String of Pearls Balloon Arches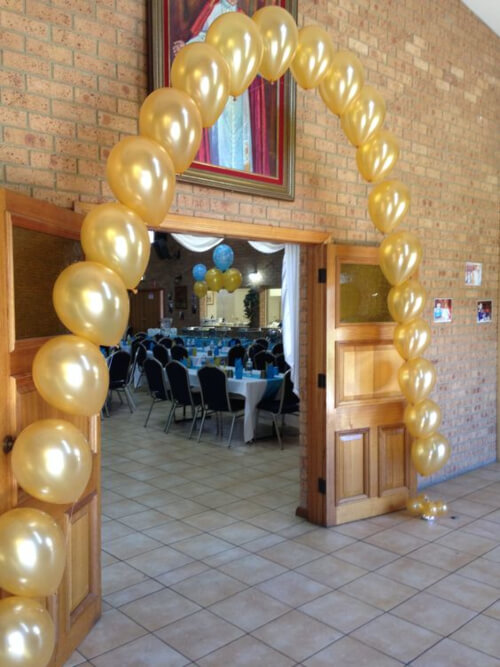 The string of pearls balloon arch is a simple type of balloon arch. This type of arch only has one row of balloons. By using several string of pearls arches together, or by crisscrossing them, you can create a faux canopy.
3. Organic Balloon Arches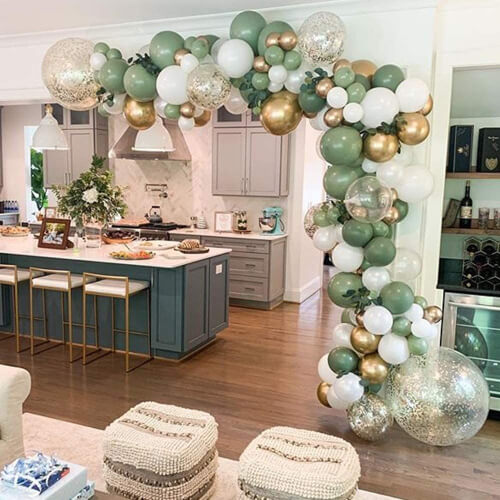 An organic balloon arch is designed to fit perfectly in the area that it is intended for. The balloons often cascade over each other creating a natural flow. They often incorporate all different sizes of balloons. An organic balloon arch is unique and very hard to duplicate.
What Types of Events Incorporate Balloon Arches?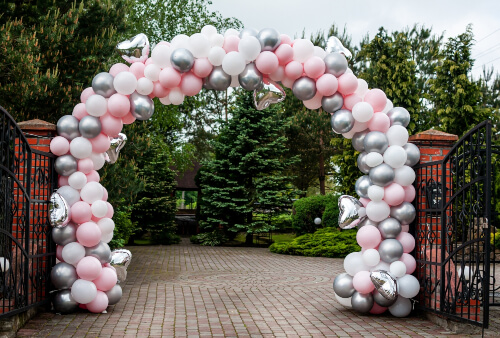 Balloon arches are ideal for many types of events, including:
Birthday Parties

Christmas Parties

Anniversaries

Festivals

Baby Showers

Gender Reveal Parties

Company Parties

Baptisms

Christenings

Reunions

Weddings

Graduations

School Dances

Sporting Events

Commercial Events

Grand Openings

Almost any Special Occasion
Take Your Party to the Next Level
If you are incorporating a balloon arch into the décor, you will want to add other balloon elements. Do not stop with the arch. Balloons are fun and can be incorporated into many aspects of your décor.
You can also include balloons for:
Centerpieces

Garland

Bouquets

Drops

Sculptures

Topiary

Walls
Should You Use Air or Helium in Your Balloon Arch?
Helium is not often necessary when making a balloon arch. Helium balloons will only last around 12 to 20 hours. And helium is expensive! If you are creating the balloon arch the night before, the balloons will be sagging by the time of the event.
If you do need to use helium, we recommend that you use high-float helium. High float helium leaves a coating inside the balloon that helps keep the helium inside and the balloon floating. Balloons that are inflated with air can last for several days.
If your design allows for air-filled balloons, that would be the best thing to use. And the best part is, air is free. You can even make your arch the day before and not have to worry about the balloons sagging before the event even begins.
Supplies Needed to Create a Quick and Easy Balloon Arch
Before you get started there are a few things you need to gather.
Your Design

Wall Hooks

String

Scissors

Balloon Weights
How to Make Balloon Arch Without a Frame
Balloon arches may look complex, but they are easy and fun to make. A basic balloon arch can be made with regular air-filled latex balloons. If you are creating a floating arch, you will need to use helium.
Steps on how to make balloon arch
1.Sketch your pattern.
2. Determine the number of balloons you will need. You can find the balloon arch calculator from Bloons Up HERE.
3. Blow up the balloons. Use a balloon sizer to guarantee the balloons are inflated to the correct size. You want the balloon to be around ¾ full and round. You do not want the balloons to be pear-shaped. If you do not have a balloon sizer, you can create your own with a cardboard box.
You will need a lot of balloons for your balloon arch. Because of this, we recommend you use a balloon pump. You will be thankful you did.
4. Thread the tails of the largest balloons through the decorative balloon strip.
5. Once all the holes on the decorative balloon strip are used, add the smaller balloons to fill the gaps. Do this by placing one to two glue dots on the smaller balloon and adhering them to the larger balloons.
6. Attach the weight to the ends of your balloon arch.
7. Hook the balloon arch to the wall using the wall hooks. Attach the hook to the wall to create the arch shape. Since the balloons are so big, you cannot attach the balloon arch directly to the wall hooks. Instead, cut a piece of string and tie it around the arch. It should be positioned in the area that will be hooked to the wall.
Make sure the string is long enough so the balloons are not squished against the wall. If it is too long, the balloons will sag away from the wall. The balloons should sit flush against the wall.
8. Once you have the arch hung, fill any sparse spaces with your left-over balloons and glue dots.
9. Once the balloon arch is complete and on display, it is time to step back and admire your handy work.
Now that you know how to make balloon arch it is time to plan your next party.
This tutorial on how to make balloon arch is quick and easy to follow. Balloon arches are fun and cheerful. You can bet they will bring a smile to your guests' faces. They are the perfect place to mingle and take photos. 
For more balloon crafts, don't miss our collection of Hot Air Balloon Crafts, Balloon Flowers, and Balloon Animal Projects. Do post your photos on our Facebook Page, we 'd love to see them.
We hope you enjoyed our tutorial on how to make balloon arches.