Macrame kits make it easy to learn a new craft. They also take the hassle out of going to the store searching for the right supplies. With new techniques and designs, you can create works of art that look good in any modern-day decor.
In the 1970s, macrame was found in homes everywhere. Today, it is regaining popularity at an alarming rate. It is an easy and inexpensive crafting technique that can be enjoyed by people of all ages.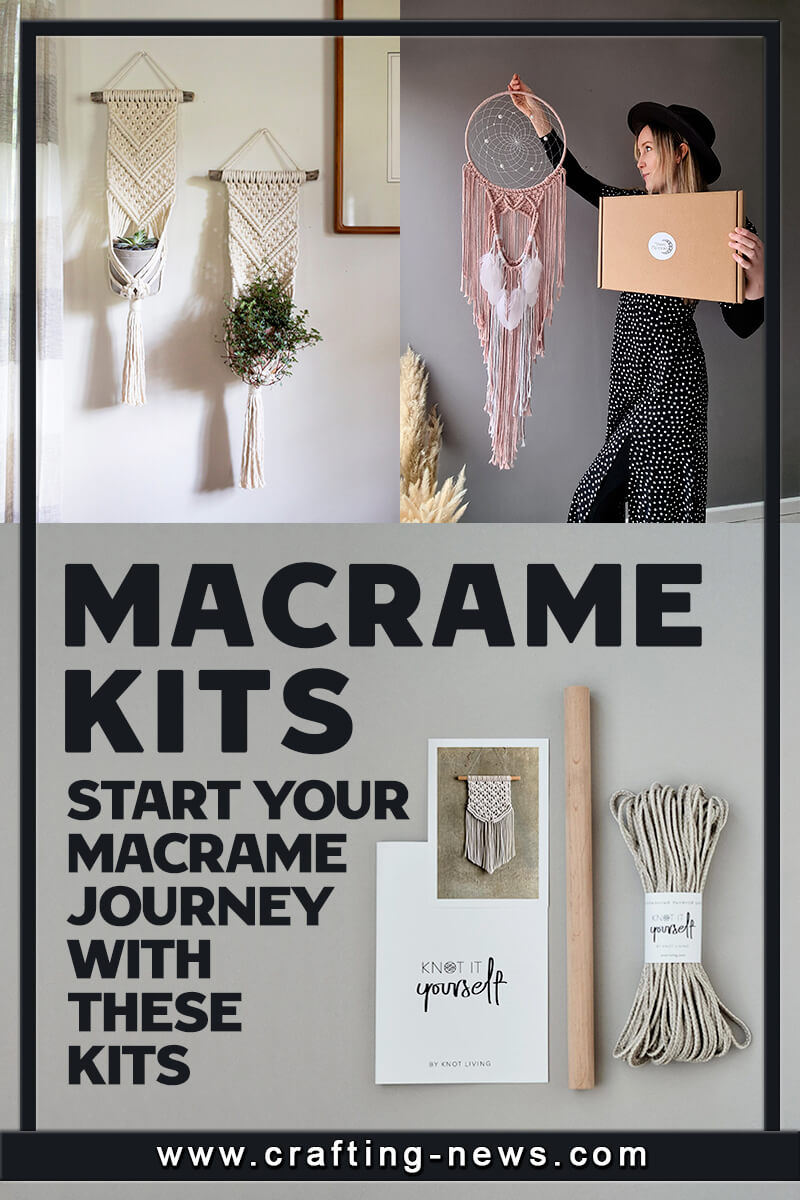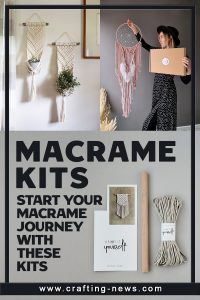 Macrame uses knots to make all types of creations from plant hangers, wall hangings, keychains, purses to jewellery and more. If you are looking for a fun craft to try, check out a macrame kit.
Below are some of our favourite DIY macrame kits. We have included patterns for planters, wall hangings, dreamcatchers, keychains and jewellery.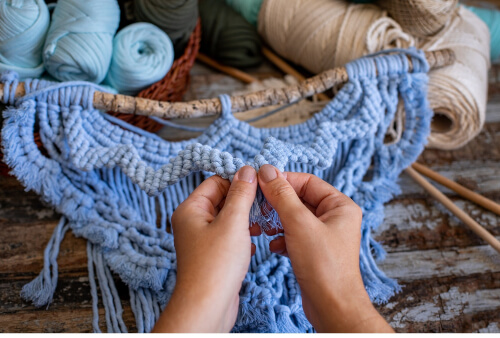 Wall Hanging Macrame Kits
1. Belarus Wall Hanging Macrame Kit for Beginners from KNOTityourself
Personalise your home with this DIY macrame kit. Make it for yourself, or as a birthday or housewarming present. You can choose from 8 colours. The finished size of the wall hanging is 11" wide at the dowel rod and 20" long.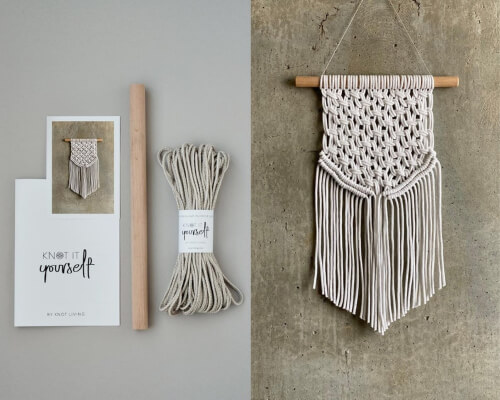 Find the Kit from KNOTityourself HERE
2. DIY Macrame Wall Hanging Kit from TheArtistsDaughters
This retro style wall hanging has a modern twist. This kit may look complicated, but it is easy. You can finish it quickly with some simple knots.
This kit includes 2mm off-white cord, natural wood branch with bark, instructions that walk you through every knot.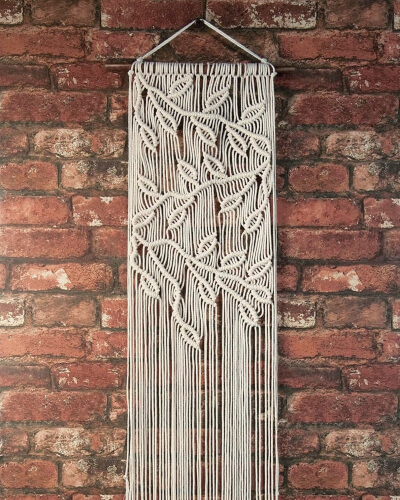 Find the Kit from TheArtistsDaughters HERE
3. Boho Wall Hanging DIY Macrame Kit from thehangingcactus
This beginner's macrame kit comes gift wrapped. You can also order a gift note. It would make a lovely gift for a crafty friend or relative.
The kit will teach you how to make a macrame wall hanging. There is no experience required.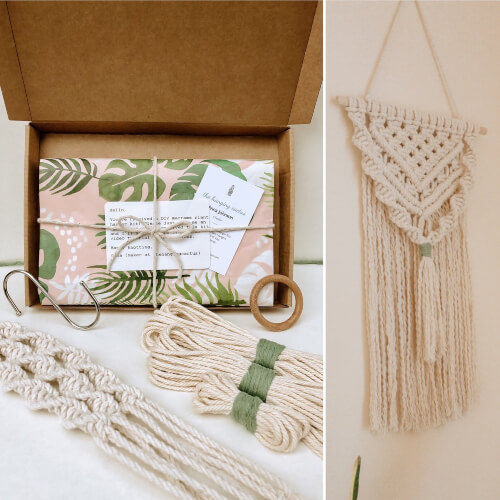 Find the Kit from thehangingcactus HERE
4. DIY Macrame Wall Hanging Kit by Leisure Arts
This kit by Leisure Arts has everything needed to make a retro 3 flower macrame wall hanging. It has clear, illustrated instructions that make it easy to complete. The kit is suitable for beginners.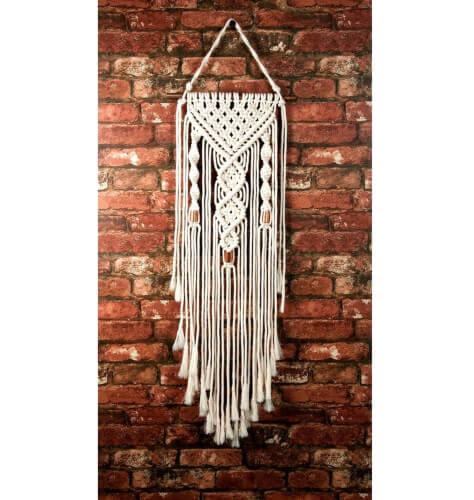 Find the Kit from TheArtistsDaughters Here
5. Macrame DIY Wall Hanging Kit from HandmadebyHensUK
Here is a unique heart patterned macrame wall hanging kit. Make it for a loved one. Or buy the kit as a gift for a crafty friend. There are 9 different colours to choose from, so you can easily find one that will match well with your decor.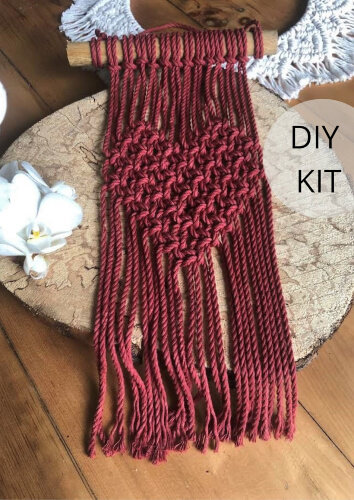 Find the Kit from HandmadebyHensUK HERE
6. DIY Macrame Owl Kit by Macrame School
Owls are amazing animals that symbolise wisdom, courage and power. This amazing DIY macrame kit would make the perfect gift for any owl lover.
This kit comes with 3mm cotton cords, 2 wooden beads, 100% driftwood, and written instructions. There is also a video tutorial available on YouTube.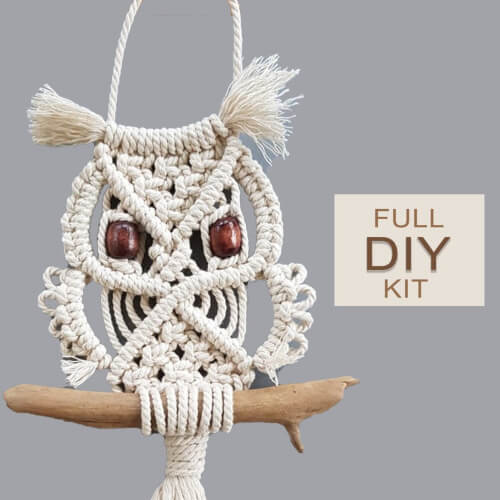 Find the Kit from MacrameSchool HERE
7. Owl Wall Hanging Macrame Kit from DIYmacrameStore
Here is another owl macrame kit. Impress yourself and your friends with this one. The finished results are quite remarkable. You can make this owl in two sizes: 10" high x 6.5" wide or 14" high x 9" wide.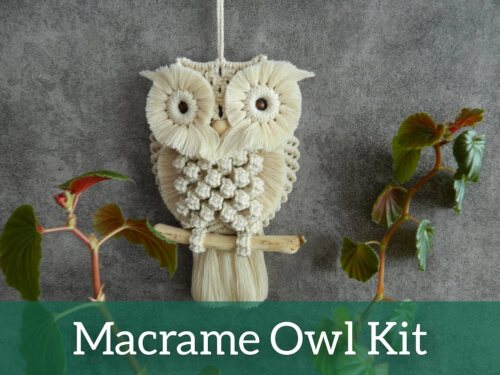 Find the Kit from DIYmacrameStore HERE
8. Feather Macrame DIY Kit from MoonGazingStudioArt
Add a Bohemian vibe to your home with this feather macrame kit. It would make a perfect statement piece. With this kit, you get to choose a secondary colour and primary colour. Order multiple macrame kits for beginners and save.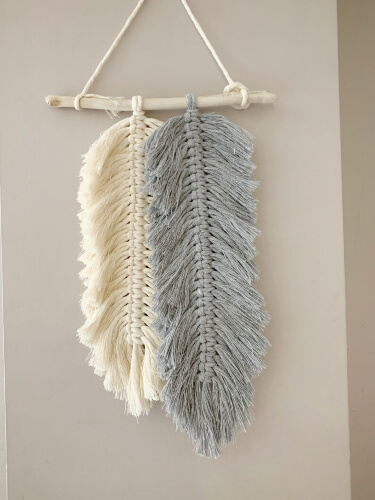 Find the Kit from MoonGazingStudioArt HERE
9. Dreamcatcher Macrame Diy Kit from VanirCreations
Dream catchers are beautiful and this one is no exception. This gorgeous dreamcatcher would look perfect hanging above your bed.
You get to choose from pink, white, misty grey and natural for the primary colour. And pink, white, misty grey, natural, almond and blue for the secondary colour.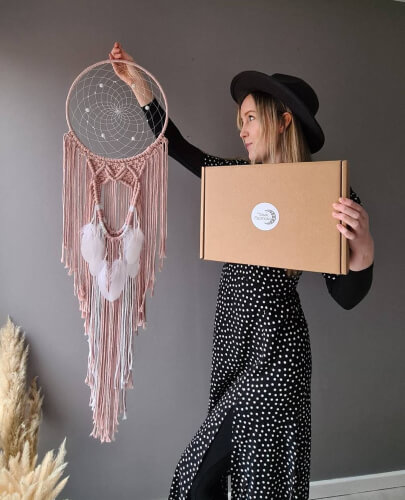 Find the Kit from VanirCreations HERE
10. Large Modern Boho Gold Metal Macrame Kit Pattern from imogenmoon
Here is a large modern Boho wall hanging. The ring itself measures 14". This would make a terrific statement piece in any home. It is a beginner-friendly macrame kit.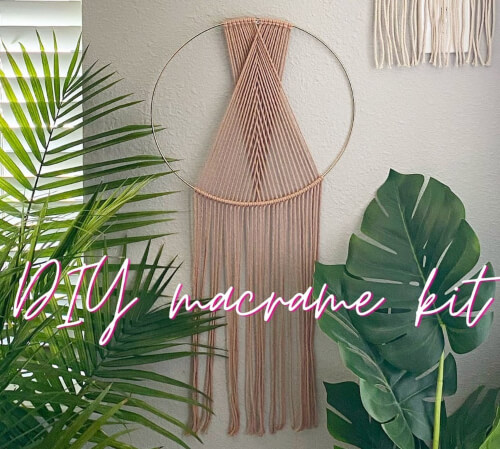 Find the Kit from imogenmoon HERE
11. Macrame Dreamcatcher Kit Single Hoop Design from KnotMeditation
This is a unique dreamcatcher design that will surely make a statement. Learn the art of macrame while creating this stunning dreamcatcher. The instructions are super simple, and the project can be completed in a couple of hours.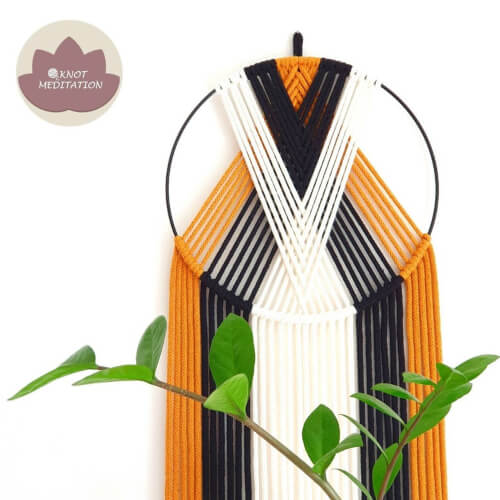 Find the Kit from KnotMeditation Here
12. Triangle Wall Hanging Macrame DIY Kit from imogenmoon
This unique, DIY macrame kit is the perfect accent piece in a modern Boho décor. It is a beginner-friendly pattern with step-by-step instructions.
Your order will come in a cute environmentally friendly burlap bag you can use to store crafting supplies, or as a reusable grocery bag.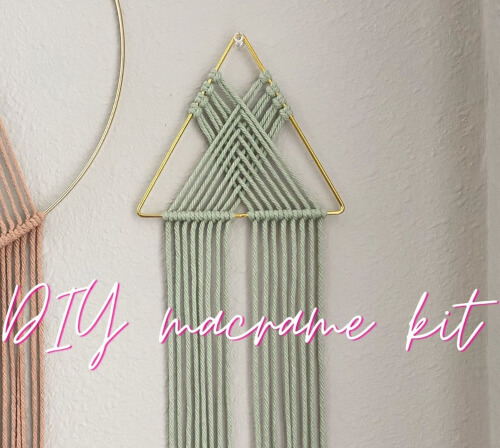 Find the Kit from imogenmoon HERE
More Macrame Wall Hanging Patterns HERE
Macrame Plant Hanger Kits
1. Plant Hanger Macrame DIY Kit from ReformFibers
Macrame plant hangers are a lovely way to display your plants in your home and on your porch. Here is a beautiful DIY macrame kit that includes a beginner's knot guide.
You will also get over 100 feet of 100 cotton rope, 1 wood ring and the pattern. Impress your friends and family with this handmade plant hanger.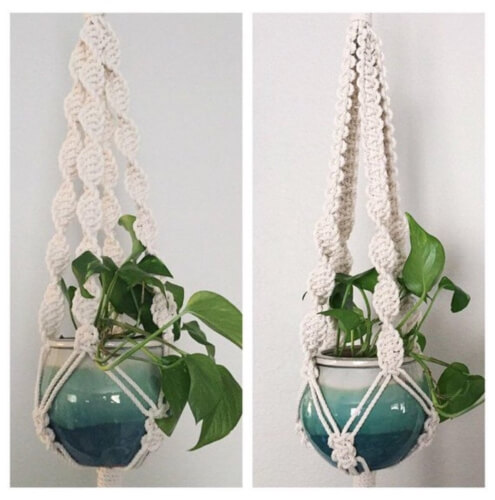 Find the Kit from ReformFibers HERE
2. Macrame DIY Plant Hanger Kit from HandmadebyHensUK
Up next is another DIY plant hanger. This hanger has a lot of colour options to choose from. And if you are buying this hanging planter kit for a birthday present, you can get a birthday card too!
Also see: DIY Rope Plant Hanger Ideas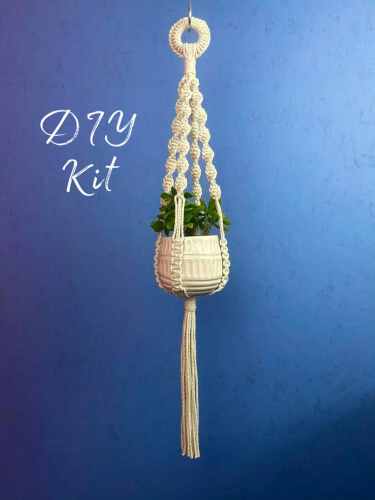 Get the Kit from HandmadebyHensUK HERE
3. DIY Macrame Planter Kit With Beads from peakandpinedesigns
If you are looking for a macrame planter kit with a pop of colour, this one is fun. This kit is beginner and child-friendly. It comes with everything you need to make the planter including the wooden beads.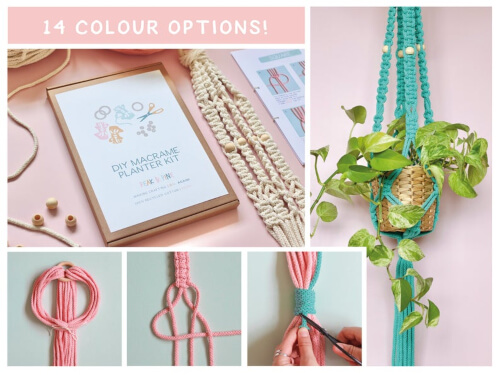 Get the Kit from peakandpinedesigns HERE
4. Plant Hanger DIY Macrame Kit from WillowandRosebud
This macrame kit combines a planter with a wall hanging. The step-by-step instructions create a stunning V-shaped pattern. And to make it even easier for you to complete there are 30 photographs.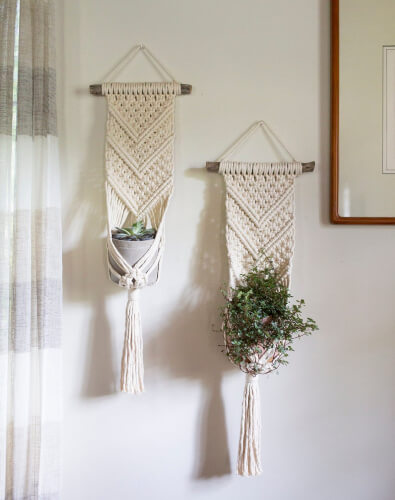 Find the Kit from WillowandRosebud HERE
More Macrame Plant Hanger Patterns HERE
Macrame Key Chain Kits
1. DIY Macrame Kit Keyring Keychain Kit by Offmyknot
Make your own key ring with this DIY macrame kit. Make one for yourself or as a gift for someone else. This kit is perfect for beginners and includes recycled macrame rope, metal key ring clasp, wooden bead, and instructions. This kit comes in 6 different colours.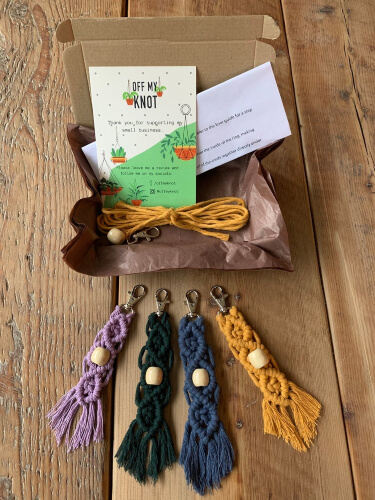 Find the Kit by offmyknot HERE
2. Personalised DIY Macrame Kit by CraftedbyMagical
This 24-page pattern can be completed by beginners as well as advanced macramers. There are step-by-step instructions and detailed photos.
It is a quick project that can be completed in one sitting. When you order the kit, add your personalisation.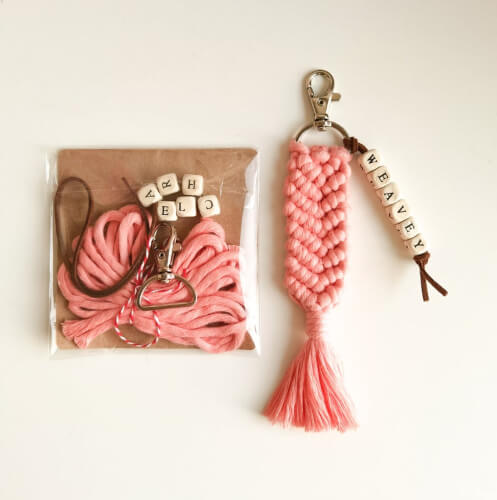 Find the Kit from Craftedbymagical HERE
3. Easy Feather Keychain Macrame Kit for Beginners from SagelandInspirations
Here is a fun and easy craft feather keychain. The instructions will teach you the basic techniques for making macrame feathers. This kit is great for both kids and adults.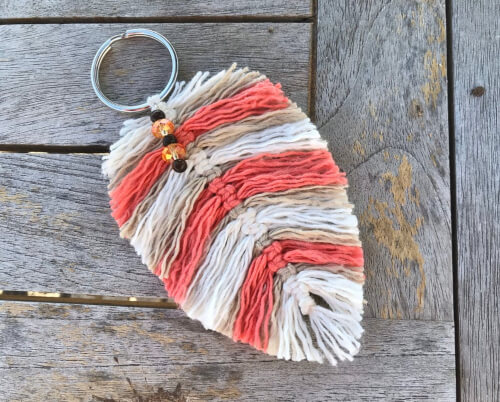 Get the Kit from SagelandInspirations HERE
4. Beginners Craft Kit With Pre Cut Cord from Daslia
This kit includes enough supplies to make 3 keychains in different designs and colours. It is a beginner-friendly kit that is great for getting children interested in macrame. The kit includes macrame cord, 3 keychain clasps and a detailed step-by-step instruction sheet.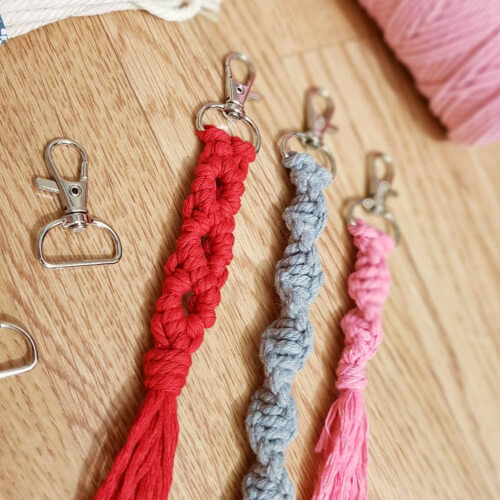 5. Paracord Keychain from ManifoldWitness
You can make your own paracord keychain with this easy DIY macrame kit. The kit comes with enough cord to make one keychain. But you get to choose to make a petite or large keychain. This kit comes in mustard, burgundy, or grey.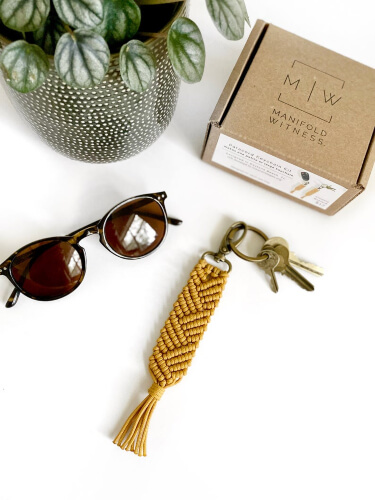 Get the Kit from ManifoldWitness HERE
6. DIY Macrame Wristlet Kit from StudioMarit
This DIY macrame wristlet kit comes in 9 different colours. It includes cotton rope, swivel hook, illustrated knot guide, and step-by-step instructions. There is also a supplemental video link included. Use this wristlet for your keys or attach it to a small handbag.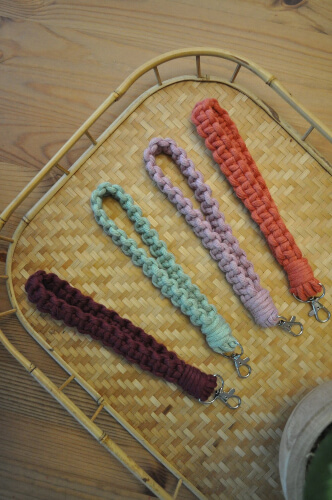 Get the Kit from StudioMarit HERE
More Macrame Keychain Patterns HERE
Macrame Jewellery Kits
1. Chunky Necklace DIY Jewellery Kit by Stitchingmesoftly
Use this beginner-friendly macrame kit to make your own chunky necklaces. The necklace used a simple macrame knotting technique. The kit is perfect for all levels of crafting experience. The kit contains chunky cotton cords and a colour instruction leaflet.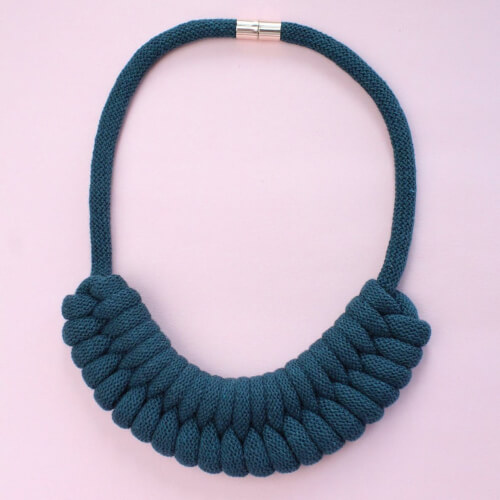 Find the Kit by Stitchingmesoftly HERE
2. DIY Macrame Earring Kit from InHomePaintParties
Even if you are new to macrame, you can make these stylish earrings. They would be a wonderful Mother's Day or birthday gift. The DIY macrame kit includes string, template, link to a step-by-step video, glue, and silver earrings.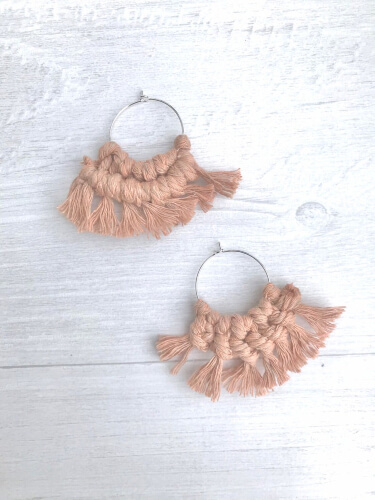 Find the Kit from InHomePaintParties HERE
3. Heart Macramé Bracelets Kit from HandmadeWorkshopsLtd
This heart macrame bracelets kit contains all the materials needed for 3 bracelets. Make all 3 yourself and give them out as gifts. Or have a crafting party with your friends. These bracelets are fun to make.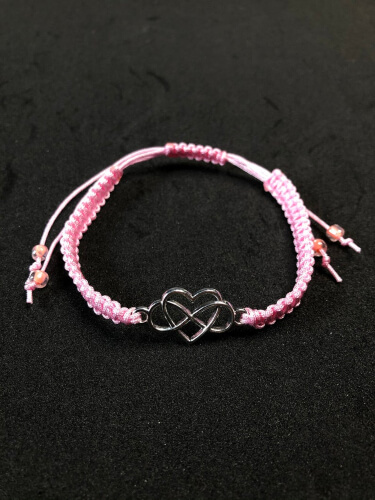 Find the Kit from HandmadeWorkshopsLtd HERE
4. A Mermaid Tale Bohemian Macrame DIY Kit from beadstrandsdotcom
The Mermaid Tale Bracelet Kit teaches laddering and various knots. This kit includes written instructions, gemstones, seed beads, leather, cord, findings, and charms.
When you purchase this kit, you get to choose 2 charms made by Tierracast.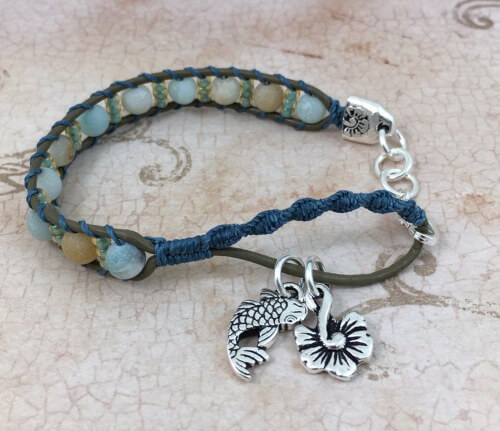 Find the Kit from beadstrandsdotcom HERE
5. Flower Charm Friendship Bracelet Making Kit from DIYBracelets
Girls, as well as boys, enjoy making friendship bracelets. This bracelet kit includes macrame cord, a flower charm, 2 silver beads and easy-to-follow instructions. The instructions use contrasting colours to make the process even easier.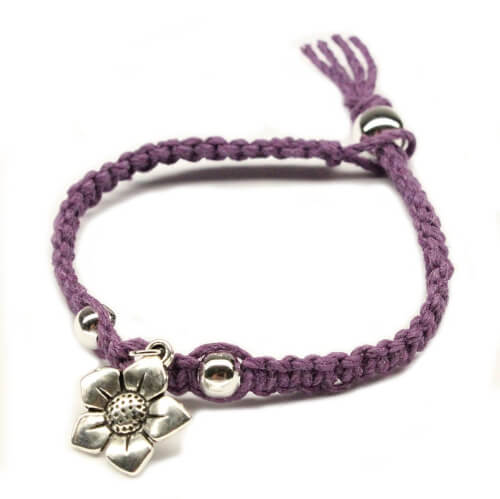 Find the Kit from DIYBracelets HERE
MACRAME KITS MAKE GREAT GIFTS FOR PEOPLE WHO LOVE CRAFTING. THEY ARE ALSO IDEAL FOR MAKING UNIQUE PRESENTS FOR LOVED ONES.
Macrame is a fun hobby that can be enjoyed by people of all ages. It is relaxing and rewarding. It has been around for centuries and is enjoyed by people all over the world.
Can't get enough of macrame projects? Then be sure to check our Macrame leaves, toran, belts, dream catchers, and coasters.
If you are new to macrame and do not know what supplies to purchase or are looking for a kit to make things easier, try one of the DIY macrame kits we have listed.