Macrame rainbows have been a huge hit. From DIYs to buying them made. Everyone wants in on the action. How can you blame them? They are such a beautiful piece of art!
Have fun combining the "throwback" trend of macrame with all the rage of rainbows with these macrame rainbow tutorials!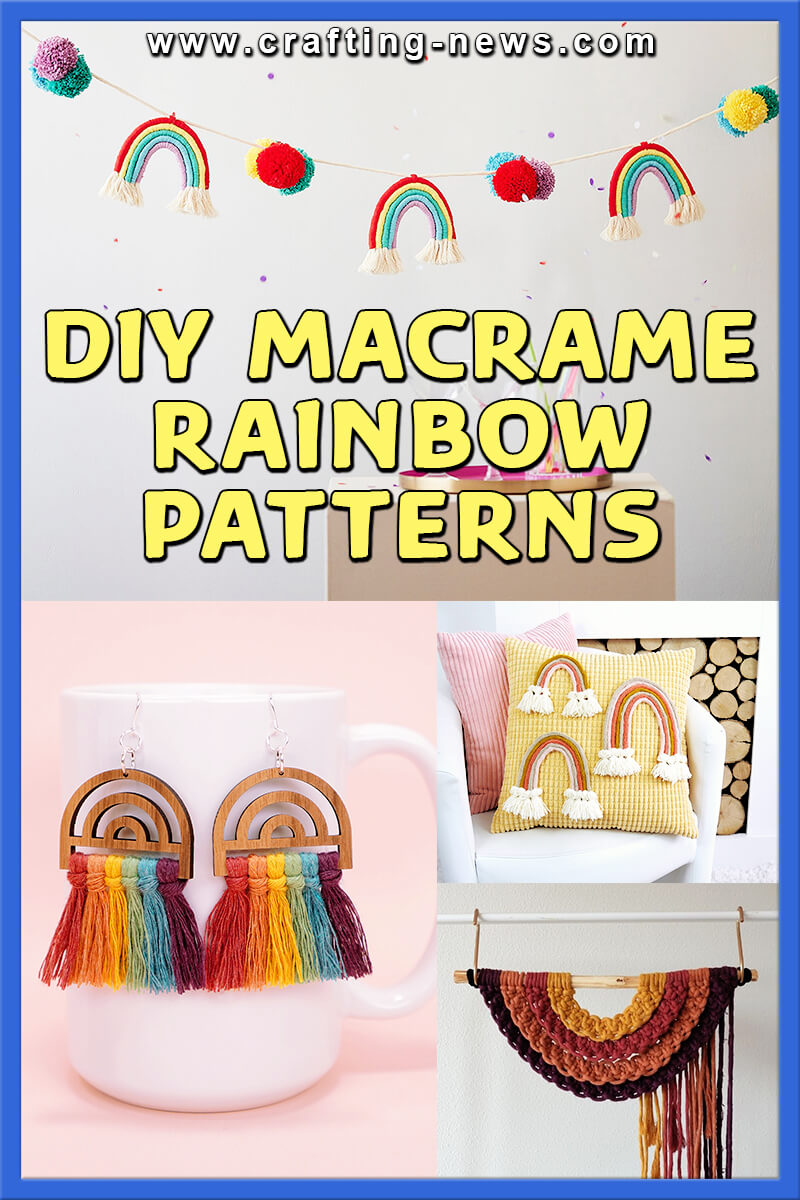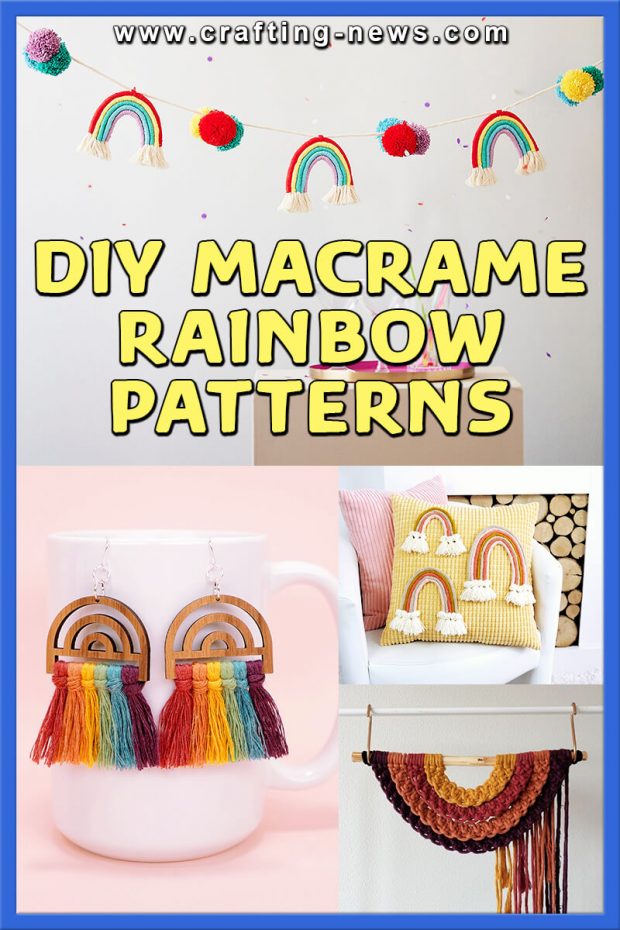 Whether you want to send a hopeful message, express your Pride, or just love brilliant colors, these macrame rainbow DIY pattters are sure to lead to a pot of gold!
These macrame projects are really fun—and easy!—introduction to the wonderful world of macrame. Pick your favorite rainbow design and start knotting the day away!
1. DIY Macrame Rainbow Wall Hanging by Macrame For Beginners
This Macrame Rainbow Wall Hanging for beginners is created by using just square knots and is super easy to make.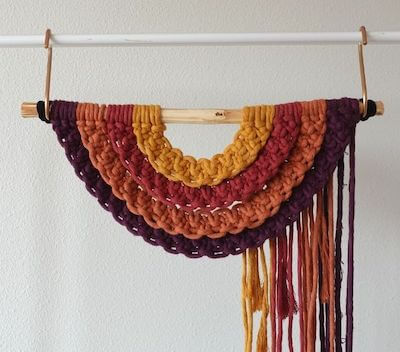 Follow the tutorial here
2. Easy Macrame Rainbow DIY Tutorial by Matching North
Learn how to make a cute macrame rainbow the easy way in this DIY tutorial & video! This version of the macrame rainbow is actually pretty fun to make, and you could whip up several of them in one day without terrible hand cramps!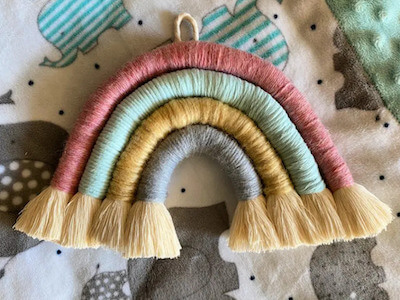 Follow the tutorial here
3. Cute DIY Macrame Rainbow Tutorial by The Sweetest Digs
If you are looking for a cute DIY wall hanging or have a rainbow themed kids room you are decorating, you need to try this macrame rainbow tutorial. The result is so cute and the tutorial laid out the step-by-step instructions with pictures to make it really easy to put together.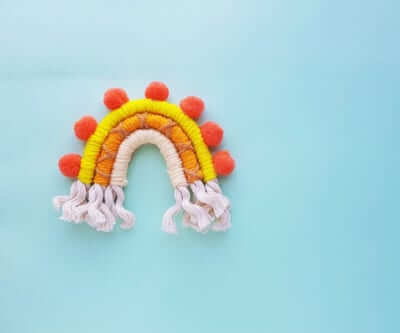 Follow the tutorial here
4. Floral Rainbow Macrame Craft by Only Passionate Curiosity
This macramé craft is perfect for spring, featuring a cheerful rainbow-and-flowers design. And if you're a dad, teen, or kid who is reading this—these also make Mother's Day gifts!
If you are looking for a cool way to display this piece, you could attach some ribbon to it and use it as a wall-hanging, or glue on magnet strips and put it on the fridge.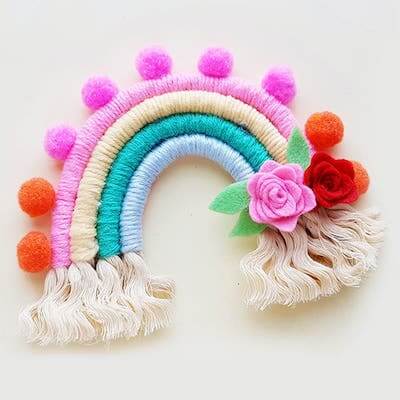 Follow the tutorial here
5. DIY Rainbow Macrame Earrings by Happiness Is Homemade
These DIY Rainbow Macramé Earrings require just a few simple supplies, and they make a huge impact! Make them in lots of different color combinations to match your entire wardrobe, and be sure to keep a few extra pairs on hand – they make an awesome gift idea!
You can also check out these DIY macrame earrings to add to your jewelry collection.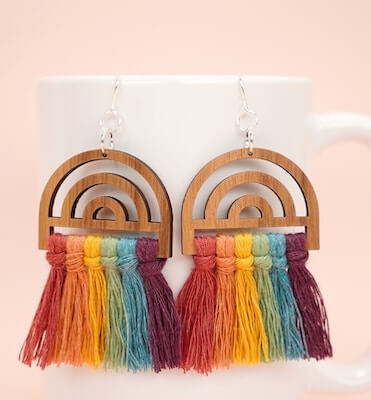 Follow the tutorial here
6. Mini Macrame Rainbow by Miss Banana Crafts
When you're a yarn lover, you're bound to have some sort of yarn stash at your home, right? But what to do with the leftover yarn you have, too few for any projects?
Or maybe the fancy yarn you bought ages ago, but never got the chance to use? Don't throw them out just yet, since they are perfect for this easy 15 minute macramé project!

Make in any color combinations, then glue it down to a hair clip or a head band. Attach your snazzy rainbow to a keychain, glue to a pin to make a brooch, or thread it with some beads to make a necklace!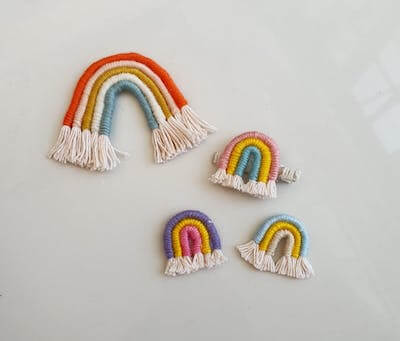 Follow the tutorial here
7. Macrame Rope Rainbow Wall Hanging by The Wonder Forest
Create a handful of little mini DIY macrame rainbow ornaments to hang as a baby mobile. The best part about this project is that you can make yours into a rope rainbow wall hanging to match your existing decor, add additional layers of stripes, or make it on a much larger scale!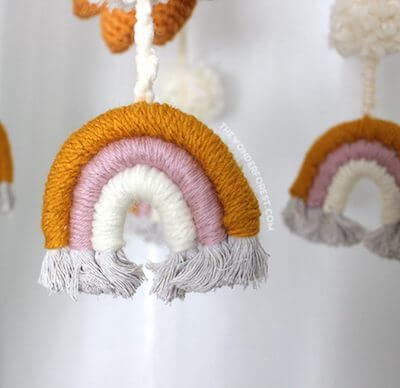 Follow the tutorial here
8. Macrame Rope Rainbow Pattern by Make And Fable
A true macrame rainbow, you will learn how to tie 5 different macrame knots over chunky cord. Suitable for complete beginners, this tutorial goes through how to tie each knot step-by-step, with detailed photographs and written instructions.
There is still enough to keep those with some macrame experience happy, with some more unusual knots to learn!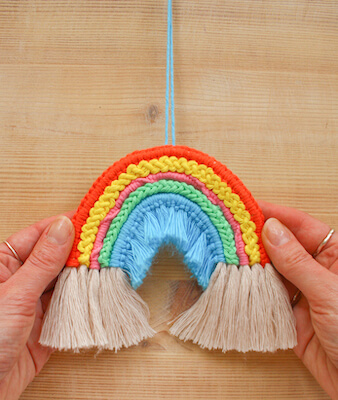 Follow the tutorial here
9. DIY Boho Macrame Rainbow by Party Ideas
These DIY boho macramé rainbows have been all over Pinterest lately, and they look quite easy to make using macramé string.
So basically, you don't really need any macramé skills to make them either, but they do take quite a while to make, since the process involves wrapping a large rope with macramé cord or string.

These macramé inspired boho rainbows are super cute as wall décor or used as accessories to embellish pillows, throws or just hang in a child's bedroom or nursery.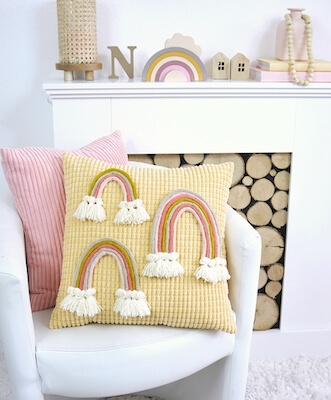 Follow the tutorial here
10. Macrame Rainbow Bunting by Ideal Home
Learn how to make rainbow bunting to bring positive vibes to your home. This colorful garland is the perfect make, whether you're passionate about Pride, or simply love rainbows.
This project uses traditional rainbow colours, but you can use any wool shades you like to create a bespoke design. You might also want to try making Fabric Bunting, click here to learn how to make one.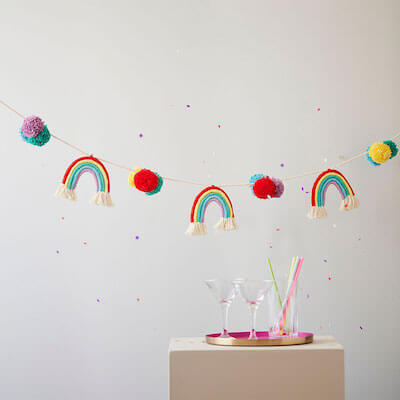 Follow the tutorial here
11. Easy DIY Macrame Rainbow by Emma And 3
This easy Macrame Rainbow is so simple and can be made in all manner of sizes. They would look great as a main feature on a wall but we are making miniature ones to decorate gifts ready for Christmas. They can also be used as a cute keyring if you add a keyring.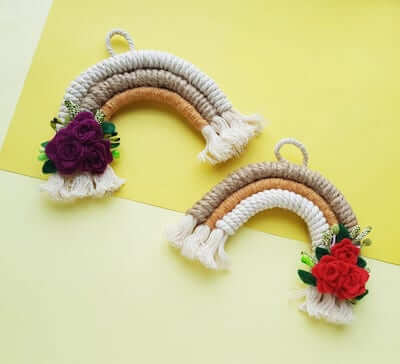 Follow the tutorial here
12. Rainbow Macrame Wall Hanging by The Craft Patch
Rainbow colored yarn and giant paper flowers make up this cheerful macrame wall hanging. This is one of the cheeriest crafts you can make!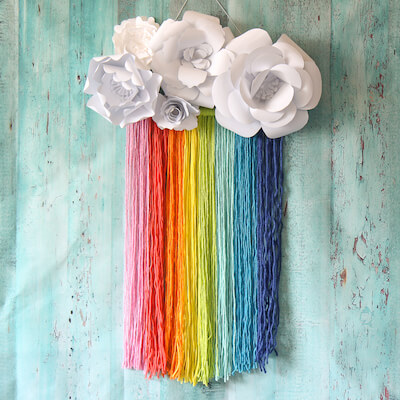 Follow the tutorial here
13. DIY Macrame Rainbow Keychain by A Bubbly Life
Make some cool Rainbow Keychains to attach to everything you own. It is boho, modern and fun addition to any keys or bag. Whip them up in one solid color or use some colorful ones to brighten up anyone's day!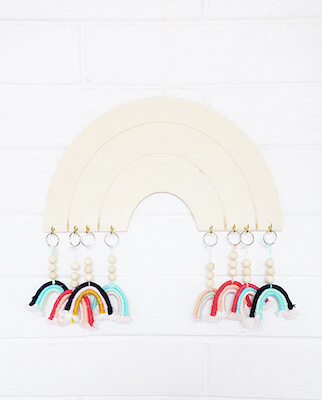 Follow the tutorial here
14. DIY Dip Dyed Macrame Rainbow by Mr. Kate
With no knotting, weaving, or any advanced technique, you can make this perfectly bohemian rainbow wall decor for a very special girl's room. It looks store-bought but it is quite simple to assemble!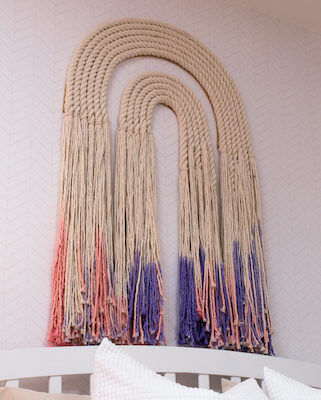 Follow the tutorial here
ADD A LITTLE JOY, COLOR, AND HOPE TO YOUR DAY WITH THIS COLLECTION OF RADIANT MACRAME RAINBOW PATTERNS.
We would love to see them! If you make one (or many), please share it on our Facebook Page so we can see those rainbows come to life!

Are you just starting to get your hands busy with the art of macrame? Luckily for you, macrame is a skill accessible to everyone and anyone! Here are more macrame projects to make next. Once you get the hang of things, you'll be knotting up all sorts of cool and crazy pieces of art!

We truly hope you will enjoy these little projects! We find making these macrame rainbows so fun and calming. Perfect for a rainy day–no pun intended!