Buntings are a simple and fun way to add a festive touch to your decor. They are commonly used for birthdays, weddings, and holidays. We listed 15 fabric bunting templates that will inspire you to start making buntings for all your special events. But you can also use a fabric bunting as a whimsical decoration in a nursery or child's room.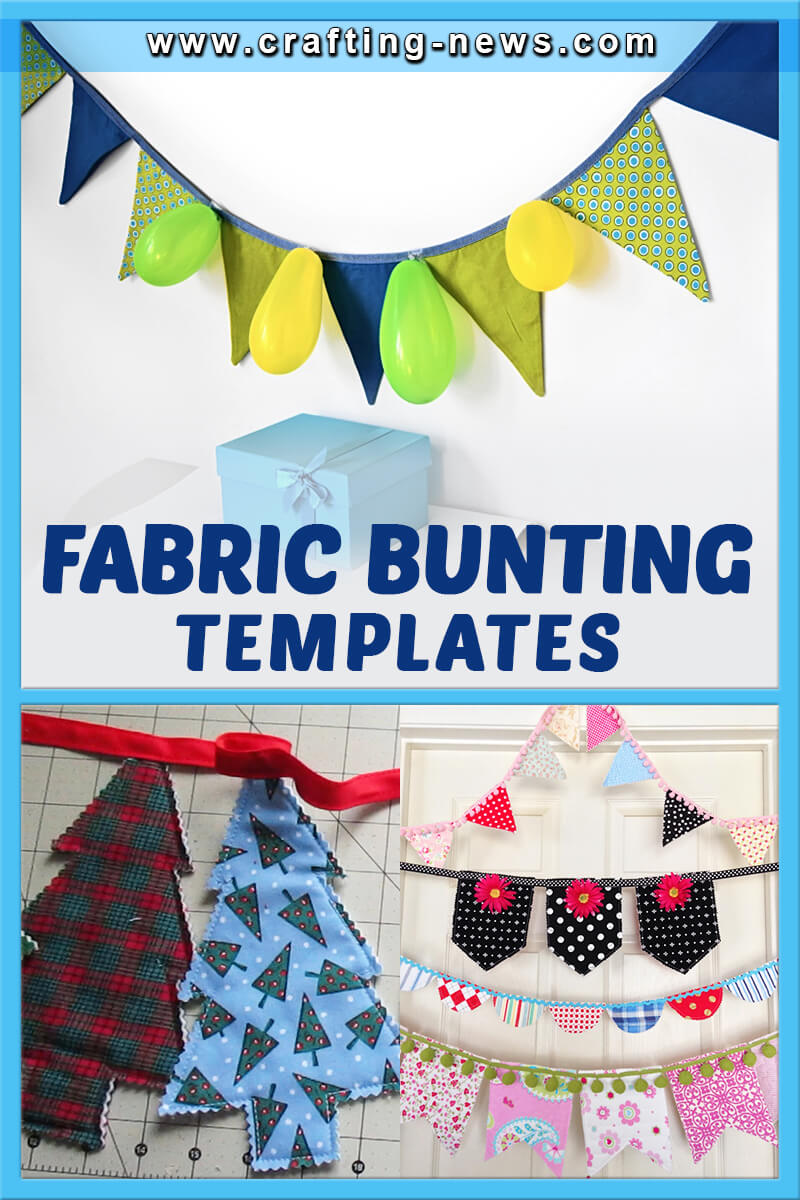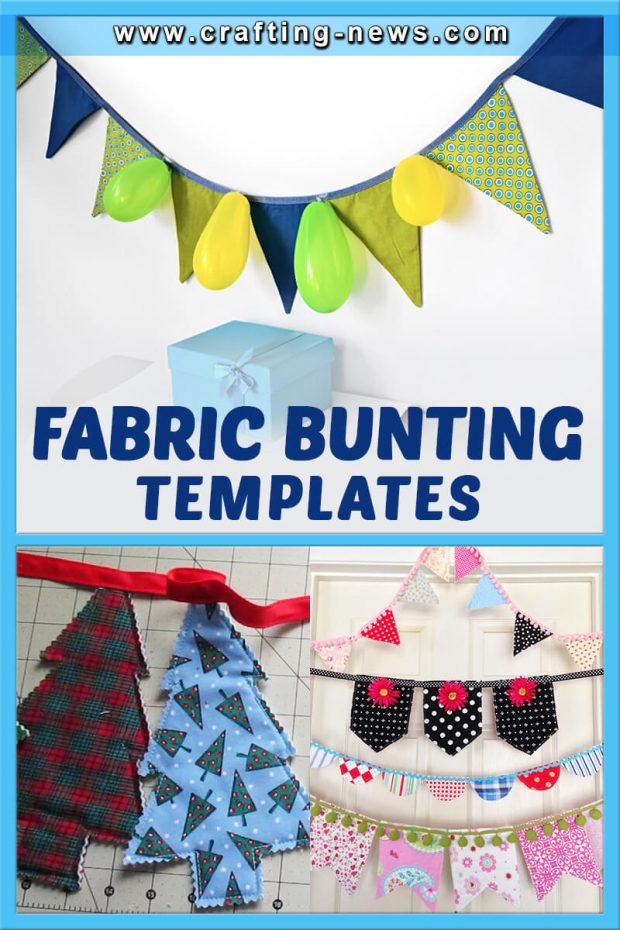 Below are 15 fabric buntings. We have included cute animal buntings for everyday occasions as well as party banners and holiday banners.
Fabric Bunting is a useful skill to have. Make your own fabric bunting to hang as decoration. It's a great use of your fabric scraps!
How to Make A Bunting
There are many types of bunting designs. There are DIY fabric bunting patterns as well as paper buntings that kids can help you make.
If you are interested in learning how to make bunting without sewing, check out this free tutorial from The Frugal Homemaker.
DIY Fabric Bunting Supplies List
Most fabric buntings are very easy to make and require very few supplies. Most fabric buntings will require:
Fabric
Scissors and/or Rotary Cutter
Thread
Pins
Bunting Template
Double-fold Bias Tape
How to Make Fabric Bunting
Follow these easy-to-follow step-by-step instructions to learn how to make bunting:
Print your template pattern and cut it out.
Use the template to cut out your fabric pieces. Each flag will need two pieces. One for the front and one for the back.
Place one front piece onto one back piece with the right sides together. Pin the pieces together to secure them for sewing.
Stitch the two sides closed. Leave the top open.
Trim the bottom point and seams, so it will lay flat when turned right side out.
Turn the flag right side out. Make sure the point/s are nice and sharp.
Repeat steps 2-6 until you have the desired number of flags.
Iron all the flags.
Take each flag and slide it into the fold of the bias tape. Pine each flag into place. You will want to space them evenly.
Stitch the whole length of the bias tape, securing all the flags. You can use a straight stitch. Or you can use a zig-zag stitch with contrasting thread to add an additional festive touch.
You are now ready to hang your bunting.
15 Fabric Bunting Designs
Now that you know the basics on how to make a fabric bunting, look at the wide variety of bunting templates listed below. We have included both paid and free fabric bunting patterns.
1. Star Garland Fabric Bunting Pattern by BritsyCoEco
Use this pattern to make a single star or string them together to make a bunting. There are so many things that can be made from this one pattern. Add an initial or name, or a special message.
The printable PDF pattern includes two sizes: small and large. There is a beginner-friendly pattern with very detailed explanations.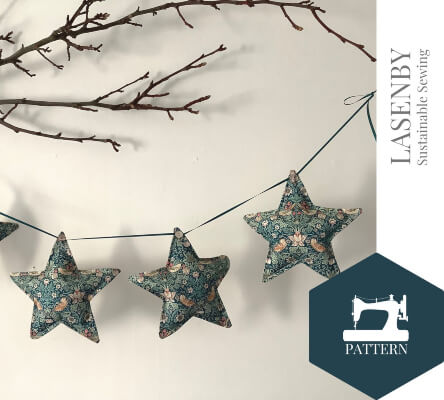 Find the Pattern by BritsyCoEco HERE
2. Free Bunting Template from Apple Green Cottage
Make an easy fabric banner using this free DIY fabric bunting tutorial. The bunting is double-sided and so cute. It would make a great decoration for a birthday party or holiday party. The tutorial includes step-by-step instructions and helpful pictures.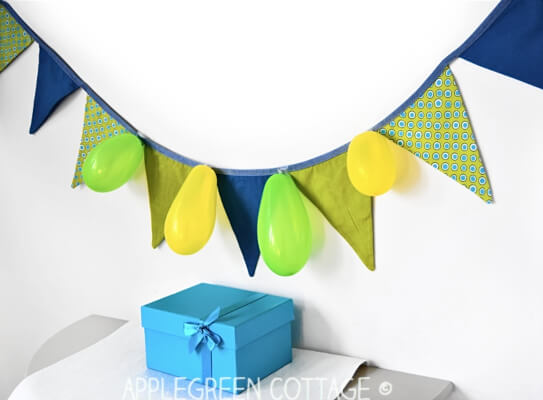 Find the Tutorial from Apple Green Cottage HERE
3. Fabric Bunting/Banner Pattern by CurbysCloset
Here is an easy fabric bunting pattern you can use for all your celebrations. This pattern includes 3 bunting/banner sizes: large, small, and mini. There are 4 different shapes: celebration triangle, royal point, circus scallop, and fairground swallowtail.
This pattern can also be used by quilters. It is a beginner-friendly pattern. You can use either fabric, felt, or paper.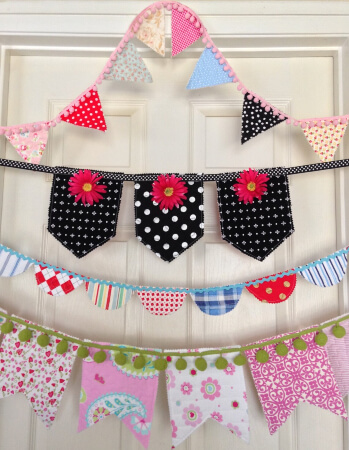 Find the Pattern by CurbysCloset HERE
4. Envelope Bunting Sewing Pattern by sneedlecraft
This is a fun bunting pattern that uses buttons to hold the banners on. There are full colour instructions and a template. This fabric bunting pattern would be great for baby showers and festive celebrations.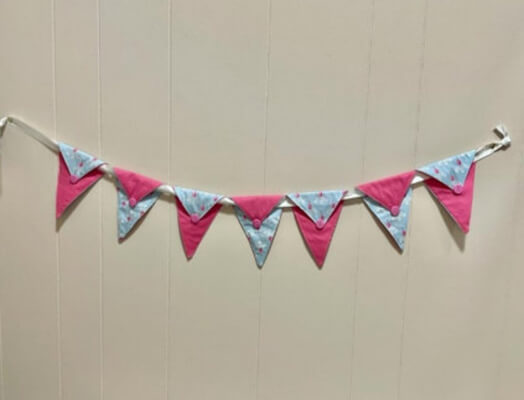 Find the Pattern by sneedlecraft HERE
5. Christmas Tree Bunting Design by DebsDaysDesigns
Decorate your home this Christmas with a handmade Christmas tree bunting banner. This is an extremely easy pattern that you will be able to complete in no time at all. You can use these trees to decorate the wall, doorway, or mantle.
The pattern makes a 9 foot (274.32 cm) to 10 foot (304.8 cm) long bunting with 15 Christmas trees. Each tree measures approximately 5 inches (12.7 cm) x 8 inches (20.32 cm). If you want a shorter bunting, just use fewer trees.
There are step-by-step instructions, photos, printable templates, and a link to a video tutorial.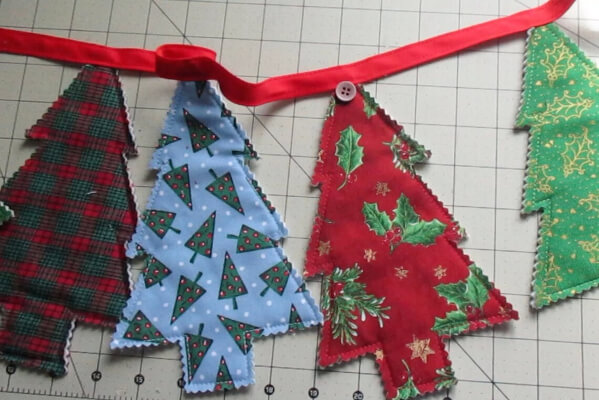 Find the Pattern by DebsDaysDesigns HERE
6. Celebration Fabric Bunting Pattern by SewSmartwithEliza
This fabric bunting is re-usable. Use it for photos shoots or parties. You can make it with different fabrics for any occasion. This sewing pattern is suitable for beginners, and seasoned sewers alike. The bunting is easy to assemble, requiring only basic sewing supplies.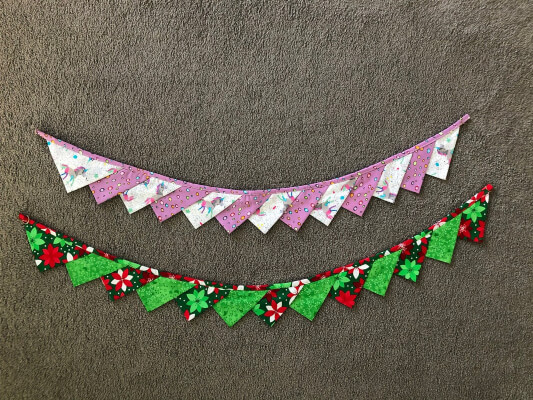 Find the Pattern by SewSmartwithEliza HERE
7. How To Make Bunting Tutorial from Sewing Bee Fabrics
This free bunting template gives you basic instructions for making a banner. You can use this tutorial to learn the fundamentals of creating a festive banner. Once you understand how to make all the pieces, you can let your imagination take over and create a ton of different designs.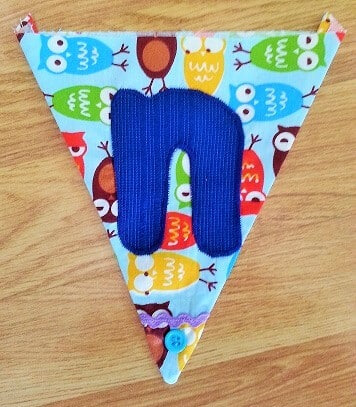 Find the Tutorial from Sewing Bee Fabrics HERE
8. Christmas Advent Calendar Bunting Sewing Pattern by DebsDaysDesigns
Decorate your home for Christmas with this advent calendar bunting. This is a great project that will get a lot of use. The kids will love using it to count down the days until Christmas.
The pockets are 3 ½ inches (8.89 cm) which are perfect for holding fun little surprises. Included in the PDF download are step-by-step directions, photos, a printable number sheet, and a video tutorial link.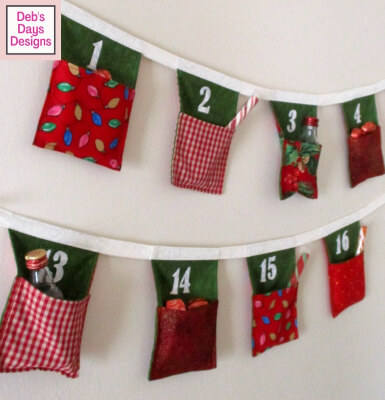 Find the Pattern by DebsDaysDesigns HERE
9. Easy Bunting Template from beffie48
If you are looking for a simple, classic bunting pattern, this one is perfect. When you make your own bunting, you will be able to save money and personalize it. You can use this fabric bunting pattern for any holiday or celebration.
This is a fast, fun, and easy to make pattern. The pattern makes 2 strings of buntings 64 inches (162.56 cm) long and 12 inches (30.48 cm) wide. The pattern is very detailed and includes photos. This pattern is easy enough for a beginning sewer.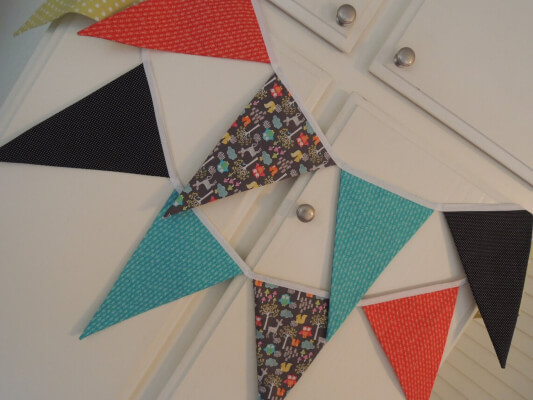 Find the Pattern from beffie48 HERE
10. DIY Pumpkin Bunting Sewing Pattern by DebsDaysDesigns
Use this festive pumpkin bunting to decorate for fall parties, Halloween, or a Thanksgiving dinner. This is a quick and easy crafting project that will work up in no time at all. There are step-by-step how-to directions, photos, printable templates, and a video tutorial.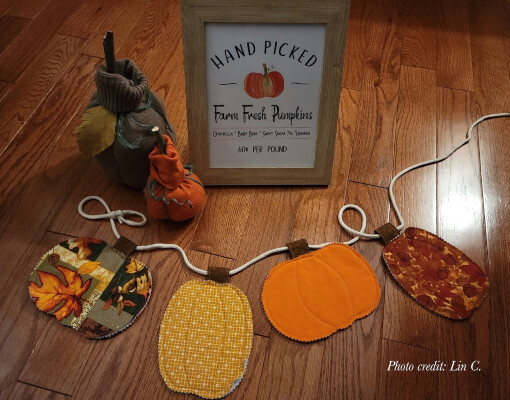 Find the Pattern by DebsDaysDesigns HERE
11. Birdhouse Fabric Bunting Sewing Pattern by DavidandCharles
Celebrate spring with this colourful birdhouse bunting. It is a fun sewing pattern that will brighten any room. It would also look cute hanging in a garden during a party. Each bunting flag is made in the shape of a little birdhouse.
The bunting is easy to assemble with only a little sewing. You can make the bunting in any length you choose by adding or subtracting birdhouses.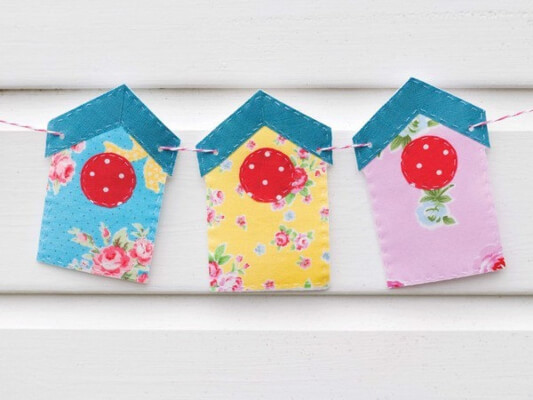 Find the Pattern by DavidandCharles HERE
12. Pretty Swallowtail Free Bunting Template from Sew Can She
Make birthdays, holidays, or any day special with a pretty swallowtail bunting. This free fabric bunting sewing pattern is fast and easy. You will be able to make a festive bunting in no time at all. Included are step-by-step photos and a downloadable template.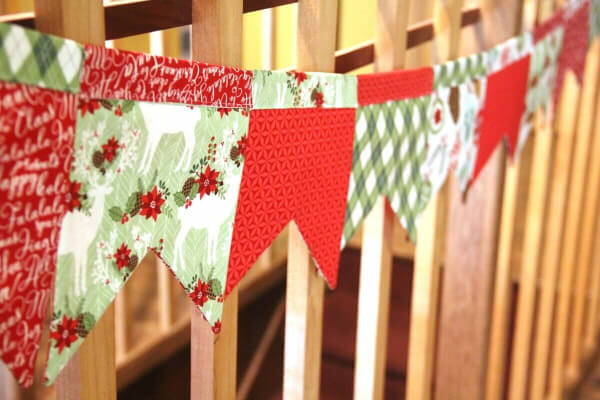 Find the Pattern from Sew Can She HERE
13. Elephant Parade Bunting Template Printable by wilsons
Hook the elephant trunks to the tails and stand them in a circle or hang them on the wall as elephant bunting. Make each elephant using blue fabric for a boy's nursery, or use pink for a girl's nursery.
The printable PDF sewing pattern is suitable for a beginner or intermediate sewer. It can be sewn by hand or with a sewing machine.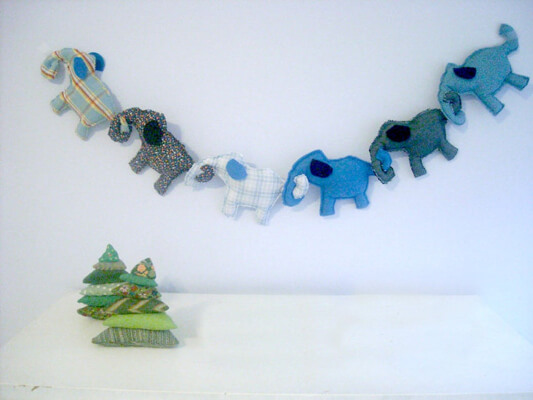 Find the Pattern by wilsons HERE
14. Gingerbread Man Christmas Fabric Bunting Design by Makeithappyshop
Gingerbread men are a staple during the holidays. And these gingerbread men will make the ideal bunting for your kitchen. Or you can make each little cookie into an ornament.
This pattern includes easy-to-follow instructions and templates. It will show you how to make your own garland of 5 jolly gingerbread men or a single gingerbread man ornament.
Each gingerbread person measures approximately 4.5 inches (11.5 cm) tall. Using the suggested 5 gingerbread men will create a 47 inch (120 cm) long bunting.
Want to make more gingerbread man pattern? Check out these Crochet Gingerbread Man Patterns.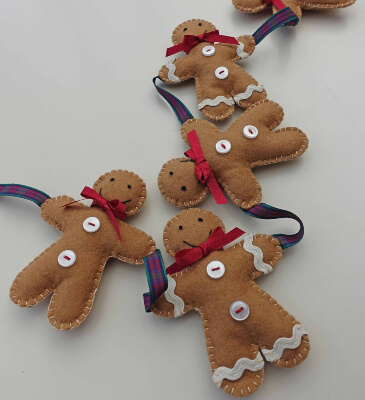 Find the Pattern by Makeithappyshop HERE
15. Wilderness Bunting Sewing Pattern by BustleandSew
Are you looking for a wilderness themed bunting for a nursery or child's room? Here is an adorable pattern that features teddy bears, pine trees, and arrows.
The trees and bears are between 5 ½ inches (13.97 cm) tall and the arrow roundels are just over 3 inches (7.62 cm) in diameter. It is a great project for using up felt scraps.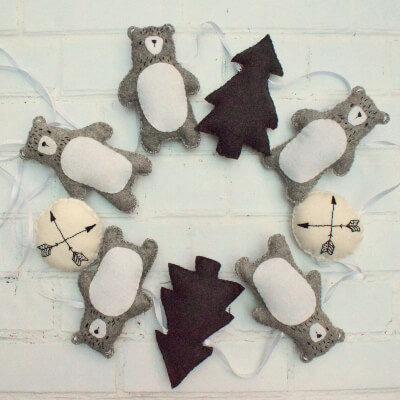 Find the Pattern by BustleandSew HERE
Who said buntings are only for parties? We have included several fabric bunting templates you can use to decorate your home throughout the year.
Do not go out and purchase a disposable bunting that will get thrown away after one use. Instead, make a fabric bunting that can be reused over and over again.
Buntings always add a joyful touch. It does not matter if it is for a birthday party or a child's bedroom. Buntings are fun! If you are planning an upcoming party or are looking for a cute way to decorate a nursery, check out the fabric bunting templates we have listed.
For more crafting ideas, check out these DIY Water Balloon Luminaries and DIY Reversible Crown your kids would love to play with.