Stitching plastic canvas is fun, it's easy, and it's expensive. And you know how we dig the inexpensive crafts which is why we're showing you these plastic canvas patterns.
The canvas comes in rectangular sheets that you can cut down as needed plus there is a fun variety of shaped canvases like hearts, circles, and even purses.

From Christmas decors to cute purses, coasters to bookmarks, we have 33 plastic canvas projects awaiting your needle and floss.
If you are just getting started with plastic canvas projects, you first need to learn the basic plastic canvas stitches. Glance through the patterns below, and grab a few to try, or use them to inspire your own designs.
1. Rainbow Free Plastic Canvas Pouch Pattern by Handmade Charlotte
Need a purse or pouch to store your supplies? Make an easy bag with plastic canvas! With a few folds and some bargello-style stitching, you'll have your own accessory to carry with you every day.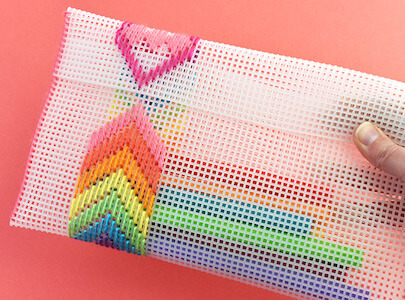 Get the Pattern here
2. Valentine's Plastic Canvas Hearts Pattern by Apricot Polkadot
Scraps of blank plastic canvas are perfect for this quick, cute Valentine's Day craft. These little stitched shapes can top giant paper clips to act as bookmarks, perfect for a daily planner or address book. Or try them glued to magnets for a little finesse on the fridge.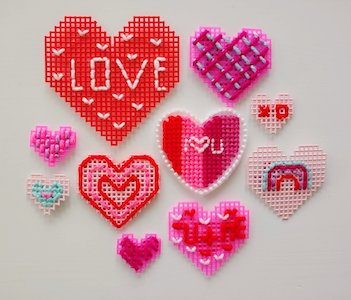 Get the Pattern here
3. Plastic Canvas Storage Bins Pattern by Make Zine
If you have a lot of stuff, and you want a custom-sized, custom-crafted way to store it, look no further than plastic canvas. This tutorial will show you how to build a simple lidded box, and give it your own unique spin.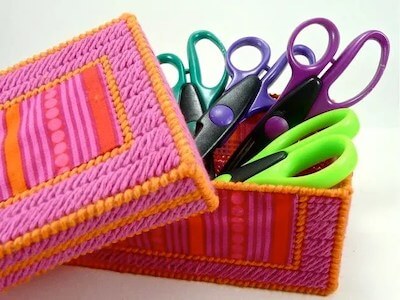 Get the Pattern here
4. Plastic Canvas Dreidel Ornament Craft by Creative Jewish Mom
These embroidered dreidels are simple enough to make even for kids say around seven or eight, so get the whole family stitching and you'll have enough for a garland or fun wall hanging in no time.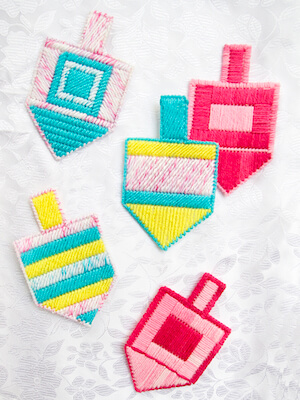 Get the Pattern here
5. Buffalo Plaid Placemat Plastic Canvas Pattern by Eye Love Knots
Free plastic canvas pattern to make your own buffalo plaid placemat perfect for a holiday tablescape any time of the year, or use on an entryway table as a doily.
Get the Pattern here
6. Plastic Canvas Alphabet And Numbers Pattern by Craft A Happy Home
This pattern includes 26 plastic canvas letter patterns and the plastic canvas patterns for the numbers 0-9. These are great for making banners, alphabet magnets, wall hangings, home decor, and much more! These plastic canvas patterns works up quickly!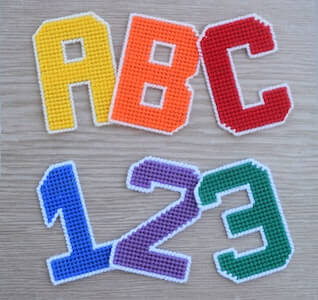 Get the Pattern by Craft A Happy Home here
7. Plastic Canvas Pencil Holder Pattern by Lost Mom
Make your own colorful Plastic Canvas Pencil Holder with this easy to follow tutorial.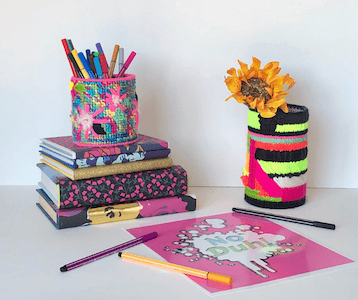 Get the Pattern here
8. Fall Boxes Plastic Canvas Pattern by Little Sapphire
Fill these pretty autumn boxes with treats for your table, or give them away as lovely gift boxes!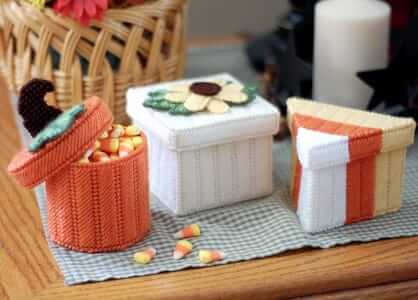 Get the Pattern by Little Sapphire here
9. Plastic Canvas Glasses Case Pattern by Trinkets In Bloom
A bold geometric pattern and bright colors will look great (and a bit retro), while this DIY Plastic Canvas Glasses Case keeps your glasses safe.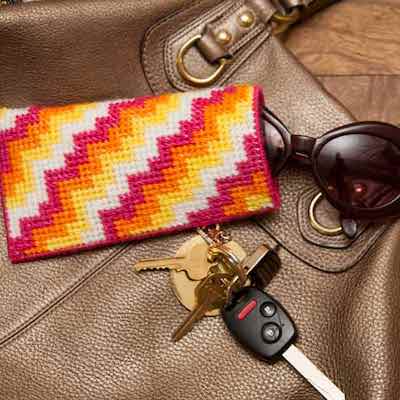 Get the Pattern here
10. Disney Character Plastic Canvas Coaster Set Pattern by DIY Party Mom
Create fun coaster sets of your favorite Disney characters with these free plastic canvas patterns. You can make Mickey, Minnie, Donald, and Goofy a part of your home, Disney party, or as gifts for the Disney fan in your life.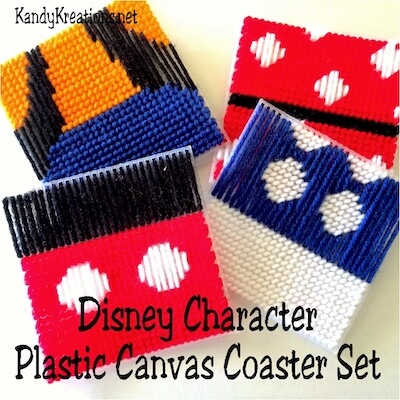 Get the Pattern here
11. Plastic Canvas Floral Clutch Pattern by Persia Lou
Make the most beautiful clutch out of plastic canvas with this Floral Clutch Plastic Canvas Pattern. This is also great project for crocheters because you can use up some yarn from your stash.
But even if you don't know how to crochet, the darling crocheted flowers are easy to learn how to make.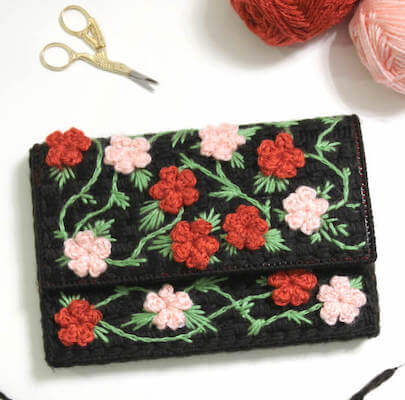 Get the Pattern here
12. Plastic Canvas Toy Food Pattern by Toys Were Us Patterns
Whether you're craving pizza or ice cream, you'll find just the thing to hit the spot. With over 10 plastic canvas toy food on the menu, there's something here to please every palette!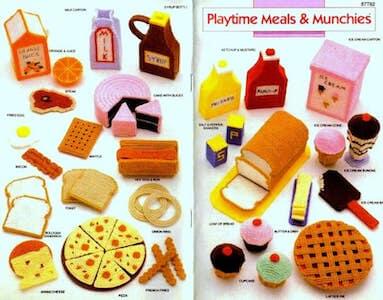 Get the Pattern by Toys Were Us Patterns here
13. Plastic Canvas Bookmarks Pattern by The Pretty Life Girls
Are books your life? Do you dive into a new adventure every time you turn the page? Why not make a bookmark to save your place for when you just have to put that book down.
These fun stitched bookmarks are made with plastic canvas which makes a perfect foundation for needlepoint and embroidery projects.
Check out these 26 Cross Stitch Bookmark Patterns for more bookmark ideas!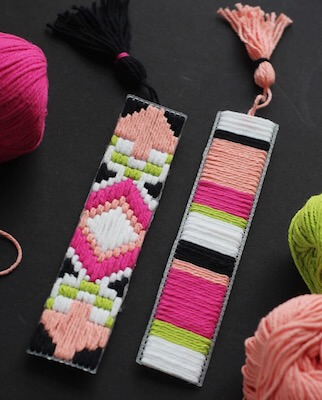 Get the Pattern here
14. Plastic Canvas Christmas Stockings Pattern by Ready Set Sew By Evie
Decorate this Christmas season with fun and festive Christmas stockings sewn by you! This pattern includes 4 plastic canvas designs sewn in the "Hearts" pattern. The items created are approximately 3 inches wide by 3 1/4 inches high each.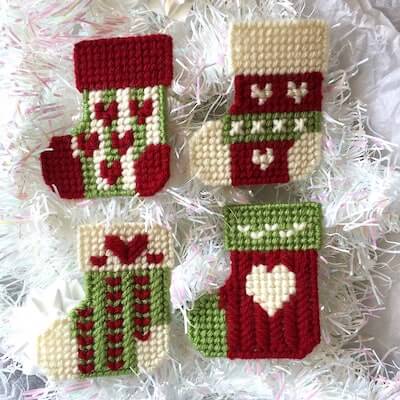 Get the Pattern by Ready Set Sew By Evie here
15. TV Watcher's Catchall Plastic Canvas Pattern by Raindrops And Memories
This handy catchall caddy holds everything you need when you're ready to relax in front of the television. Perfect for storing the program guide, pencils, puzzles, eyeglasses, and remote controls, it even has a coaster attached!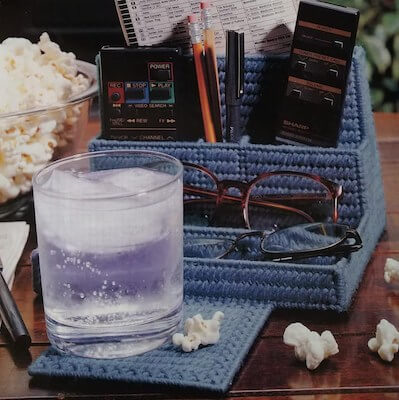 Get the Pattern by Raindrops And Memories here
16. Cupcake Plastic Canvas Coaster Pattern by DIY'S Hooks And Yarns
Perfect for an afternoon tea, this free cozy cupcake pattern couldn't be cuter. Stitch a complete set (try different pastel colors for each individual cupcake), and don't forget the cherry on top (use a bright button) to finish the look.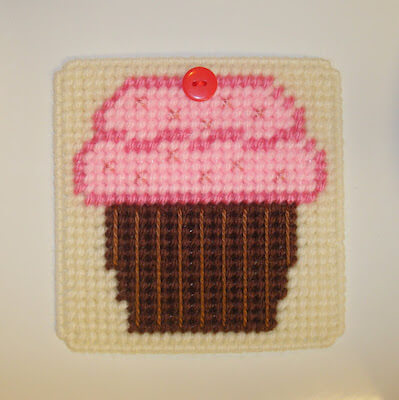 Get the Pattern here
17. Plastic Canvas Butterfly Pattern by PDF Craft Patterns
Wouldn't these decorations be pretty placed all around your house? These butterflies are not sweet and girly, but natural and sophisticated. As you can see, they look very different depending on the colors you choose, so be sure to choose the right palette!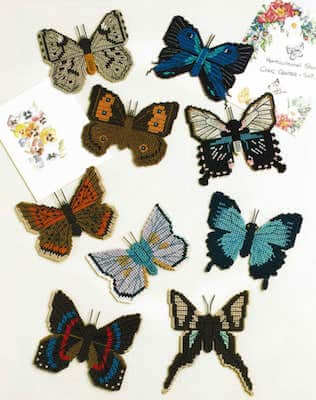 Get the Pattern by PDF Craft Patterns here
18. Plastic Canvas Nutcracker Tissue Box Pattern by BC Funk Factory
Ten Hut! This little toy soldier stands ready for holiday duty. As a tissue box cover, he's sure to get a thorough inspection as well as admiring glances from all of your guests.
Here are more Plastic Canvas Tissue Box Patterns with a variety of themes to choose from.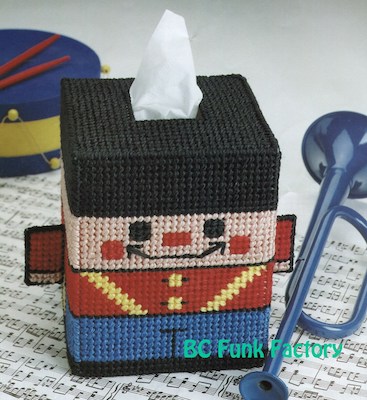 Get the Pattern by BC Funk Factory here
19. Plastic Canvas Robot Coin Bank Pattern by Yarnspirations
Make saving fun by stitching these adorable robot piggy banks. Beginner crafters, select your colors from solids, ombres and lovely heathers. Invite kids to help on this creative project!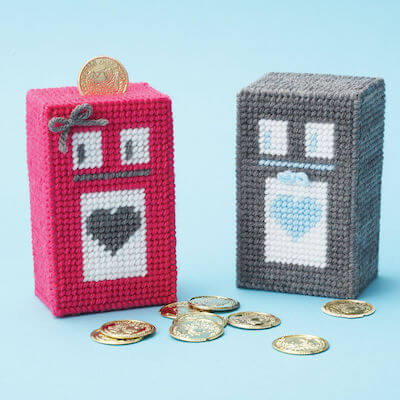 Get the Pattern here
20. Plastic Canvas Farm Game Toy Pattern by AOK Corral
This is a wonderful set of patterns for making a child's toy with plastic canvas! Make two of each animal card for a fun animal memory game. The patterns are for 8 animal designs for the front of the cards and 1 tractor design for the back of the cards.

There will be a total of 16 cards for the memory game. All finished squares fit into the barn box carrying case. Great for helping children improve their memory!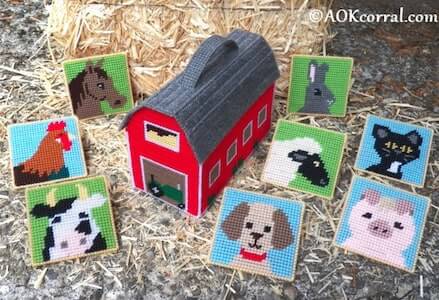 Get the Pattern by AOK Corral here
21. Plastic Canvas Needle Book Pattern by Barrett Design Studio
Keep all your needle handy and safe with this DIY needle book! Tab and slot keep it securely closed.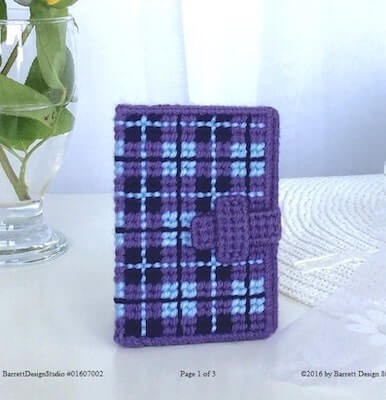 Get the Pattern by Barrett Design Studio here
22. Tote Bag Plastic Canvas Pattern by Fairy Penguin Crafts
If you've ever wondered how to make a nice simple tote bag to carry all your junk, here'a a quick and easy tutorial to help you out! Roomy enough to stash all your essentials, this Tote Bag Plastic Canvas can be customized with any colors you like.
Get the Pattern by Fairy Penguin Crafts here
23. Spice Islands Placemat Plastic Canvas Pattern by Premier Yarns
This Spice Islands Placemat is made by weaving raffia yarn in and out of plastic canvas to create a stunning look that is both rustic and chic. You will lobe the way your dining room looks!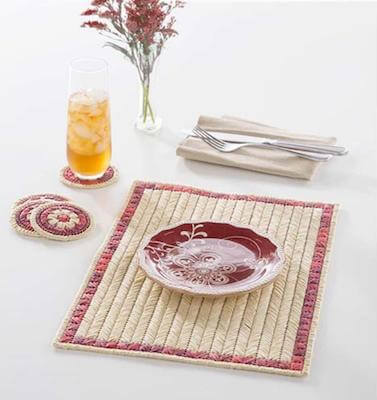 Get the Pattern here
24. Plastic Canvas Alphabet Tiles Pattern by Ready Set Sew by Evie
Are you looking for a way to customize your plastic canvas projects? Here is a set of pretty alphabet tiles to help you personalize hostess gifts, craft fair offerings and home decor.

Teach little ones their ABCs in style or monogram a luggage tag with color combinations that you choose. With a few scraps of worsted weight yarn and 7-count plastic canvas, you will be on your way to creating a fun and easy project.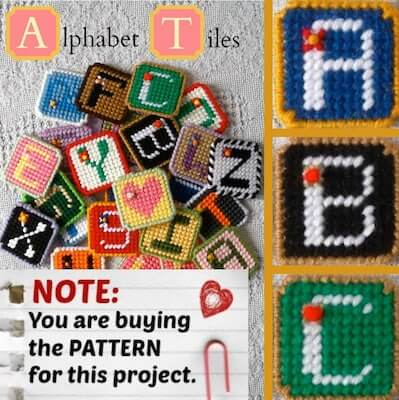 Get the Pattern by Ready Set Sew By Evie here
25. Plastic Canvas Quilted Tissue Box Cover Pattern by Little Sapphire
Bring the warmth of an heirloom quilt into your home with this pretty tissue box cover. The block on this tissue box cover is called Around The Corner.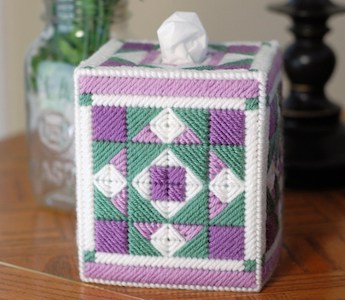 Get the Pattern by Little Sapphire here
26. St. Patricks Day Retro Camper Plastic Canvas Pattern by Craft A Happy Home
Love to decorate for St Patty's Day? This cute retro camper is decorated with a shamrock banner and a pot of gold. Whether you are Irish or just Irish for a day, this camper wall hanging will add a touch of fun and whimsy to any room.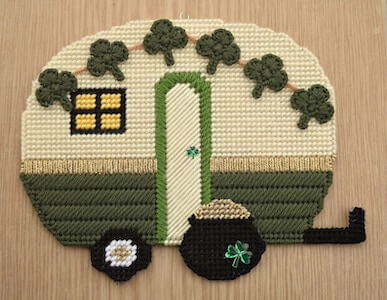 Get the Pattern by Craft A Happy Home here
27. Summertime Snacks Plastic Canvas Pattern by Raindrops And Memories
Now you can indulge in your favorite summertime snacks without gaining an ounce – just cook up a batch of these junk food magnets! You'll want to stitch extras to share with a friend who's dieting, too.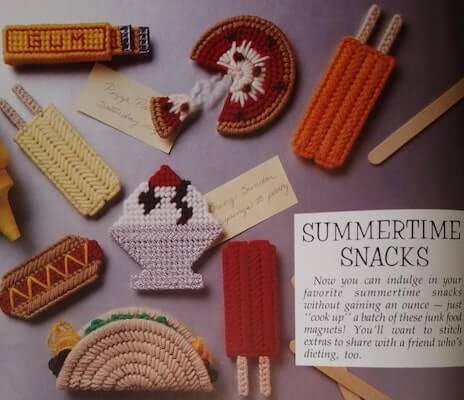 Get the Pattern by Raindrops And Memories here
28. Plastic Canvas Circles Table Runner Pattern by Crafty Pod
Use a variety of sizes of circles of plastic canvas to brighten a tabletop with a fun, whimsical runner. Stitch each circle with coordinating colors (vary the patterns for even more interest), and join together with a needle and thread. The final product looks amazing on a dining or coffee table.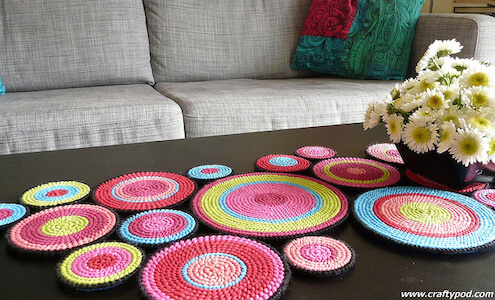 Get the Pattern here
29. Plastic Canvas Rainbow Pattern by Rooted Childhood
If you were ever a Girl Scout or went to church camp, you probably remember making something similar to this plastic canvas rainbow craft. Kids of all ages will love making this for St. Patrick's Day, spring, or any festive holiday!
You can add a loop of yarn to the top for hanging or add a magnet to the back for an adorable magnet.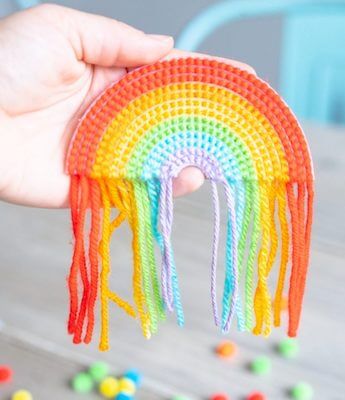 Get the Pattern here
30. Plastic Canvas Wind Chimes Pattern by Craft Drawer
Here's a cool idea for wind chimes to put on your porch or patio or even indoors so they stay dry! Make some wind chimes using plastic canvas and yarn. If you want cut costs buy some inexpensive wind chimes at the dollar store and modify them using these patterns.
There are eight designs in all to make and you can easily download the pattern to get started on them right away!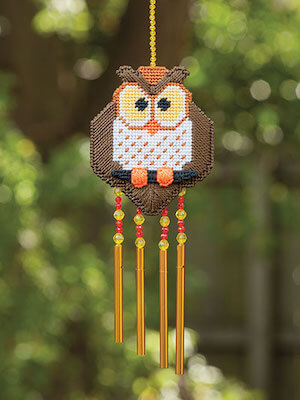 Get the Pattern here
31. Flower Power Tapestry Keyring Plastic Canvas by Bobbin & Fred
Carry a little flower power in your pocket wherever you go. These super cute keyrings are fun, quick and cheap to make. If you're new to needlepoint tapestry they're a great project to start with!
If you're already a plastic canvas addict they're a great way to use up scraps of yarn and small pieces of plastic canvas leftover from other projects.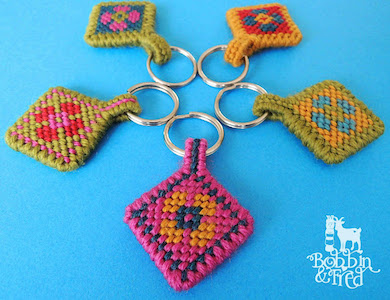 Get the Pattern here
32. Mini Village Houses Plastic Canvas Pattern by Fairy Penguin Crafts
Make the cutest little houses ever with some plastic canvas and scraps of yarn. And you can use them in so many ways!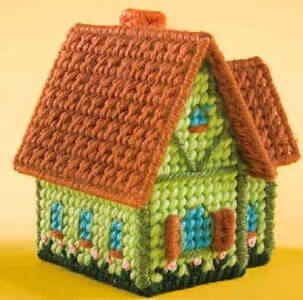 Get the Pattern by Fairy Penguin Crafts here
33. Cheery Spool Sewing Accessories In Plastic Canvas by Little Sapphire
This adorable sewing set will add a cheery touch of color to your sewing room and make you want to start stitching! This set includes patterns for a needle book, a pincushion, and a thread catcher.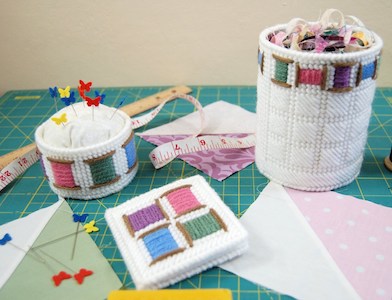 Get the Pattern by Little Sapphire here
THE RETRO CRAFT IS BACK! WITH THESE PLASTIC CANVAS PATTERNS, THERE'S A PATTERN FOR EVERYONE TO LOVE!
Don't you love keeping a project on hand that you can enjoy with your kids? We hope you and your family enjoy working on a plastic canvas project together!
For more plastic canvas ideas, be sure to see our Plastic Canvas Kits, Halloween Plastic Canvas Patterns, and Plastic Canvas Patterns for Christmas. Also, Don't forget to share your finished projects on our Facebook Page. We'd absolutely love to see!

If you love working with this healthy, classic material, there's more plastic canvas patterns here to try! So, grab your materials and make one of these plastic canvas patterns today!