If you are interested in learning the art of crafting with plastic canvas, we would recommend you look at plastic canvas kits. These kits have everything you need to get started.
Plastic canvas is a versatile crafting material used in needlepoint and embroidery. It is made from lightweight plastic and has regularly spaced holes. It is the ideal medium for crafters just learning needlepoint.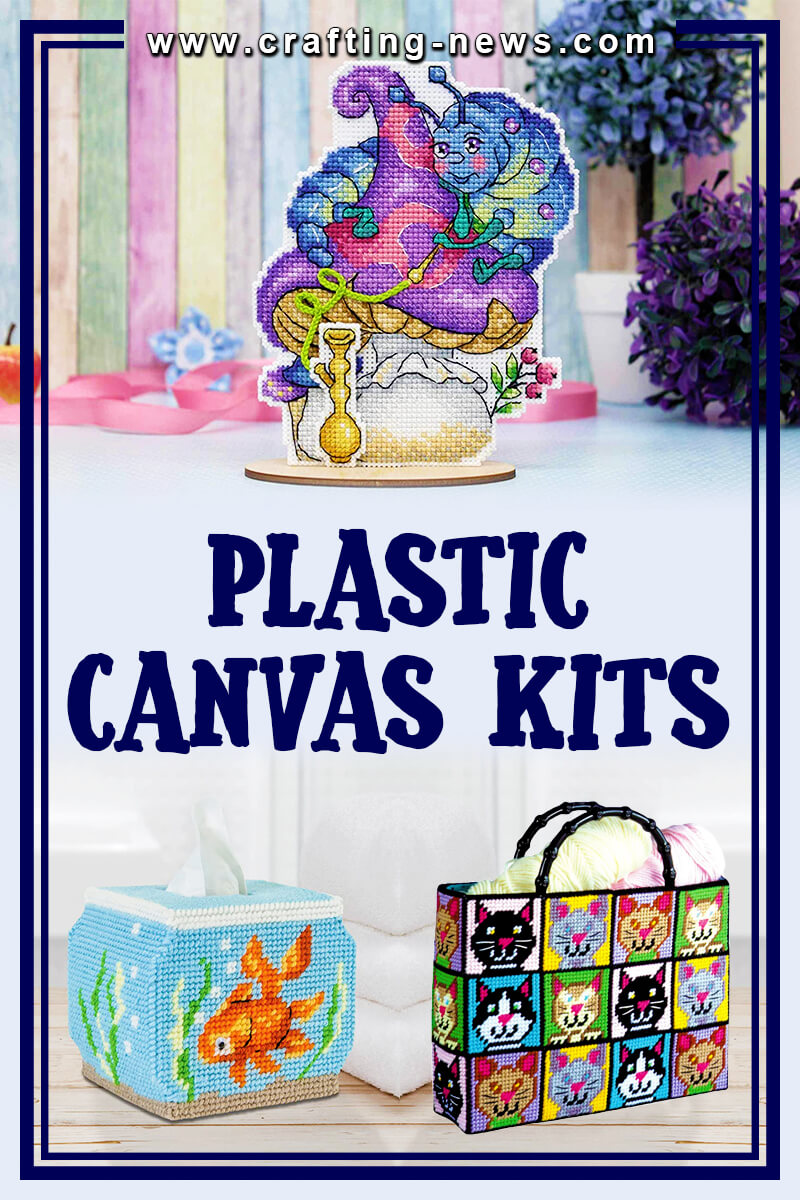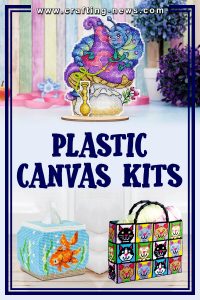 Plastic canvas is often used because it is rigid and does not require an embroidery hoop. Since it is rigid, it can be cut into different forms that will hold their shape.
Plastic canvas is a great base for a large array of crafts. It can be used for magnets, ornaments, wall hangings, 3D sculptures, tissue boxes and more.
If you are just getting started with plastic canvas projects, you need to learn the basic plastic canvas stitches.
Below are 12 of our favourite plastic canvas kits. We have included a wide variety of designs and projects.
1. Love You To The Moon Pallet-ables Janlynn Plastic Canvas Kit
This is the perfect wall hanging for a nursery. It has a 3D pallet design that makes it stand out from other wall decor items.
With this plastic canvas kit, you get 7-count plastic canvas, acrylic yarn, needle, graph, and easy-to-follow instructions. The finished size is 10.5 inches x 11.5 inches 1.25 inches.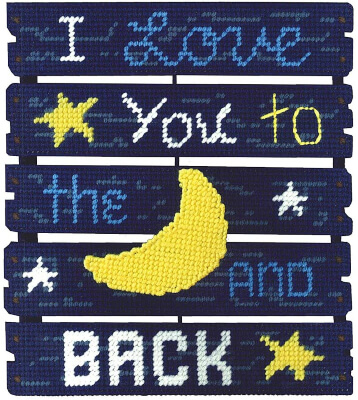 2. Herrschners Lighthouse Bay Window Plastic Canvas Wall Hanging Design
Make this tranquil wall hanging for a beach house or coastal-inspired home.
The plastic canvas kit includes 7-mesh plastic canvas, acrylic yarn, cotton floss, a wooden window frame, and a needle. The finished wall hanging measures 15 inches × 20 inches.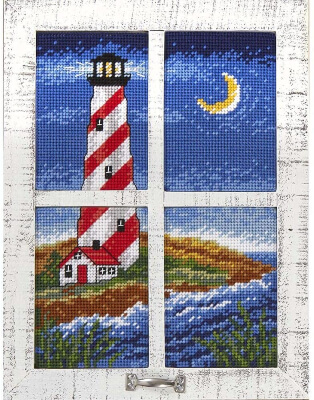 3. Tobin DW1826 Cat Tote Bag Plastic Canvas Kit
The Tobin the cat plastic canvas kit is perfect for any cat lover. This package contains 7 count plastic canvas, acrylic yarn, trims, handles, fabric for lining, a needle and instructions.
When completed, the bag measures 12 inches x13 inches x9 inches.
Check out more 33 functional Crochet Tote Bags Here.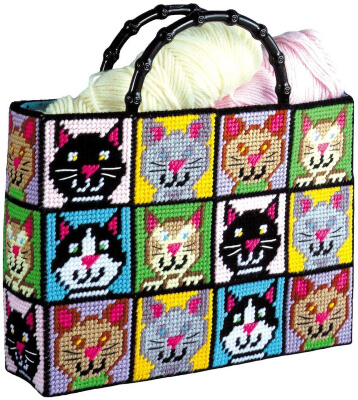 4. Herrschners Happy Campers Coasters & TB Plastic Canvas Kit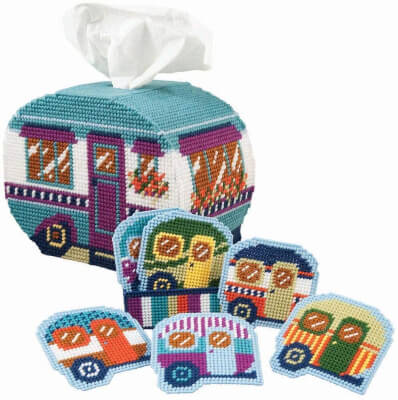 Are you an avid camper? If so, you need the Happy Campers tissue box and coasters kit. This kit is so fun and will bring a bit of whimsy to your trailer.
The plastic canvas kit includes 7-mesh plastic canvas, acrylic yarn, and a needle. The tissue box cover measures 8½ inches x 5 inches x 6½ inches. The coasters are 4 inches x 4 inches.
5. Herrschners Time for S'Mores Plastic Canvas Tissue Box Kit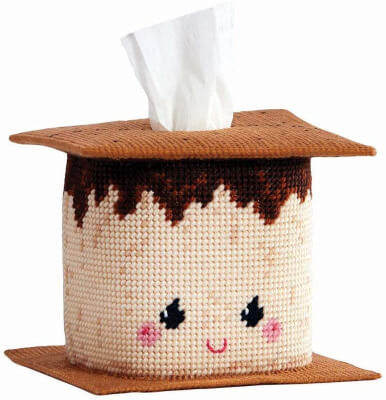 Another fun plastic canvas kit for a camper is this adorable smores tissue box. You will get a lot of compliments on this adorable creation.
This irresistibly cute tissue box cover kit includes 7-mesh plastic canvas, acrylic yarn, and a needle. The cover measures 7½ inches x 5½ inches x 7½ inches.
6. Herrschners Time for S'Mores Coasters with Holder Plastic Canvas Kit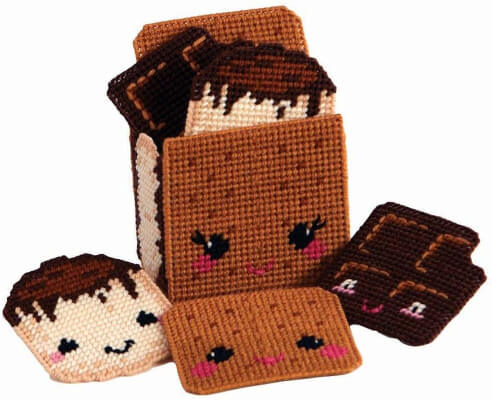 If you make the smores tissue box cover, you know you need this fun coaster set too. How cute are these chocolate, marshmallow, and graham cracker coasters?
The kit includes 7-mesh plastic canvas, acrylic yarn, and a needle. There are a set of six 3¾ inch x 3¾ inch coasters and one holder.
7. Sweets for Happiness Plastic Canvas Counted Cross Stitch kit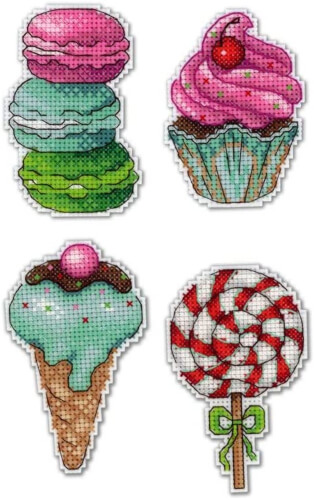 These colourful magnets will help brighten up any kitchen. The Sweets for Happiness kit is a wonderful gift for any cross stitching enthusiast who also loves plastic canvas.
The kit comes with 14 count plastic canvas, 22 colours of cotton floss, white felt, magnet sheet, metal needle monochrome chart and Instructions.
8. Herrschners Springtime Village Plastic Canvas Kit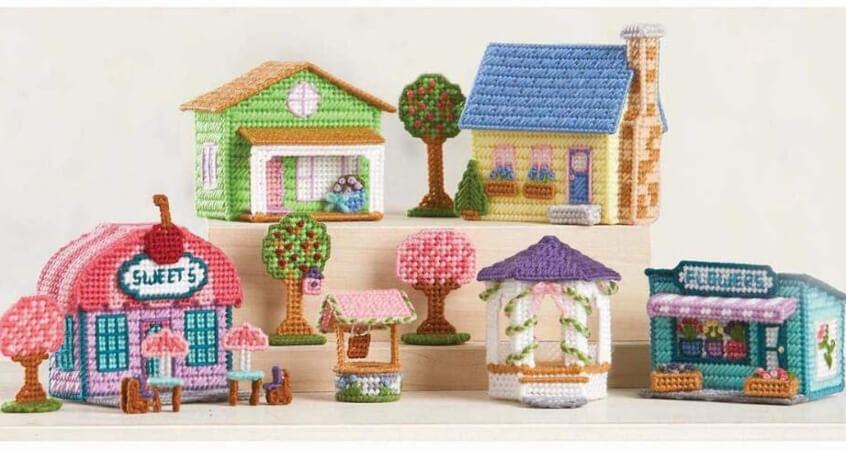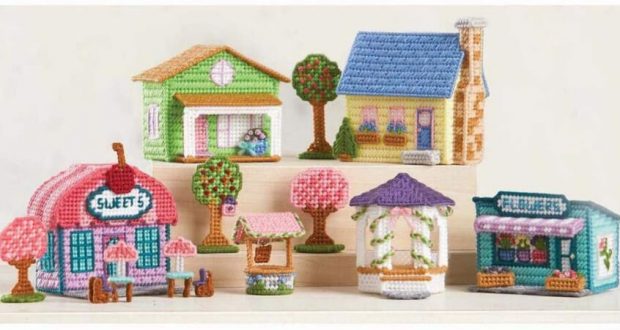 Here is a large kit that gives you the ability to create a little 3D town. There are 16 pieces in total. You get a sweet shop, flower shop, gazebo, a couple of houses, trees, flowers and a well.
The colourful kit includes 7-mesh plastic canvas, acrylic yarn, and a needle. The largest piece is 5½ inches tall.
9. MARY MAXIM Fish Bowl Plastic Canvas Tissue Box Kit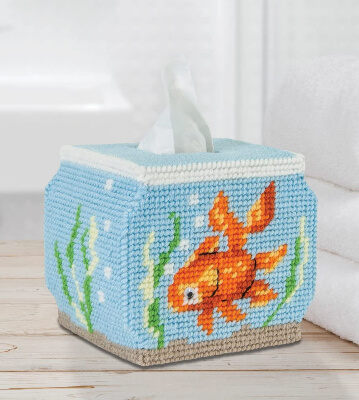 This whimsical fishbowl plastic canvas kit would look cute in a bathroom, or a home decorated with nautical decor. This unique design will surely make people smile.
Here are more varieties of Plastic Canvas Tissue Box Patterns.
10. Herrschners Caroling Kitties Tin Ornaments Plastic Canvas Kit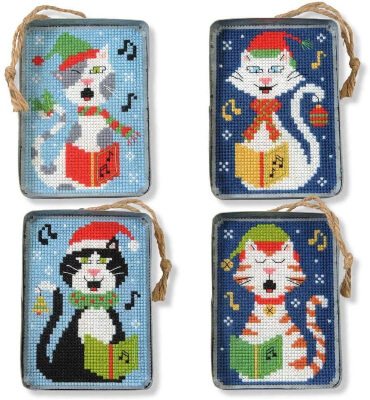 Decorate your Christmas tree with these caroling kittens. Or give them away as gifts to other cat lovers. This plastic canvas kit uses cross stitching techniques to give a full detailed look.
The kit includes 14 count. plastic canvas, metal coasters with holder, cotton floss, and a needle. Each ornament measures 2¾ inches x 4 inches.
If you want more patterns related to Christmas, check out our 24 Plastic Canvas Christmas Patterns
11. Mary Maxim Birdhouse Plastic Canvas Tissue Box Kit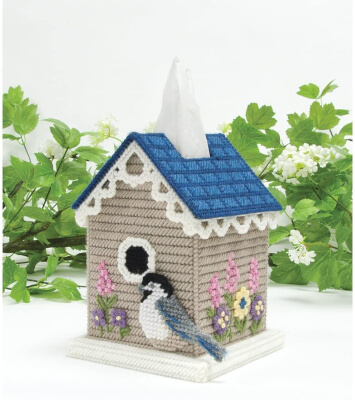 Here is a fun spring-inspired plastic canvas kit. The kit features a cute chickadee perched next to the entrance to a little birdhouse. The kit includes 7 count plastic canvas, acrylic yarn, trims, needle and instructions.
12. Wise Caterpillar – Counted Cross-Stitch Double-Sided kit on The Plastic Canvas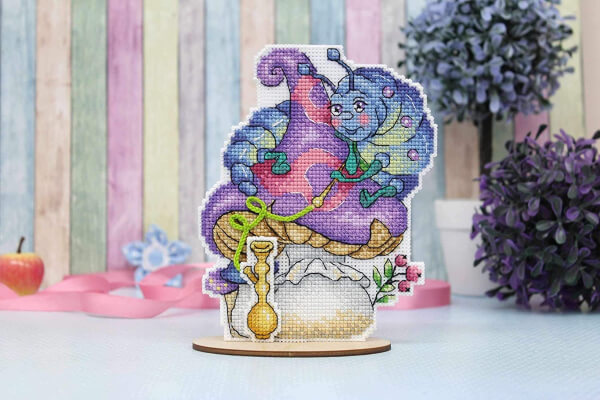 Here is another fun plastic canvas kit designed for cross stitchers. This Alice in Wonderland-inspired caterpillar kit creates a double-sided project. You can stand it up on a base, use it as a gift tag, or insert a ribbon and make it an ornament.
To make this double-sided caterpillar, you will make the front and back pieces separately. Then the pieces are sewn together.
The package includes white plastic 14 count Aida canvas, 25 colours of Gamma cotton floss, a monochrome chart and instructions. The finished item size is 5.91 inches x 4.72 inches.
PLASTIC CANVAS IS A FUN HOBBY. GET STARTED TODAY WITH ONE OR MORE OF THE PLASTIC CANVAS KITS LISTED ABOVE.
If you've always wanted to get into crafting try one or two of these projects, Easter Egg Painting Kits, Macrame DIY Kits and Macrame DIY Kits.
Do you want more canvas patterns? Don't miss our list of 35 Plastic Canvas Patterns and Plastic Canvas Tissue Box patterns.
Whether you are new to plastic canvas or looking for the latest patterns, we have included the perfect project for you. From coasters to camping, we have included 12 plastic canvas kits that are just waiting for you to start.