Mandala stones are fun and simple to make. Their colourful designs are eye-catching and easy to mimic. The mandala rock painting technique is the latest craze to take the crafting world by storm.

Painting a rock mandalas pattern can be relaxing. The patterns are often circular and geometric. The focus is put on the pattern and the colours. Everyone can start with exactly the same supplies and each and every mandala rock painting will be different.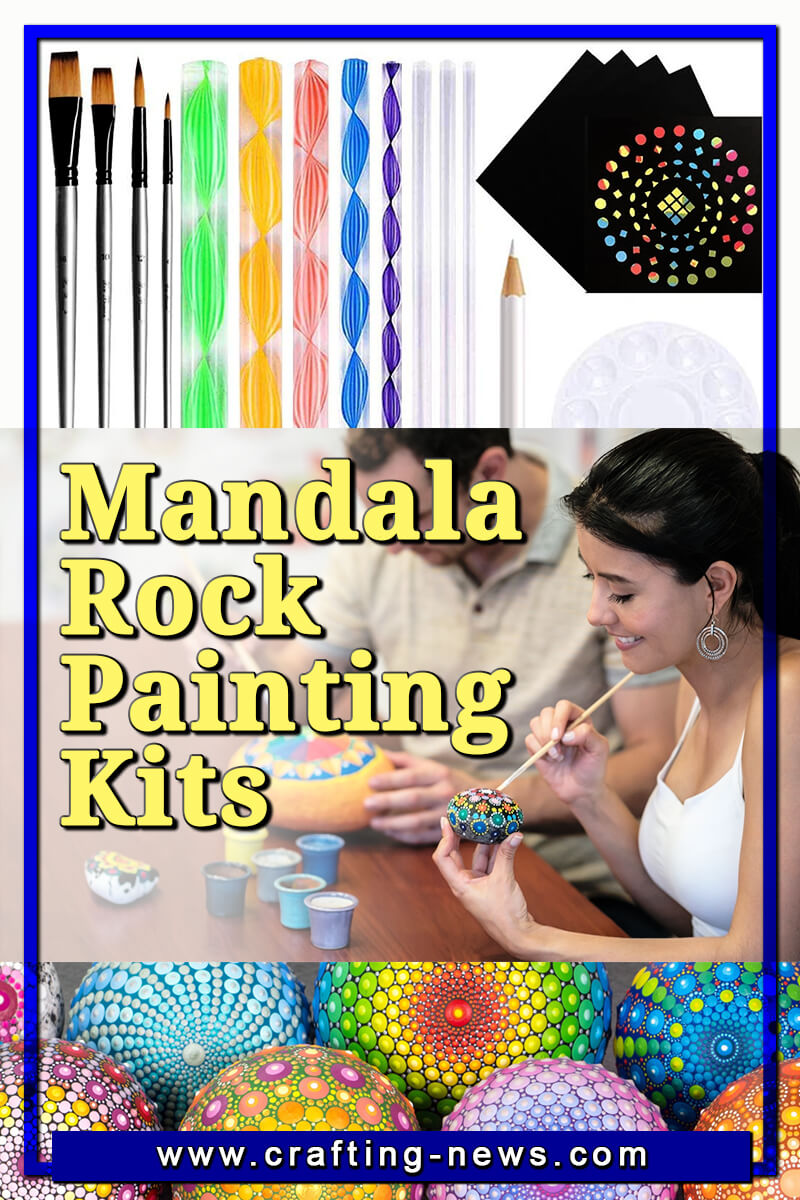 One of the great things about rock mandalas painting is you do not have to be a talented artist to paint a beautiful rock. With a few supplies and a little practice, you will be able to create beautiful works of art.
Mandala Rock Painting Supplies
When learning how to paint mandala rocks, you will need a few basic mandala rock painting supplies.
Acrylic paint

Water

Pointed round brushes with synthetic bristles

Rocks
Mandala Rock Painting for Beginners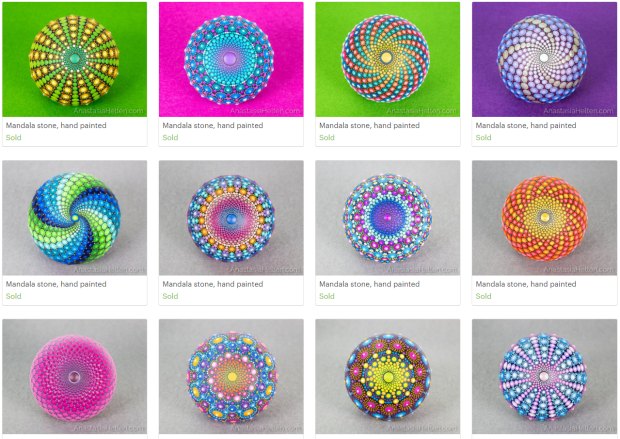 Learning how to paint mandala rocks is easy and fairly straightforward. If you are wanting to learn how to create these mesmerizing mandala stones, we have created a step-by-step tutorial for you.
Step-by-step tutorial on how to paint Mandala Rocks
1.Locate the centre of your stone.
2. Paint a large dot in the centre.
3. Start creating the next ring by adding four small dots. Place one and the top, one at the bottom, one on the right, and one on the left of the first circle.
4. Finish the ring by adding additional small dots evenly spaced between the four dots you just created.
5. Start the next ring by creating larger dots in a different colour. Offset the ring slightly and add the dots in the gaps created by the smaller dots.
6. Continue adding larger dot rings in different colours until the rock is covered.
7. You have now created your very first mandala rock painting.
Mandala Rock Painting is something a little bit different today. Here is some inspiration and a joyful look at what you can create with just paint, patience and a lot of practice. We stumbled across Anastasia Helten, who lives in Trier in Germany. (That's a fascinating city if you ever get the chance to visit.) Her skill with painting acrylic mandalas on stone took our breath away!
Mandala Stones Video Tutorial
If you want to see how the stones are painted, take a look at these couple of videos. How long do you think you would need to practice before you could do the same?
Mandala Rocks Painting Tips
By being prepared will make your painting experience easier and more enjoyable. When getting ready to paint your rocks, consider these tips:
Have a Q-tip on standby. If you make a mistake, you can easily fix it with a Q-tip.

Choose your paint colours before you start.

You can mix your paints to get the perfect colours.

Your paint should be thick, so it does not run.

Be patient and make sure your dots are evenly sized and spaced.

You can use the eraser on the end of a pencil to get a perfect circle.

Use a smooth stone.

Acrylic paints are the best.

Always make sure there is enough paint on your tool.

Rotating your rock as you work will make for an even pattern.

Add dimension to your rock by adding smaller contrasting dots on larger dots. Make sure the first dot has dried completely.

Seal the stone when you are done, and the paint has dried. Use either a spray sealant or mod podge.

Clean your tools immediately.
5 Mandala Rock Painting Kits
1. 31PCS Mandala Dotting Tools Set Kit for Beginners Painting Mandalas Rocks with Instructions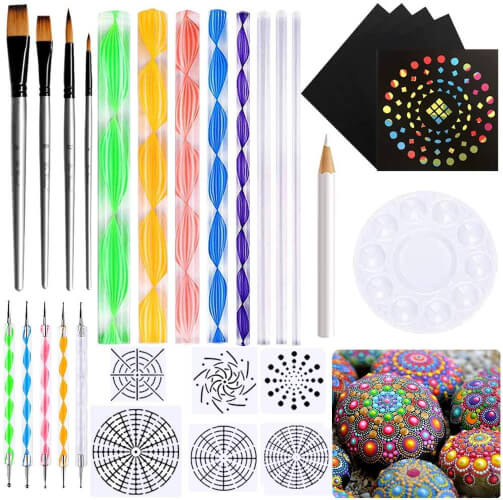 This mandala dotting kit was designed for beginners. It has all the tools you will need to create their first rock mandalas. This kit does not include any rocks or paint.
Mandala Rock Painting Kit includes:
5x Double-end ball stylus

8x Acrylic rods, diameter from 3mm-15mm.

5x Black card stock 5″ x 5″ (cards is to practice and make getting started easy)

1x white Generals chalk pencil (to make guidelines)

4x Painting brushes (for mistakes and painting outline).

6x Mandala stencils (include 8/12/16 segments stencils).

1x Plastic palette

1x Step-by-step instructions.
Find this Mandala Dotting Tools Set Here
2. AMAV Toys Mandala Rock Painting Kit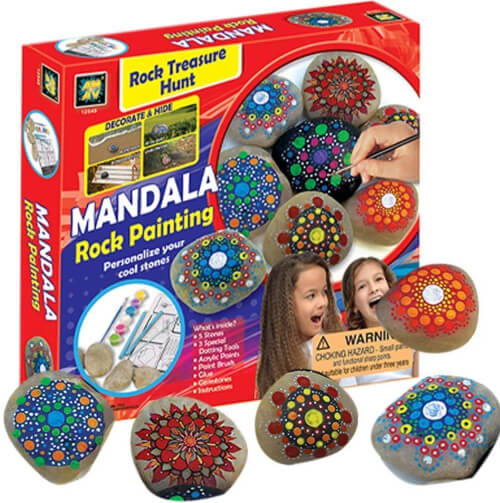 Mandala rock painting is a great screen free activity your kids will love. This mandala rock painting kit was designed with kids in mind. It includes everything they need to create 5 mandala painted rocks.
Mandala Rock Painting Kit includes:
6x Water resistant paint

1x Sheet of design transfer stickers

5x Rocks

1x Paintbrush

2x Colours of glitter glue

1x Glue

1x Bag of colourful gemstones

Easy to follow instructions
Find this Mandala Rock Painting Kit Here
3. Mandala Stones Dotting Tools Kit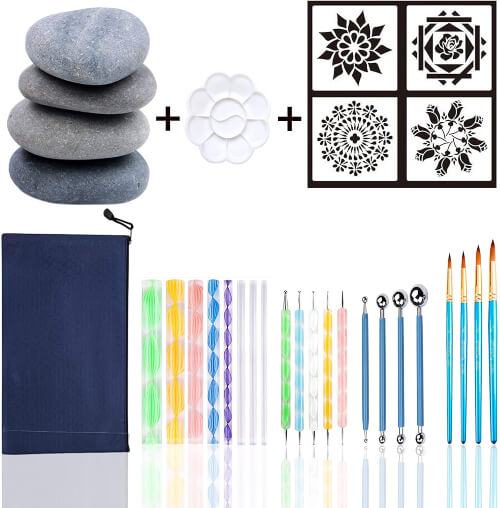 This mandala painting kit contains high-quality dotting tools and accessories. It includes everything you need for mandala rock painting except the paint.
Mandala Rock Painting Kit includes:
4 x Stones 2-3 inches

8 x Acrylic rods

4 x Painting brushes

5 x Dot tool with rubber head

4 x Ball stylus

4 x Mandala stencils

1 x Painting tray

1 x Storage bag
Find this Mandala Stones Dotting Tools Kit Here
4. 58PCS Mandala Rock Painting Kit with a Blue Zipper Waterproof Storage Bag for Painting Rocks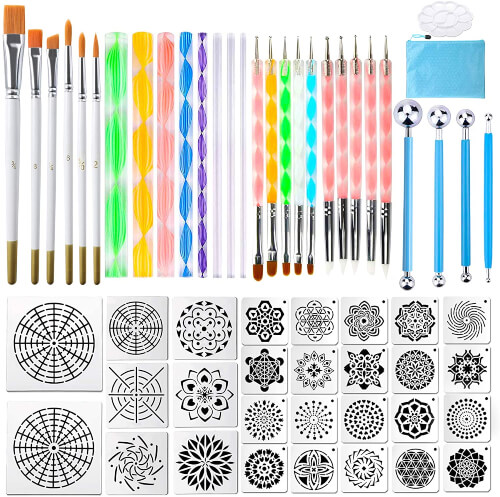 If you are looking for a kit that has a wide range of stencils. This one is it. It has 28 different stencils. The kit comes with all the tools you need and a zippered waterproof storage bag for easy carrying. The kit does not include rocks or paint.
Mandala Rock Painting Kit includes:
1x Paint tray

8x Acrylic rods

1x Storage bag

5x Dotting stylus

5x Silicone stylus

6x Wood brushes

28 Mandala stencils

4x Rubber handle ball stylus
Find this Mandala Rock Painting Kit Here
5. Paint Your Own Mandala Stones (Tuck Box)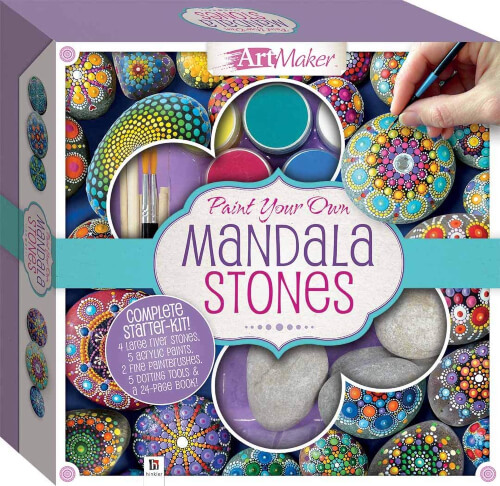 This mandala rock painting kit would be perfect for children. It includes everything they will need to get started in mandala rock painting.
Mandala Rock Painting Kit includes:
4 Large river stones

5 Acrylic paints

2 Fine paintbrushes

5 Dotting tools

24 Page book
Find this Madala Rock Painting Kit Here
Looking for more painting projects? Check out our Faux Stained Glass Effect Painting, Shoe Painting Ideas, Painting Stones Ideas and Macrame Mandala patterns. Or you can also check our review for the Best Airbrush for Miniatures.
MANDALA ROCK PAINTING IS A FORM OF MEDIATION THAT WILL HELP SET YOUR CREATIVITY FREE.
Rock painting can be enjoyed by children and adults alike. If you are looking for a fun activity that is soothing and will help you find calmness, give mandala rock painting a try.