Whether you're hoping to create some simple, cost effective decor for your home or just hoping for fun crafts to do with your kids, these painted stones ideas are awesome options. They're also easy to do!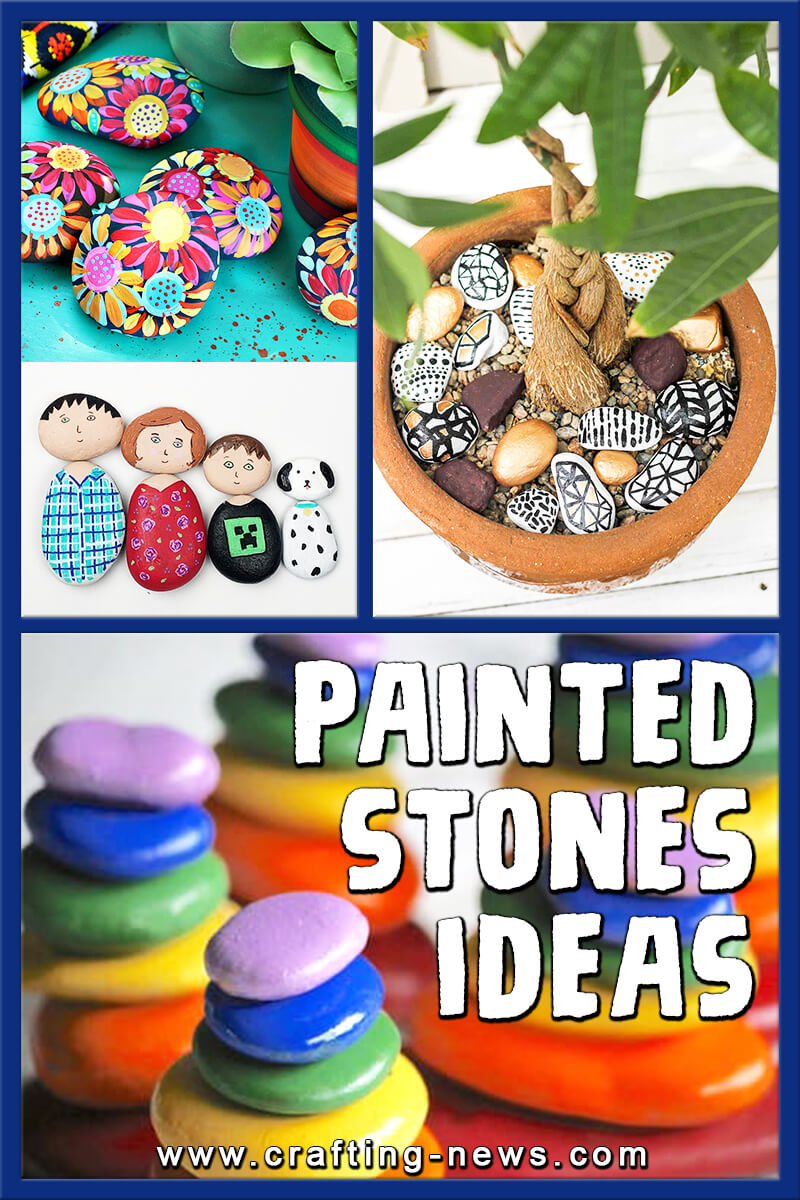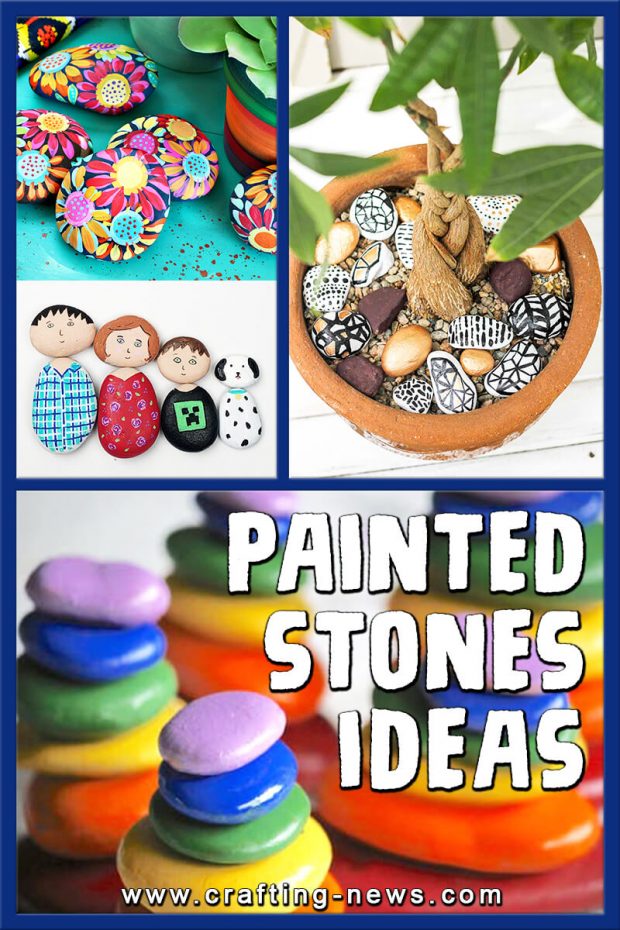 As long as you can access to good all-surface painted, some paint brushes, and a stone that you like the look of, you're pretty much set! The only thing left to get is a little inspiration.
29 Painting Stones Ideas
Check out these 29 painting stones ideas that will have you digging for brushes and setting decorative stones on every spare window sill and mantle piece!
1. How To Paint Mandalas On Rocks by Color Made Happy
Mandalas are called patterns of the universe. These painted stone idea is made with acrylic paint pens and white paint pens are great gifts and decor to inspire a sense of peace in our daily environments.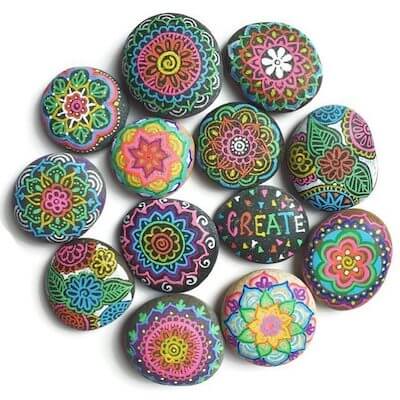 Follow the tutorial here
2. Hot Coffee Easy Rock Painting Ideas by Paint Happy Rocks
Looking for something a little bit steamy in your rock painting ideas? This hot coffee painted rock delivers for sending a sweet message, and it's a fun to make gifts for coffee lovers! The simple lines and sassy message is sure to be a hit for any friend.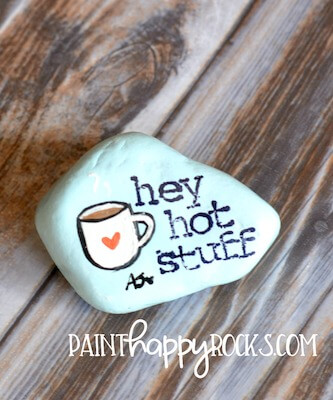 Follow the tutorial here
3. How To Paint Rocks by Shrimp Salad Circus
Need creative ways to use affirmations and reminders? Paint your favorite quotes on rocks with white paint pens over colors and use them as daily dose of inspiration.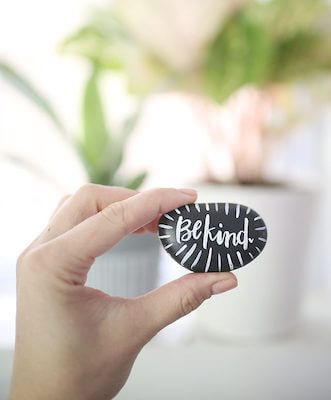 Follow the tutorial here
4. Ladybug Painted Stones by Crafts By Amanda
Learn to make these adorable ladybug painted stones. Use special outdoor paint for this adorable garden craft so you can keep garden ladybugs all summer!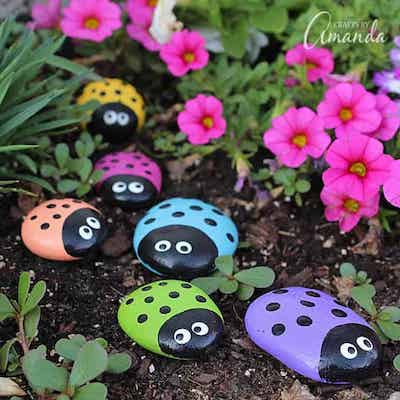 Follow the tutorial here
5. Around The Christmas Tree Painted Rocks by Deco Art
Christmas is such a magical time of year filled with joy and creativity! These Christmas rock art would also make great stocking stuffers and gift box toppers!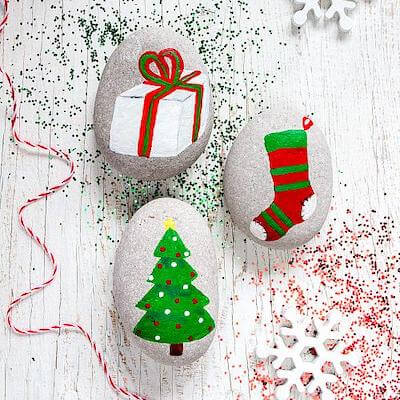 Follow the tutorial here
6. Watermelon Painted Rocks by Mum In The Mad House
Here is an easy and fun painted rock idea for summer, bright and colorful watermelon rocks. Paint your own rocks and hide them for other people to find. Make one or two or more with the kids for a fun outdoor activity for all ages.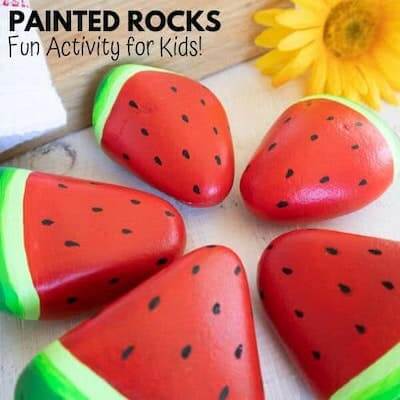 Follow the tutorial here
7. Flower Pebble Painting Idea by Sustain My Craft Habit
Capture the beauty of your favorite floral on a set of flower painted stones and bring touches of color and cheer to your home and garden. These zinnia inspired rocks have the perfect amount of color and cheer for us to enjoy!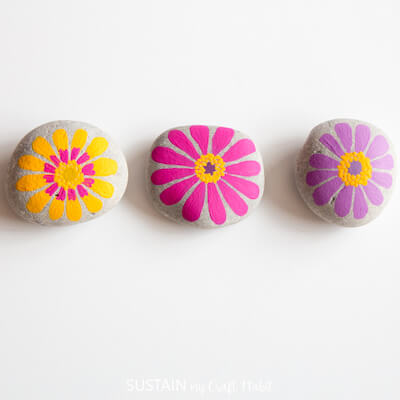 Follow the tutorial here
8. Cute Rock Fish Craft by Hello Wonderful
This cute Rock Fish Craft is a fun rock painting summer art project for kids. Simply lay out paints, markers and rocks and see what they can come up with.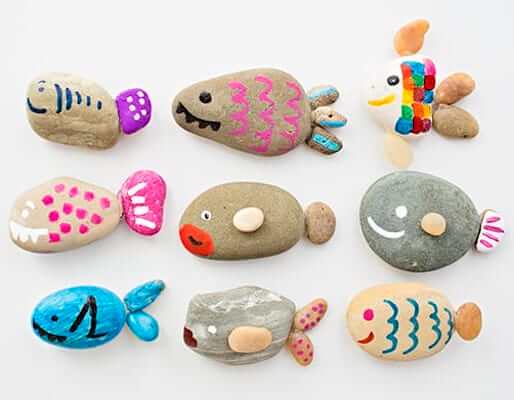 Follow the tutorial here
9. Gold Leaf Stone Painting Design by Country Hill Cottage
Shiny DIY gold leaf painted rocks are very easy to make and a lovely pebble art idea. This quick and simple 15 minutes rock painting tutorial includes step by step instructions, tips for supplies and is excellent for beginners. The nature-inspired leaf design is beautiful fall decor and a pretty handmade craft idea to gift or sell.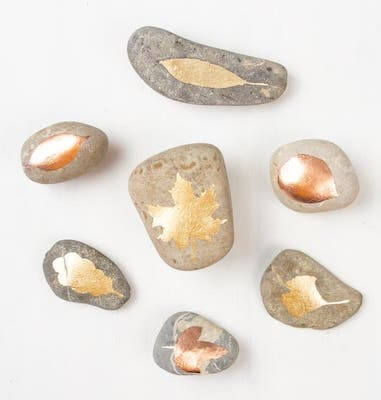 Follow the tutorial here
10. Painted Rock Cactus by El Nido
Even green thumbs can kill plants. This cute cactus garden made of painted rocks using green paint and white paint pens will thrive in any conditions!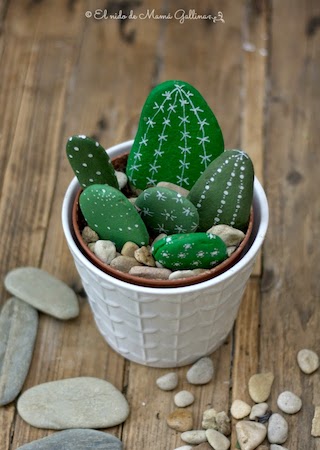 Follow the tutorial here
11. Painted Rock Easter Egg Craft by Happy Hooligans
Painted rock Easter eggs are fun and easy to make. It's a great Easter craft for kids of all ages, and adults will enjoy it too. With a little paint and a few dots and squiggles, you can transform an ordinary rock into an "Easter Egg" that can almost pass for the real thing.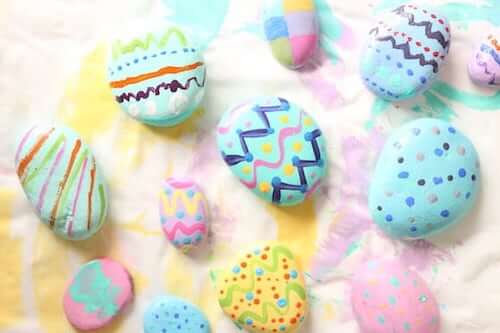 Follow the tutorial here
12. Hedgehog Painted Rocks by Easy Peasy Fun
This time around we're making cute hedgehog painted rock art! We love stone painting and we love hedgehogs so these cute fellows are a must.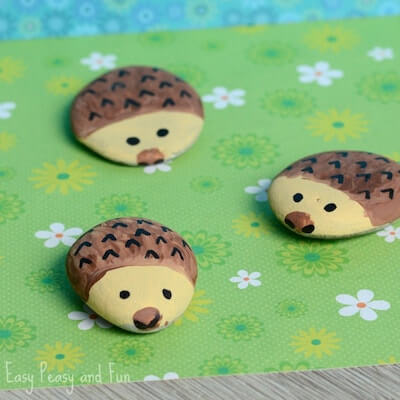 Follow the tutorial here
13. LEGO Painted Rocks by Frugal Fun 4 Boys
Looking for rock painting ideas? How about painting rocks with the faces of your favorite LEGO® minifigures! This is such a fun project for kids of all ages. This activity will be perfect for an art class, a LEGO® birthday party, or a rainy day. It's so fun to make the rocks match your favorite minifigures!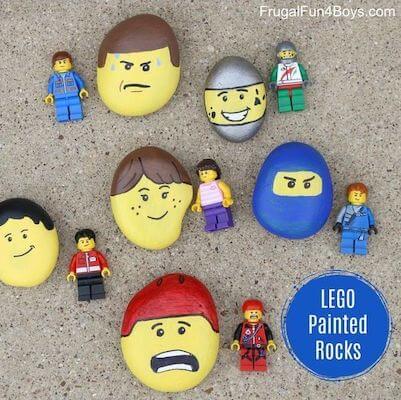 Follow the tutorial here
14. Shark Painted Stones by Sustain My Craft Habit
Hop on the rock painting trend and have some toothy fun with these shark painted stones. Follow this simple step-by-step tutorial for how to paint rocks which includes suggestions for what paint to use on rocks.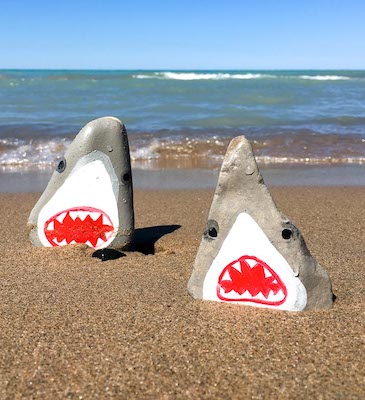 Follow the tutorial here
15. Strawberry Stone Painting Design by Crafts By Amanda
Make your own set of strawberry painted rocks. Great for the garden, in a dish on the coffee table, or to share with friends! Have you ever tried rock painting?
If so, you know how enjoyable it is to paint on earth's natural canvas. And if not, these strawberry painted rocks are a great place to start!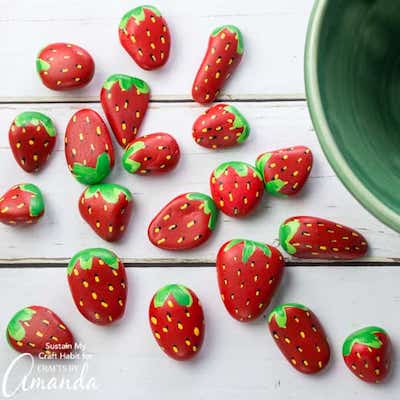 Follow the tutorial here
16. Christmas Light Painted Stones by Twitchetts
This Christmas lights rock art is easy, fun, and a perfect painted rock to give as a gift or hide in your nearest park.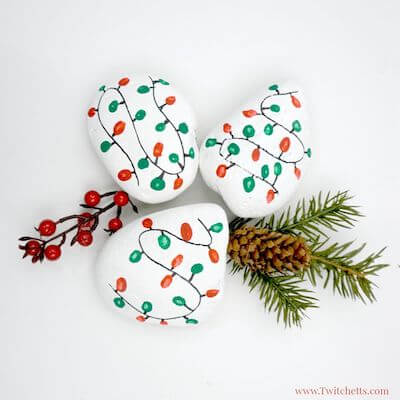 Follow the tutorial here
17. Painted Inspiration Stones by Mark Montano
Inspired by ancient Mexican pottery, these stones definitely give you bright and cheery feeling. And there is no limit to use of different shades.
Paint all the flowers with different colors as long as it makes you happy. Your rock garden will look more beautiful with this little pebbles.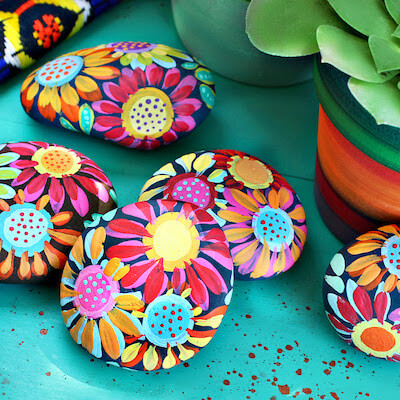 Follow the tutorial here
Also see: DIY Horse Hair Pottery
18. Easy Galaxy Rocks by Simple Crafty Fun
The best thing about these easy galaxy rocks is they look pretty and really anyone can make them. You can add messages on top as well with white or light blue paint.
The key to making the galaxy is to have a variety of colors to add depth to the look of the rocks. They don't have to look perfect and you can really make them your own way!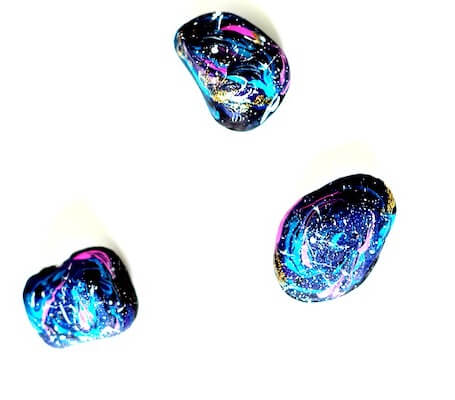 Follow the tutorial here
19. Hand Painted Rocks by Make & Do Crew
Hand painted rocks are a super budget-friendly craft for kids and adults. Plus they make fun potted plant or garden "accessories!"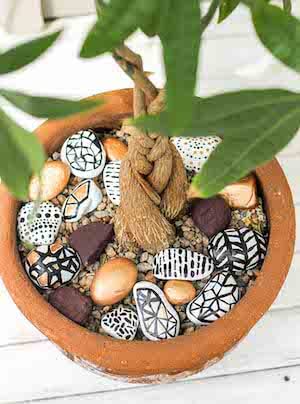 Follow the tutorial here
20. People Pebble Painting Idea by Color Made Happy
What a heart warming gift and decor idea here with painted rock people and animal glued onto a wood slice! This makes me want to gather lots of pebbles and river rocks, and paint all my friends and family members!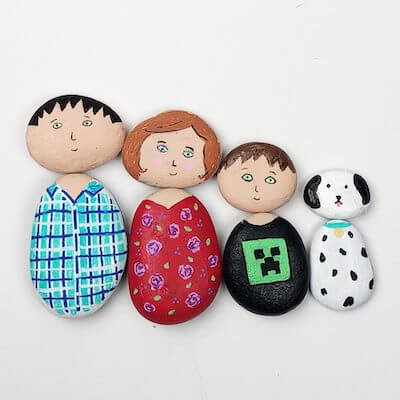 Follow the tutorial here
21. Rainbow Stacking Stones by Parents
These colourful stacking stones are fun to make and play with. But they'll also help preschoolers develop a variety of skills and the rainbow colours are perfect for celebrating St. Patrick's Day, spring or Pride.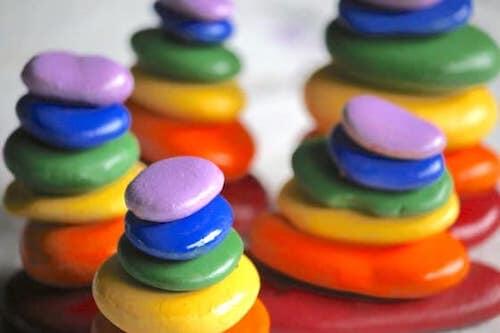 Follow the tutorial here
22. How To Draw Mermaid Scales On Painted Rocks by Projects With Kids
Learning how to draw mermaid scales on painted rocks is such a fun rock painting activity that kids and tweens will love to do! These rocks would be a perfect craft for a mermaid or ocean themed birthday party or summer camp.
They would also make a great kid-made gift for family and friends and would look lovely in a garden. Or you could hide some of your mermaid rocks outside for people to find, which is always fun!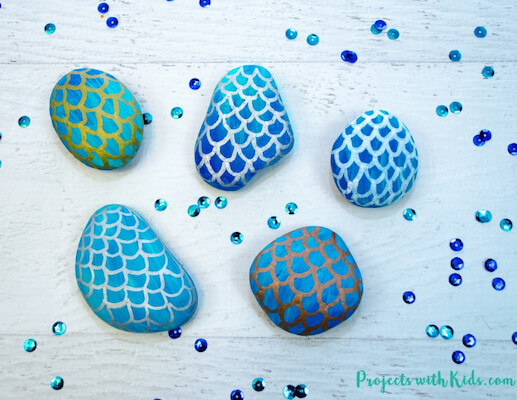 Follow the tutorial here
23. Bee Painted Rocks by Easy Peasy And Fun
Ready to go rock hunting? Why not leave some rocks of your own while you are at it. Grab the yellow and black paints to make these stripes bumble bees!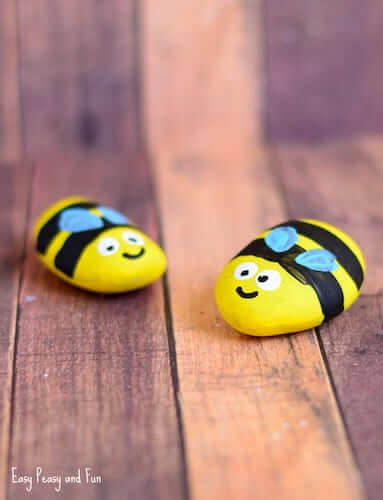 Follow the tutorial here
24. Painted Rock Photo Holders by One Little Project
This one is great for the kiddos to do with very little help from anyone! Paint the rocks solid colors or mix it up with patterns. You could even just keep them unpainted for a more rustic feel. These little photo holders would be such a cute gift for dad or Grandpa for Father's day. Wouldn't they look adorable sitting on an office desk?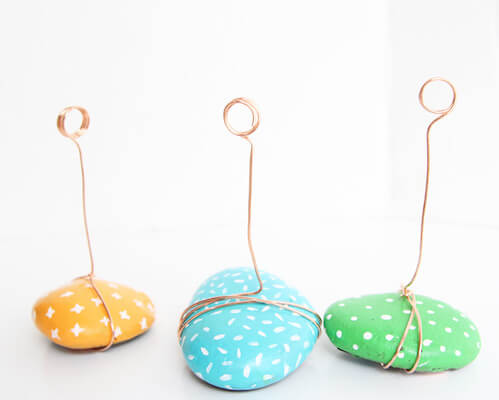 Follow the tutorial here
25. Kandinsky Inspired Rock Art by Arty Crafty Kids
As we all know, children certainly know how to mix colors and this simple Kandinsky Inspired Rock Art project is a fun way for children to explore colour combinations, with an opportunity to use natural materials as their canvas.
As well as creating a piece of abstract art inspired by a famous artist, these rocks present endless creative play possibilities. Kids can use them as color charts; to create patterns and mandala art; they could be offered as gifts to friends and family or simply left on the beach as a gift to a stranger.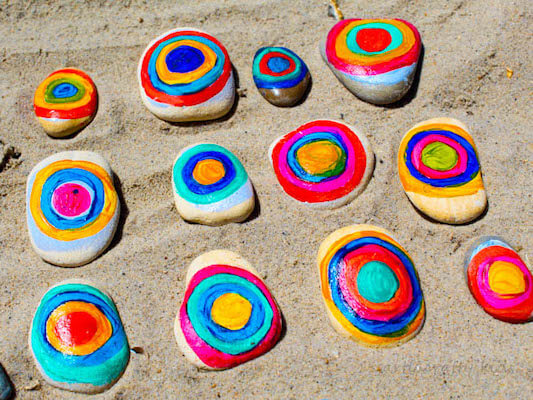 Follow the tutorial here
26. Garden Rocks In Drawstring Bag by The Craft Train
These garden rocks make a great DIY toy which kids can incorporate into games and imaginative play, and the drawstring bag is an easy way to store them and keep them all together.
Learn how to sew a drawstring bag here.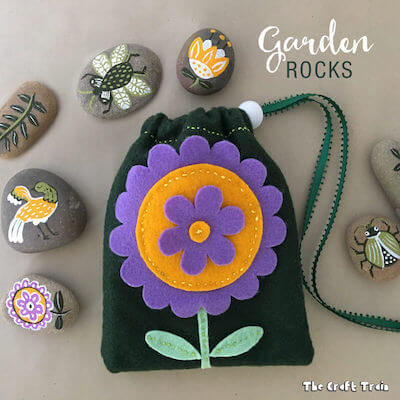 Follow the tutorial here
27. Rock Town Painted Village by Deco Art
How about painting a whole town to decorate your garden with? Show off your rock painting skills by creating an entire village!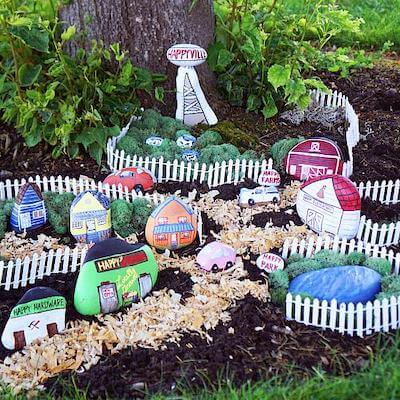 Follow the tutorial here
28. Magical Landscape Silhouette Painting Stones Ideas by Adventure In A Box
Decorate rocks with elegant landscape silhouettes drawn over a starry twilight sky! The idea is to gather rocks, decorate them in a creative way, then hide them in nature.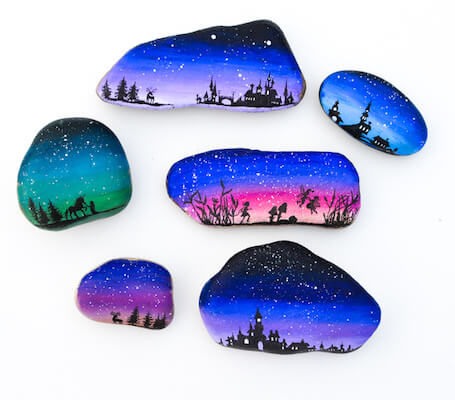 Follow the tutorial here
29. Sheep Painted Rocks by Crafts By Amanda
Create these adorable sheep painted rocks using paint pens, smooth rocks, and a little bit of regular paint! Great as an Easter activity or for painting your favorite farm animal.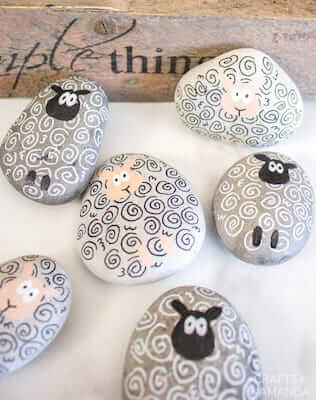 Follow the tutorial here
IT'S NO SURPRISE THAT PAINTED STONES ARE TRENDING. THEY'RE A LITTLE PIECE OF ART THAT ANYONE CAN MAKE.
Do you want more painting projects? Don't miss our Faux Stained Glass Effect Painting and Firework Salt Painting Project. If you end up making something from this list, don't hesitate to share photo with us on our Facebook Page.
If you'd like some more craft projects that are satisfying for both kids and adults, check out these ideas: 54 Popsicle Stick Craft projects, 35 fun Pipe Cleaner Crafts, 32 Easy Plastic Bottle Crafts, and 38 Egg Carton Crafts.
Scoop up some basic supplies and unleash your inner artist with these best painted stone ideas, from easy, kid-friendly patterns to marbled marvels any grown-up would love!