Whether it's to brighten up your own kitchen or make as a gift, there are patterns here for all tastes. In this collection you'll find some potholder sewing patterns, quilted potholder patterns, crochet, and knit potholders. So, no matter what craft you are into, there is a potholder pattern waiting to me made by you!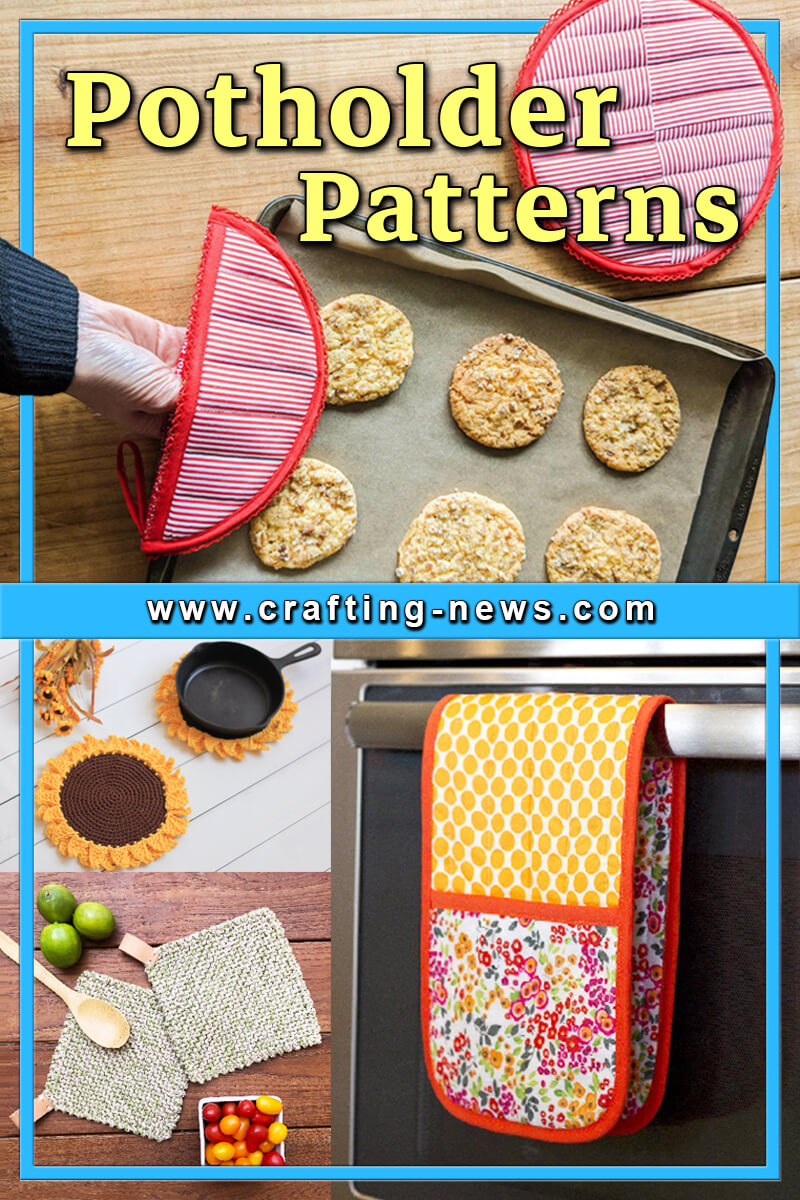 Potholders are essential must-haves in the kitchen. Without them, how else will you manage handling those hot frying pans and casseroles from the oven and stove? They also serve as great trivets when you're serving hot dishes.
If you're a domestic diva and this is something that excites you, check out these potholder patterns and let your hands lead the way!
1. Simple Potholder Pattern by Radiant Home Studio
This free pattern creates a square potholder with a pocket, bias binding, and a loop for hanging. You'll be inspired by the fabrics used here: stripes, florals, and linens make an interesting combination that will really spruce up your kitchen.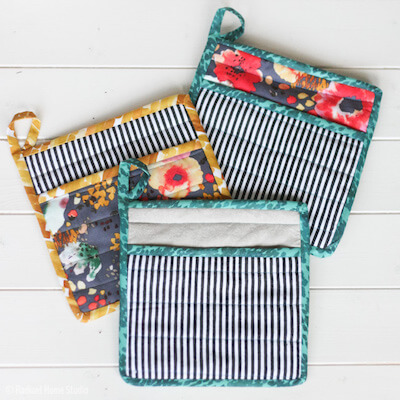 Get the Simple Potholder Pattern Here
2. Double Pot Holder With Hand Pockets Pattern by Make It & Love It
This double pot holder with hand pockets pattern will keep your hands safe and let you get that hot dish out of the oven quickly. No need to find two pot holders because this one will do the job for both.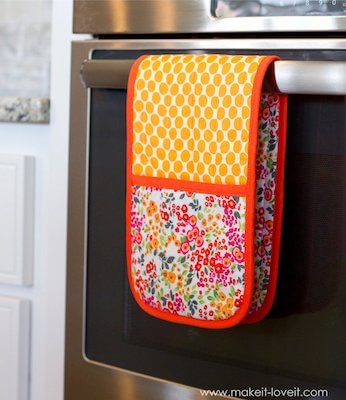 Get the Double Pot Holder With Hand Pockets Pattern Here
3. Fiesta Potholder Sewing Pattern by A Spoonful Of Sugar
Pot Holders are practical but they can also be colorful and fun! This Fiesta Pot Holder is generously sized and feature a pocket so you can use it like an oven mitt. The patchwork panel is perfect for mixing and matching fabrics from a collection or fabric range, and could be made from precuts such as charm squares and jelly roll strips.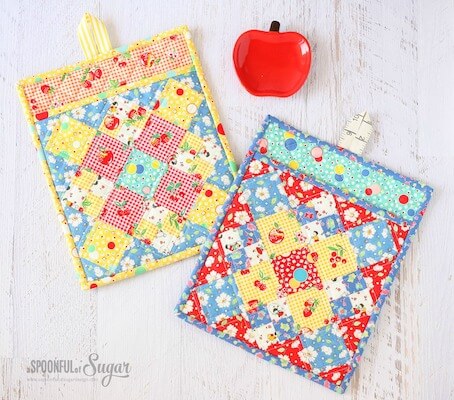 Get the Fiesta Potholder Sewing Pattern Here
4. Easy Round Potholder Sewing Pattern by Merriment Design
Here's an Easy Round Potholder Sewing Pattern and free tutorial that's simple enough to make in an evening or two. This free quilted potholder pattern folds like a taco around cookie sheets and pot lids to protect your hands from the heat. This round taco hot pad style is both functional and cute.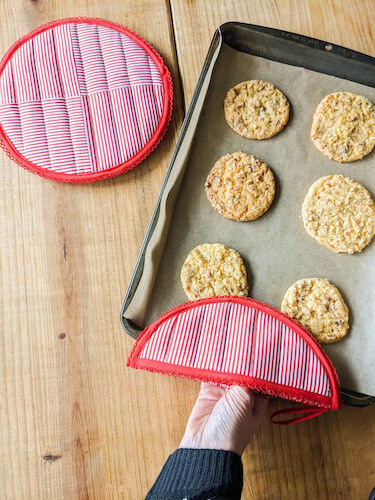 Get the Easy Round Potholder Sewing Pattern Here
5. DIY Halloween Pumpkin Pot Holder Pattern by Coral & Co
Here is an easy DIY Halloween Pumpkin Pot Holder Pattern to whip up quickly for Halloween and is a great way to add some whimsy to your fall decor. Bring them out at Halloween and let them stay for Thanksgiving. You can use a few different fabrics and make the Pumpkin potholders reversible for a little extra fun!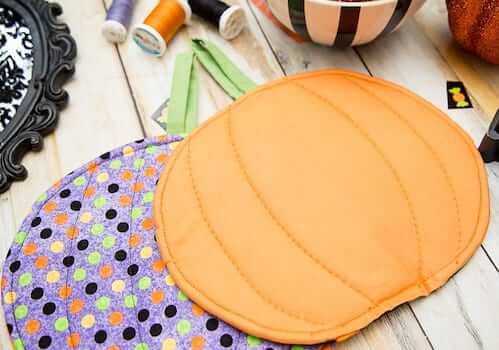 Get the DIY Halloween Pumpkin Pot Holder Pattern Here
6. DIY Handmade Linen Potholders by Say Yes
These simple linen potholders are beautiful enough to hang out on the table. They sew up super quick and are adorned with simple straight-line quilting. These would be a lovely hostess gift for Thanksgiving or a holiday present to an avid baker on your list!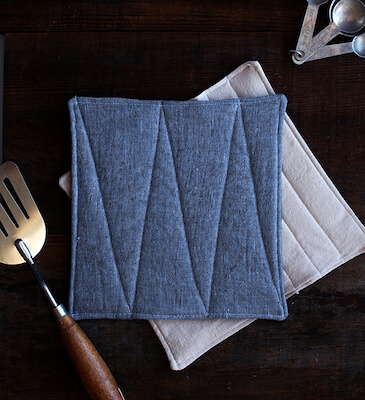 Get the DIY Handmade Linen Potholders Here
7. Leaf Potholder Pattern by Patchwork Pottery
These are a great way to use up your endless baskets of scraps! Make a set with all three sizes, a set of two large leaves, or sets of coasters. String the loops together for easy hanging! These make easy quick gifts that your friends and family will love!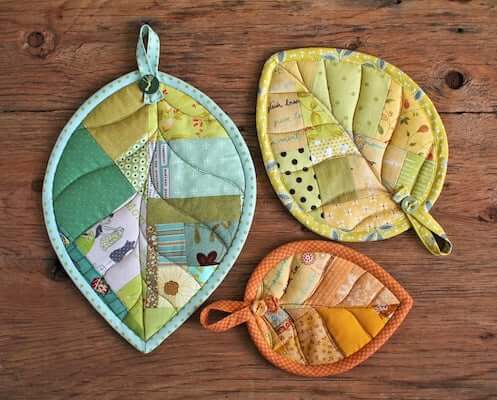 Get the Leaf Potholder Pattern Here
8. Chicken Potholder Sewing Pattern by I Make It You Make It
This sewing pattern shows you how to make an adorable chicken potholder. The pattern is vintage-inspired and is functional as it is cute! Make one for your own kitchen, or whip one up as a gift for your next dinner party host! This sewing pattern is suitable for sewers at any level, and takes about 2-3 hours to complete.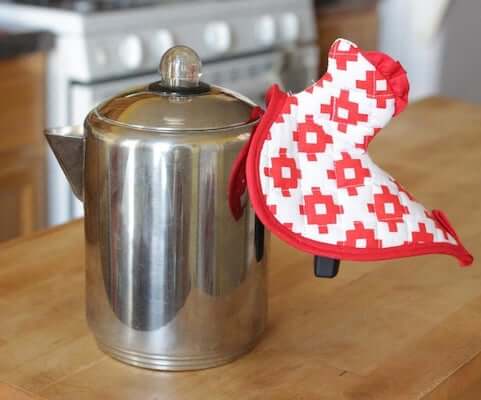 Get the Chicken Potholder Sewing Pattern Here
9. Butterfly Potholder Pattern by Patchwork Pottery
These Butterfly Potholders are geared toward intermediate level quilters and will take 2-3 hours to complete. The project includes hand applique, basic embroidery & hand-sewn bias binding. These are a lovely way to make your kitchen come to life!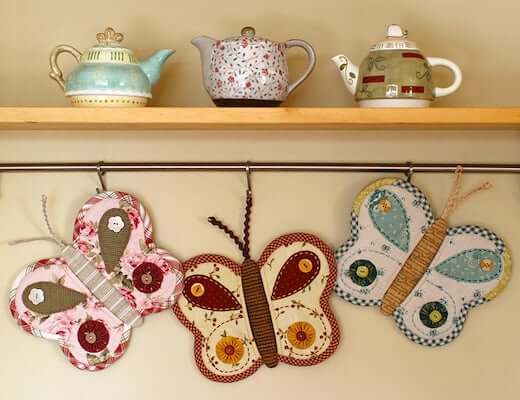 Get the Butterfly Potholder Pattern Here
10. Hexie Potholder Pattern by The Sewing Directory
This Hexagon Potholder would make a great addition to any kitchen, and it's a scrap friendly make too. What's more you can use this design as a quilt block, a table mat or to make a mini quilt – just leave off the handle. If you'd like to increase the size just keep adding strips.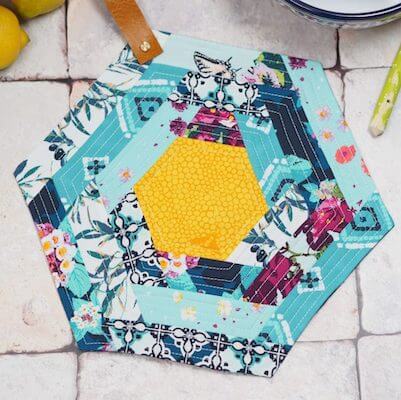 Get the Hexie Potholder Pattern Here
11. Cherry Pie Potholder Pattern by A Beautiful Mess
Design a quirky vintage-inspired potholder that's as sweet as pie with this fun Cherry Pie Potholder. This whimsical kitchen sewing project is perfect as DIY gift for the vintage lover in your life, and reminds us of baking with Grandma in her kitchen.
Made with budget-friendly felt, this DIY potholder can be customized for any season, so that you can have a pumpkin pie for Thanksgiving or blueberry pie for summer cookouts!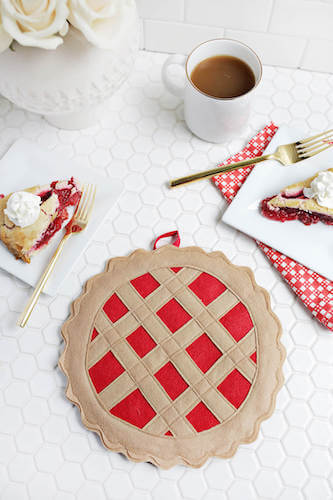 Get the Cherry Pie Potholder Pattern Here
12. Heart Shaped Potholders Pattern by Purl Soho
Learn how to make potholders that will help you cook some love into every single dish you make with this tutorial. Whether you are looking for a Valentine's Day gift for a special someone or simply sewing up a DIY hostess gift, these Heart Shaped Potholders will certainly do the trick!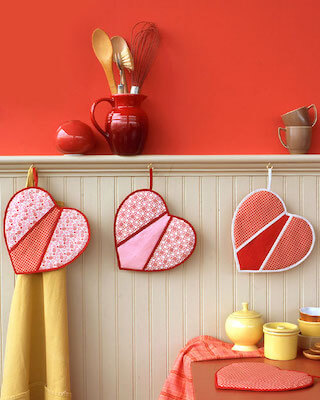 Get the Heart Shaped Potholders Pattern Here
13. Crochet Colorful Potholder Squares Pattern by ATERG Crochet
Although we love the bright colors used for this crochet pattern, feel free to customize this Colored Squares Potholder to match your kitchen decor. The pattern is the base, the fun part for you to choose some lovely colors.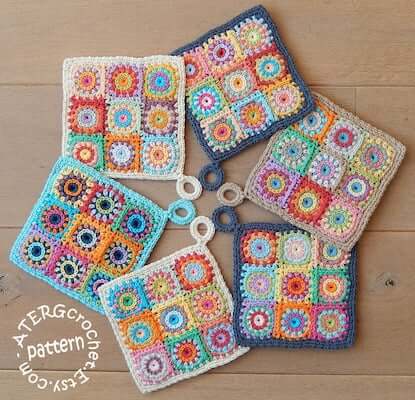 Get the Crochet Colorful Potholder Squares Pattern Here
14. Easy Crochet Plaid Potholders Pattern by Stitchberry Patterns
This darling plaid pot holder crochet pattern is the perfect addition to any kitchen for timeless charm. With double thick construction, these potholders are both durable and functional.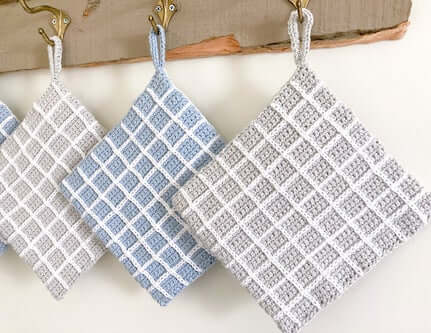 Get the Easy Crochet Plaid Potholders Pattern Here
15. Sunflower Pot Holder Free Crochet Pattern by Nana's Crafty Home
These Sunflower Pot Holders are a great way to use up scrap yarn you have on hand and even though they look fantastic, bright and cheerful in sunflower themed colors I think they would also look great in other colors as well! These pot holders are extra thick as there is a second panel which is joined to the sunflower front panel creating a double thickness.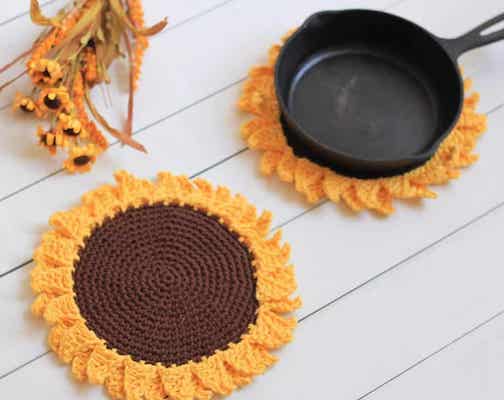 Get the Sunflower Pot Holder Free Crochet Pattern Here
16. Crochet Potholder Pattern by The Spruce Crafts
These striped and scalloped potholders come together with half double crochet stitches for an easy and cute project. These potholders are a good size for pulling things out of the microwave or oven, holding hot handles, and even as trivets on your table. You can also make them larger for using under larger pots and casserole dishes.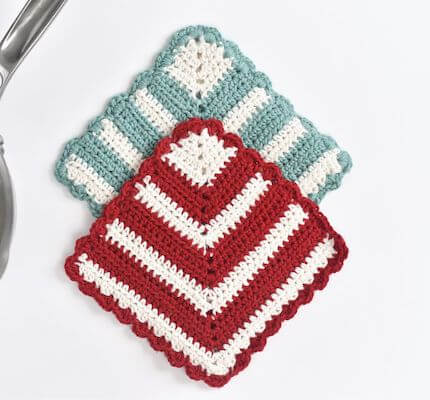 Get the Crochet Potholder Pattern Here
17. Pot Holder Dinner Trio Crochet Pattern by Yarnspirations
Featuring classic diner treats, these crocheted pot holders will be the talk of the breakfast table! This trio of toast, coffee, and pie is the perfect breakfast combination. This makes a great gift for your loved ones, friends, teachers and especially those who love to cook.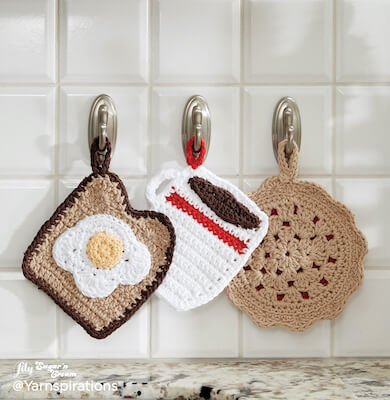 Get the Pot Holder Dinner Trio Crochet Pattern Here
18. Perfect Pot Holder Knitting Pattern by Elise Made
These potholders are so beautiful that they can go from the kitchen straight to the table under a hot serving dish, and are guaranteed to garner compliments from your dinner guests.
The best part is that it's a lightning-fast knitting project that you can whip up in an hour or less, guaranteed. With two elegant finishing options to suit your tastes, you will want to make a set of these for everyone you know.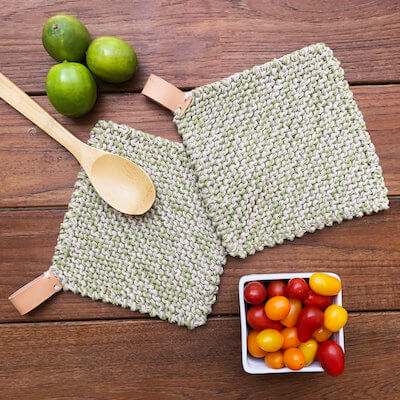 Get the Perfect Pot Holder Knitting Pattern Here
19. Farmhouse Potholder Knitting Pattern by Darling Jadore
Sleek vertical columns of all-over texture combined with a wooden ring handle, make this Farmhouse Potholder/Trivet a modern and beautiful kitchen or dining room décor accent. The resulting densely-textured fabric makes this potholder highly effective and useful to hold hot plates and pans.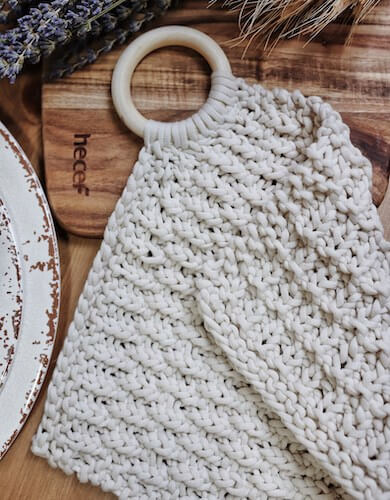 Get the Farmhouse Potholder Knitting Pattern Here
20. Potholder Knitting Pattern by Steffer Knits Studio
This is a beautiful textured pot holder or trivet that is a lovely accessory for your kitchen. These are perfect to whip up and to have a little stack on hand to hold a teapot or a fresh apple crisp that has just come out of the oven. Use two of them placed together to protect your counters from a 9″x13″ casserole dish.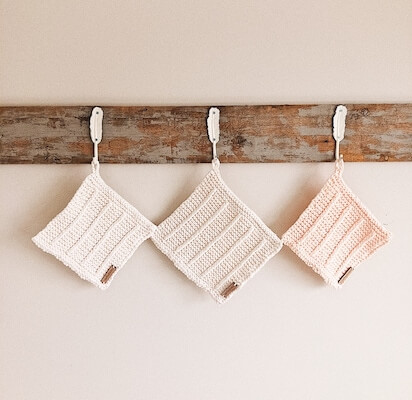 Get the Potholder Knitting Pattern Here
21. Easy Pocket Potholder Tutorial
Potholders are fun and quick to make, and they make great handmade gifts! This is a generously sized potholder, with a pocket for your hand to make it easier to grasp the hot stuff! You will enjoy this tutorial with step-by-step instructions and photos.
2 options- make the quilt block shown (pattern included), or for a really quick project just substitute a square of pretty fabric for the front of the potholder.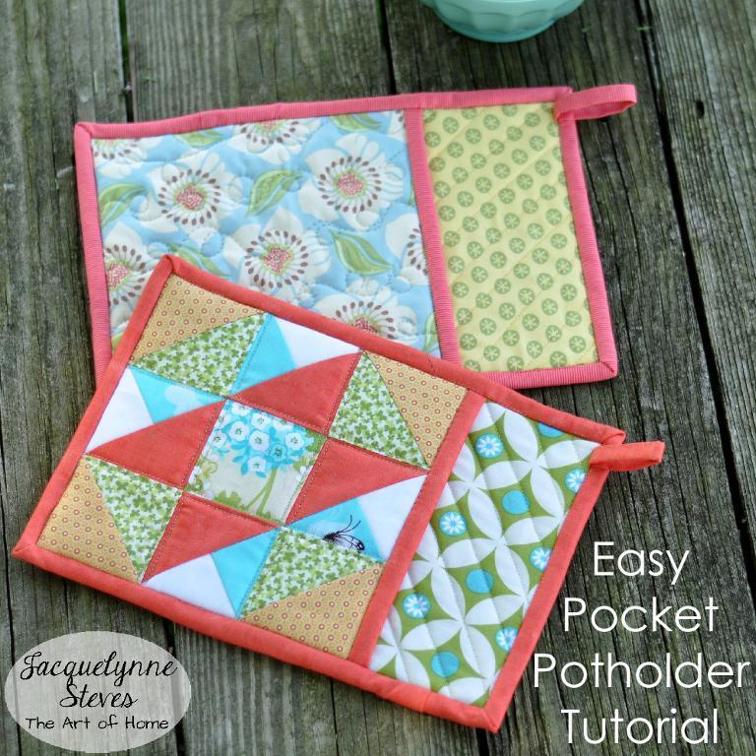 Materials needed:
fabric scraps/fat eighths,
Insul-brite batting,
thread
Get the Easy Pocket Potholder Tutorial Here
JUST CHOOSE YOUR FAVORITE POTHOLDER PATTERN AND GIVE IT A TRY. YOU'LL END UP MAKING A STACK OF THEM BEFORE YOU'RE THROUGH!
Are you going to make these potholders, perhaps in some other color combinations? We'd love to see your work. Please post some pics on our Facebook Page! Can't get enough of crafting projects? Check out these 22 DIY Wooden Toys and 21 Castle Craft Ideas your kids will surely enjoy.
Your kitchen accessories can add excitement to your cooking environment. So be sure to also check out all of our patterns for 37 Placemat Quilt Patterns.
Learn how to make this kitchen essential by making every one of these potholder patterns today!