Stretchy fabrics have changed the way we dress and move. They have become a staple in many of our lives. These fabrics allow us to stay active while being comfortable and flexible. From athletic apparel to jeans and dresses, stretch fabrics have become an essential part of our everyday wear. In this article, I will explain more about the benefits of stretchy fabrics and their uses.
What is Stretchy Fabric?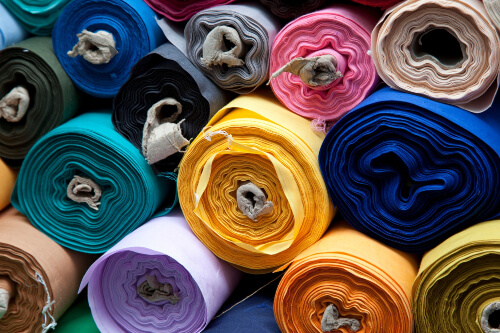 Stretchy fabric refers to a type of textile that can stretch and then regain its original shape. It is made using materials like spandex, LYCRA, or elastane. Stretchy fabrics are commonly used in clothing such as activewear, swimwear, and maternity wear. The stretchy nature of the fabric allows for easy movement while helping to create a flattering appearance. These fabrics have become increasingly popular over the years thanks to their comfort and versatility.
What Types of Projects Can You Make with Stretchy Fabrics?
There are countless projects you can make with stretch fabrics. Below are some popular items:
Activewear

Dancewear

Undergarments

Fashion Apparel

Accessories
Benefits of Using Stretchy Fabric?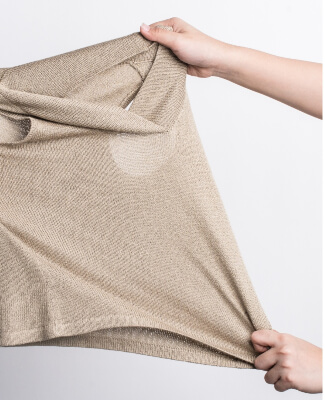 Stretch fabrics offer a wide range of benefits, making them a great choice for many types of projects. Some of the significant benefits of using stretch fabrics include:
Stretch fabrics are comfortable to wear. They allow wearers to have a free range of movement without being constricted. This makes stretch fabrics a wonderful choice for active wear.
The elasticity of stretchy fabric allows for unrestricted movement. This makes the fabric a great option for sports, exercise, and daily activities.
Stretch fabrics can be used to create form-fitting clothing. The snug fit can be flattering since it hugs the curves and creates a streamlined appearance.
Stretch fabrics can be used in a wide range of products. The fabric can be used to make form-fitting apparel, activewear, swimwear, maternity wear, jeans, and more.
Stretch fabrics are designed to stretch. And after they stretch, they can return to their original form. This helps to ensure the clothing maintains its shape and can be worn time and time again.
Stretch fabrics are often very durable. They are resistant to wear and tear and can withstand repeated stretching and washing.
In sports and athletic wear, stretch fabrics can enhance performance. The wearer can move freely without being restricted.
Stretch fabrics can be very fashionable. They are often used to create stylish, form-fitting garments that are comfortable and eye-catching.
What are Some Different Types of Stretchy Fabric?
There are many different types of stretchy fabrics available. Each type has its own unique characteristics and uses. Here are just a few of the most common types of stretchy fabrics: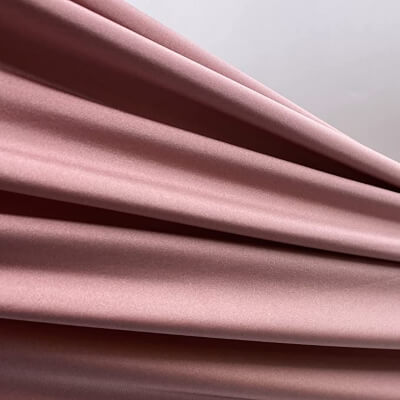 Spandex, also known as elastane or Lycra, is a synthetic fibre that provides excellent stretch and recovery. It is often blended with other fibres to add elasticity to fabrics. It is a staple in activewear, swimwear, and other form-fitting garments.
Spandex blends are stretchy fabrics that combine spandex with other fibres. These blends give clothes stretchiness while still keeping some of the qualities of the other fibres. For example, spandex blended with cotton will create a comfortable and stretchy fabric that is soft and breathable. While spandex blended with polyester creates a durable stretchy fabric with moisture-wicking abilities.
Jersey is a stretchy fabric known for being soft. It is commonly used in t-shirts, dresses, and casual wear. It can be made by combining fibres like cotton, rayon, or polyester with spandex or elastane.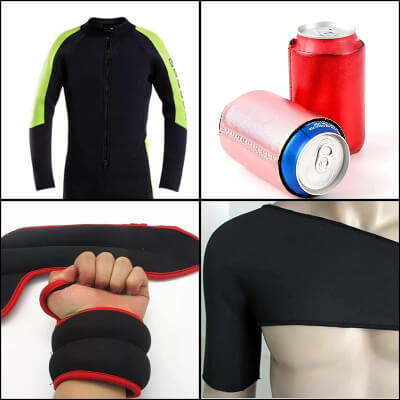 Neoprene is a synthetic rubber stretchy fabric. It is known for its insulation and water-resistant properties. Neoprene is often used to make wetsuits, sports gear, and accessories.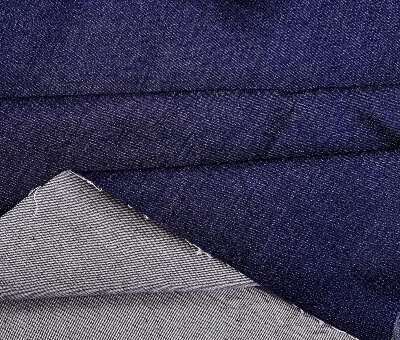 Stretch denim combines classic denim with added stretch. It provides comfort and ease of movement, making it a popular choice for jeans, skirts, and jackets. It is made by blending cotton with spandex or elastane.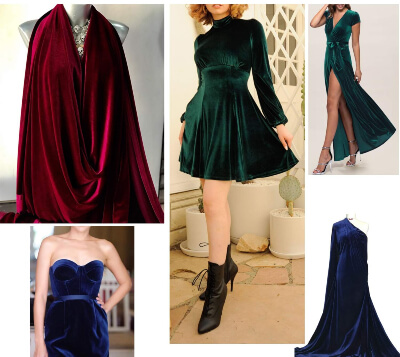 Stretch velvet is a luxurious, soft fabric with a slight stretch. It is often used in evening wear, dresses, and accessories. The fabric has a beautiful drape and a subtle shine. It is made by combining velvet fibres with spandex or elastane.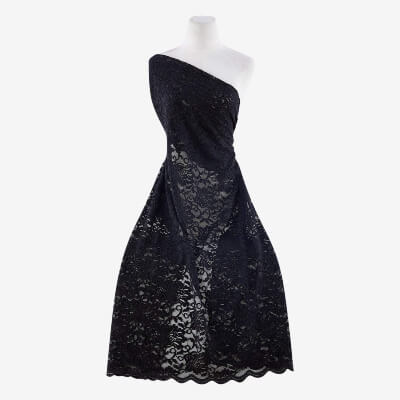 Stretch lace fabrics have intricate lace patterns with stretch. The fabric is popular for making lingerie, tops, and feminine clothing. Stretch lace is a delicate fabric made by adding stretchy fibres to lace fabric.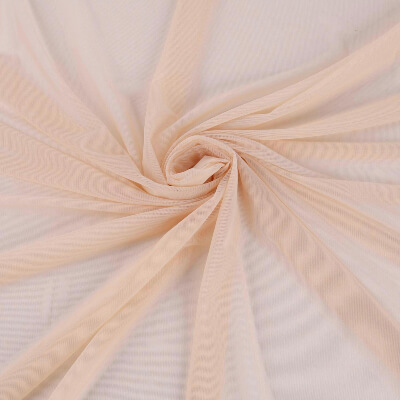 Powernet is a strong and stretchy mesh fabric. It is used for support and shaping. It is made with a combination of nylon and spandex or elastane fibres. Powernet is commonly used in undergarments like bras and shapewear. It can help create a smooth and flattering silhouette.
Stretch satin is a luxurious fabric that is smooth and shiny. Stretch satin is commonly used for making elegant garments such as formal dresses, evening gowns, bridal wear, and lingerie.
Cotton poplin stretch fabric combines the comfort of cotton poplin with stretch. It is smooth, lightweight, and breathable. Cotton poplin stretch is commonly used for shirts, dresses, skirts, and pants.
Tips for Sewing Stretchy Fabric
Sewing stretchy fabrics can be a bit more challenging than non-stretch fabrics. When sewing stretchy fabric take into consideration:
You will want to use a ballpoint or stretch needle designed for knit fabrics. These needles have rounded tips that easily glide between the fibres instead of piercing them. This helps to minimise snagging and skipped stitches.
Choose a thread that has stretch. Polyester threads are often a good choice because they have some stretch and are durable. Cotton thread does not stretch.
Choose a stitch that has stretch. Check your sewing machine to see what stitches are available. These speciality stitches allow the fabric to stretch without breaking the thread.
Adjust the sewing machine's tension. Test the different settings on fabric scraps before starting your project. You want to create a balanced stitch with no puckering.
When working with stretchy fabrics, use a sharp rotary cutter. This will help to ensure you get smooth cuts with no fraying or jagged edges.
Before you sew stretchy fabrics, consider using a stabiliser. Placing a stabiliser on certain areas can help prevent the fabric from curling.
Before sewing your project, test your fabric, thread, stitch selection, and tension on a fabric scrap. This will help to ensure you get the desired results.
Frequently Asked Questions about Stretchy Fabrics
Do stretchy fabric lose their elasticity over time?
Stretchy fabric can maintain their elasticity for a long time. However, if the fabric experienced excessive stretching or improper care, the fabric can lose its elasticity.
Are the eco-friendly stretchy fabric options?
Yes, there are sustainable and eco-friendly stretchy fabric. Advances in the fabric manufacturing process have led to the creation of stretchy fabric made with recycled materials and organic fibres.
How do I care for stretchy fabric?
Always follow the care instructions provided on the garment's label. Usually, stretchy fabric can be machine-washed on a gentle cycle with cold water and mild detergent. You should often avoid using bleach or fabric softeners. Some stretchy fabric can be dried. But most should be left to air dry to prevent damage.
What materials are commonly used in stretchy fabric?
Stretchy fabric often contain materials like spandex, elastane, or Lycra. These materials provide the elasticity needed to create the stretch properties.
Is it hard to sew stretchy fabric?
Stretchy fabric can be harder to sew than non-stretchy fabric. Before attempting to sew stretchy fabric, consider the needle, stitch, and tension. Knowing the basics of sewing stretchy fabrics before you start will make the sewing process smoother and easier.
Stretchy fabrics are the most commonly used for sewing garments
Stretchy fabrics have changed the way we dress. They provide comfort and flexibility. Whether you are into sports or just love easy-to-wear clothes, stretchy fabrics are comfortable and flattering.
Now if you are looking for more sewing projects, check the articles below:
Try using stretchy fabrics in your next sewing project. When you're done, share your makes on our Facebook Page.