Clay Earrings DIY have been extremely popular lately. Blame it on an uptick in DIY projects, on easier access to step-by-step instructions or just on the fact that they are cute–no matter the root of the trend, this style is here to stay!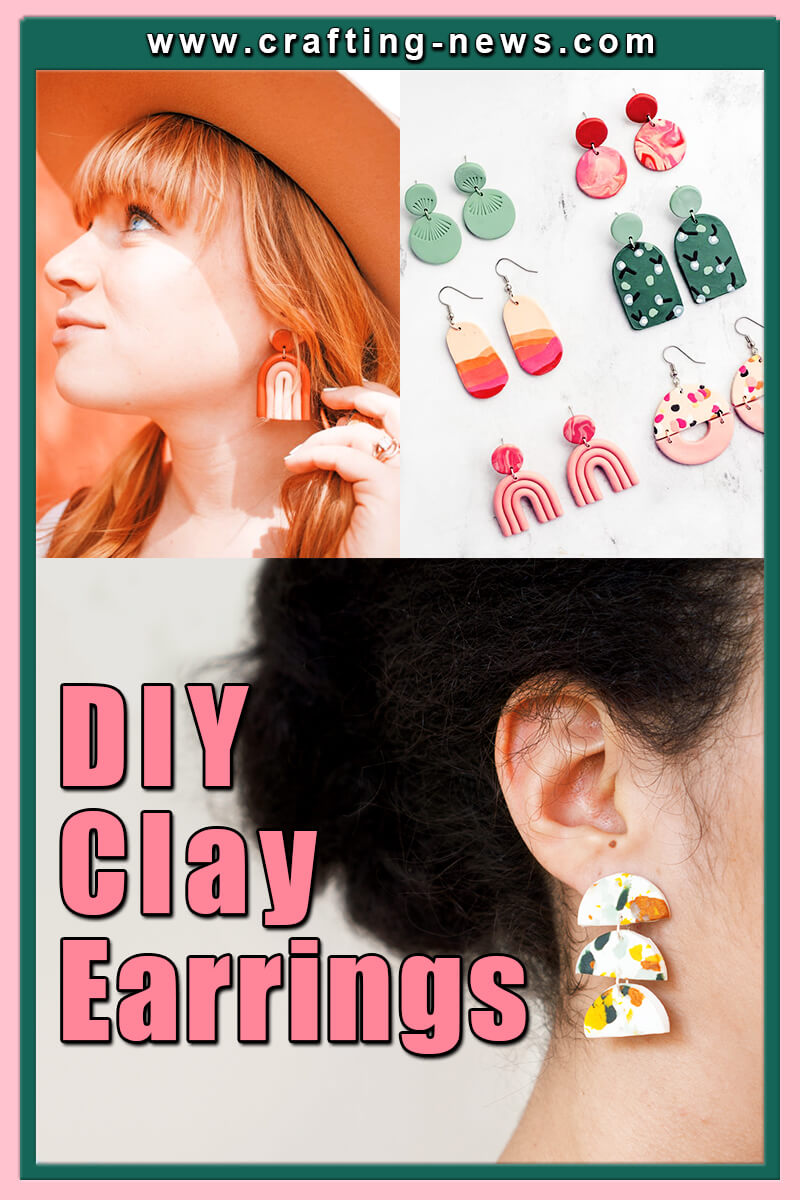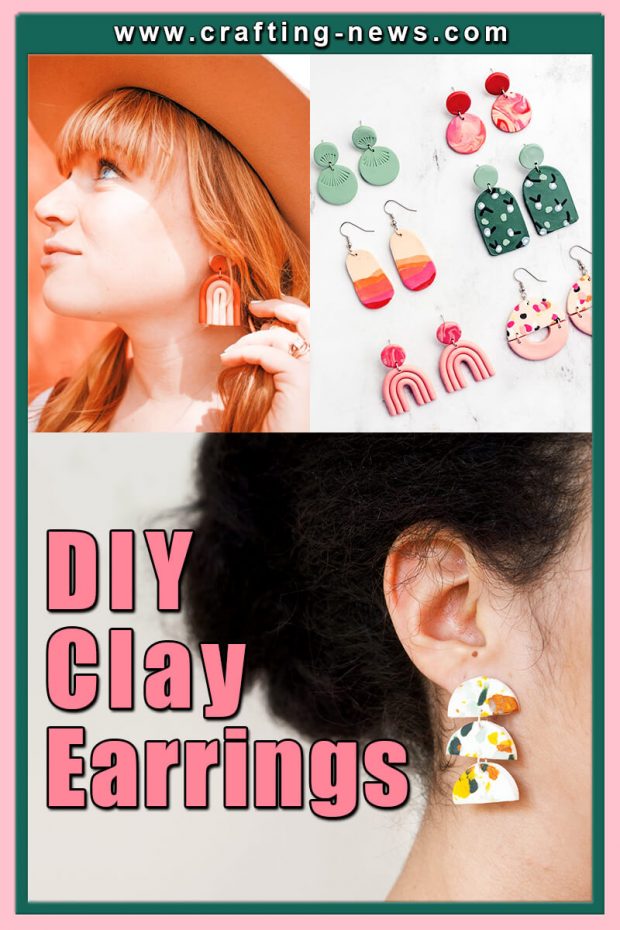 21 Clay Earring Ideas
Browse through this round-up and you might as well learn how to make clay earrings yourself, so the finished products will look exactly the way you want them to. Your handmade earrings can make for great holiday gifts–or even the basis for a creative side hustle.
1. Polymer Clay Earrings DIY by Sarah Maker
Polymer clay earrings are fun, easy, and fast to make. Make yourself a pair of these popular and trendy designs. Create custom colors and designs like modern marble, floral and botanical patterns, abstract landscapes, and arch shapes.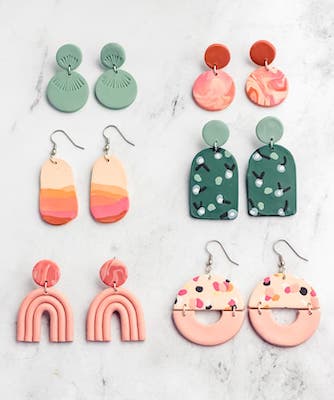 Get the tutorial here
2. How To Make Polymer Clay Earrings DIY by The Spruce Crafts
This is a fun, easy DIY project to tackle for beginner level makers or first-time clay creators. Choose a few complementary colors and create shapes to your heart's content.
The result will be DIY polymer clay earrings that are fun to wear and very eye-catching.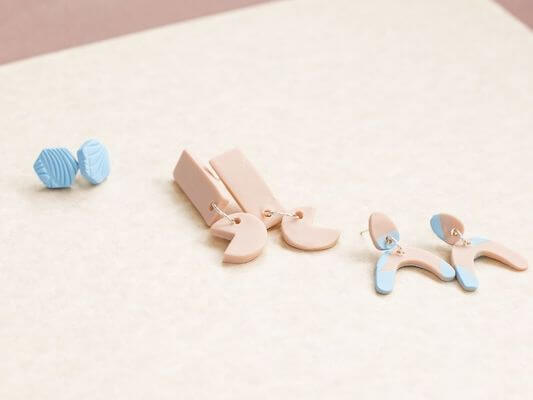 Get the tutorial here
3. Geometric Easy Clay Earrings by Lia Griffith
Need new accessories? You can come up with some cute and simple geometric clay earrings that are easy to make. You can craft them in just six steps with Sculpey clay, glue, and a few other tools.
All you have to do is use our design as your template to cut the clay and then bake it in your oven at home!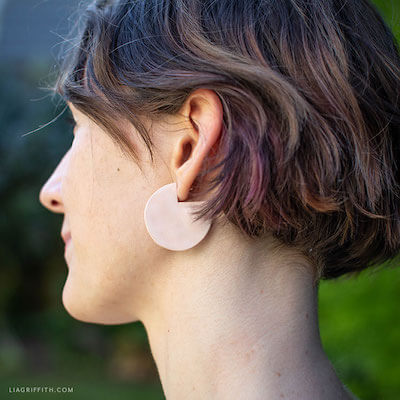 Get the tutorial here
4. DIY Clay Earrings by Paper & Stitch
If you're ever wanted to make your own polymer clay earrings (or any clay jewelry for that matter), this project is for you.
This tutorial will show you clay jewelry techniques, plus a step-by-step guide for making your own DIY clay jewelry on a budget. You will get so many compliments on these, you'll wonder why you never tried it before.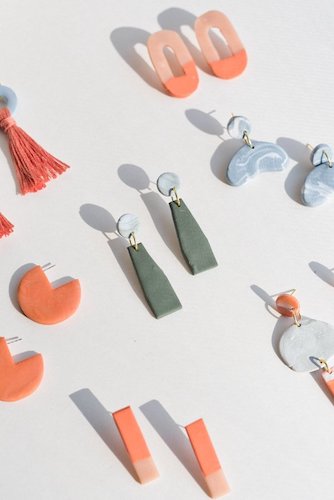 Get the tutorial here
5. DIY Minimal Clay Heart Earrings by Lana Red Studio
Clay is the new obsession for jewelry projects. And why not? The possibilities are endless, it is affordable and so easy to use!
For this project, you will combine three different colors of polymer clay to make these toy and subtle heart-shaped dangle earrings!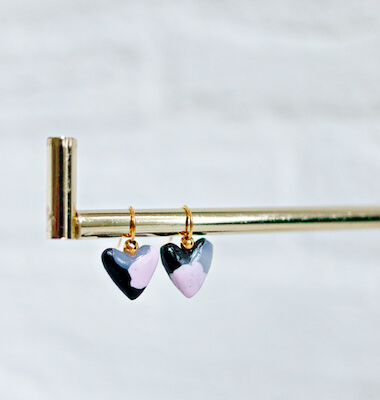 Get the tutorial here
6. How To Make Clay Earrings by Collective Gen
With Christmas right around the corner, perhaps some of you are thinking about presents to buy for friends, or maybe you just want to spice up a simple outfit. These clay earrings might fit the bill!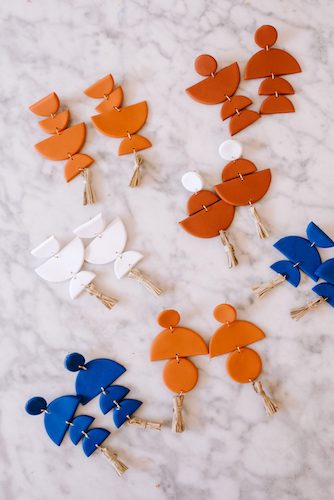 Get the tutorial here
7. Polymer Clay Earrings DIY by Pineapple Paper Co
In this tutorial, you will see how to make polymer easy clay earrings in all different shapes and colors, including arch shape, rainbow, floral, geometrical, textured, and more!
It includes 10+ Polymer Clay Ideas for Earrings that you can make at home!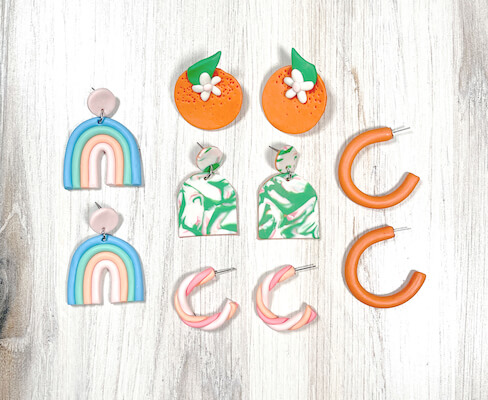 Get the tutorial here
8. Textured Polymer Clay Earrings by Melissa Esplin
Rather than embellishing your earrings or using multiple colours of clay, would you prefer to keep them simple in colour and shape but still make them interesting somehow?
Then texture is definitely what you're looking for! This tutorial shows you an easy technique for imprinting pretty patterns into the surface of your clay for subtle detail.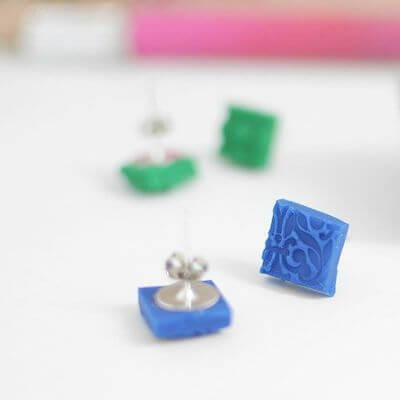 Get the tutorial here
9. DIY Pink & Gold Polymer Clay Earrings by Pitter & Glink
Do you love the idea of making your own earrings from clay but you'd rather make something a little more stylish and interesting than just plain studs?
Then check out these dangling circles that feature a neat little hinge in the middle! The hinge will let the circle move and swing adorably from your lobe as you go about your day.
You will love the way Pitter and Glink chose a dual color look, especially since one side's color is made of glitter!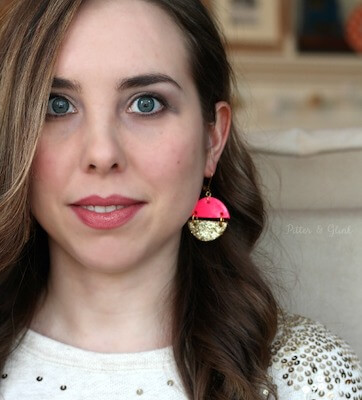 Get the tutorial here
10. DIY Clay Bridal Party Earrings by Something Turquoise
There is something so fun about giving your bridesmaids gifts, especially when they are handmade. These DIY Clay Bridal Party Earrings are modern and easy to make.
You'll even want to make a pair for yourself along with all your best girls that will stand by your side!
This tutorial includes three different styles for you to recreate with your own added flare! Use this post as a guide or copy the exact shapes and colors, the choice is yours!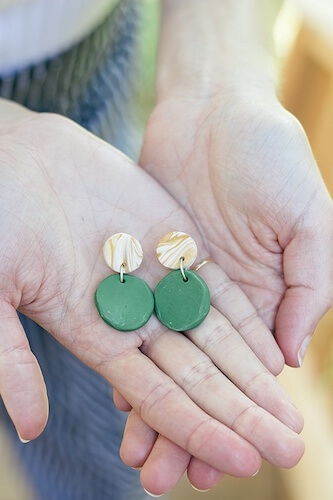 Get the tutorial here
11. DIY Clay Rainbow Earrings by Mikyla Creates
If you want to wear something fun on St. Patrick's Day but that could also be worn anytime of year, these DIY Clay Rainbow Earrings might just what you're looking for!
Just pair them with a green shirt, and you're ready to go! These would also make the perfect gift for any of your gal pals!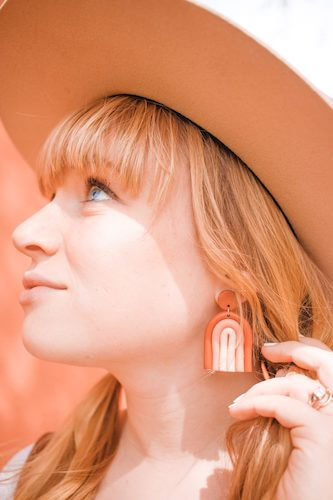 Get the tutorial here
12. DIY Marbled Clay Earrings by A Pumpkin And A Princess
How gorgeous are these DIY marble studs featuring shades of grey, blue, and white? They look totally professional and wouldn't seem out of place walking down the runway at Paris Fashion Week!
The painted gold edges make them look incredibly expensive too, yet you can achieve all of this within just one afternoon.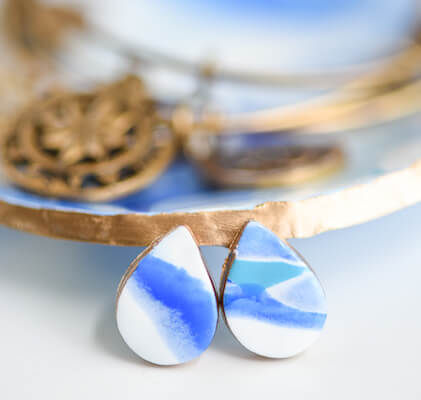 Get the tutorial here
13. DIY Clay Stud Earrings by Brit + Co
Clay studs are surprisingly easy to make, plus these ones are both cute and quirky! You will love the endless possibilities of styles you can create.
In fact, they're the perfect gift idea or Christmas stocking stuffer! Whether you prefer marble patterns or psychedelic colors, there's a DIY earring here to suit every taste in jewelry.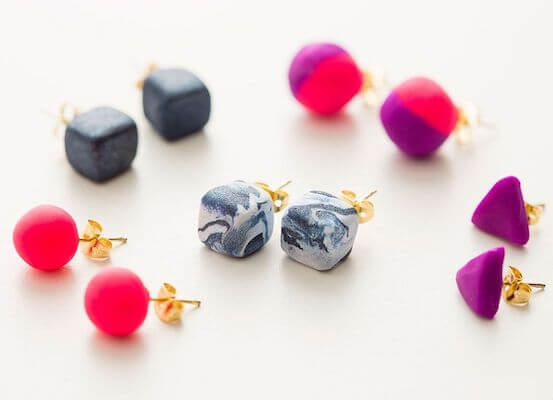 Get the tutorial here
14. DIY Terrazzo Earrings Made From Scrap Clay by CTRL + Curate
Here's a common dilemma many clay-using crafters face: what to do with the leftover clay from their projects? Thankfully, this DIY tutorial has the answer, as you can make a pair of on-trend terrazzo earrings!
You've probably seen this style of earring all over Pinterest of late, but now you can create your own within just an afternoon (and on the cheap too).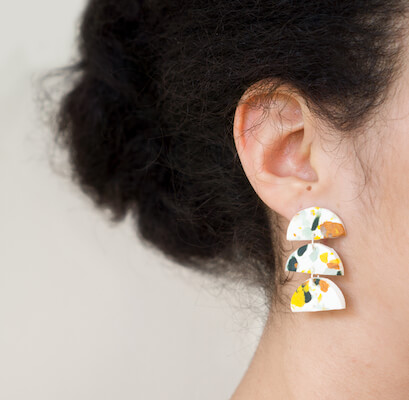 Get the tutorial here
15. Monstera Leaf Clay Earrings DIY by Homemade Luxe
Looking to make a bold statement to an outfit or just feeling the tropics? No matter what the occasion, these DIY Monstera Leaf Clay Earrings are sure to make a splash.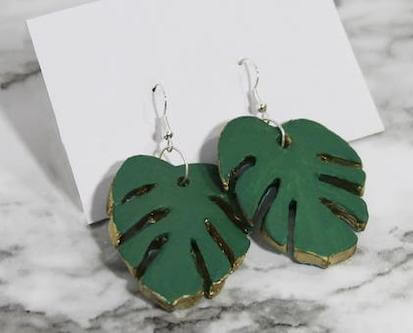 Get the tutorial here
16. Easy Clay Earrings DIY by Katherine Dedul
Clay earrings are fantastic pieces of jewelry to add to your wardrobe. This tutorial is straightforward and plain. If you like a bit more "sparkle," you can dress up your clay with some pretty pigment powder and a sealer.
Otherwise, experiment with the vibrant colors that polymer clay can come in.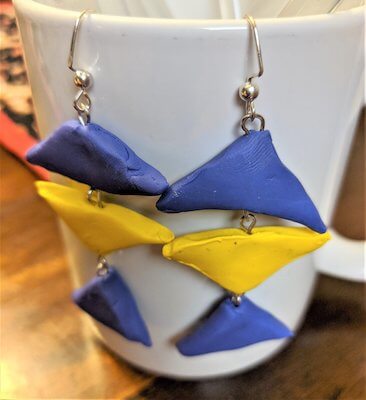 Get the tutorial here
17. Flower DIY Clay Earrings by Happy Together
We kid you not – this floral earring was completely handmade, and you too can achieve the same results! The easy-to-follow tutorial will also teach you how to make a floral brooch, as we all know you can never have too many flowers. You'll love just how simple these are to create!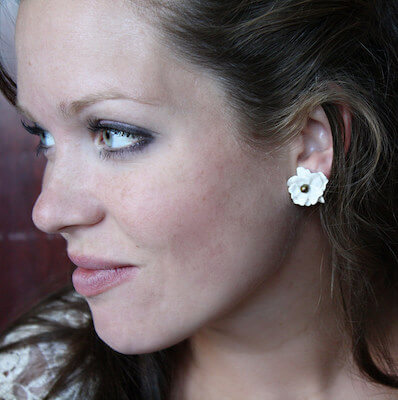 Get the tutorial here
18. Easy Air Dry Clay Earrings by Little Red Window
Make some adorable, lightweight feather air dry clay earrings in just a few steps! You'll just have to set aside a little extra time to make more pairs, especially since all of your friends will want one!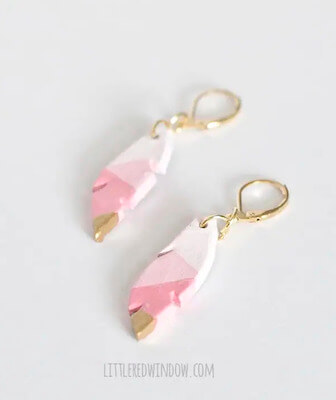 Get the tutorial here
19. Shape Drop DIY Clay Earrings by It Happens In A Blink
Elevate DIY earrings with these Shape Drop DIY Clay Earrings . The shape pieces come together for a fun piece of colorful jewelry!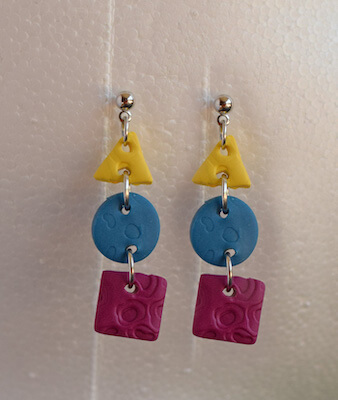 Get the tutorial here
20. Ombre DIY Clay Earrings by Cut Out + Keep
These clay earrings are both super simple to make and very cost effective! If you fell in love with the ombre trend and constantly thinking about how to add more ombre into your life, these pink ombre clay earrings are the holy grail!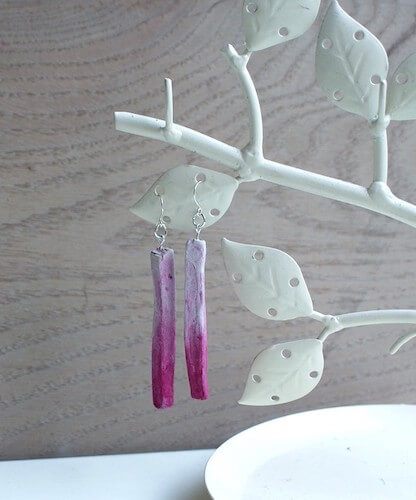 Get the tutorial here
THESE CLAY EARRINGS DIY ARE PROJECTS THAT HAVE MAJOR BANG FOR YOUR BUCK! A FEW SMALL BLOCKS OF CLAY BECOME ENDLESS PAIRS OF MODERN, COOL EARRINGS FOR YOU TO WEAR!
Be sure to have a look at these DIY earring patterns, Macrame Bracelets, DIY Jewellery tutorials and DIY earring holders! If you want to expand your earring collection, you're in for a real treat.
We would be so glad if you share your finished works with us on our Facebook Page. Once you start making fabulous clay jewelry of your own, you'll be hooked!
These clay earrings DIY are quick and easy, why not make multiple pairs?