Are you constantly searching for the perfect pair of earrings? DIY Earrings eliminates the search because you decide which colors and materials to use and how to design them.
From statement earrings to everyday earrings – earrings that you can mix and match to your special events or everyday fashion – you can have all these to your heart's content!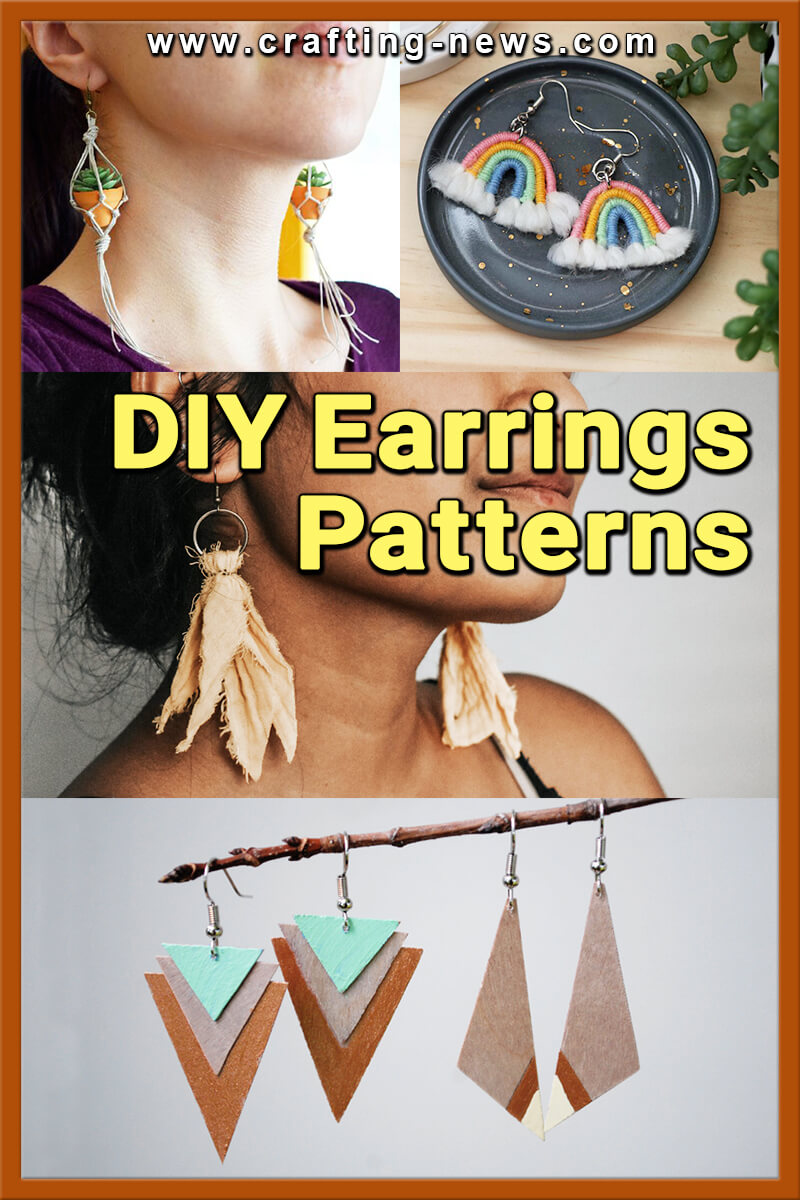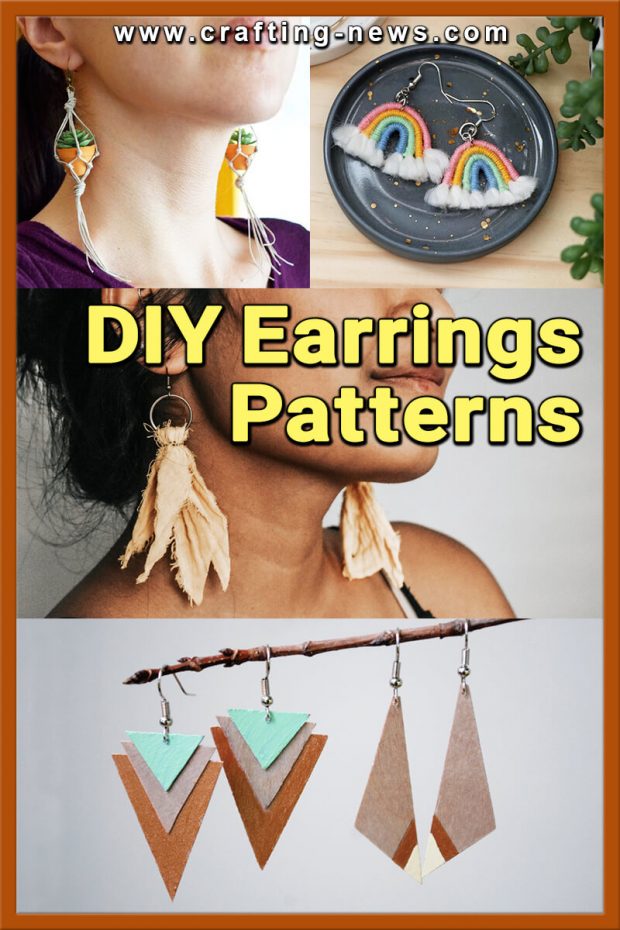 43 DIY Homemade Earrings
Stylish jewelry usually comes with a matching price tag, which can be disheartening if you're shopping for a Christmas gift on a budget.
But that doesn't mean you need to forgot the thoughtful present that you had your set on! There are plenty of ways to DIY pretty accessories, and we'll share some with you today!
9 DIY Macrame Earrings
Macrame is making a comeback in a major way, and you can use the technique on everything from accessories to home decor!
With just a few simple materials, you can create a chic, boho pair of earrings that look like they came from a boutique, but you'll be able to say that you made with your own two hands.
1. How To Make Macrame Earrings Two Ways by The Spruce Crafts
Follow the tutorials for a basic pair and a pair that's a little more intricate. As you're gathering materials, take a peek through your earring collection for hoops or shapes that you already have—these might be great starters for adding some macrame knots to give them new life!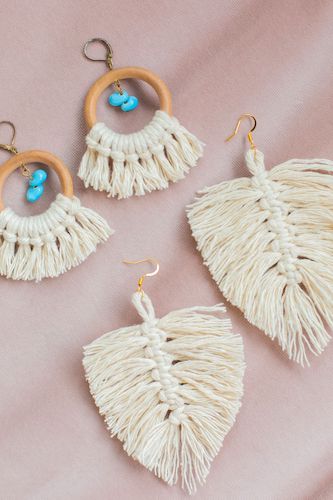 Get the tutorial here
2. DIY Macrame Leaf Earrings by Craftsy Hacks
These diy macrame earrings are beautiful craft adults and even teens can make. These earrings are extra cute and a great accessory for any time of the year.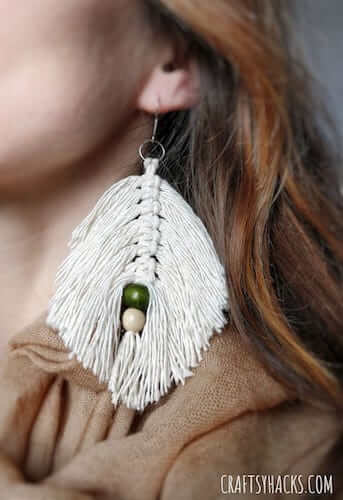 Get the tutorial here
3. DIY Rainbow Macrame Earrings by Happiness Is Homemade
These rainbow DIY macramé earrings require just a few simple supplies, and they make a huge impact! Make them in lots of different color combinations to match your entire wardrobe, and be sure to keep a few extra pairs on hand – they make an awesome gift idea!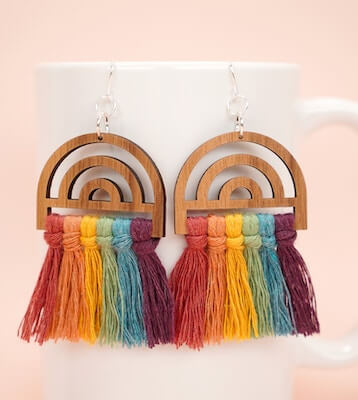 Get the tutorial here
4. DIY Boho Macrame Earrings by Darn Good Yarn
Looking for a fun, DIY craft to bring a pop of color into your wardrobe? These boho diy macrame earrings are easy to create and add a touch of boho brightness to your outfit. You might want to make multiple pairs as they make great gifts!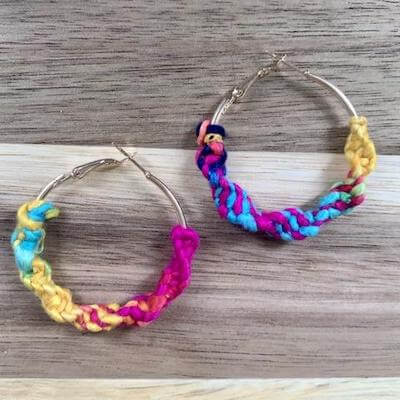 Get the tutorial here
5. Macrame Fringe Earrings by Knot Calm
Make your very own Macrame earrings with these easy to follow instructions. This pattern will show you how to make a pair of tassel earrings which you can make in any colour your heart desires.
They are a great statement piece for your outfit. If you have ever wanted to make your own handmade earring, this is the perfect pattern to try!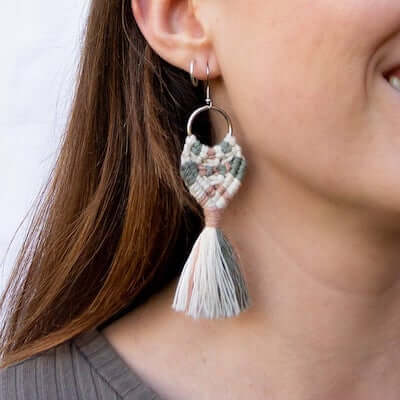 Get the Pattern by Knot Calm here
6. How To Make Macrame Earrings by That Sweet Tea Life
Because macrame is so unique aesthetically, your friends and family won't know you made these earrings yourself; they'll think you purchased them from a boutique!
The pattern includes two guides: one for creating a basic pair of macrame earrings and another for making an intricate pair. So, read on to learn how you can make macrame earrings!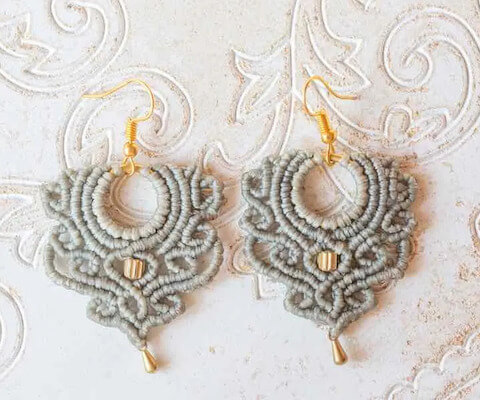 Get the tutorial here
7. Heart Macrame Earrings by Curious Craft Studio
Is there anything better than a handmade heart-shaped gift? Gift these adorable little heart diy macrame earrings to a loved one, or to yourself! The heart macrame studs are super easy and quick to make, and warm even the most cynical heart!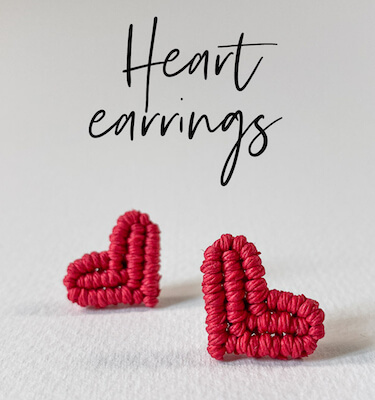 Get the tutorial here
8. Easy DIY Macrame Earrings by Amy Romeu
Do you want to learn how to make trendy and lightweight diy macrame earrings but you're not sure what materials you need or how to make them?
Wood & macrame earrings in a boho style are so popular, trendy, and lightweight – perfect for summer. If you make DIY jewelry and you want to offer simple macrame earrings to your customers, this tutorial is for you.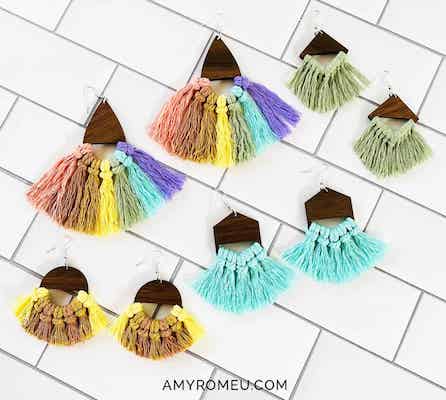 Get the tutorial here
9. DIY Micro Macrame Plant Hanger Earrings by Higher DIY Jewelry
We all love unique, eccentric jewelry–especially when it can be made in about 30 minutes and the supplies cost less than $30.
This fun project is for those of us short on time (and money!). This simple beginner macrame project can be turned into earrings, necklaces, or used as miniature decoration.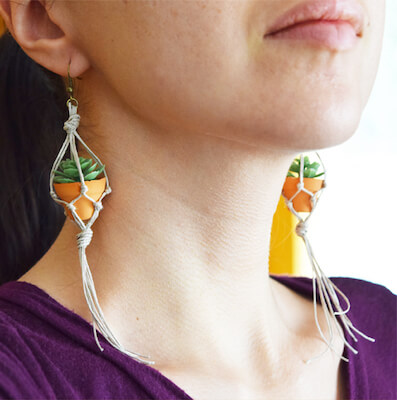 Get the tutorial here
12 DIY Leather Earrings
Leather earrings are all the rage right now, and the good news is it's easy and affordable to make them yourself. Plus, they make great DIY gifts and a fun activity for a girls' night in.
Once you get started making these DIY Leather Earrings, you might not be able to stop!
1. DIY Leather Diffuser Earrings by Making Lemonade
These DIY leather earrings can also be used as essential oil diffuser jewelry, perfect for taking your favorite scent on-the-go. They're so fun to wear, you can make them medium sized or large and make a statement.
They make fantastic DIY gifts for Mother's Day or end-of-year gifts for teachers. Or… how about a Make & Take night with friends? Since they're easy and affordable, they would be a fun craft night idea!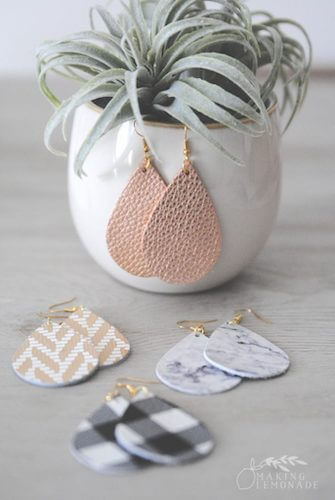 Get the tutorial here
2. Cricut Leather Earrings by Sweet Red Poppy
Create beautiful Cricut Leather Earrings with your Cricut Machine and the Deep Cut Blade with this simple step-by-step photo and video tutorial. This project is so easy to make and the results are stunning!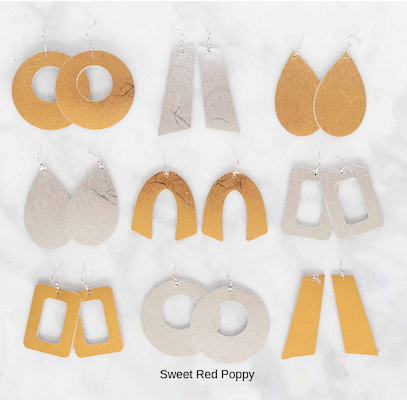 Get the tutorial here
3. Leather Tassel DIY Earrings by Golden Age Beads
Little leather tassels are super cute and they can be used for so many different things. They look awesome embellishing shoes and bags or as keyring – whatever you fancy.
Or you make these leather tassels into a funky pair of earrings and you will love the results – of both pairs!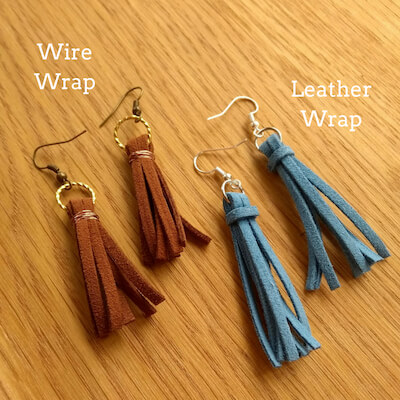 Get the tutorial here
4. DIY Leather Statement Earrings by Paper & Stitch
These large leather earrings (each pair is at least 3-4 inches long, so they make an impact) that you can make yourself in about 15 minutes. Bonus! They're lightweight too, so they won't weigh down your earlobes.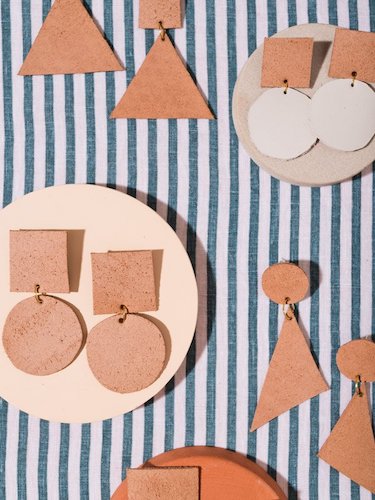 Get the tutorial here
5. Lightweight Leather Earrings by Rebooted Mom
Make the coolest leather earrings with this simple DIY, leather scraps, and a simple tear drop shape file. This is an easy DIY that takes mere minutes!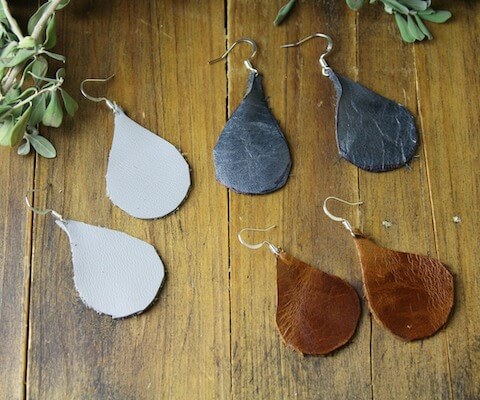 Get the tutorial here
6. DIY Boho Leather Earrings by DIYS
Craft yourself the perfect bohemian leather earrings in minutes and save yourself some money. This jewelry piece displays a beautiful leather fringe and dangling charms– certainly a statement piece to spice up any wardrobe.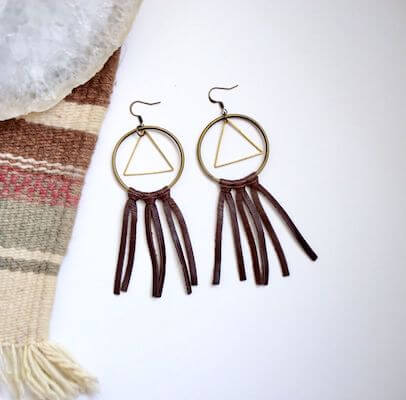 Get the tutorial here
7. Geometric Leather Earrings by Lia Griffith
You won't believe how simple it is to create these geometric leather earrings! With just a few easy-to-follow steps and supplies, try making a pair today.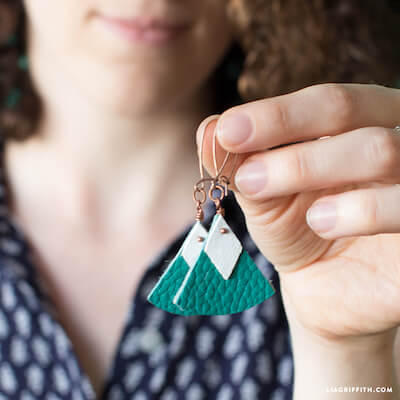 Get the tutorial here
8. DIY Leather Earrings by A Blossoming Life
These simple DIY Leather earrings are the perfect and inexpensive gift. Learn how to make these stylish DIY leather earrings without a fancy machine. Follow the tips included to make these leather earrings even more creative.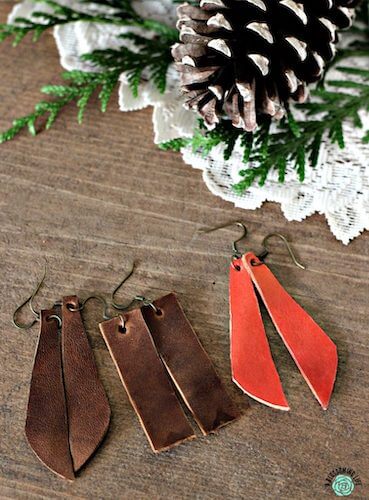 Get the tutorial here
9. How To Make Leather Earrings by Creative Fashion Blog
In this ultimate guide, you'll learn how to make leather earrings several different ways, where to get leather earring supplies and even printable earring templates!
This tutorial walk you through each style step-by-step so you'll have a huge variety of leather earring styles to make, sell and gift by the time you're done!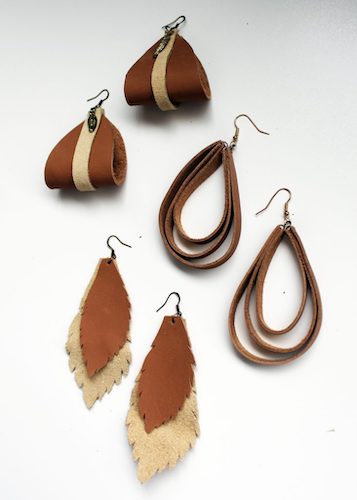 Get the tutorial here
10. DIY Three Layer Faux Leather Earrings by It Happens In A Blink
Get ready for a night out on the town with these Three Layer Faux Leather DIY Earrings. Grab a few craft supplies and get started making this fun DIY.
The shimmer from the faux leather combined with the elegant shape of the earring create a face slimming look perfect for date night.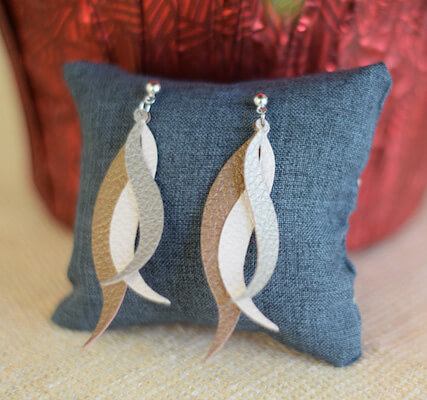 Get the tutorial here
11. DIY Leather Earrings With Foil by Pineapple Paper Co
Make your own easy DIY Leather Earrings with your Cricut Machine and the Foil Transfer Kit. Faux leather earrings are so lightweight you won't even know you're wearing them, plus they're stylish and on trend.
Grab your Cricut and some scrap faux leather and make your own! They're so easy to make, you won't be able to stop at just one pair.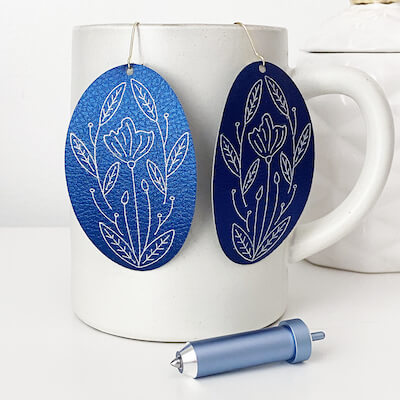 Get the tutorial here
12. DIY Faux Leather Heart Earrings by It Happens In A Blink
Are you headed for a Valentine's date night? These DIY Faux Leather Heart Earrings are a quick and easy Cricut machine project, and they are perfect for faux leather scraps.
You will like how simple these are, yet the pebbled faux leather lends a pretty texture to the earrings.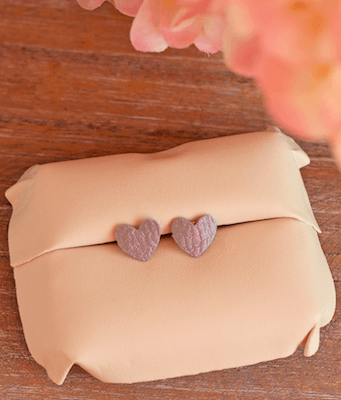 Get the tutorial here
8 DIY Hoop Earrings
Making you own hooped earrings is so much easier than most people think. Once you've mastered a simple wire loop, you will be able to make a variety of shapes, ranging from on-trend geometric forms to romantic hearts.
Hoop earrings are a classic jewelry accessory must-have. They flatter all face shapes, can be petite or grand, and come in designs that range from classic to trendy to bling.
1. Gold Wire Hoop Earrings by Martha Stewart
We're about to shape your destiny — or at least your spring look — by showing you how to craft these simple, sculptural earrings. To make a few surprisingly inexpensive pairs, all it takes is high-quality yet inexpensive gold wire, a couple of tools, and a few minutes of your time.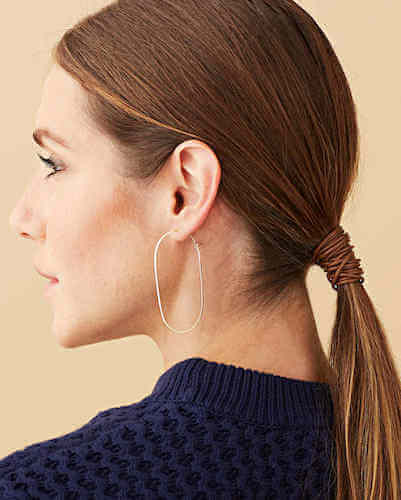 Get the tutorial here
2. DIY Hoop Tassel Earrings by Made In A Day
Little hoops aren't much fun on their own, but add some tassels to them and you have a party! Show the world that you don't take things too seriously and it's okay to be a little silly sometimes!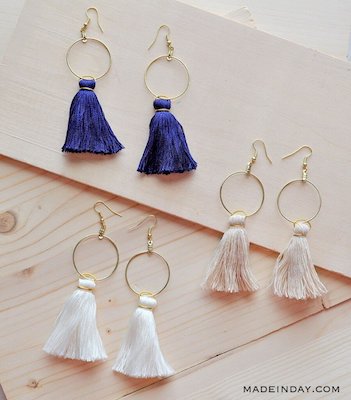 Get the tutorial here
3. Hoop DIY Beaded Earrings by How Did You Make This
These beaded hoop earrings are a fun way to use up left-over beads from a larger project, and they kind of have a 'travel souvenir' vibe to them. They're made with brick stitch, and work up really fast, once you're used to the technique.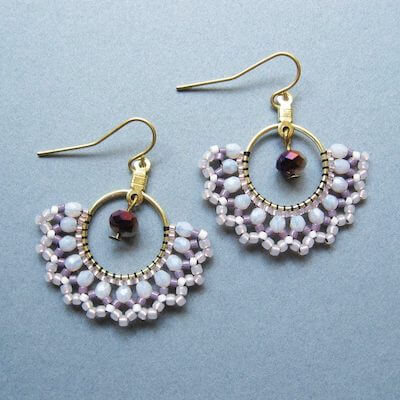 Get the tutorial here
4. DIY Hoop Earrings by Artbeads
Making your own wire hoops will allow you to truly customize your style. They look great smooth or hammered. This tutorial will teach you how to make hoops in both styles.
Learn these simple techniques to start adding hoops to your earring projects.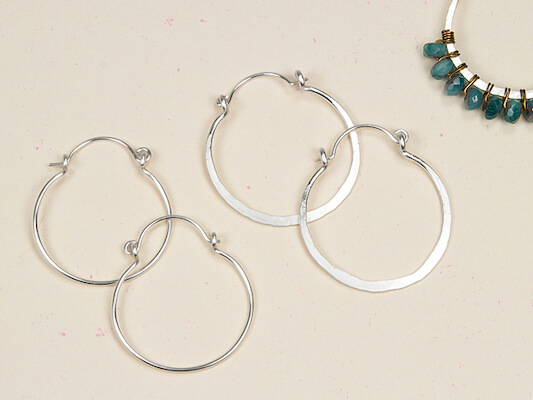 Get the tutorial here
5. Embroidery Thread Wrapped Hoop Earrings by Flax & Twine
These hoops are simple to make, yet such a fun splash of hand made in your wardrobe. You will love that you can customize every pair just the way you like and make them in just the size you'd like!
These hoops make for a fabulous last minute, personalized gifts, too.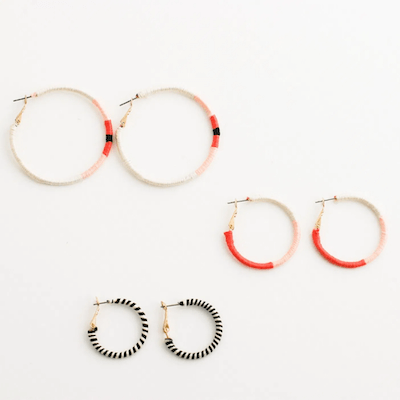 Get the tutorial here
6. DIY Beaded Hoop Earrings by Real & Quirky
This diy beaded earrings looks great and is a lot of fun once you get the hang of it. These would make a beautiful gift for the holidays, or you could even sell them at a craft show!
Perhaps you or your children would like to make them for all of their friends for party favors or friendship earrings.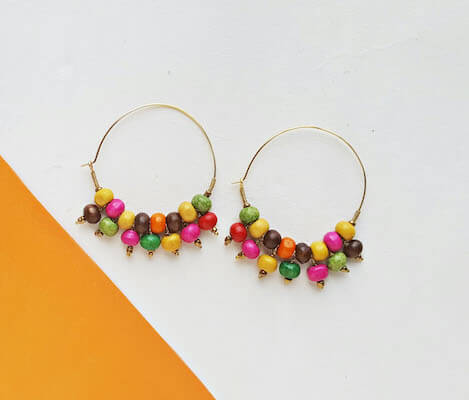 Get the tutorial here
7. Beachy Boho Beaded Hoop Earrings by Made In A Day
Make these Beachy Boho Beaded Hoop Earrings in this easy step by step tutorial. These drop hoop diy beaded earrings are the perfect addition to your summer wardrobe.
They are super easy to make, all you need are earring hoop findings, jewelry wire, and colorful seed beads.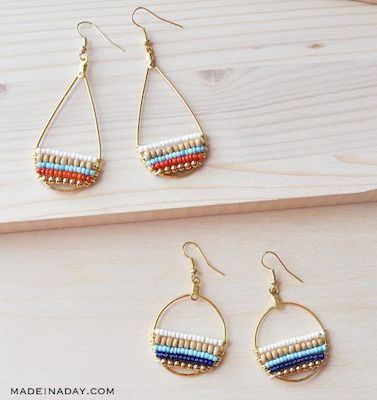 Get the tutorial here
8. Gorgeous DIY Hoop Earrings by Upstyle
Let's make a stunning, personalized set of DIY hooped earrings! The process is easy, and you can customize your easy DIY hooped earrings with any type of bead or color your heart desires.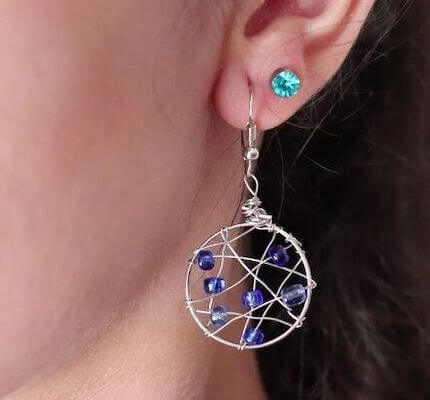 Get the tutorial here
More Fabulous DIY Earrings You Can Make For Next To Nothing
In this roundup of homemade earrings made using low and no-cost items, you'll be surprised at what you can make using just a few basic supplies. Think cheap DIY earrings you can make at home. Fun and fabulous at a fractions of the cost!
1. DIY Wood Earrings by The Merry Thought
You will love this project because there's so many different variations you can make using different shapes and paint colors. It's also super quick and easy.
These would make great gifts for your friends, or for your bridesmaids. (Or even as shower/party favors – they can be made pretty quickly).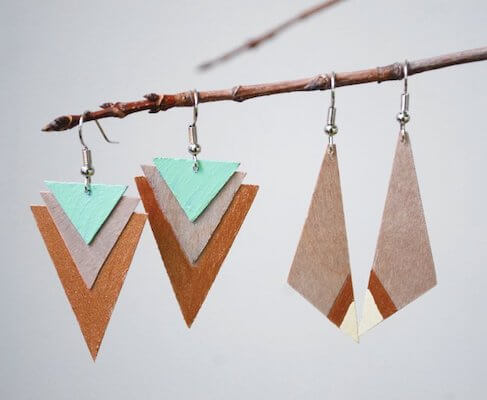 Get the tutorial here
2. Quick And Easy Spring Rose Flower Earrings by Style On Main
One of the things that's sure to put you right into that springtime mood are these great Springy Rose Flower Earrings. They're so cute, right on trend, and oh so easy to make. They'll take you like 5 minutes to make.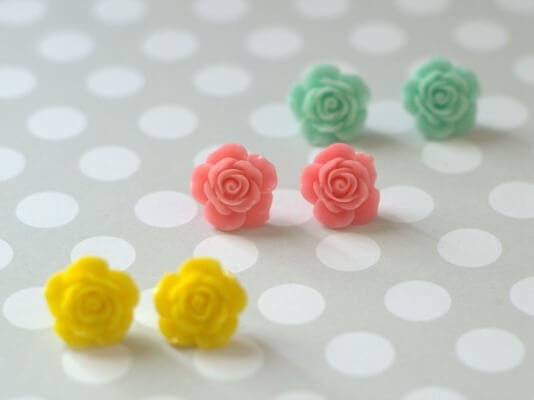 Get the tutorial here
3. DIY Resin Earrings by Sustain My Craft Habit
Have you ever received a present from someone and fallen in love with the wrapping paper? If so, this creative craft idea of making resin jewelry using gift wrap is for you! Preserve your favorite patterns by back lining resin with wrapping paper in any shape you like.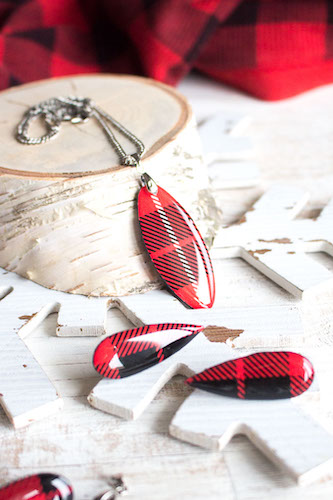 Get the tutorial here
4. DIY Statement Circle Fringe Earrings by Made In A Day
Make your own simple yet bold DIY Statement Circle Fringe Earrings. Grab your fabric fringe, wood, and metal hoops and make these beauties in minutes. These pop effortlessly from beneath the brim of a sunhat or anchor a flow white outfit with ease!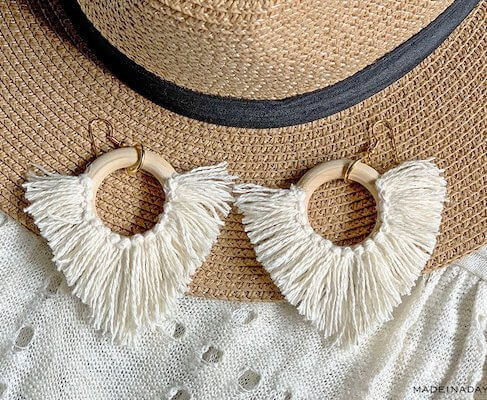 Get the tutorial here
5. DIY Fabric Earrings by Handmade With Jess
There are so many uses for your scrap fabrics like making fabric rope, using it as stuffing, or better yet – turning it into earrings!
Fabric earrings are a cute, bohemian accessory that you need in your wardrobe. They add that extra little bit of flair that gives your outfit some oomph!
These rustic fabric earrings are a gorgeous stash buster, offering a statement piece with muted colors sure to suit any outfit.
Get the tutorial here
6. DIY Tassel Earrings by The Stripe
Take the basic tassel earring from earlier in this list and upgrade it! These stacked tassel earrings are still super easy to make, but the result looks so professional and avant-garde; you'll never want to take them off.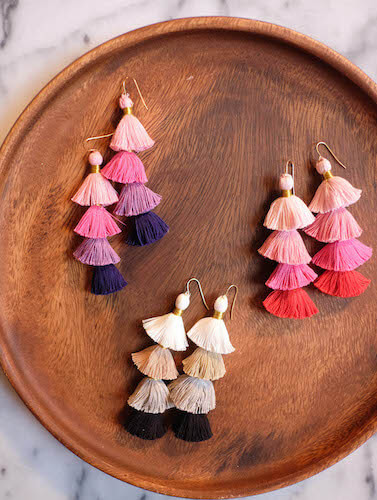 Get the tutorial here
7. DIY Wood Burned Earrings by Positively Splendid
These DIY wood burned earrings are a cinch to make, and they are so stylish and fun to wear! They truly look like they belong in a trendy boutique, but no one will ever guess they are an easy DIY gift idea that can be made in 30 minutes or less.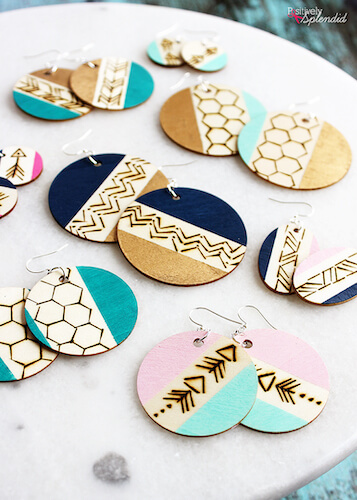 Get the tutorial here
8. Brass Monstera Leaf DIY Earrings by DIY In PDX
Many price the Monstera leaf for its gorgeous shape, so why not capture that in golden wire for your next pair of earrings?
These golden Monstera ferns come together easily (with a bit of finagling). Just make sure you have a pair of needle-nose jewelry pliers to get around those tricky twists and turns.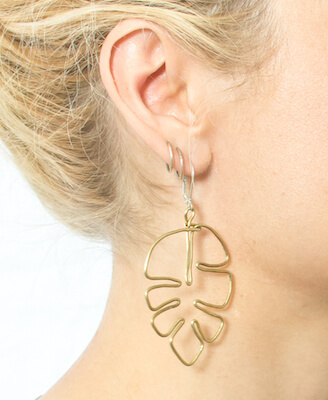 Get the tutorial here
9. DIY Boho Rainbow Earrings by HGTV
Smile ear to ear with these easy-to-make, macramé rainbow fiber art-inspired earrings. Bring a boho vibe to your spring and summer outfits with these miniature rainbow earrings.
They're completely customizable and make great gifts, plus they require only few materials to make.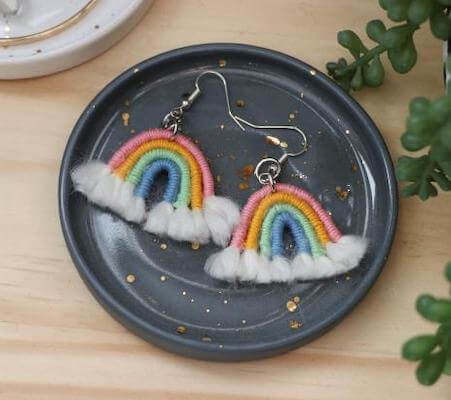 Get the tutorial here
10. DIY Marbled Earrings by Make & Fable
Use plain copper charms and old nail varnish to make this marbled earring DIY. A perfect summer jewellery project! Jewellery blanks like these copper teardrops have so many possibilities! Y
ou can paint them, hammer them, draw on them with Sharpies, glue diamantes on them, use resin or low melt enamels on them. Endless options!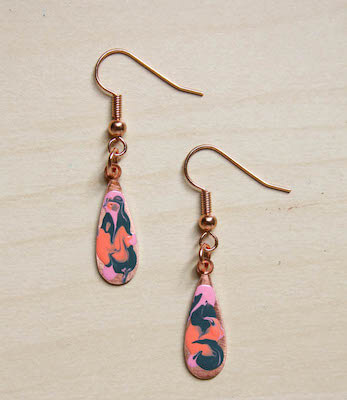 Get the tutorial here
11. Cute Face DIY Earrings by Paper & Stitch
These little ladies are somewhere between DIY statement earrings and everyday earrings. They could go either way. What do you think?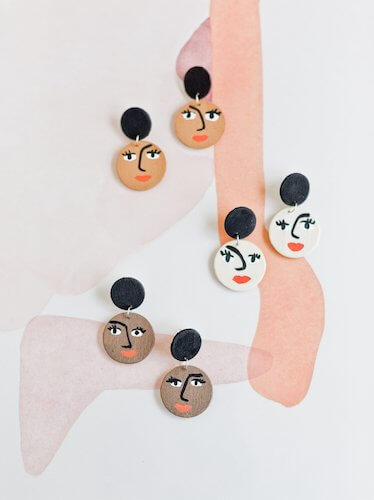 Get the tutorial here
12. DIY Raw Stone Earrings by Alice & Lois
These DIY raw stone earrings are so gorgeous and such a cinch to make. There is such beauty in raw minerals like rose quartz, amazonite, apatite, fluorite and garnet.
The colors and natural patterns in the stones are so exquisite. Mounted on gold earring posts, these are a stunning addition to your jewelry.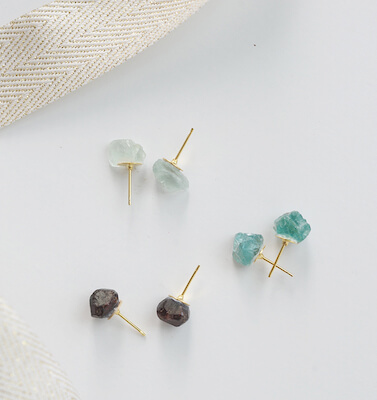 Get the tutorial here
13. DIY Jewellery Beaded Spiral Post Earrings
These DIY jewellery beaded spiral post earrings are beautiful. These earrings are the perfect creation for almost any occasion; light and dainty, yet elegant. You can chose whatever beads suit you.
See the images provided to use as inspiration; you can copy these or chose a completely different bead in crystal or opals. Also experiment with different colored wire; silver, copper, yellow gold or rose gold.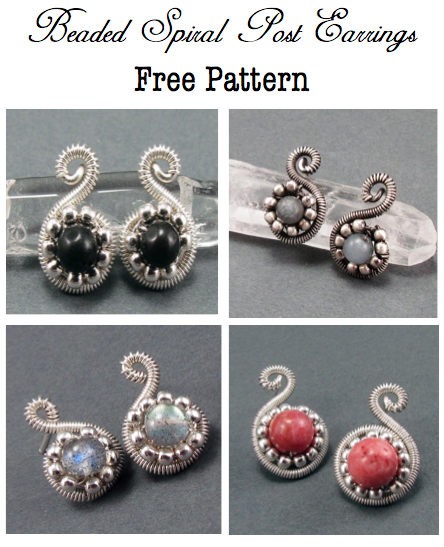 Materials
5″ dead soft or half hard round 20g wire
36″ dead soft round 28g wire
16-20 2mm beads (seed beads work well for this. The beads can be smaller than 2mm. If you use smaller beads you will need more of them)
Needle file or cup burr (wire rounder)
Ruler
DIY EARRINGS ARE A GREAT GIFT IDEA – WHY NOT MAKE SOME EARRINGS FOR A FRIEND OR RELATIVE?
Plus, if you lose one, no worries. You know just the jeweler to create a replacement! Or you can make one of these 32 DIY earring holders for safe keeping.
We would be so glad if you share your finished works with us on our Facebook Page. Once you start making fabulous handmade earrings, you'll be hooked!
Opting to create a piece of jewelry yourself is a fun alternative that will surely provide you with something crafty and out-of-the-ordinary. Here are 15 Wire Wrapping Stone jewelry, 45 wire wrapped rings, DIY Clay Earrings ideas, Macrame Jewelry Patterns more DIY Jewellery tutorials that are all worthy addition to your jewelry collection.
We certainly know that your earring collection will grow significantly, all thanks to this list of DIY earrings ideas!