If you're a coffee lover, the idea of using precious coffee beans in a body scrub might shock you, but give these DIY Coffee Scrub Recipes a shot—you'll be glad you did!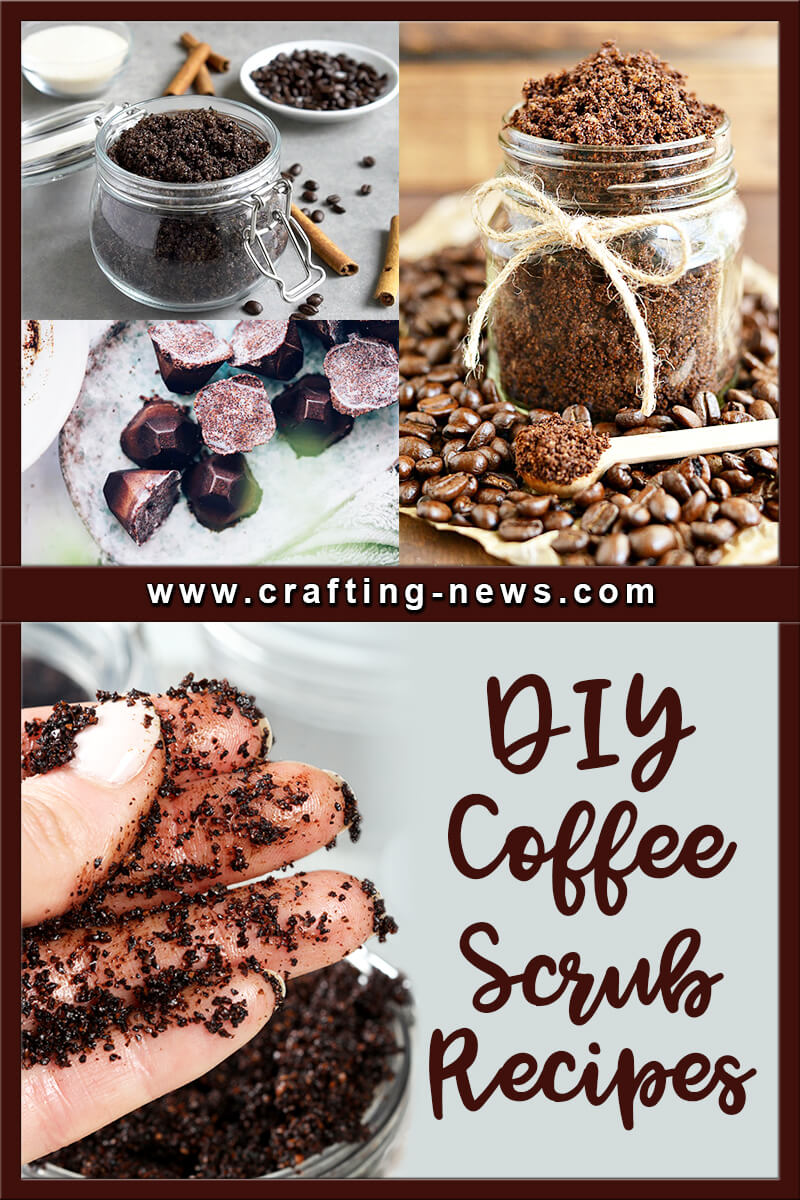 While drinking a cup of joe is wonderful, the caffeine in coffee also has many healthy benefits for your skin–it's packed with antioxidants, boosts blood flow, and acts as a natural exfoliator.
Get your morning caffeine fix – in the shower! These coffee scrubs leave your skin smooth, soft and smelling like your favorite Starbucks blend.
Best of all, caffeine can help minimize the appearance of cellulite and stretchmarks because it boosts circulation and fights inflammation. Who knew you had such an efficient products lying around in your kitchen pantry?
1. Homemade Coffee Scrub Sugar by A Pumpkin And A Princess
This homemade coffee scrub made with orange essential oil can help nourish skin and lessen the appearance of stretch marks and cellulite.

The antioxidants in the coffee provide a temporary anti-inflammatory that helps skin appear firmer and help prevent premature skin aging. The almond oil and vitamin e will moisturize your skin leaving it silky smooth.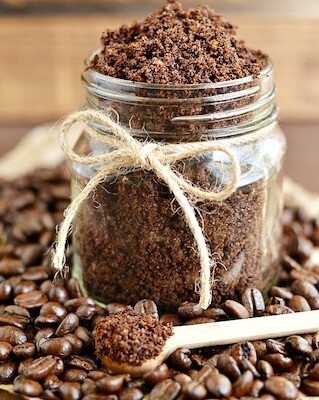 Follow the tutorial here
2. 6 DIY Coffee Scrub Body Recipes by A Life Adjacent
Learn how to make 6 easy DIY coffee scrub recipes that look real. Each coffee scrub recipe is crafted after a popular coffee drink flavour and scented with essential oils. Choose between dalgona coffee, vanilla latte, caramel latte and more!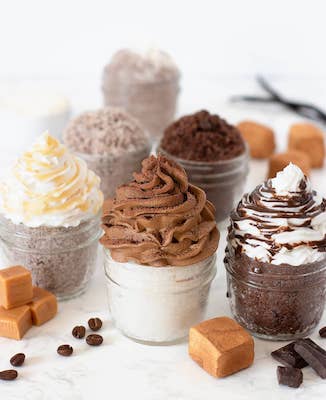 Follow the tutorial here
3. Exfoliating Body DIY Coffee Scrub by Atta Girl Says
Whip up a batch of this engergizing and exfoliating DIY coffee body scrub in less than five minutes. This coffee scrub at home is made using moisturizing cooconut oil and Mandarin essential oil, which has a refreshing and calming scent.
Give your skin a pick-me-up with this homemade coffee scrub made using ingredients from your pantry.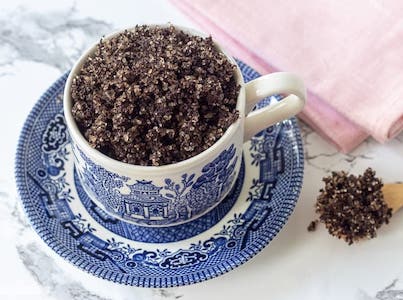 Follow the tutorial here

4. DIY Coffee Scrub Recipe by The Coconut Mama
This homemade antioxidant coffee body scrub exfoliates the skin, helps reduce the appearance of cellulite, and moisturizes the skin with coconut oil.

The base of this coffee sugar scrub uses fresh ground coffee, organic cane sugar, ground cinnamon, and vanilla extract. Fresh coffee grinds contain antioxidants, but you can substitute fresh grounds for used grounds if you like.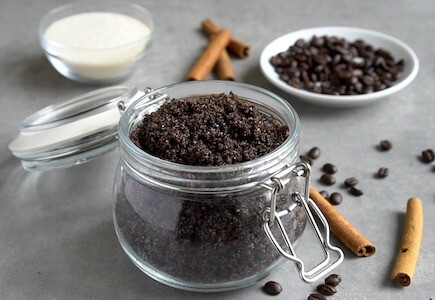 Follow the tutorial here
5. Coffee And Coconut Oil Scrub by Boxwood Avenue
You'll love making your own DIY coffee scrub with coconut oil! This homemade scrub will make your skin silky smooth. It is a great exfoliant with many natural benefits!

The combination of coffee and coconut has many skin benefits including exfoliating the skin, aiding in minimizing fine lines and wrinkles, and hydrating the skin.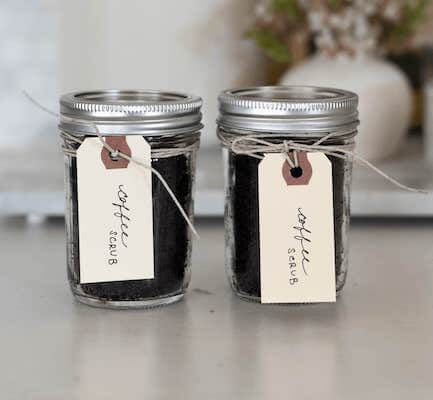 Follow the tutorial here
6. DIY Coffee Ground Scrub for Face by Up & Alive
Nourish your skin with this three ingredient DIY Coffee Ground Scrub for Face. It whips up in under two minutes and helps exfoliate dry skin. This three ingredient coffee scrub (used coffee grinds, baking soda, raw honey) is simple to whip up and perfect for oily skin.

It's nourishing, anti-bacterial, and uses a soft exfoliant to help remove dead skin cells, leaving the rest of the skin looking fresh.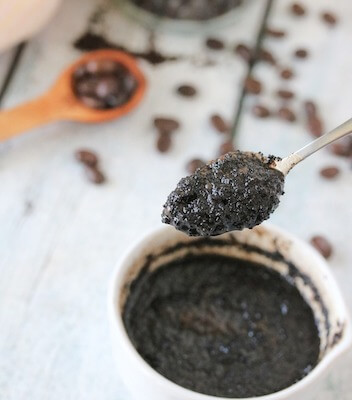 Follow the tutorial here
7. DIY Coffee Bath Scrub Recipe by Thrifty Jinxy
We all know a hot cup of coffee can wake us up in the morning, but so can this DIY Coffee Bath Scrub recipe! It makes a great-smelling, rejuvenating scrub. The coconut oil makes it nice and moisturizing.

Once you make it you just have to decide whether you will use yourself or package in a pretty crock or mason jar to make a thoughtful and homemade gift.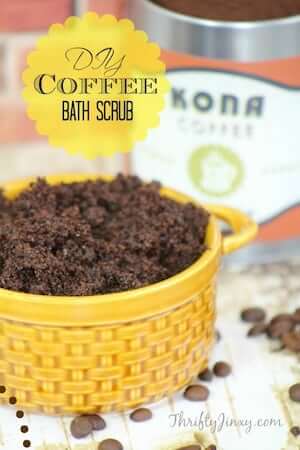 Follow the tutorial here
8. DIY Coffee Scrub For Cellulite by Elle
Cellulite enemy #1 is caffeine, which tightens and provides antioxidants to the skin when applied topically. When applied religiously, it has been shown to reduce the appearance of cellulite—especially over time.

Here, we combine coffee grounds with moisturizing, skin-soothing coconut oil and a bit of sea salt for an extra exfoliating kick. By massaging this trifecta onto any problem area, you'll stimulate blood flow resulting in smoother, firmer skin.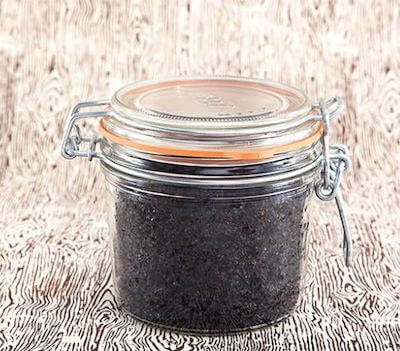 Follow the tutorial here
9. DIY Vanilla Coffee Scrub by Midget Momma
DIY Vanilla Coffee scrub is an easy homemade beauty product that also makes a great gift! With just a few natural ingredients, this homemade coffee scrub is perfect and easy to make!

Coffee is a great natural exfoliant, when you combine that with other great natural products like coconut oil and Epsom salt it makes this great Homemade Vanilla Coffee Scrub.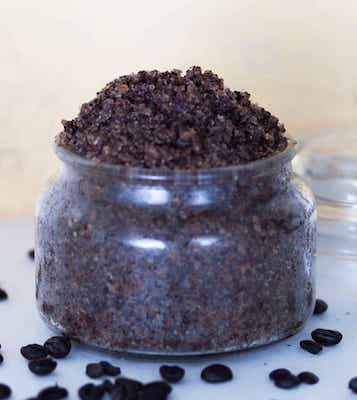 Follow the tutorial here
10. DIY Coffee Body Scrub by Soap Queen
Made with coffee grounds, coffee butter and coffee oil, this easy scrub is perfect for any coffee-lover. Coffee grounds exfoliate away dead skin, while the coffee oil and coffee butter leave skin feeling smooth. A touch of potassium cocotte prevents an overly-greasy feel.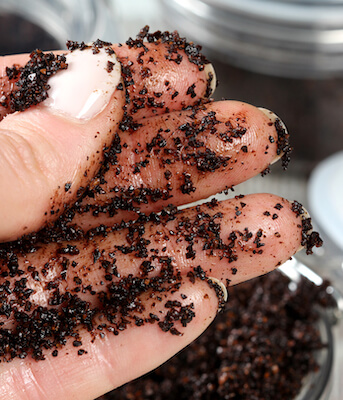 Follow the tutorial here
11. Shea Butter DIY Coffee Scrub by Beauty Munsta
Everyone loves their cup of joe early in the morning. But want something that will wake you up even more? It's a scrub-a-dub with ground coffee and shea butter! It will leave your skin exfoliated and smooth, invigorate your skin cells and bust cellulite!

What's more – it smells amazing. A delicious scent that will awaken your senses and keep you sharp throughout the day.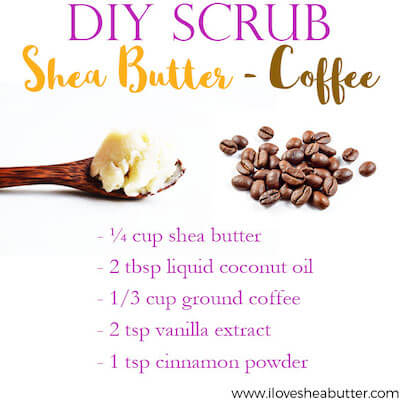 Follow the tutorial here
12. Coffee Sugar Scrub by Sugar, Spice And Glitter
This Homemade Coffee Sugar Scrub helps get your blood pumping in the morning and wakes up your senses in a delightful way. This Coffee Sugar Scrub also makes a great homemade gift – package sweetly in a mason jar and attach a homemade tag.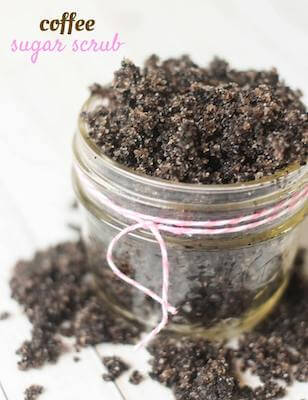 Follow the tutorial here
13. DIY Coffee Ground for Face Scrub by Creative Home Keeper
When you look for an exfoliate you want something that is gentle and for the grain size to not be too big. Coffee grounds fit that bill.
Mixed with a little bit of oil oil, the coffee grounds turn into a gentle yet deep cleaning exfoliate that works wonders on your whole body, not just your face.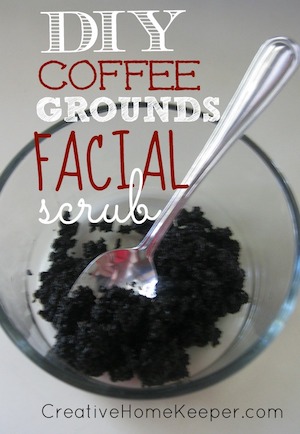 Follow the tutorial here
14. Coconut Coffee Scrub Cubes by Hello Glow
You already know that coconut oil is like the 8th wonder of the world. And the caffeine in coffee grounds is a genius way to reduce cellulite. The caffeine absorbs into your skin and dehydrates the fluid in those pesky cellulite areas, so your skin is (temporarily) tighter and firmer.

Make your own coconut coffee scrub in handy cube shape, and a mask for cellulite, stretch marks and puffy eyes with the help of this tutorial.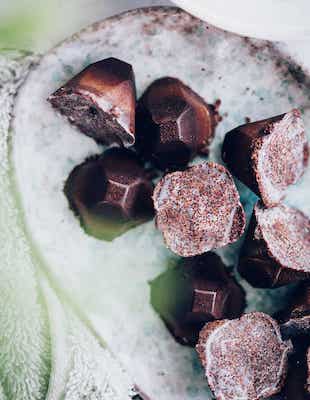 Follow the tutorial here
NOW THAT YOU KNOW HOW TO MAKE DIY COFFEE SCRUBS, WE'RE SURE YOU'LL BE SEEING BRIGHTER SKIN IN NO TIME!
Share your makes with us on our Facebook Page and for more homemade beauty solutions, check these DIY Homemade Body Scrubs, DIY Foot Scrub Recipes, Homemade Soap Bars and DIY Lip Balm Recipes.
Get more out of coffee beans and grounds with these skin-saving DIY coffee scrub recipes! Go on and try them today!