DIY Lip Balm With All Natural Ingredients In Just 5 Minutes
DIY lip balm has got to be one of the most simple beauty products to make at home. They are extremely quick and easy to make. And this recipe call for only natural ingredients. Which means that you are only putting the best products onto your lips. You make this recipe with different flavors by changing the essential oil which you use. Just be sure to research the essential oil that you are using to make sure that contact with skin is okay.
Ingredients And Materials
For this lip balm you will need the following ingredients and materials.
Beeswax (it is easiest to use in pellets)
Coconut oil
Vitamin E Oil
Your choice of Essential oil (e.g. peppermint)
Small plastic pots or old lip balm containers
A bowl and saucepan
Making The Lip Balm
Pour water into a saucepan until it is half full and place it on the stove for it to simmer. Place a bowl on top of the saucepan (making sure that it fits nicely and doesn't fall in to the saucepan). This will act as a steamer to melt your ingredients. We much prefer to melt coconut oil and beeswax this way, as melting them in the microwave can overheat them very quickly and spoil the products.
Mix 4 tablespoons of the beeswax pellets with 4 tablespoons of coconut oil in your steaming bowl.
Add a teaspoon of vitamin E oil and a few drops of the essential oil.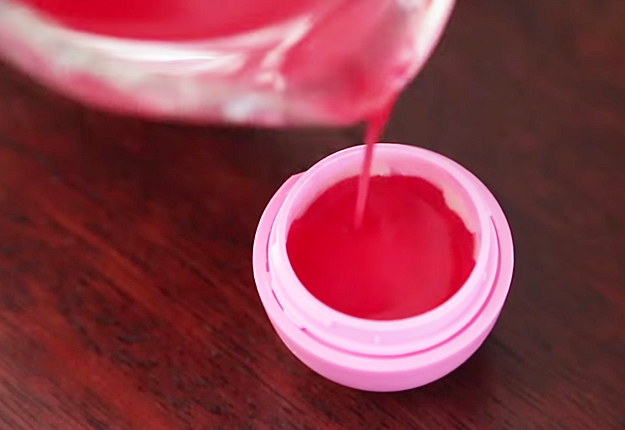 At this point you can also add a little bit of an old lipstick for a color tint, however this will void the natural goodness of this lip balm. You can also experiment with color by using natural colors such as pomegranate.
Keep stirring the mixture until it is fully melted and well combined.
Pour the lip balm mixture into the small plastic pots and let them sit to harden. You can place them in the fridge to speed up the process.
Enjoy Your All Natural Lip Balm
Because these lip balms are natural you can wear them all day long and enjoy having beautifully soft lips, knowing that you are doing something good for your skin.
You can access the full tutorial here