Dry, cracked lips are a thing of the past. Learn how to make these deliciously relaxing DIY lip balms that you're sure to wear every day of the year. These DIY lip balm recipes are surprisingly simple, and there are tons of formulations you can play with to make something that is perfectly you.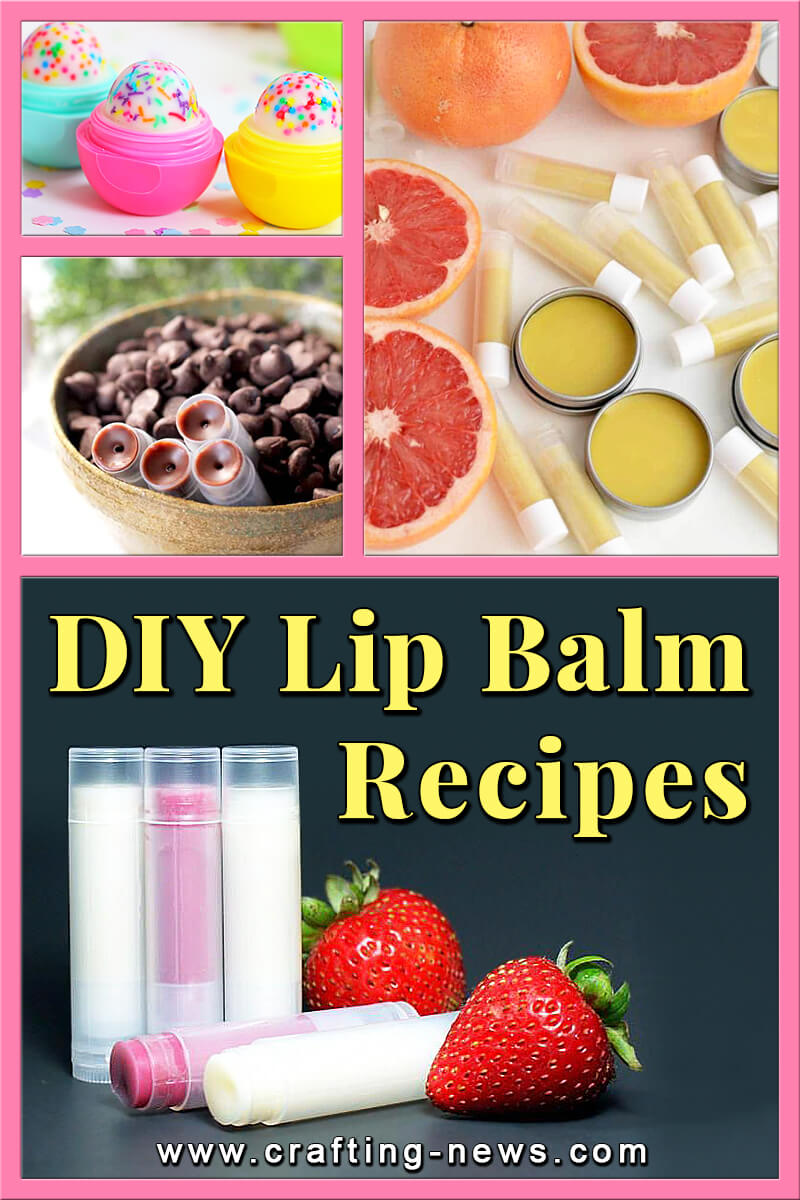 Want to try making your own easy DIY lip balm? It's simpler than you think. With just a few clean ingredients and about 30 minutes, you'll have your own lip balm without all the crummy ingredients from certain store-bought brands.
21 Homemade Lip Balm Recipes
You might surprise yourself when you learn how easy it is to make your own basic beauty products!
1. 10-Minute DIY Lip Balm by Happiness Is Homemade
Make your own lip balm or lip gloss in just ten minutes! Homemade lip balm is a fantastic DIY gift idea with unlimited flavor and color options! This basic recipe will create a lip balm that is firm to the touch, but that softens upon contact with your lips – perfect for filling tubes or pots.
This recipe is very easy to alter to suit your needs and the ingredients that you have on hand, so feel free to play around with it!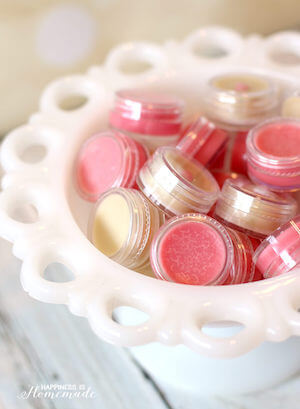 Follow the tutorial here
2. Homemade Coconut Oil Lip Balm by The Coconut Mama
Coconut oil lip balm is a necessary skincare product everyone should have on hand. Once you learn how simple it is to make make, you'll never buy lip balm again!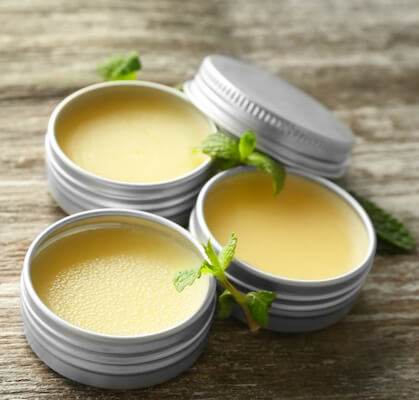 Follow the tutorial here
3. DIY Rose Lip Balm by A Life Adjacent
Learn how to make a luxurious homemade rose lip balm. Not only does this DIY lip balm look lovely, but it's also wonderfully hydrating for dry lips.

It's rich, smooth and glossy with just a hint of soft pink tint. You can choose to fragrance your lip balm with rose wax, essential oils or rose petals for a natural aroma that doesn't rely on artificial fragrances.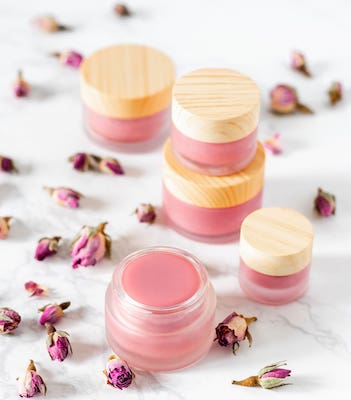 Follow the tutorial here
4. Homemade Beeswax Lip Balm Recipe by Bless This Mess Please
Homemade Beeswax Lip Balm Recipe is super simple to make especially when you have the right ingredients! This healthy lip balm is the perfect DIY gift to make and share with friends.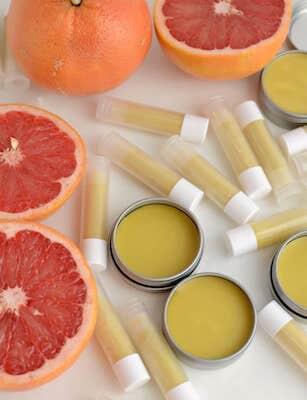 Follow the tutorial here
5. DIY Crayon Lip Balm by Raising Lifelong Learners
This DIY Crayon Lip Balm recipe is the perfect thing for little girls to make and give to their BFFs. It's actually pretty simple to make these, and loads of fun for the kids. You can even add in some essential oils to protect your lips against the winter wind or summer sun.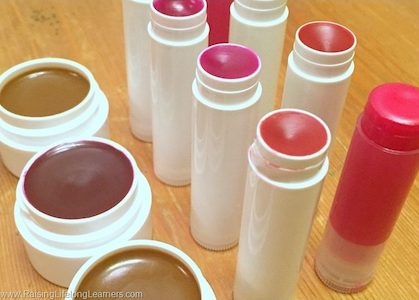 Follow the tutorial here
6. Healing Lip Balm Recipe by Country Hill Cottage
See how to make a Healing Lip Balm Recipe to care for chapped, peeling lips! This natural homemade lip balm recipe for dry lips with coconut oil and hemp seed oil is ready in minutes.
This easy DIY lip balm without beeswax is a great moisturizing lip balm for winter and comes with free printable labels.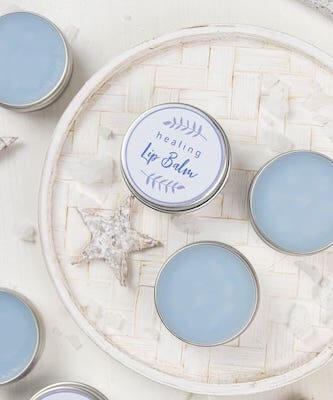 Follow the tutorial here
7. Organic DIY Lip Balm Recipe by Don't Mess With Mama
Homemade organic lip balms from the store can be so expensive up to $3 per tube. Here's a beeswax lip balm recipe to make your own Organic DIY lip balm for just $0.24 a tube. You'll just need four ingredients: coconut oil, sweet almond oil, essential oils and beeswax.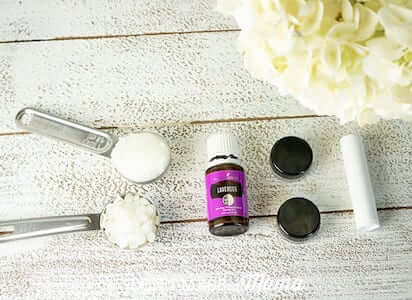 Follow the tutorial here
8. DIY Cupcake Lip Balm by DIY Projects For Teens
Talk about turning something plain into something totally Instagram-worthy! These DIY Cupcake Lip Balms are made from used containers paired with some seriously hydrating (and fun) ingredients that you and your inner kid can get down with.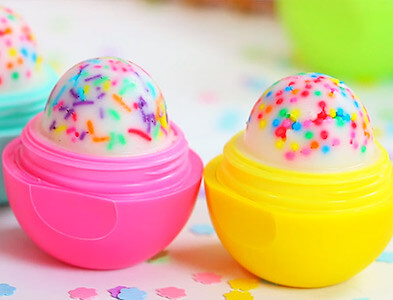 Follow the tutorial here
9. Homemade Raspberry Lip Balm by Hello Glow
Three simple ingredients, and you're on your way to a pretty DIY tinted lip balm made with all natural ingredients like freeze-dried raspberries. Using real raspberries, this lip balm tastes like a fruit smoothie. Aside from the yum factor, it also gives your lips loads of moisture and a natural pink tint.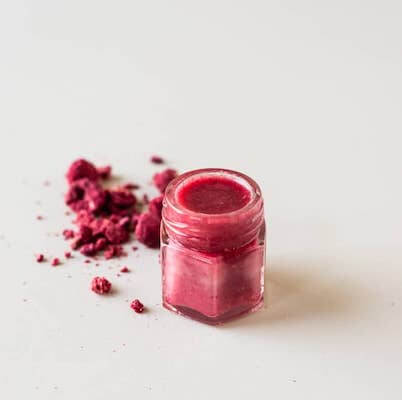 Follow the tutorial here
10. DIY Lip Balm In Three Scents by The Spruce Crafts
Making your own lip balm is easy and uses just a few ingredients. With this simple recipe, you can add extra elements to make all kinds of variations. And packaging them in tiny tins makes them easy to carry or give as gifts!

The scents in this recipe collection include honey citrus, cinnamon spice, and strawberry toaster pastry. Use them as starting points and then try other food and cosmetic safe oils and mix-ins.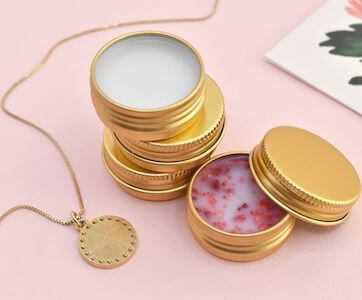 Follow the tutorial here
11. Homemade Chocolate Mint Lip Balm by Eco Living Mama
The perfect winter lip balm recipe, homemade white chocolate mint lip balm is nourishing for dry lips and smells amazing. This peppermint lip balm recipe is made with completely natural ingredients.
It gets its chocolate scent from the raw cocoa butter (or cacao butter) in the recipe and just a hint of peppermint essential oil adds that lovely mint tingle.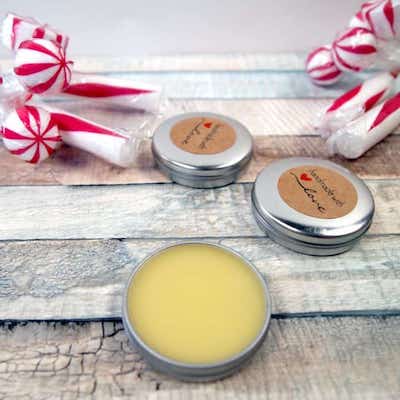 Follow the tutorial here
12. Strawberry Lip Balm Recipe by Soap Deli News
Looking for a fun DIY beauty recipe for warm weather? This homemade strawberry lip balm recipe is perfect for keeping your lips looking healthy spring through summer.
My strawberry lip balm recipe is quick and easy to make, smells great and adds a hint of tint! So it's the perfect lip care recipe for your natural beauty regimen.
Follow the tutorial here
13. Sunscreen Lip Balm Recipe by Garden Therapy
Most of us remember to slather on the sunscreen when we are exposed to the sun, but what about our lips? Yes, your lips can get sunburned! Thankfully, the solution is easy: make a batch of this DIY all-natural lip balm with SPF.
It will protect your lips, make them kissably soft, and it's made of all-natural ingredients!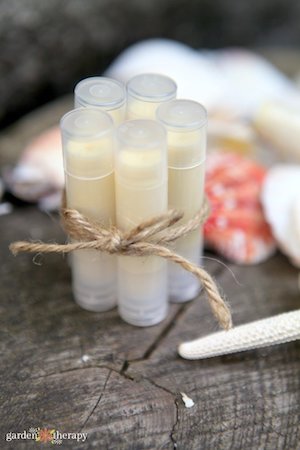 Follow the tutorial here
14. DIY Glossy Pink Beetroot Lip Balm at Home by The Crunchy Ginger
Smooth and shiny with a light pink shimmer, this DIY glossy beetroot lip balm is as fun as it is moisturizing. It is 100% natural and non-toxic with no synthetic colors or dyes and no icky ingredients.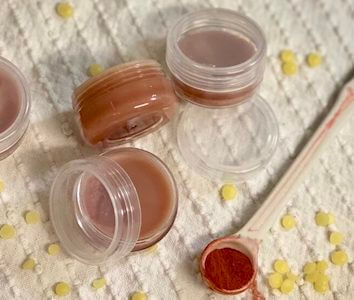 Follow the tutorial here
15. Peppermint Lip Balm by Kitchn
With only a few natural ingredients, such as beeswax and coconut oil, this lip balm comes together in about fifteen minutes. Peppermint essential oils give it that refreshing holiday feel and cooling sensation.
Don't like peppermint? Simply use a different essential oil like lavender, eucalyptus, and sweet orange oils.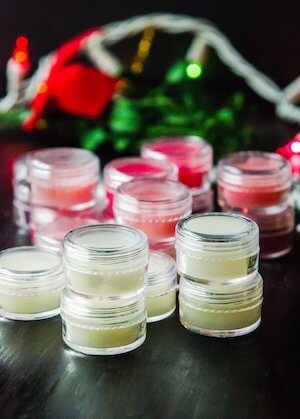 Follow the tutorial here
16. DIY Honey Lip Balm by Frugal Family Home
Using only four ingredients, this lip balm recipe is the perfect place for beginners to start their DIY beauty adventures. The honey adds a subtle flavor that both kids and adults love, so this would be an excellent slumber party craft project for young girls to make.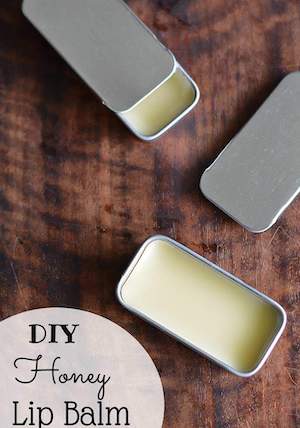 Follow the tutorial here
17. Shimmery Ski Lip Balm by Soap Queen
Whether it's harsh sun or cold winds, this Shimmery Ski Lip Balm hydrates and protects lips. The combination of coconut oil, avocado oil, beeswax and cera bellina wax creates a firm yet spreadable texture.
While specifically formulated with lips in mind, this product is suitable to use on the body as well!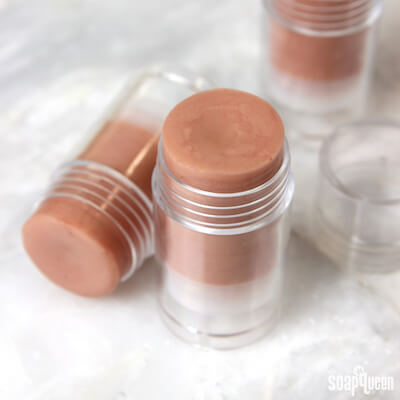 Follow the tutorial here
18. Homemade Toasted Pumpkin Chapstick by Onion Rings & Things
Nourish your lips with Homemade Toasted Pumpkin Chapstick! Made with natural ingredients and pumpkin seed oil, it's the ultimate Fall beauty treat!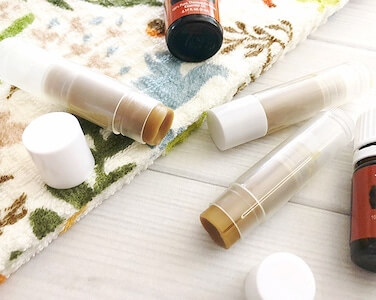 Follow the tutorial here
19. Vegan Lip Balm Recipe by Better Shea Butter
Because balms are normally very concentrated you only need a small amount for any given area to help moisturize and/or heal it. This is a recipe for a vegan balm, it is made with 100% natural and vegan ingredients, including Carnauba Wax.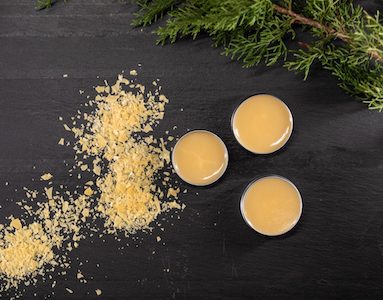 Follow the tutorial here
20. DIY Chocolate Peppermint Lip Balm by Frugal Farm Wife
Whether you're looking for a unique stocking stuffer, or quality lip balm for yourself, this recipe is the perfect mixture of fun flavor, and soothing balm that's so easy you could make it in your sleep!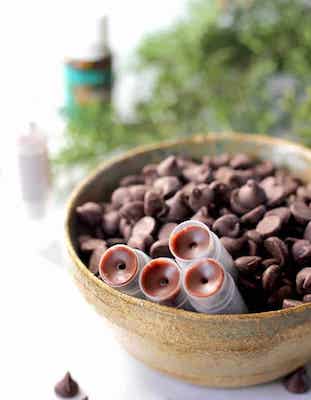 Find the tutorial here
21. DIY Lip Balm With All Natural Ingredients In Just 5 Minutes
DIY lip balm has got to be one of the most simple beauty products to make at home. They are extremely quick and easy to make. And this recipe call for only natural ingredients.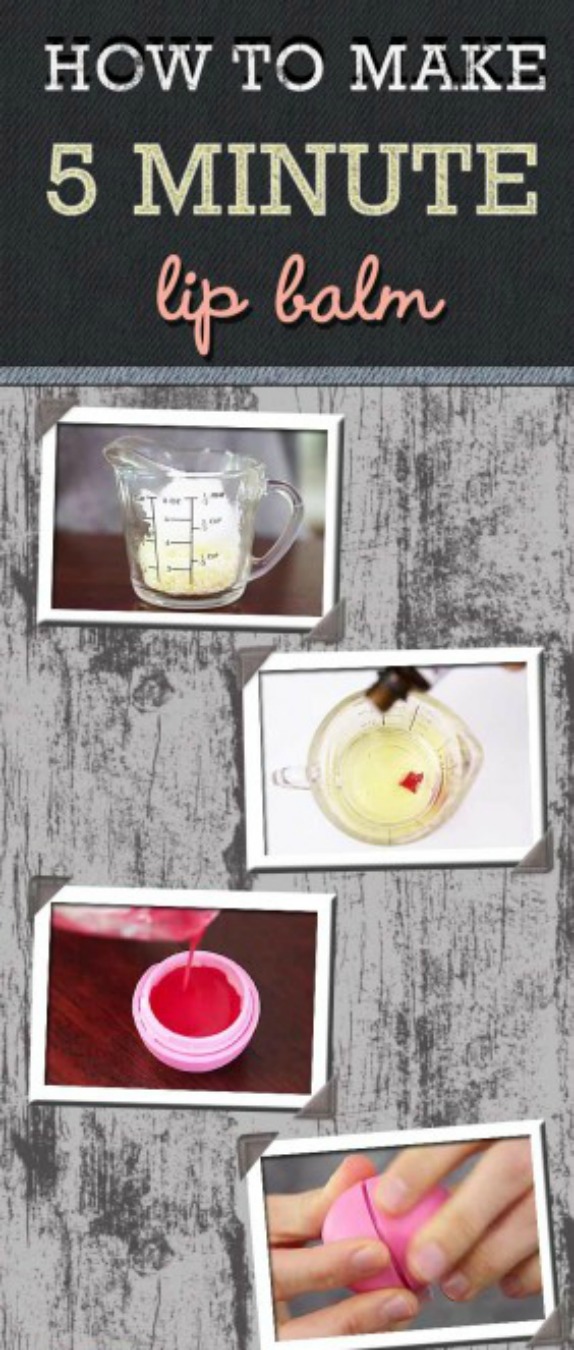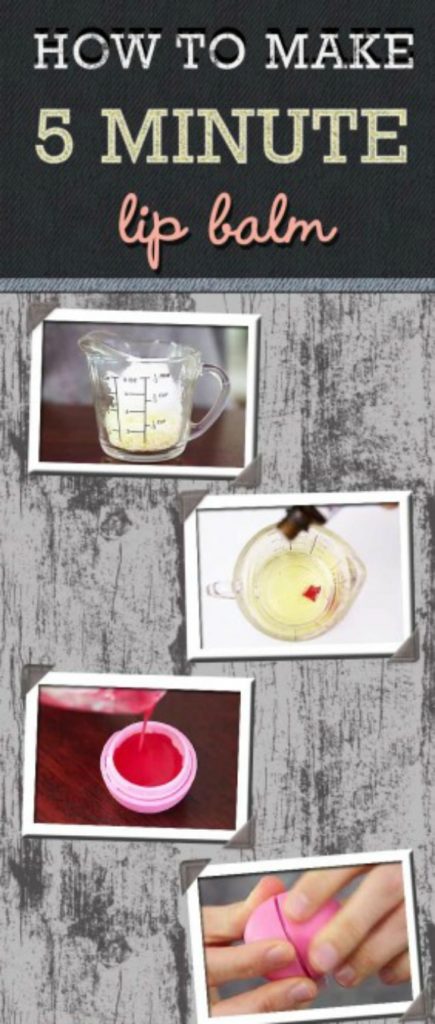 Which means that you are only putting the best products onto your lips. You make this recipe with different flavors by changing the essential oil which you use. Just be sure to research the essential oil that you are using to make sure that contact with skin is okay.
Ingredients And Materials
For this lip balm you will need the following ingredients and materials.
Beeswax (it is easiest to use in pellets)
Coconut oil
Vitamin E Oil
Your choice of Essential oil (e.g. peppermint)
Small plastic pots or old lip balm containers
A bowl and saucepan
Making The Lip Balm
Pour water into a saucepan until it is half full and place it on the stove for it to simmer. Place a bowl on top of the saucepan (making sure that it fits nicely and doesn't fall in to the saucepan).
This will act as a steamer to melt your ingredients. We much prefer to melt coconut oil and beeswax this way, as melting them in the microwave can overheat them very quickly and spoil the products.
Mix 4 tablespoons of the beeswax pellets with 4 tablespoons of coconut oil in your steaming bowl.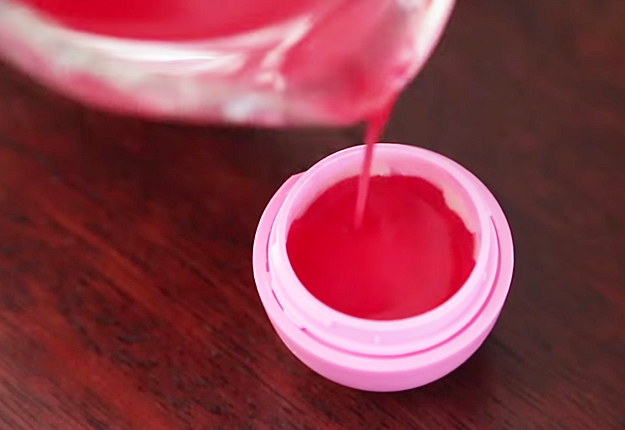 Add a teaspoon of vitamin E oil and a few drops of the essential oil.
At this point you can also add a little bit of an old lipstick for a color tint, however this will void the natural goodness of this lip balm. You can also experiment with color by using natural colors such as pomegranate.
Keep stirring the mixture until it is fully melted and well combined.
Pour the lip balm mixture into the small plastic pots and let them sit to harden. You can place them in the fridge to speed up the process.
Enjoy Your All Natural Lip Balm
Because these lip balms are natural you can wear them all day long and enjoy having beautifully soft lips, knowing that you are doing something good for your skin.
You can access the full tutorial here
WHAT FLAVOR OF DIY LIP BALM WOULD YOU MAKE? HAVE YOU MADE OTHER DIY BEAUTY PRODUCTS IN THE PAST? WHICH RECIPES WERE STAND OUTS? TELL US IN THE COMMENTS BELOW.
Try your hand at making your own one-of-a-kind DIY lip balm and flaunt it proudly by sharing your finished ones on our Facebook Page. Make a bunch and give out for birthdays, everyone will love them.
You can also make these homemade beauty regimens: DIY Homemade Body Scrubs, DIY Foot Scrub Recipes, DIY Coffee Scrub Recipes and Homemade Soap Bars.
So, give any of these lip balm recipes featured above a try next time you're feeling bored!