This new year, you may be on the lookout for the ultimate new-season accessory, a new handbag, whether to treat yourself with or a loved one. While most fashionistas would certainly love to acquire a new designer handbag for every outing or occasion, the reality of how much that would cost is simply overwhelming. To save some money, why not make your own purses? I've collected some purse sewing patterns here that you might like to try out.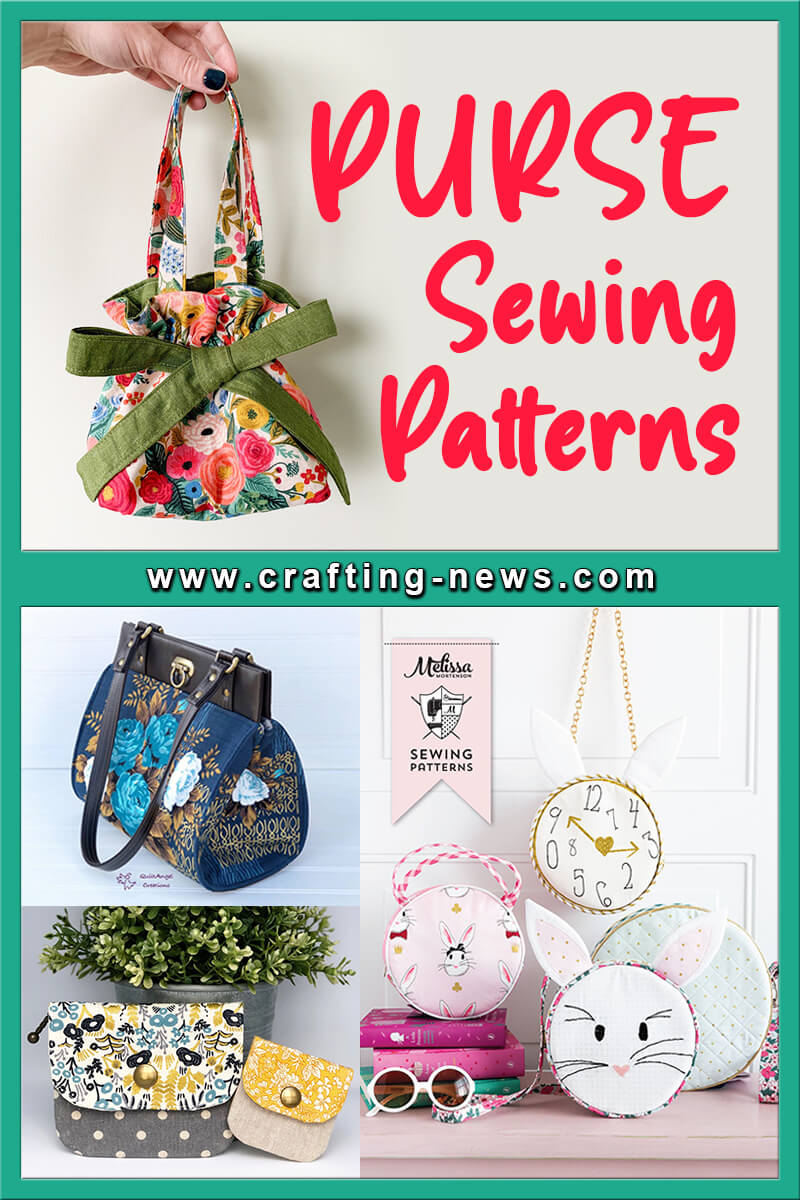 A handmade purse can be both pretty and practical — and you can choose your favorite colors and fabrics to complement your outfits. These DIY purse patterns include a range of styles to choose from. From a quick clutch you can sew in just a couple of minutes to sophisticated, beautiful handbags, there will be a bag for everyone. You'll love sewing them all!
25 Purse Sewing Patterns
1. Crossbody Purse Sewing Pattern by Kandou Patterns
This pattern comprises a step-by-step photo tutorial that shows you how to make a beautiful and practical purse ideal for everyday use. Full scale pattern templates are included so no need for measuring -just cut and sew!
This crossbody purse is fully lined and has two exterior slip pockets, an exterior feature zip pocket on the front that's perfect for your phone or other valuables, plus an interior zip pocket for additional security.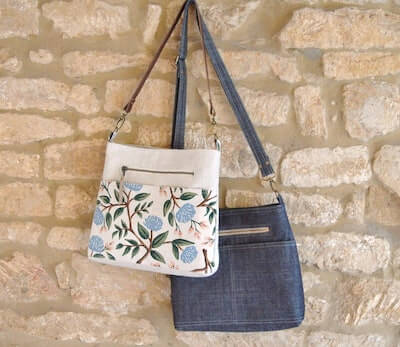 Get the Pattern by Kandou Patterns here
2. Molly Purse Sewing Pattern by David And Charles
This classic, chic quilted bag is the perfect accessory for any party outfit. All instructions and templates are included making this a really simple project — the hardest thing will be choosing the fabric!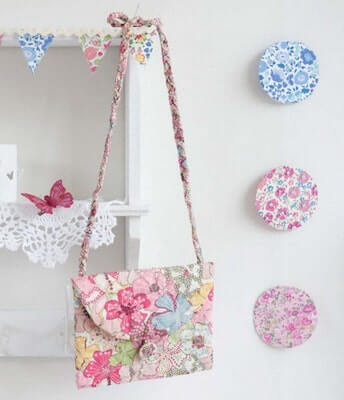 Get the Pattern by David And Charles here
3. Alice Handbag Sewing Pattern by Polka Dot Chair
This Alice Handbag Sewing Pattern is a whimsical and versatile purse sewing pattern that can be made in three different sizes with 5 different handle styles. You can add even more whimsy to the bag with the addition of rabbit ears!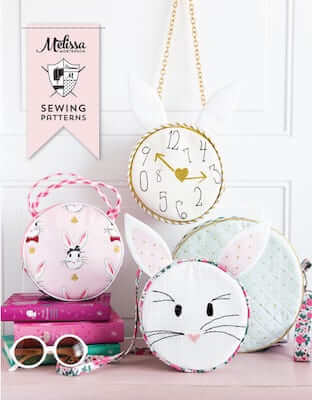 Get the Pattern by Polka Dot Chair here
4. Free Little Girl Purse Sewing Pattern by Fynes Designs
Aren't these purses just so sweet? Every little girl loves to pretend play and with this little tote, they can be just like mom! This little girl purse pattern can be made by anyone with a little one, even the beginner seamstress!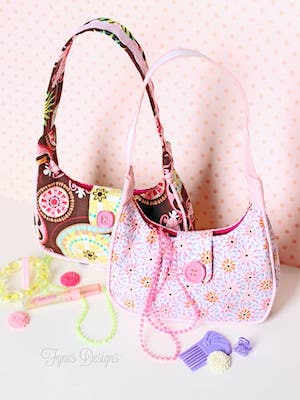 Get the Pattern here
5. Ashley Purse Sewing Pattern by Little Bean Patterns
This cute gathered bag is perfect for scriptures, books or toys for any girl. It is also great for a purse or tote. It has an inside pocket just right for small items, papers or pencils. It has a strap that closes with velcro and is decorated with a fabric flower.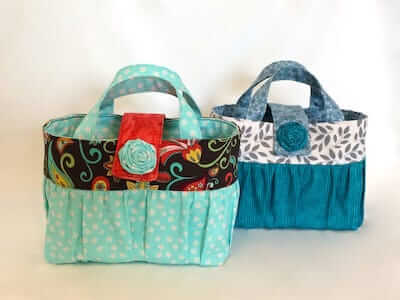 Get the Pattern by Little Bean Patterns here
6. Fabric Basket Tote Sewing Pattern by Sew Can She
Use this easy step by step free tutorial to make a beautiful Basket Tote that makes a great purse, too. It has two interior pockets, just right handles that aren't super long like shoulder straps and lots of style!
It has a bound top edge that matches the handles (if you want) and it is a nice roomy size. The center panel is quilted and there is piping that separates the middle from the sides. Don't leave off the piping — it adds a professional touch and hides mistakes, I promise!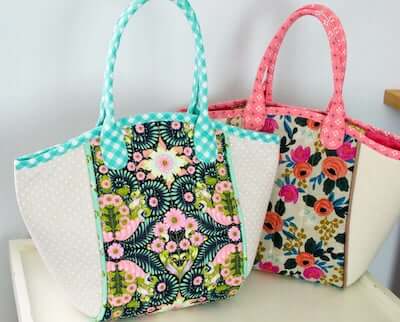 Get the Pattern here
7. Free Purse Sewing Pattern by Sew Crafty Me
If you are like me who doesn't like to carry handbags wherever you go, you will like this small purse pattern. This free purse sewing pattern has two slots and will suffice to carry your money, credit cards, and some coins.
And despite all the space and convenience, you'll still find it compact enough to squeeze into a pocket or bag for a busy day or a night out!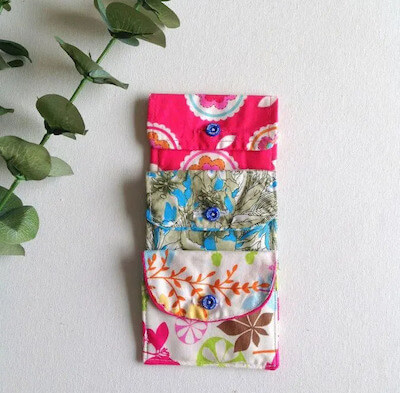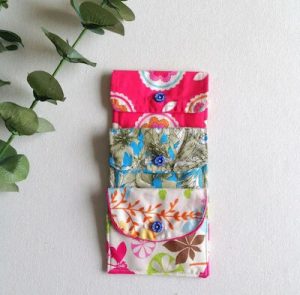 Get the Pattern here
8. Vintage-Style Purse Sewing Pattern by Charlie's Aunt
With its simple, elegant shape, front pocket, contrasting flap panel and strap, this purse is a smart and practical style with vintage appeal which works well in a range of fabrics for all occasions.
Try pairing contrasting textures such as tweed, corduroy, velvet and leather for autumn/winter, or mix and match in printed cottons and linens for special spring/summer events. This retro inspired pattern includes a template for an interior patch pocket, of which you can make one or two.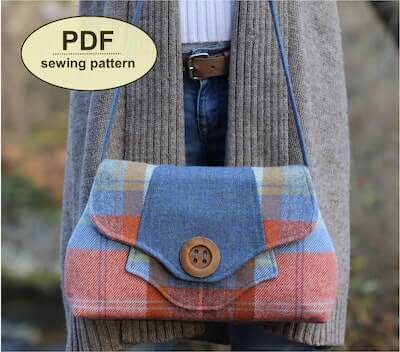 Get the Pattern by Charlie's Aunt here
9. Bow Purse Sewing Pattern by Constructiv Patterns
Here's a sewing pattern for a structured, zipped clutch with a beautiful sumptuous bow on the front. The bow is not "stuck on", instead it's integrated into the body of the front panel. The fabric is pieced together and gathers up to form the bow, like a perfectly wrapped gift!
Get the Pattern by Constructiv Patterns here
10. Daryl's Drive Purse Sewing Pattern by Chris W Designs
This Daryl's Drive Purse is a great design to whip up as a weekend project. The super uncluttered exterior is perfect for showcasing that special fabric or embroidery design.
The awesome feature you are sure to love is the exterior quick access phone pocket inconspicuously located in the seam at the back of the bag. Also perfect for keys if you don't carry a phone!
Make your bag from all fabrics for the easiest sew or a combination of fabric and vinyl or pleather for something a little more challenging. Choose from making your own strap connectors or using metal connectors for added bling!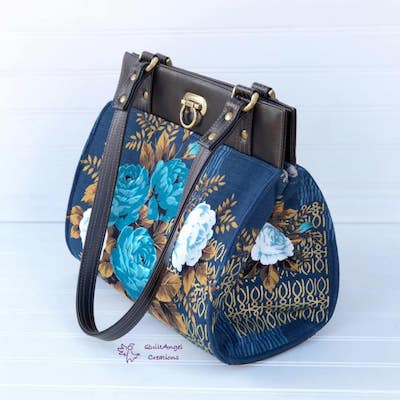 Get the Pattern by Chris W Designs here
11. Luna Circle Purse Sewing Pattern by Fashion Wanderer
This round circular shape purse with zipper closure is a perfect bag to pair with your casual outfit! The outer pocket and inner pocket gives additional room for storage. Sew this bag in solid, cute polka dot or stripe canvas fabric to add a special touch to your DIY bag collection!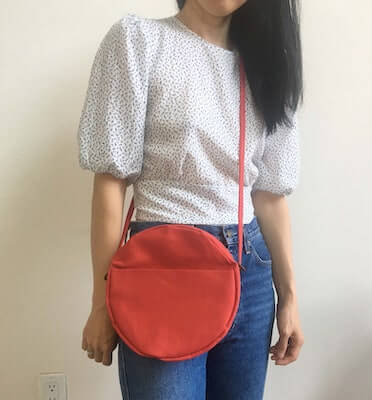 Get the Pattern by Fashion Wanderer here
12. Purse Organizer Sewing Pattern by Sotak Co
Create your own one of a kind completely customizable purse organizer (or tablet case) using this sewing pattern. Making a purse organizer allows you to find what you need, when you need it, without digging around.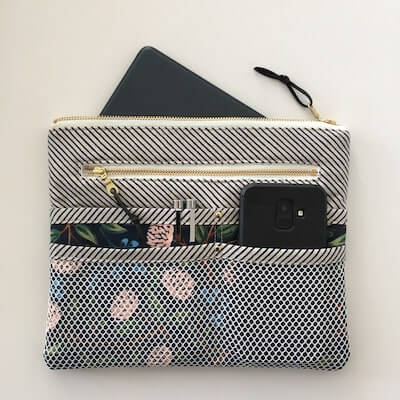 Get the Pattern by Sotak Co here
13. Little Girl's Purse Sewing Pattern by Pin Cut Sew
You can learn to sew a little girl's quilted purse with this tutorial. This purse is quilted, but I promise it's not hard or time consuming, and it's the perfect size for toddlers all the way to around age 10.
The elastic opening at the top creates a cute ruffle and also keeps things from falling out. The finished purse measures about 10" wide and 11" tall without the handles.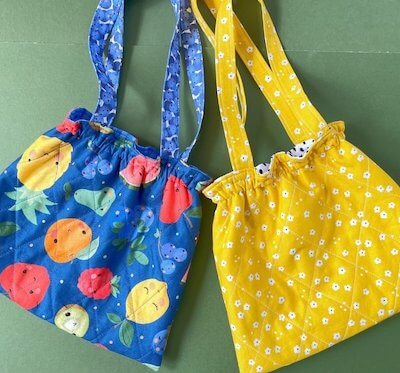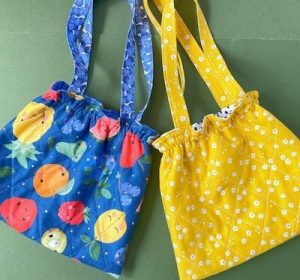 Get the Pattern here
14. The Day Trip Purse Sewing Pattern by Lemon Squeezy Home
I look at this purse and think spring and summer outings like picnics under large shaded trees, walks in the park, picking wildflowers, or driving through a street lined with blossoming trees. You could certainly bring it on a romantic date or a girls night out!
The fab, wooden handle gives it a total vintage feel. It would look adorable paired with just about any outfit. Just be prepared for a myriad of compliments when you carry it!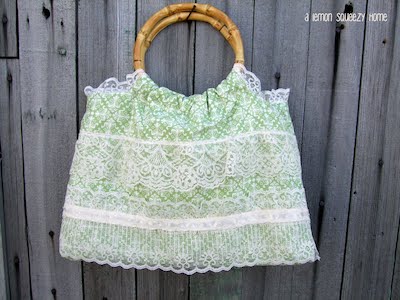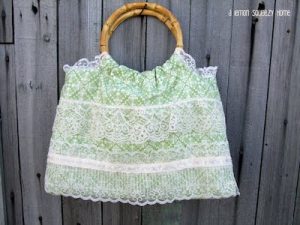 Get the Pattern here
15. Citrus Slice Purse Sewing Pattern by A Beautiful Mess
A fun little novelty purse is the perfect dose of humor for a classic wardrobe, whether you're more of a little black dress lady or a jeans and white tee girl. This citrus slice purse is pretty simple to stitch together and makes for a great conversation starter!
Simply switch up the colors to coordinate with your slice of choice – pink for grapefruit, green for limes, yellow for lemons, and orange for, well, oranges!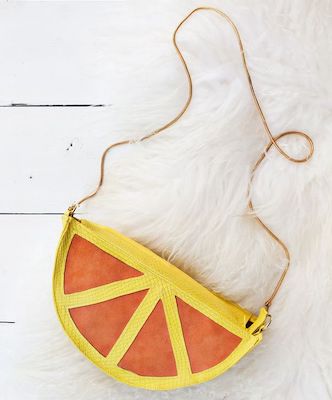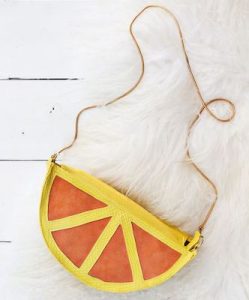 Get the Pattern here
16. Purse Sewing Pattern by Napkitten Pattern
This cute purse has two zippered pockets and one exterior pocket. It's so small and handy to be held in hand or put into bag. The separate pockets can prevent scratching between things in the purse and get the small things organized.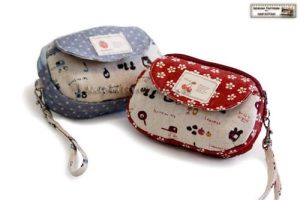 Get the Pattern by Napkitten Pattern here
17. Beijing Bag Sewing Pattern by Pink Pony Design
This Beijing Bag is designed especially with quilters in mind, however, it's just as great for the non quilting bag maker. The totally smooth front and back lends itself beautifully for orphan quilt blocks, machine/hand embroidery or other decoration. Or why not use that one statement print fat quarter you've been dying to find the perfect project for?
It has a lovely teardrop shape from the side, which is sure to turn a few heads. The interior has a zipper pocket and slip pockets for all your essentials. It's just as beautiful as a crossbody bag, shoulder bag or wristlet.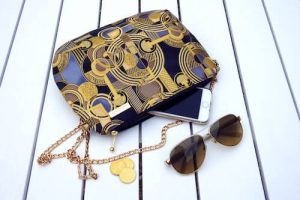 Get the Pattern by Pink Pony Design here
18. Pisa Bow Bag Sewing Pattern by Kate Eva Designs
I think this Pisa Bow Bag is perfect little compact bag as it can fit all your essentials. It looks so different depending on your fabric choice and there are lots of unique ways to hack it. Create a timeless classic or go matchy matchy with your handmade outfits; it's up to you.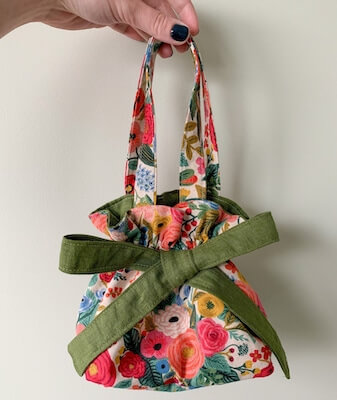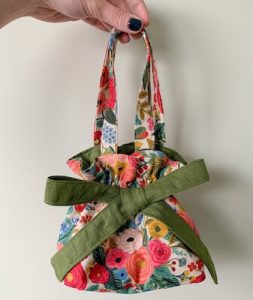 Get the Pattern by Kate Eva Designs here
19. Tiny Bag Sewing Pattern by Sew Can She
All your favorite fabric scraps are screaming to be sewn into a super cute tiny bag! This free tiny bag sewing pattern is so fun to make. And because it's so small, it's really fast to sew too.
It could also be a little purse because it's just the right size for a phone, keys, and a few cards (even a small wallet if you want).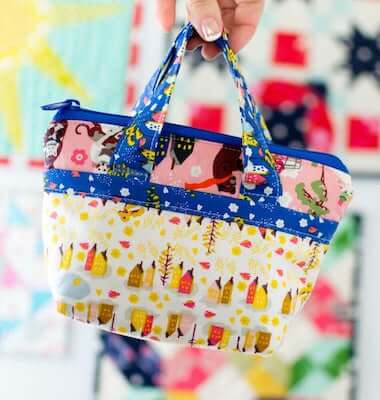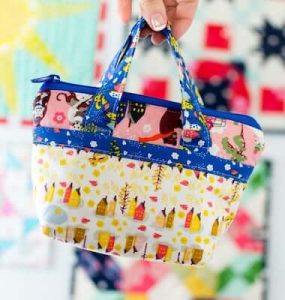 Get the Pattern here
20. Striking Stripes Purse Sewing Pattern by All People Quilt
Add some pizzazz to your wardrobe with a trendy bright purse composed of a multicolor stripe that stands out against a black-and-white print binding. The fabric-covered button and adjustable strap make the purse both stylish and functional.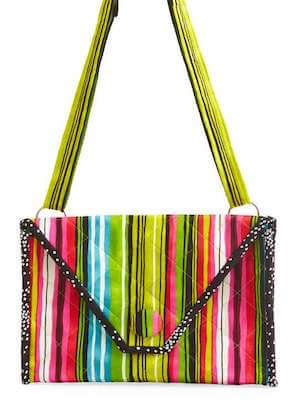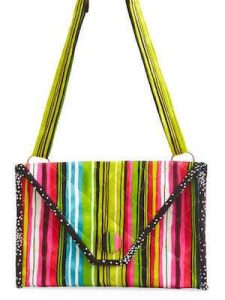 Get the Pattern here
21. Frame Purse Sewing Pattern by Studio Cherie
Using an 8″ kisslock purse frame, this sewing pattern makes a medium sized bag with a great vintage look. If you like to work with vintage fabrics or if you have always wanted to learn how to work with these fabulous metal frames, I think you will love this pattern. Perfect for making your own shabby chic looking bag!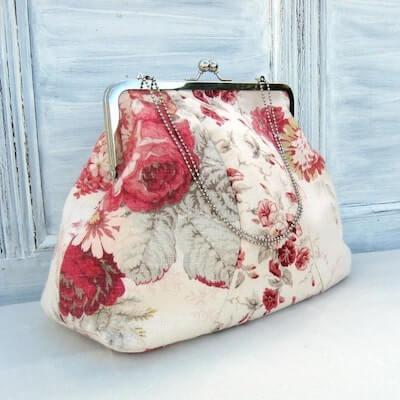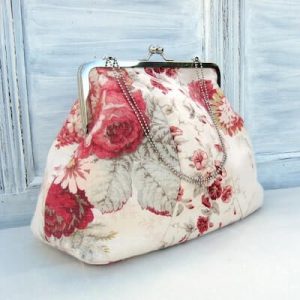 Get the Pattern by Studio Cherie here
22. Simplicity Purse Sewing Pattern by Little Mint Designs
This Simplicity Purse has a compartment for cards and a zippered pocket for cash. It is the perfect minimalist purse if you are out on a short errand, on a holiday trip or even on a daily basis where you only need to carry a few cards and cash with you!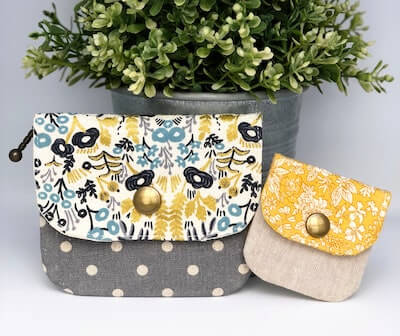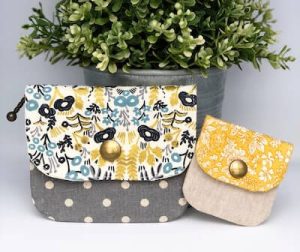 Get the Pattern by Little Mint Designs here
23. Sunburst Purse Sewing Pattern by Love From Beth
This is a bright and sun-shiny little purse with lots of options for interesting colour combinations. It is for the more experienced sewer due to the use of curved seams and foundation paper piecing.
However, if you are familiar with these techniques, then it is quite straight forward to put together. The finished size is 8" x 5 ½" so it is a good size for use as a clutch bag. You could also add handles and use it as a small handbag.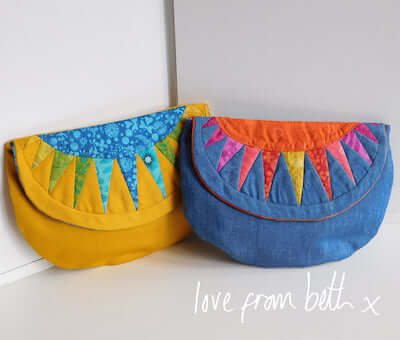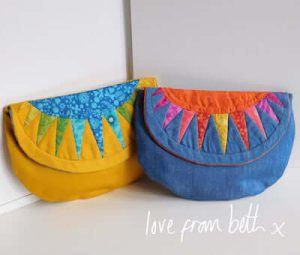 Get the Pattern here
24. Paris Purse Sewing Pattern by Pink Pony Design
This is the statement purse every woman deserves! This lovely little bag is sure to turn some heads when you walk into a room, with it's small size and fancy design it's perfect for that special event or wedding!
The construction is surprisingly fun and once you've made one, you'll surely want to make another! It has 3 interior slip pockets and is fully lined without any visible seam allowances.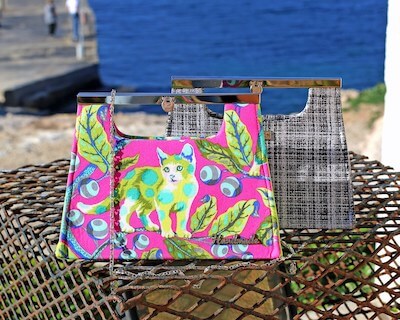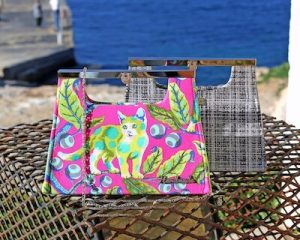 Get the Pattern by Pink Pony Design here
25. Baguette Bag Sewing Pattern by Sew Can She
Sew a small purse in the cutest shape everyone wants right now – a Baguette Bag! This purse may be small but you can still pack it with everything you need. It will hold your phone, wallet, sunglasses, pens, lipstick, and still have room for all those receipts we are handed.
With step by step photo instructions and downloadable templates, you will be able to sew this purse in an afternoon.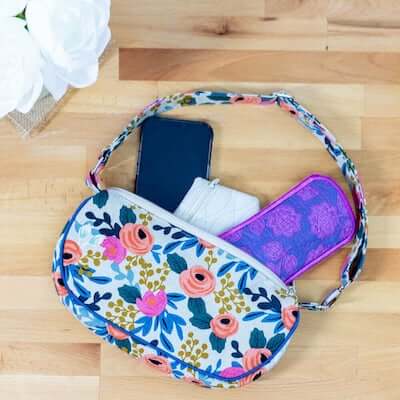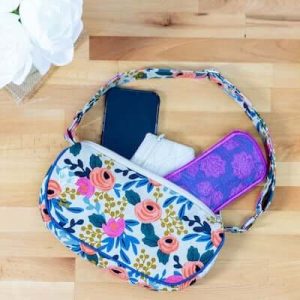 Get the Pattern here
ADD THESE FUN PURSE SEWING PATTERNS TO YOUR QUEUE AND SOON ENOUGH, YOU'LL HAVE THE PERFECT HANDMADE OPTION FOR EVERY OCCASION.
Looking for more bags to sew? Try these 25 Backpack Sewing Patterns, 10 Handy Laptop Bag Patterns, and 45 Tote Bag Patterns. Can't get enough of purse patterns? Check out our Macrame Purse Patterns and 51 Crochet Purse Patterns.
When you're done, flaunt your creations on our Facebook Page. Pretty sure everyone else would love to see them! Oh and don't forget about the fun part: answering "hey thanks, I made it!" when people compliment it.
Carry your goodies in style by whipping up your favorite purse sewing pattern now!