Crafting is not only fun for children, but it is also a great way to improve fine motor skills. It helps to increase creative thinking and imagination. If you are looking for easy crafting ideas, I have gathered 10 adorable bear craft for preschoolers.
Keeping kids engaged and learning is important for childhood development. If you are looking for a fun and easy activity, let your kids work on some of these DIY bear crafts.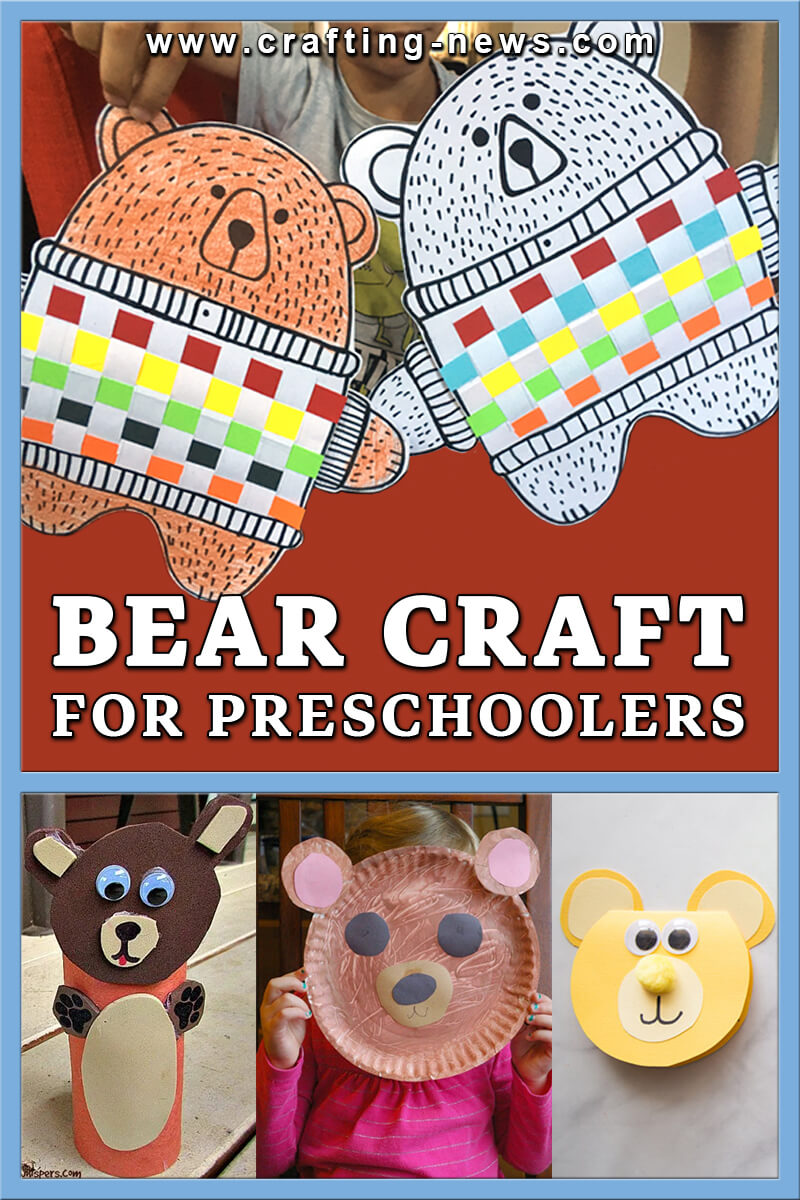 Below are 10 bear craft for preschoolers projects. I have included free tutorials and kits.
1. Fuzzy Brown Bear Craft for Kids
from Paper and Glue
Here is a cute little bear craft for preschoolers that is easy and fun. And there is a good chance you already have all the supplies sitting around your home. Just prepare the paint mix and staple the ears to the plate, and your little one is ready to get started.
To make the bear head all you need are paper plates, brown paint, a paintbrush, a plastic fork, white school glue, a glue stick, a stapler, shaving cream, and scraps of construction paper.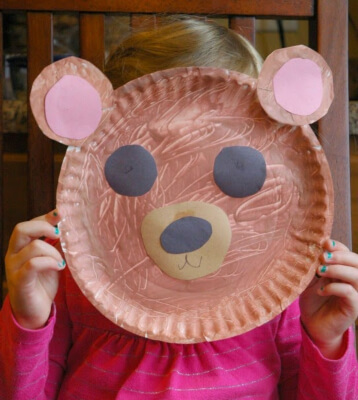 Find the Tutorial from Paper and Glue Here
2. Bear Craft Preschool
from Krokotak
This bear craft for preschoolers is ideal for working on fine motor skills. Print off the free pattern, cut it out and prepare the colourful paper strips. Once you have everything ready.
Show the kids how to weave the pattern pieces. Then let them get busy weaving and colouring the teddy bear. You will need a printer and paper, coloured cardstock, scissors, a marker, crayons, and a glue stick.
Here's more Paper Weaving Crafts For Kids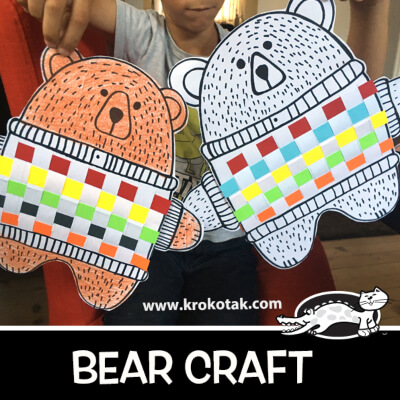 Get the Tutorial from Krokotak Here
3. Printable Bear Crown Paper Craft
from JoyfullyTeaching
Children will love decorating and wearing these bear crowns. They get to choose from a bear face or full body design. You can let the kids cut out the pieces with safety scissors. Or cut the crowns out yourself. The PDF download includes two blank printable crowns and extra strips for the crown fitting.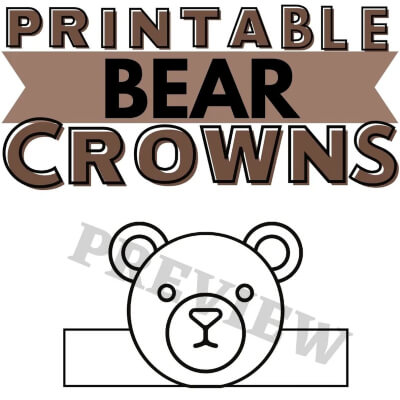 Get the Printable from JoyfullyTeaching Here
4.

Bear Craft Cards from The Best Ideas for Kids

Do you have a friend or loved one having an upcoming birthday? Or are you looking for a cute Mother's Day or Father's Day gift idea? Let your child make them a card this year.

The tutorial for this bear craft for preschoolers is easy to follow. And kids will love passing these cards out. You will need the free printable, coloured cardstock, a pom pom, big google eyes, a black sharpie, safety scissors, and glue.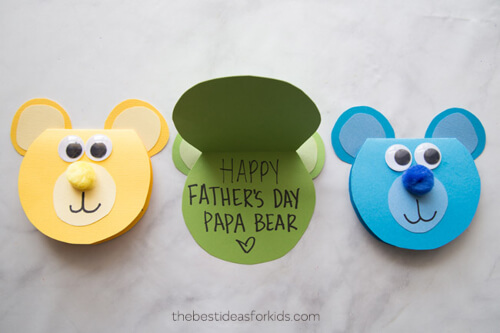 Find the Tutorial from The Best Ideas for Kids Here
5. Teddy Bear Sewing Kit for Kids
Here is another great bear craft for preschoolers intended to improve fine motor skills. With this kit, you little one can make a cute stuffed animal that they can hang on the Christmas tree or a bag.
The kit includes all the necessary components needed to make the felt bear. You get a plastic needle, yarn thread, die cut felt pieces, peel and stick wiggle eyes, peel and stick felt, stuffing, and a mini key ring. It is intended for children that show a higher intelligence at a young age.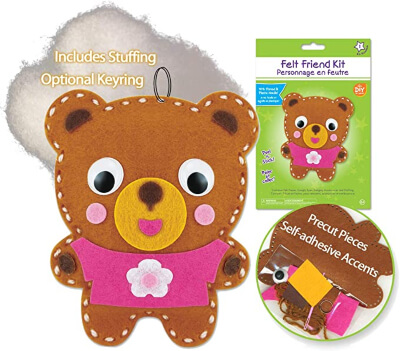 6.

Bear Craft for Preschoolers Using a Fork

f

rom

Crafting Morning

Kids love to have their artwork displayed on the fridge. If you are looking for a bear craft for preschoolers that they will have a lot of fun making, check out this fork craft tutorial.

All you need to make these cute bear pictures are brown paint, paper, a fork, glue, scissors, ribbon, and a black marker. Instead of cutting out eyes, you could use wiggle googly eyes.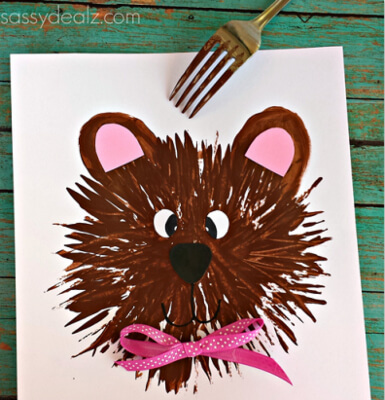 Find the Tutorial on Crafting Morning Here
7. Bear Preschool Craft by
School Time Snippets
Let your child show off their unique style with this bear craft for preschoolers. No two finished teddy bear pieces will be the same. If you have a bunch of scrap fabric stored away, this is a great project.
For your child to get started on their textured bear, you will need to gather fabric scraps and glue. Print off the free bear template and let your child get crafty.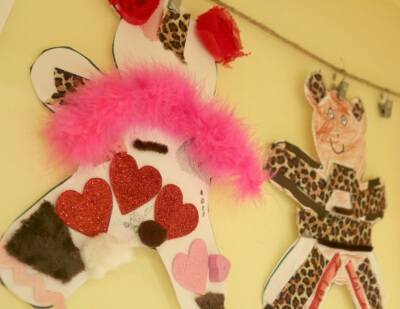 Find the Tutorial on School Time Snippets Here
8.

Valentine's Day Bear craft for Kids Kit from MaplesCrafts4Kids

If you do not have time to cut out pieces or do not want to, buy a premade crafting kit. This cute kit would make a great Valentine's Day project. You can order a single kit, 5 kits, or 10 kits. Buy several of these for a child's party. Each kit includes precut cardstock pieces and instructions. All you need to supply is glue.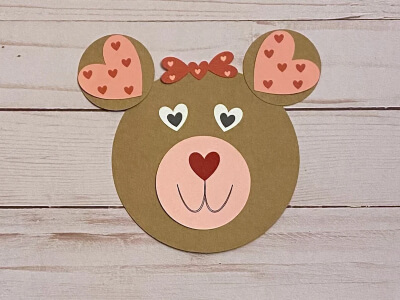 Find the Kit from MaplesCrafts4Kids Here
9. Grizzly Bear Zoo Animal Toilet Paper Roll
from Sunshine Whispers
Do not throw away your old toilet paper rolls. Let your kids make teddy bears with them. Follow along with this free bear craft for preschoolers tutorial to make a sleuth of bears. You can use brown to make grizzly bears or white to make polar bears.
The bear toilet paper roll does have a lot of pieces. So, you may want to sit down and create a few kits before the kids get started. This way you will have everything all ready, and they can stay busy.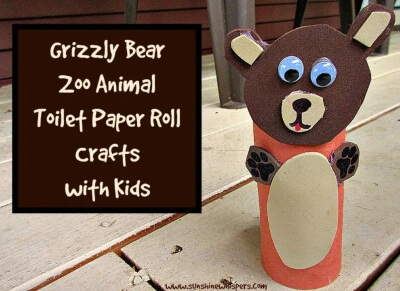 Find the Tutorial from Sunshine Whispers Here
A bear craft for preschoolers is a wonderful way to help in child development. And crafting is a fun way to keep children busy.
If you want even more fun crafts for kids, check out the ones below:
We'd love to see what your kids came up with! Share your kid's art work on our Facebook Page.
Did you know that kids have an easier time learning when they are having fun? A great way to help your child grow and learn is to get them involved in crafting. If you have a young child who enjoys crafting, improve their motor skills and self-esteem with a bear craft for preschoolers.