Check out these lion crafts for preschool if you're looking for some new crafting ideas to keep your preschooler entertained.
All of these activities will provide hours of entertainment for your child (and you!). Lion may be the king of the jungle, but they also make adorable crafts!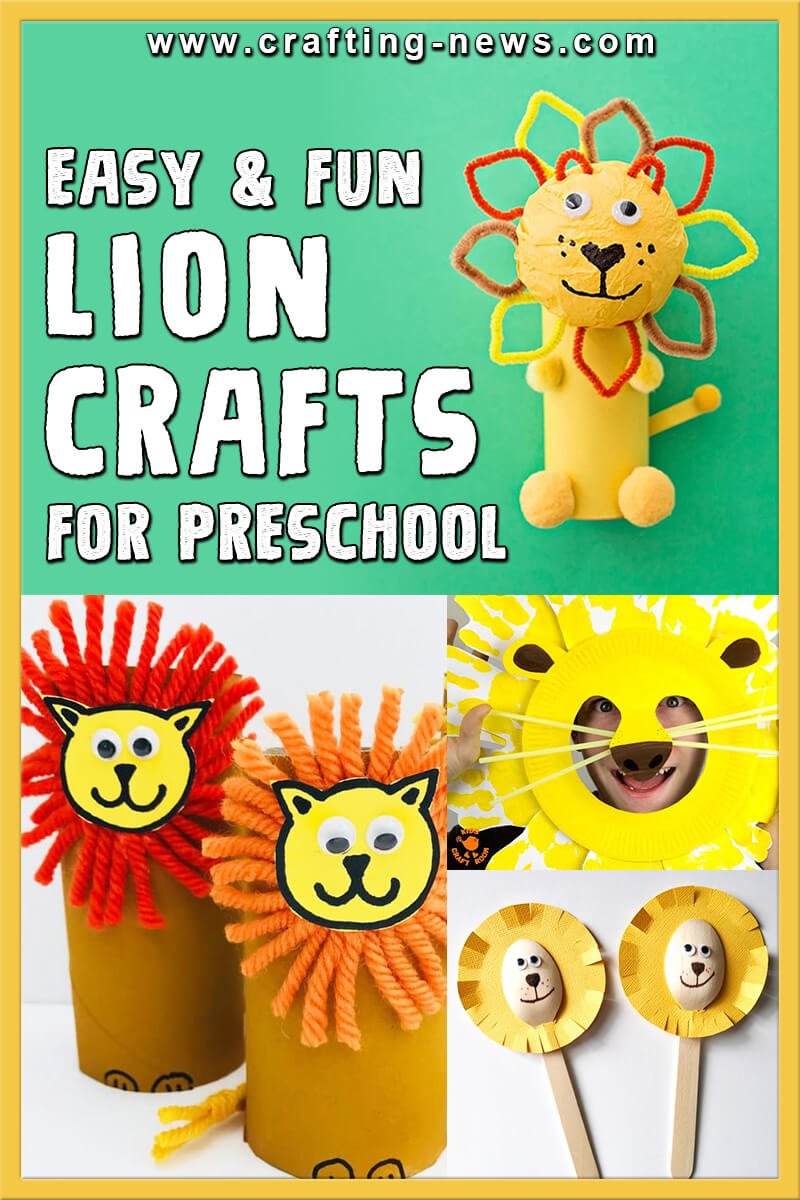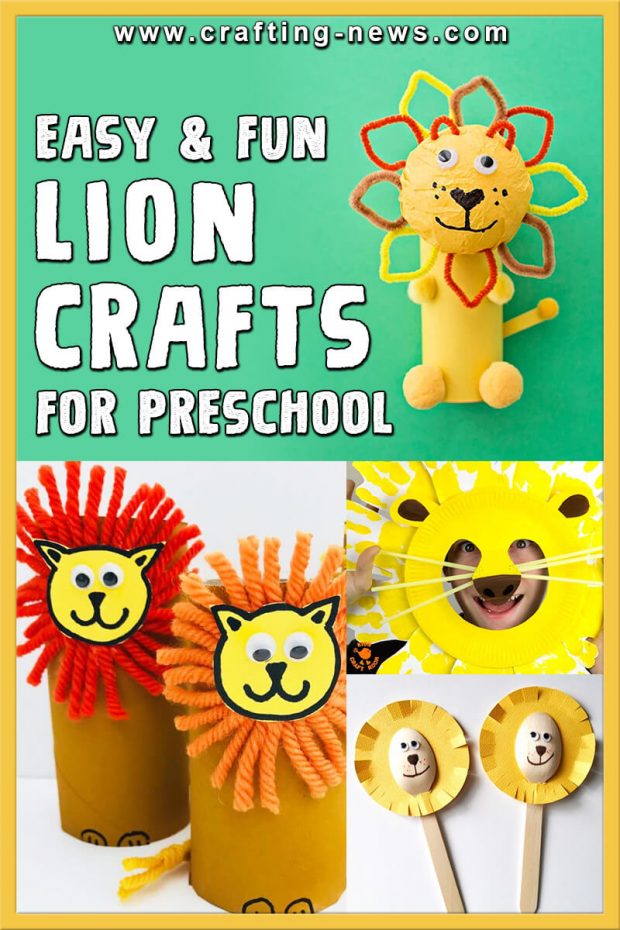 25 Easy Lion Crafts for Preschool
Let's make lion crafts for preschool using handprints, foot prints, paper plates, cardboard tubes and many other craft supplies that you probably already have around your home.
They're perfect for crafting at home, school, or lion-themed parties!
1. Cute Paper Tube Lion Craft by Hello Wonderful
This little lion is so cute, especially his little paws and feet! The tutorial makes good use of a cardboard tube and a foam ball to put together one of the cutest lions ever!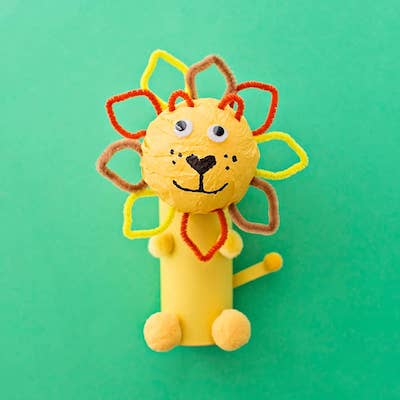 Follow the tutorial here
2. Lion Leaf Craft by Easy Peasy And Fun
Go on a wonderful nature craft and pick up some colorful leaves while you are at it as you'll need them to make this wonderful lion leaf craft!
This one is great to make on your own, or with the use of our printable lion leaf craft template (handy for a classroom project).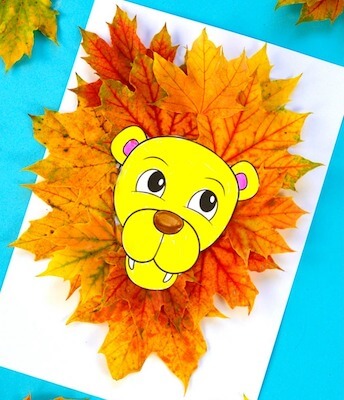 Follow the tutorial here
3. Cupcake Liner Lion Crafts for Preschool by Kids Activities Blog
Kids of all ages will be excited to make a Cupcake Liner Lion craft. This simple craft is easy, colorful, and requires basic craft supplies. It's perfect for school or home!
Follow the tutorial here
4. Lion Footprint Preschool Craft by Messy Little Monster
Handprint and footprint crafts always make such lovely keepsakes and gifts. Kids will love creating this cute lion craft using their footprint. Adding a fingerprint mane is a nice extra touch. Why not paint onto a canvas to make an extra special piece of wall art.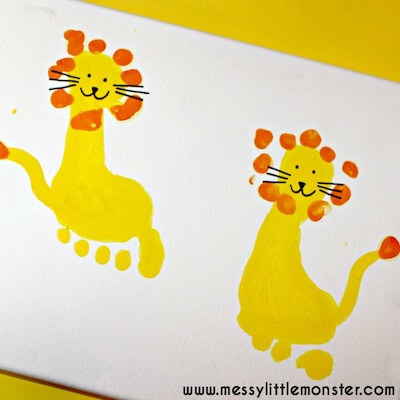 Follow the tutorial here
5. Mixed Media Newspaper Lion Crafts for Preschool by Arty Crafty Kids
Newspaper is an amazingly dynamic base for mixed media art, adding depth and texture to projects. It's accessible, inexpensive and if you're keen to try something new, then this super cute Mixed Media Newspaper Lion Crafts for preschool is a good place to start!

With lots of cutting, sticking, painting and folding involved, children will be in their element and while they're having fun, they'll also be working on their fine motor skills. A double win, making it a great craft for preschoolers and young children at home or within a group.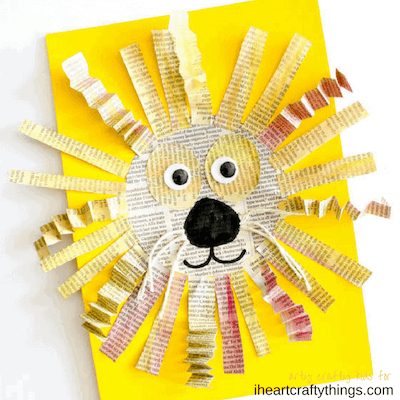 Follow the tutorial here
6. Easy Lion Craft For Preschool by Simple Everyday Mom
Get ready for a roaring good time with the kids! This lion craft is a fun, cheap, and easy activity to do one-on-one with your child or with a classroom.
It's super simple and comes with a free printable template so it's great to make with preschool, pre k, and kindergarten-aged kids.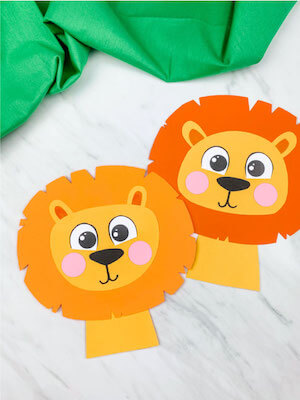 Follow the tutorial here
7. Lion Corner Bookmark Craft by Easy Peasy And Fun
Reading books is a great habit! If your kids love reading books, or you love reading them to your kids, the lion corner bookmark is the perfect craft to try with your child.

The DIY lion corner bookmarks are super easy and fun to make. With some basic supplies, the bookmarks are the perfect origami for kids. You can also decorate them in your own way and enjoy reading!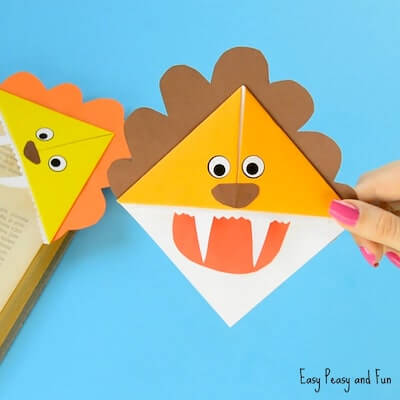 Follow the tutorial here
8. Adorable Wooden Spoon Easy Lion Craft by I Heart Crafty Things
This simple wooden spoon easy lion craft for toddlers is adorable and easy to make. This one is perfect if you are looking to engage your kids in crafting without making things messy. The craft doesn't require any painting and makes a great toy too.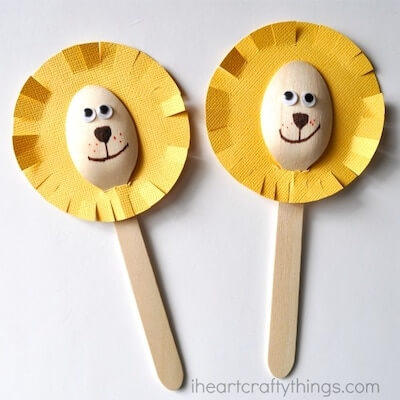 Follow the tutorial here
9. Lion Paper Plate Craft For Kids by Sunshine Whispers
The craft will fill kids with joy, and they'll enjoy the process of cutting, curling, and glueing to create a ruffled mane paper plate lion. The craft is a creative twist to the simple paper plate lion craft with a ruffled curly mane.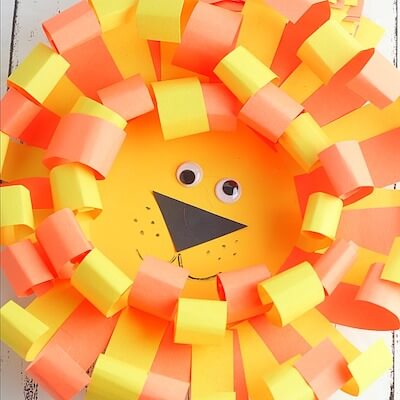 Follow the tutorial here
10. 3D Paper Lion Craft by Arty Crafty Kids
Looking for an easy animal craft to try with the kids? take a look at this super easy and fun 3D Paper Lion Craft, which also doubles up as color study for kids.

Children can color, cut and assemble their very own lion that actually pops from the page! They are encouraged to play with paint and discover how many shades of yellow they can create; it's a super engaging way to introduce color theory to children, help them experiment and get them thinking about outcomes.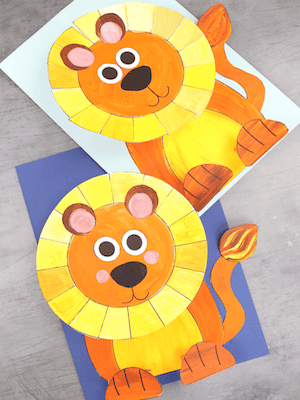 Follow the tutorial here
11. Handprint And Paper Plate Lion Masks by Kids Craft Room
If you're willing to embrace the mess, finger painting a lion is incredibly entertaining. Kids just love getting paint all over everything.

Keep them busy with this messy craft which needs some yellow, brown, red and orange paint, paper plates, a black market, and a large sheet of paper. You'll soon have a pride of roaring lions roaming the rooms of your home!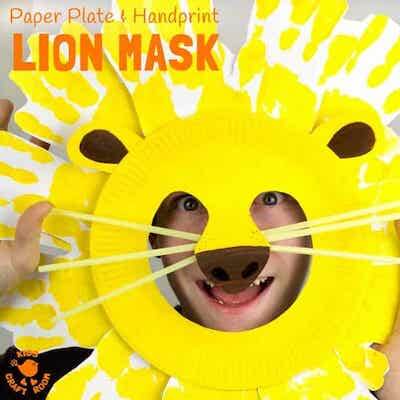 Follow the tutorial here
12. Lion Headband Craft For Kids by Simple Everyday Mom
Make this cute lion headband craft with the kids. It's great for zoo or wild animal themes and parties! It's a fun and simple headband craft for kids that's fun to make and wear!

Download the free template and make with preschoolers, pre-k and kindergarten children. It comes in a craft version, black and white version and full color version. Pick your favorite and have some fun!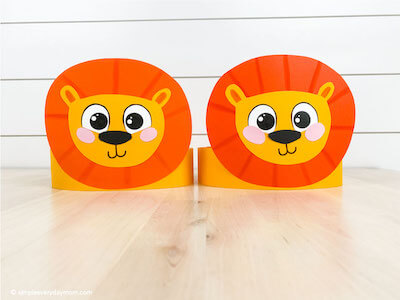 Follow the tutorial here
13. Pine Cone Lion Ornament by Non-Toy Gifts
You can make a pine cone lion ornament pretty easily with just a few materials. This fun and simple craft is a great lion craft for preschoolers. This will be a perfect addition to a lion-themed Christmas tree.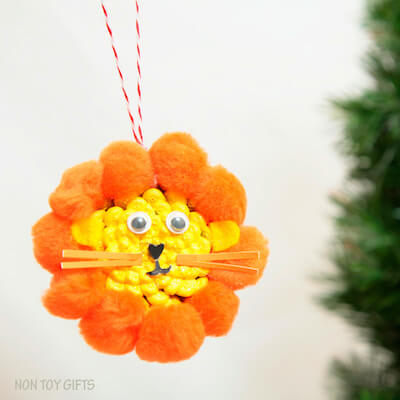 Follow the tutorial here
14. Play Dough Easy Lion Craft For Preschool by The Craft Train
Make a lion play dough invitation to play using our simple DIY play dough recipe, a few loose parts and a bit of imagination. This easy play dough set up we're sharing would be a great idea to keep kids busy on the weekend or in the Summer holidays.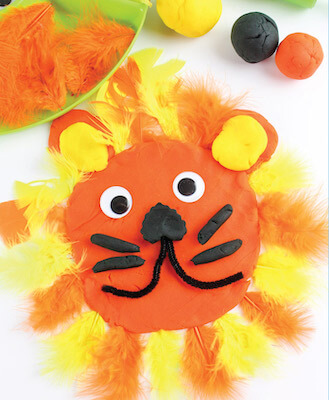 Follow the tutorial here
15. Doily Lion Kids Craft by I Heart Crafty Things
This pretty paper doily makes a fabulous lions mane! What a cute lion with his smiley face and little googley eyes!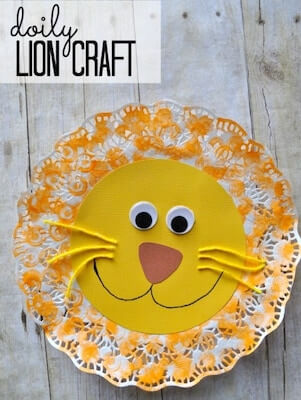 Follow the tutorial here
16. Lion Favor Pouch by Handmade Charlotte
Make these colorful lion favor pouches, perfect for an animal-themed birthday party. You can create your own color scheme too. Fill the pouch with candy, temporary tattoos, or small favors of your choice, and delight your guests with some wild packaging!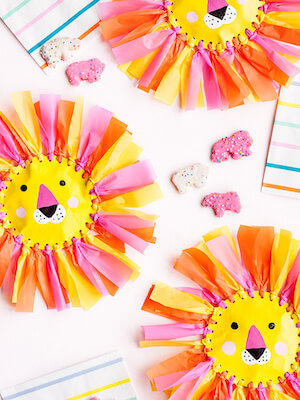 Follow the tutorial here
17. Pasta Noodle Lion Craft For Kids by Crafty Morning
Use colored pasta noodles to create a lion's mane in this easy and fun lion craft for kids. You could experiment with all different types and shapes of pasta.
Pasta craft are always a favorite with kids, and easy to put together as we always have pasta at home.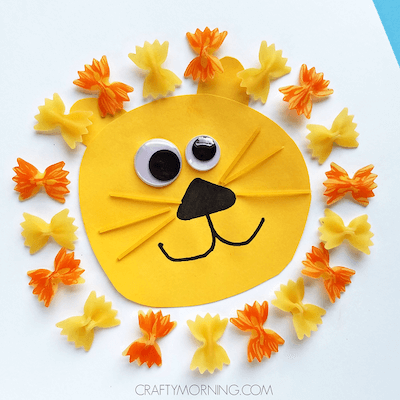 Follow the tutorial here
18. Sticky Note Lion Craft For Kids by Kids Craft Room
Do you want to learn how to make a gorgeous sticky note lion craft with your kids? It's so easy! All you need are some sticky notes and a little bit of creativity!

These sticky note lions are so bright and colorful and are actually quite large. They really make a statement displayed on the wall and are a wonderful way to decorate the home or classroom.
Follow the tutorial here
19. Moving Eyes Lion Craft For Preschool by Arty Crafty Kids
Do your kids' love interactive, fun and easy crafts? If the answer is yes, then they will adore our Moving Eyes Lion Craft!
With just a little painting, sticking and cutting, the lion comes to life with eyes moving from side to side, up and down and round and round.

The moving eyes can even be used to support some emotional intelligence work for younger children – how do they interpret the different eye positions, what emotions can they see?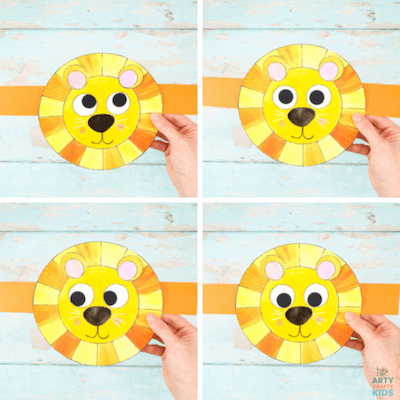 Follow the tutorial here
20. Proud Paper Roll Lions by Arts & Crafts
Don't throw away those toilet rolls! They come in handy for so many great crafts for kids like this magnificent pride of paper roll lions. With woolly manes and plaited tails this is a fun and easy craft for kids.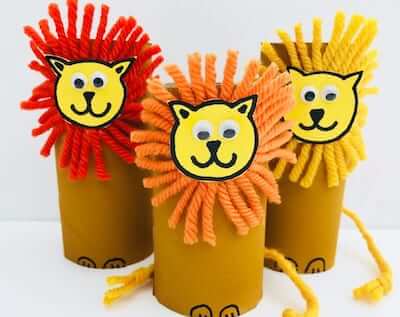 Follow the tutorial here
21. Vibrant Lion Craft With Leaf Stamping by Craft, Learn & Play
This lion project give preschoolers chance to do many activities and accomplish few steps to get final result. 3 year old and older kids will love every single step from painting, stamping, cutting to gluing.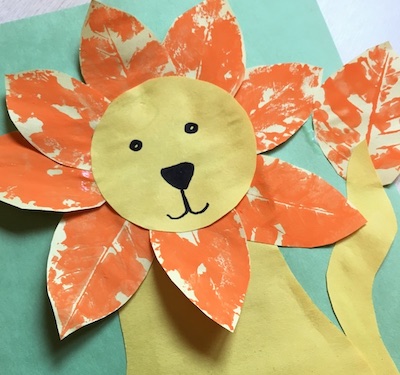 Follow the tutorial here
22. Lion Heart Craft For Kids by Crafty Morning
Here's a fun lion craft made from just paper hearts! It's a super easy art project for the kids to make. Since it uses hearts you could make this for a Valentine's Day craft.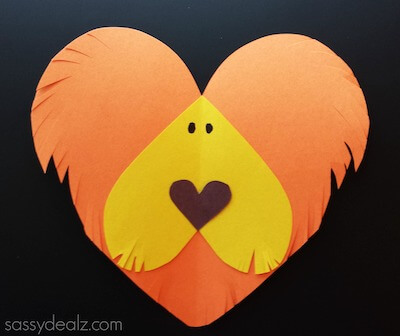 Follow the tutorial here
23. Salad Spinner Lion Craft by Happy Toddler Playtime
This Salad Spinner Lion Craft is such a fun way to make a lion craft with your kids. Create unique manes for your lions right using a regular salad spinner! Just add paint, spin and open to reveal the beautiful designs left behind!
Follow the tutorial here
24. Lion Scissor Practice Craft by No Time For Flash Cards
Scissor skills are an essential life skill, but learning and practicing them can be tricky! The best way to start is with plastic scissors and play dough, but once children can cut paper, then it's time for some activities that help build these skills like this scissor skills practice lion craft.

c No one likes to practice any skill just to practice, and no parent or teacher wants to argue or negotiate to get a student to practice either. The best way is through play and creative pursuits, like this lion!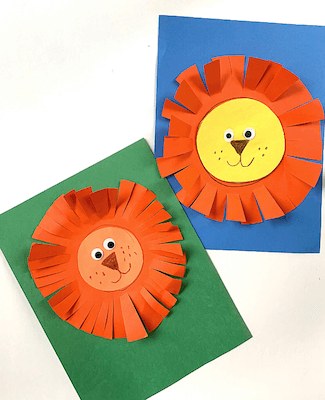 Follow the tutorial here
25. Foam Cup Lion Craft For Kids by I Heart Crafty Things
Got a simple foam cup at hand? Use those foam cups for a great lion craft! This is a cute summer kids craft and makes a great family activity.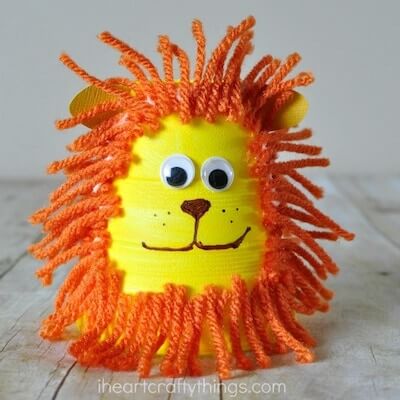 Follow the tutorial here
GET THE KIDS BUSY CRAFTING SOME FUN CRAFTS WITH THESE LION CRAFTS FOR PRESCHOOL IDEAS!
We hope to see your creations on our Facebook Page. Please share them with us!
For more fun projects, crafts and kid activities, check out these other awesome ideas:
Grab your crafting supplies and the kids, and let's get started with these lion crafts for preschool tutorials!