If you ever wanted to know how to make slime, then stop right here. Skip the store and cobble together a plethora of kid-approved, tactile sensations with ingredients you probably already have at home.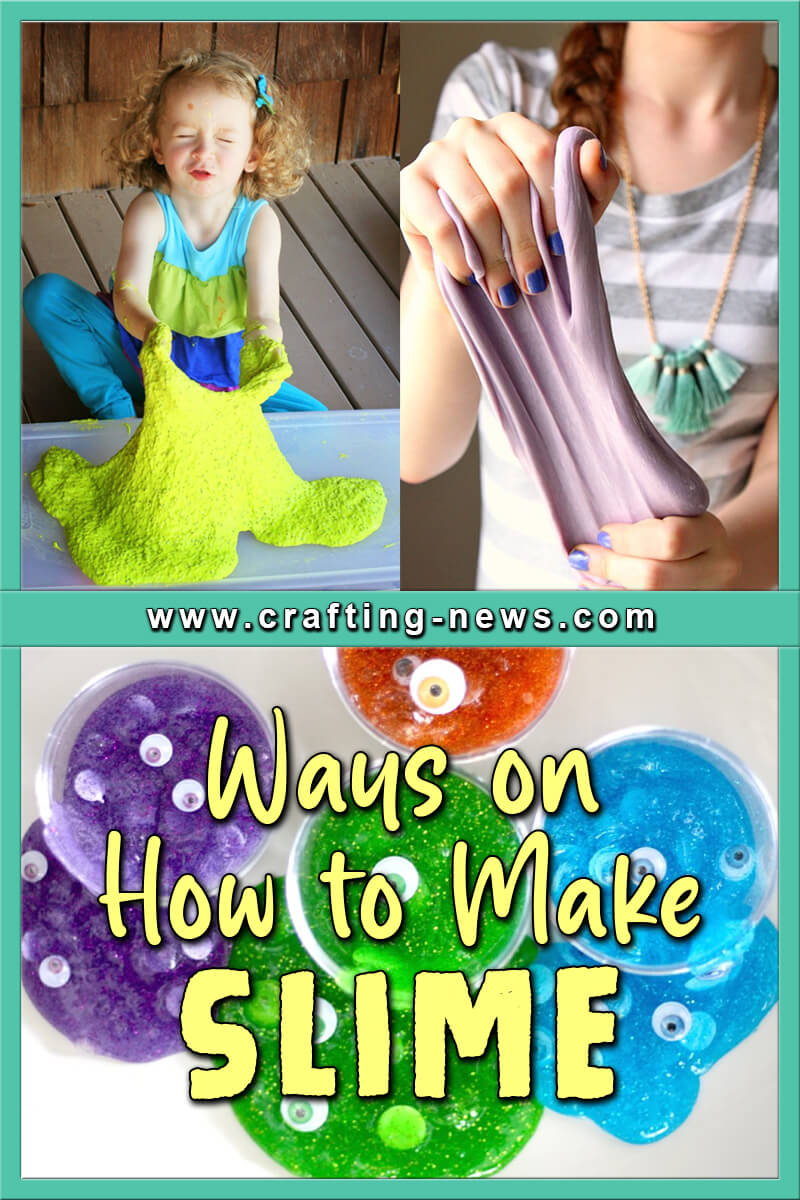 There's more than one way to make slime. Actually, there are lots of different recipes. Here are some of the best recipes for different types of slime, from normal slimy slime to eerie glow-in-the-dark slime.

Some you can eat, some you can play, some you can make with glitter and sparkle! Some use borax but some are borax-free. Call it a science experiment, call it a kid's party activity – any way you look at it, you can call it fun!
1. How To Make Slime With Kids by The Spruce Crafts
What's the science behind slime? Your kids can play with a gooey, sticky, stretchy substance and get a science lesson all at once. Teach them about polymers and cross-linkers with this educational (and fun) tutorial.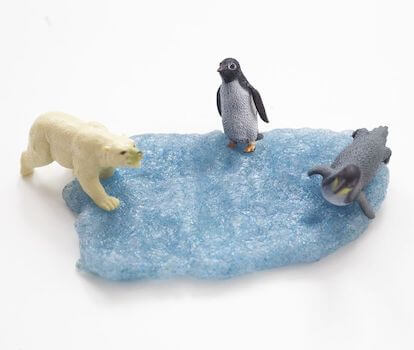 Follow the tutorial here
2. Fluffy Slime Recipe by Making Life Blissful
Shaving cream, saline solution, and school glue come together for a non-sticky basic slime formula. Add a few drops of food coloring or a dash of glitter, and you've got a kid-friendly putty that's more puffy than sticky.
Challenge little ones to create an original sculpture at the end of playtime, then leave it out to dry overnight for a lasting slime time souvenir.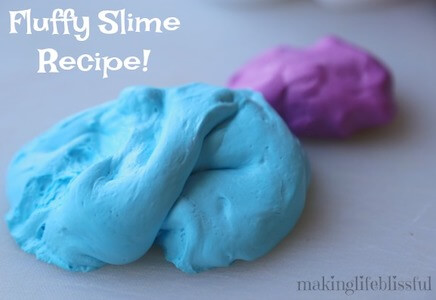 Follow the tutorial here
3. Laundry Detergent Slime by The Typical Mom
This is how to make laundry detergent slime at home with only 2 ingredients! Easy go recipe that is made with glue, detergent, and any color you like. It's a fun and simple slime recipe with detergent we made together and you probably have everything you need already in your cupboards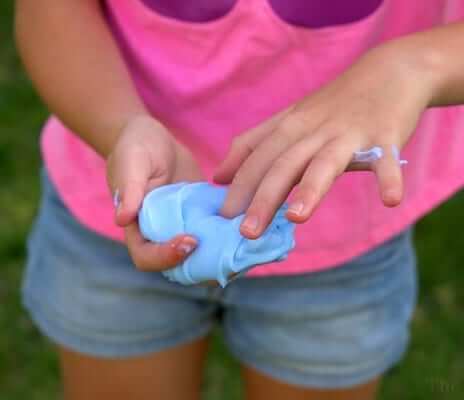 Follow the tutorial here
4. 3-Ingredient Slime by Crunchy Creamy Sweet
3-Ingredient Slime DIY (no borax) – the easiest slime any kid can make! All you need is school glue, baking soda and all-purpose solution. It always works!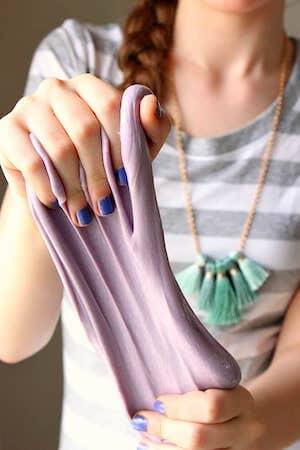 Follow the tutorial here
5. Edible Shark Fluffly Slime by The Chaos And The Clutter
You're going to love this shark themed edible fluffy slime. It's fun to play with and taste safe, so it's good for toddlers or preschoolers. It smells great too (like white chocolate)!

With just a mix of white chocolate instant pudding mix, cornstarch, food coloring, gummy sharks candy, and water, this fluffy slime recipe goes well with a unit study on the ocean or is the perfect pairing for Shark Week. You could also use it for an Ocean or Shark themed party.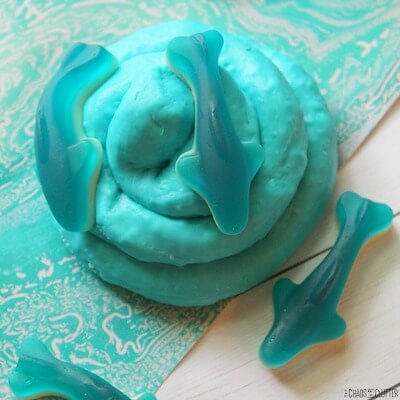 Follow the tutorial here
6. Glow In The Dark Slime by STEAM Powered Family
Making glow in the dark slime is insanely easy, and it makes a really nice change from our usual slimes. Especially at this time of year when the kids are all about glow in the dark stuff. Halloween is perfect for glow in the dark!

This recipe is super easy (just a white glue, baking soda, and saline solution) and makes insanely stretchy slime that has a wonderful texture.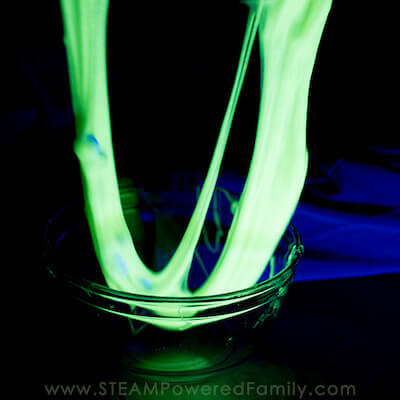 Follow the tutorial here
7. Unicorn Fluffy Slime Recipe by The Best Ideas For Kids
Stock up on pastel food coloring to hop on trend with unicorn slime. Mix a big batch of ooze following your go-to recipe, then separate into thirds, and add a few drops of pale blue, pink, and purple food dye to each respective section.

Braid your pastels together for a swirled slime that kids will love squeezing and squishing into a colorful, unicorn horn-inspired, jumble.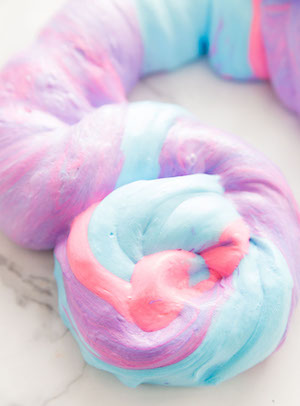 Follow the tutorial here
8. Chocolate Edible Slime by The Soccer Mom Blog
An easy edible chocolate slime recipe that smells just like your favorite decadent desserts! Texture-wise, this chocolate slime is unique because it is both mold-able like play dough, and stretchy like slime.

And with only 3 common pantry ingredients (cornstarch, cocoa powder, and coconut milk), it couldn't be easier to make! You don't need to buy any special or expensive supplies!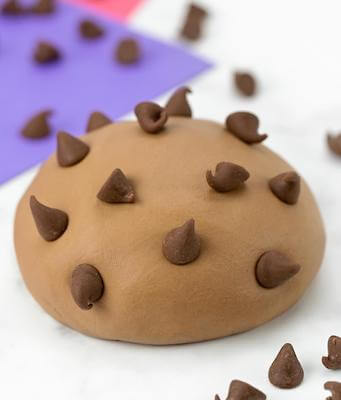 Follow the tutorial here
9. Frozen Inspired Elsa Slime by The Chaos And The Clutter
This Frozen Inspired Elsa Slime is an interesting slime because of the textures and colors. Using school clear glue, water, baking soda, and contacting solution with the addition of all the add-ins, it becomes a crunchy slime. This is particularly good for kids who are sensory seekers.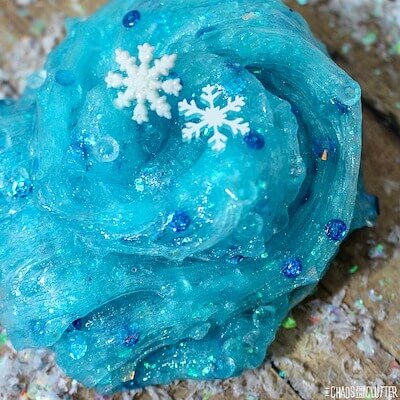 Follow the tutorial here
10. How To Make Glittery Slime by DIY Network
This Glittery Slime shakes up the standard recipe and is made with baking soda, glue, and saline solution instead of borax. Experiment with ingredients and add-ins like glitter, googly eyes and chalkboard paint for fun options.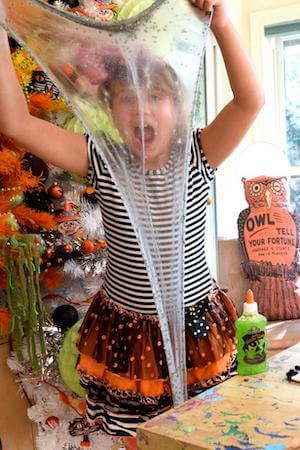 Follow the tutorial here
11. How To Make Slime Without Glue by HGTV
Out of borax? No glue or liquid starch or contact lens solution? Combine the beloved marshmallow candies with some coconut oil and a bit of cornstarch and you're in business. Refocus your kids' sugary energy with this super easy, Easter Peeps slime hack that's sure to keep them busy.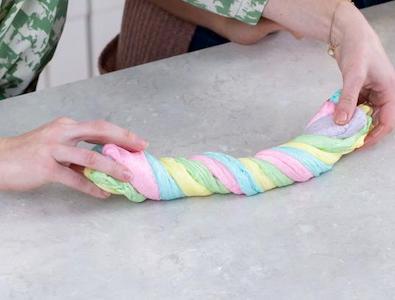 Follow the tutorial here
12. Fluffy Dish Soap Slime by Living Well Mom
This fluffy slime will keep your kids entertained for hours. There are so many ways to make fluffy slime, but a lot of slime recipes contain boron.
This includes laundry starch slime, Borax slime, and slime made with contact solution. This is a mineral that may be irritating if a person is exposed to it on a regular basis.

However, this version, using baking soda and dish soap, leaves hands feeling soft and is non-irritating to all but the most sensitive skin.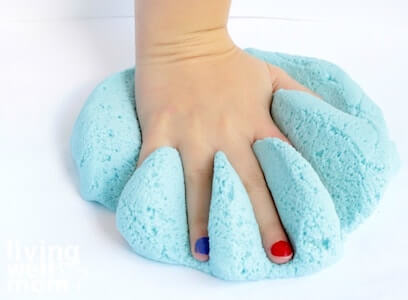 Follow the tutorial here
13. Bug Slime by Craftulate
This sensory recipe for bug slime will provide hours of oozy, gooey fun! This slime is made from mixing white glue with liquid starch and food dye. Rocks, plastic leaves, and bugs are added to the slime mixture for some bugged out fun.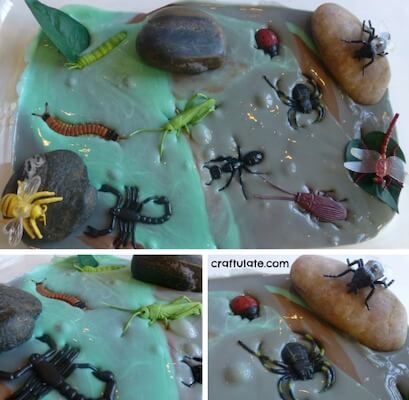 Follow the tutorial here
14. Edible Slime by Fun At Home With Kids
This chemical and Borax-free is edible! You'll love the super easy, no-cook recipe that takes less than 5 minutes from start to finish! Wondering what the ingredients are? Cornstarch, basil seed, water, and food coloring.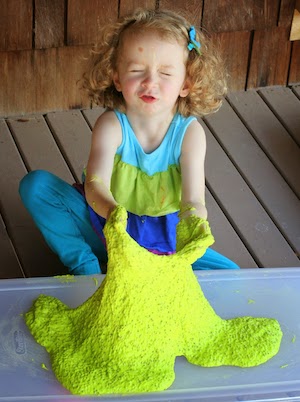 Follow the tutorial here
15. Google Eye Monster Slime Recipe For Kids by Little Bins For Little Hands
Monster's Inc, Ghostbusters, Purple People Eater, whichever you like, our monster slime recipe is perfect for all things gooey, monster-y, and gross.

Learn how to make amazing stretchy slime in minutes the kids will love. This slime theme doesn't have to be just for Halloween, you can whip up a batch of amazing monster-themed slime any day of the year using any one of our homemade slime recipes.

These monster boogers are just a classic slime recipe using Borax, water and glue, but add in a classic monster green color via food coloring.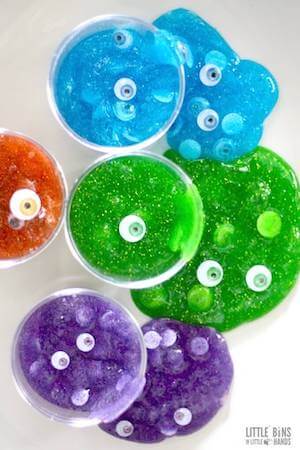 Follow the tutorial here
16. Rainbow Slime Recipe by Growing Jeweled Rose
Up the cool factor of slime by making it glow! This glowing rainbow slime features fluorescent paint in each of the rainbow colors.
You'll just whip up a big batch of plain slime and divide it into 6 blobs before adding one rainbow color at a time to each of the 6 blobs. You'll need a black light with this recipe to show off the glow!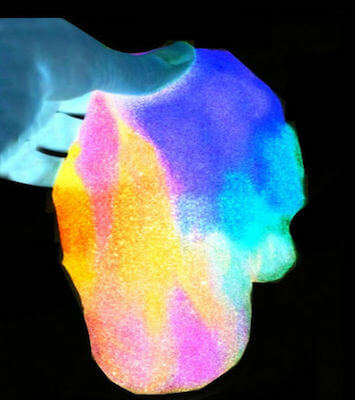 Follow the tutorial here
17. DIY Rubber Slime by All For The Boys
Stretchy, a bit bouncy (not too slimy) and tons of fun to make and play with – this DIY rubber slime is sure to be a hit in your house. You'll need liquid starch, glue (a bit stronger formula than the classroom glue) and food coloring (optional).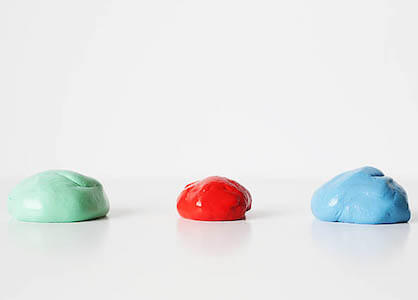 Follow the tutorial here
18. Rainbow Scented Glitter Slime by Modern Parents Messy Kids
Few things are more fun to play with than slippery, slimy, gooey slime. And rainbow colored, glittery, scented slime? That is about as good as it gets. This fun multi-sensory activity is perfect for all ages and super easy.

Like many slime recipes, it calls for liquid starch, clear school glue, colored glitter and Essential Oils or Extracts to create the great scent!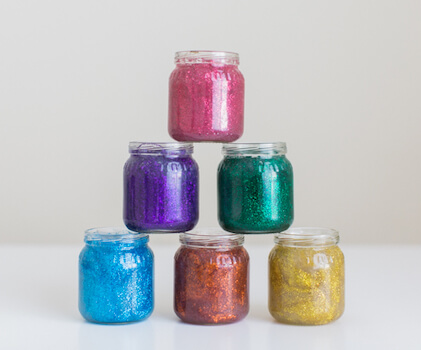 Follow the tutorial here
19. Enchanted Rose Slime by STEAM Powered Family
What would be better than a slime that captures the magic of that enchanted rose and turns it into a gorgeous sensory play moment? This slime would be amazing for a princess themed birthday party!

For this project, you will need: fragrant roses (if your roses are not very fragrant, you can add a little rose essential oil), clear glitter glue, baking soda, and contact lens solution (buffered saline).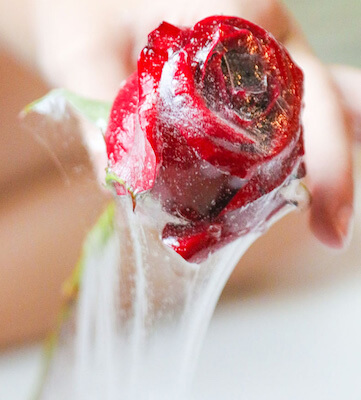 Follow the tutorial here
20. Polka Dot Slime by Fun At Home With Kids
Throw in some pom pom balls into your slime mixture to create polka dot slime! This simple recipe features clear school glue and liquid starch and results in a very stretchy slime that is so fun for playing!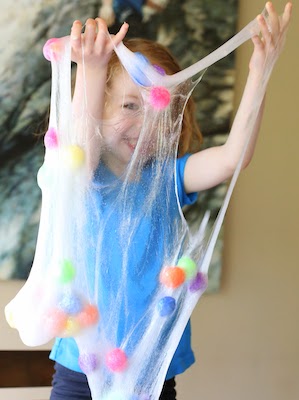 Follow the tutorial here
21. How To Make Slime by Keys For Kids Radio
This one is pretty easy. All you'll need is dish soap, toothpaste, and some salt. The salt makes it more flubbery. Mix them together, let it freeze for about an hour, and then it'll be all stretchy and rubbery!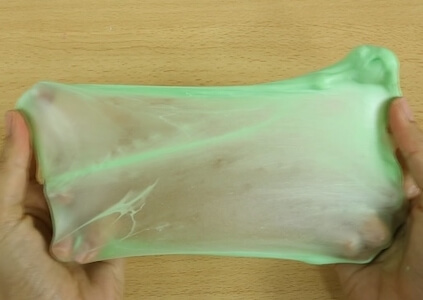 Follow the tutorial here
22. How To Make Magnetic Slime by Frugal Fun 4 Boys And Girls
Magnetic slime is easy to make with our this ingredient recipe: liquid starch, white glue, and Iron Oxide powder. Magnetic slime is really fun to play with on its own. It stretches and squishes. If you hold it up, it oozes down to the floor in a long strand!

Adding the element of magnet play makes it even more awesome. This is a great project to put on your to-do list for a rainy day, spring break, or summer! It would also make a great group activity for a science club or scouting group.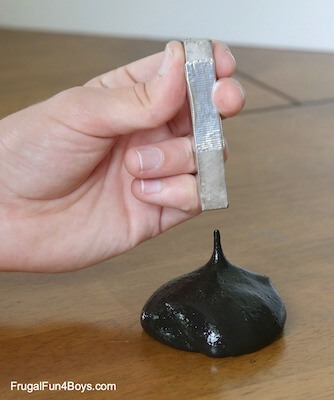 Follow the tutorial here
23. Non-Stick Fluffy Slime Recipe For Kids by This Delicious House
Save your sanity with this non-stick fluffy slime recipe that uses glue, water, food coloring, baking soda, shaving cream, and contact solution. Make memories and happy kids with this fun slime!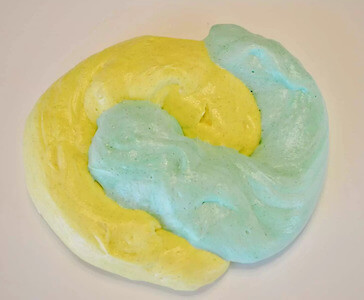 Follow the tutorial here
24. Easy Sparkly Black Galaxy Slime by The Best Kids Crafts And Activities
This craft combines black slime with pink slime along with some fun slime add ins to make an amazing and super fun Black Galaxy Slime. This homemade slime made with lotion and soap is super oozy, which makes this a perfect slime recipe.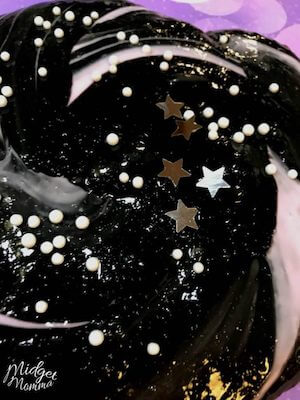 Follow the tutorial here
25. How To Make Butter Slime by Hustle Mom Repeat
Butter slime doesn't actually have butter in it. But it has a cool buttery-like texture instead which is probably where it got its name from. This recipe for butter slime uses only 4 ingredients: corn starch, food coloring, shampoo and cooking oil!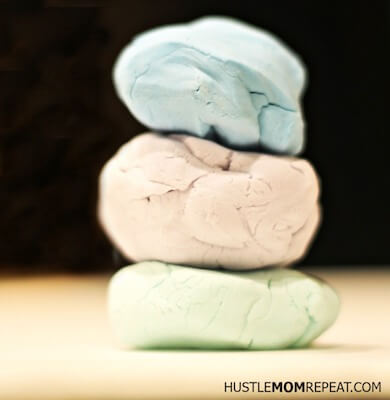 Follow the tutorial here
26. How To Make Water Slime by Steam Sensational
How to make water slime that looks just like fresh water! This simple slime recipe has just 2 ingredients
(water and slime activator) and is so much fun!
Making clear water slime is so, so easy. It's one of the easiest slime recipes you can make. Kids will love the clarity of this slime because they can look right through it.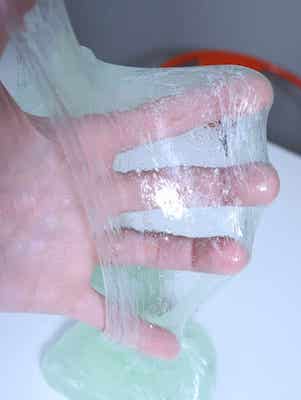 Follow the tutorial here
27. Edible Marshmallow Slime by Little Bins For Little Hands
Raid the kitchen for the ingredients to make this edible putty. This is totally a borax free slime that's completely non-toxic and perfect for kids who love to sample their activities!

Heat marshmallows and cooking oil in the microwave—with adult supervision of course—then add cornstarch and knead until the slime comes together. This one is 100 percent non-toxic and safe for extra curious little ones who are still learning by tasting.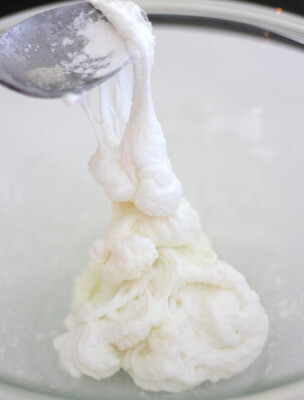 Follow the tutorial here
28. How To Make Slime With Baking Soda by STEAM Sensational
Learn how to make slime with glue and baking soda in this tutorial. This baking soda slime is a little messier than traditional slime, but it's a blast to make a play with and you don't have to worry about it irritating the skin.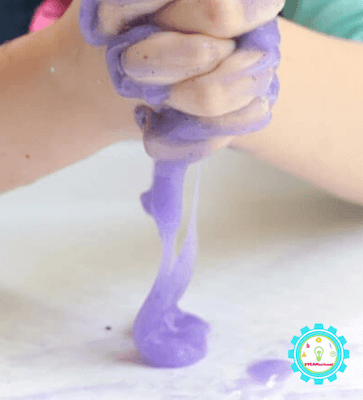 Follow the tutorial here
29. Easy Cloud Slime Recipe by Mess For Less
This Easy Cloud Slime Recipe feels unlike any other slime. It is stretchy, soft, and textured all at the same time. Instant Snow Powder, white glue, baking soda, contact solution, and food coloring are the secrets to make a cloud slime. With these few ingredients, you can provide hours of fun to the kids!
Follow the tutorial here
30. Golden Glitter Slime by Fun At Home With Kids
This Golden Glitter Slime may just bring out the star in you! A good amount of gold glitter was added to a traditional glue and starch mixture ti get the gold saturation seen here.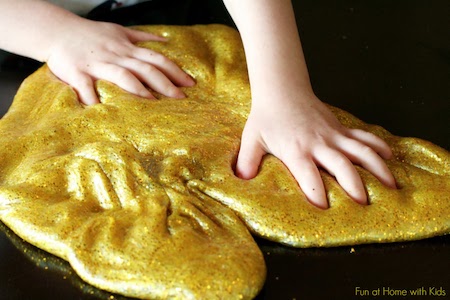 Follow the tutorial here
31. Textured Butter Slime by The Chaos And The Clutter
This sensory play activity engages the tactile, visual, and proprioception sensory systems. While most butter slime recipes, call for using clay, you can make it without clay. In fact, in this recipe, you wouldn't have use clay at all.

The great thing about this recipe is that instead of throwing that dried out playdough out, you can repurpose it into slime! O you can also make butter slime without clay by mixing cornstarch and shampoo.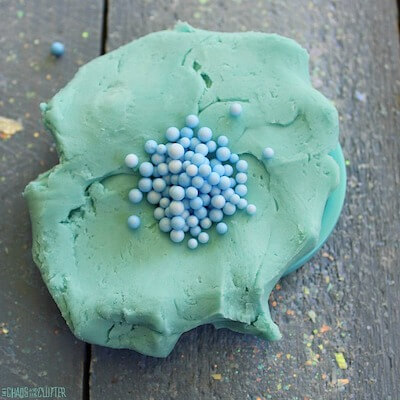 Follow the tutorial here
32. Shampoo Slime Recipe by Fun With Mama
Don't have glue at home and wondering how to make slime without glue? You can if you have shampoo and sugar! This shampoo slime recipe is glue-free and is a fun alternative to traditional slime recipes.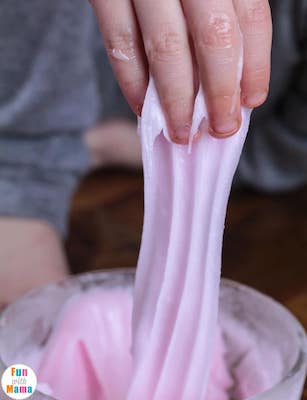 Follow the tutorial here
33. How To Make Spaghetti Slime by The 36th Avenue
A unique twist on traditional slime, this Spaghetti slime uses a box of spaghetti, divided into three parts. Kool-aid or food coloring is added to water and brought to a boil, after which one portion of the spaghetti is cooked and rinsed.

This simple process is repeated using a different color of food coloring for each portion of spaghetti noodles until 3 different colors are achieved.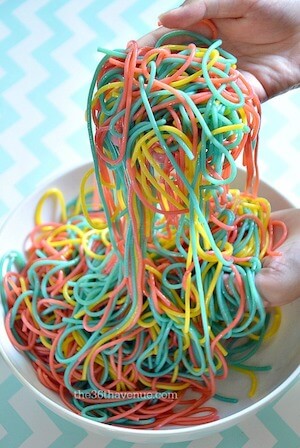 Follow the tutorial here
34. Chocolate Stretchy Slime Recipe by Fun At Home With Kids
If you want a delicious smelling slime that will stretchy and stretch, this Chocolate Stretchy Slime Recipe is a winner! And when it turns into its liquid state, it looks just like melted chocolate!

Keep in mind, this chocolate slime is not edible in any way – because it's made of glue and liquid starch – even though it looks and smells tempting because of the addition of cocoa powder.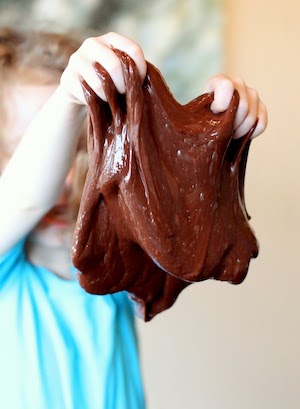 Follow the tutorial here
35. Rainbow Confetti Party Slime by The Chaos And The Clutter
Whether you are new to the slime craze train or barreling full speed ahead down the tracks, you'll love this simple Rainbow Confetti Party Slime.

With just a mixture of white glue, water, food coloring, liquid starch, and rainbow sprinkles, you can make a slime that would be fun to play at a birthday party. Each of the kids could take home their slime in a small plastic container as a part favor, as well!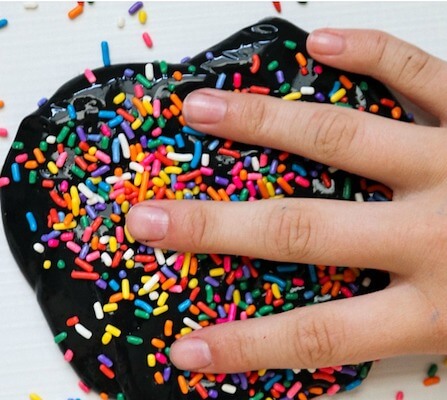 Follow the tutorial here
36. Fluffy, Squishy Slime by Sugar Spice And Glitter
This recipe from Sugar, Spice and Glitter has got to be one of the most unique slime ideas out there. It gets its fluffiness from the crystals in disposable diapers!
A super squishy, stretchy and fluffy slime made with a unique ingredient – polyacrylate crystals found in diaper linings or gelli baff!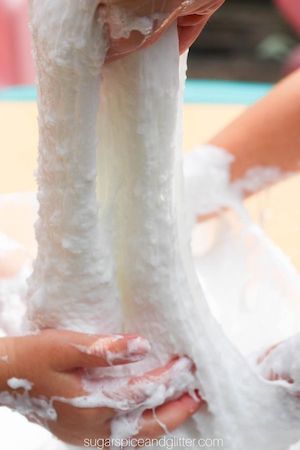 Follow the tutorial here
37. DIY Scented Kinetic Sand Slime by McCormick
Make your own slime with this Kinetic Sand Slime recipe. All you need to make homemade slime are a few simple slime ingredients like food coloring, extracts, and glue for a gooey, scented kid-friendly fun project! This no-Borax slime is the perfect way to get in on the slime trend safely.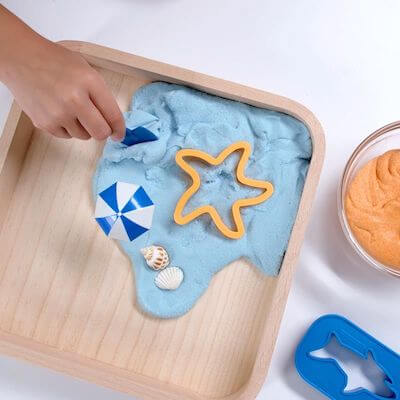 Follow the tutorial here
38. Rainbow Toothpaste Slime by A Subtle Revelry
There are a million different versions of how to make a slime out there, and if you are fond of of the more natural ones, this slime recipe with toothpaste will be your favorite!

There are just a few simple things you need to create this fun toothpaste slime recipe, including: toothpaste, peel face mask, contact solution, and rainbow food coloring.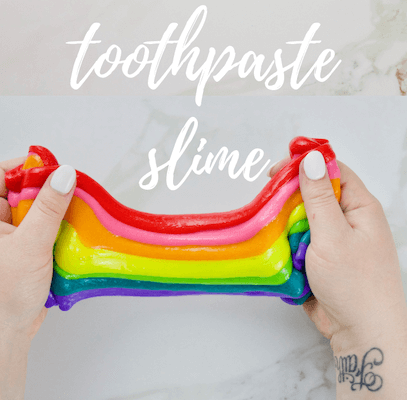 Follow the tutorial here
39. DIY Cleaning Slime by HGTV
Slime isn't just for kids. Use this simple recipe to make slime that's perfect for cleaning hard to reach places. Slime's slightly sticky texture and pliability make it great at squeezing into hard-to-reach spots to grab the gathered grime.
All you just need to make this slime are glue and food coloring.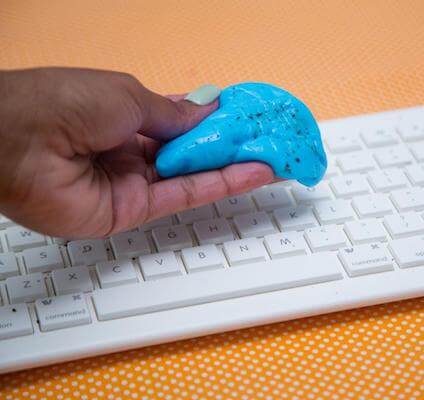 Follow the tutorial here
40. Slime Recipe DIY Make Your Own At Home
Slime Recipe for hours of fun for the whole family. Everyone loved playing with slime as a kid. Now you can enjoy that love again and pass it on to your kids. With 9 different recipe variations from color changing slime to fluffy slime. The fun is endless!
These slime recipes look messy but they are easy to clean up. It squishes, stretches and fluffs beautifully and we challenge anyone to try to stop playing with it. Playing with this slime is almost contagious!
Download The Instructions Here
BECAUSE THESE SLIME RECIPES DON'T TAKE A LOT OF TIME, YOU WON'T WANT TO STOP AT JUST ONE!
Start your slime science experiment at home today and share you finished makes on our Facebook Page.

Looking for more creative crafts to make with the kids? Check out our DIY Fairy Jars, DIY Yarn Ball Ideas, DIY Dragon Egg Crafts, Paper Weaving for Kids, Felt Food Play toys, Water table for Kids, DIY Castle Craft Ideas, and more fun Kids Crafts here.

Get ready to become slime extraordinaire making these slime recipe ideas!