I have been passionate about paper crafting for many years. I find that it is rewarding and relaxing. Paper crafting can be used to create a variety of projects, from handmade cards and scrapbooks to home decor and sculptures. One of my latest obsessions is angel quilling. These designs are perfect for gifts and decorations.

What Is Quilling
Paper quilling is a decorative paper crafting technique that involves rolling thin strips of paper into coils. The coils are pinched and shaped to make different shapes. These shapes are then arranged and glued together to create decorative designs.
Paper quilling is an inexpensive hobby that is a lot of fun. It is perfect for creating embellishments for greeting cards or decorative items. With just a few basic supplies, you can create a wide range of designs, from animals to angel quilling embellishments and beyond.
What Can I Use Angel Quilling Embellishments for?
Paper quilling is a versatile crafting technique that can be used to make a variety of decorative items. The rolled and shaped paper coils can be arranged and glued together to create intricate 2D and 3D designs.
Items you can make using paper quilling:
Greeting cards

Wall art

Jewellery

3D sculptures

Ornaments

Gift tags

Scrapbook embellishments

Home decor accents

Bookmarks

Paper flowers

…and more
Are you a paper crafter? Below are 10 pretty angel quilling templates. These templates can be used to make a wide variety of items. So gather your quilling tools and start quilling.
1.

3D Angel Quilling Pattern from QuillingLT

Create a 3D paper quilled angel for a friend or a decoration. Make several of these in different colours to create a set.

This angel quilling tutorial is recommended for intermediate quillers who know basic shapes. Included in the PDF download is a 14-page step-by-step tutorial with 30 detailed photos and tips. The finished angel will measure about 1.77 inches (4.5 cm) tall and 2.36 inches (6 cm) wide, including the wings.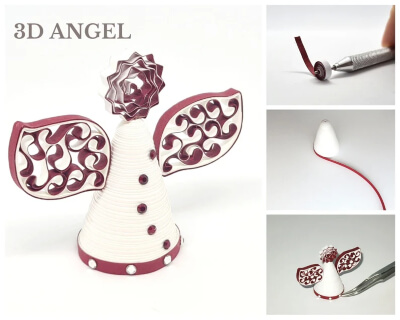 Find the Pattern from QuillingLT Here
2.

DIY Paper Quilling Angel Christmas Tree Ornament

from Craftquiller

Create your own Christmas tree decoration with ease by following this angel quilling tutorial. The angel is fun to make and would make a great crafting session with friends and family.

The download includes a video tutorial that will guide you in making the angel ornament. The completed angel will measure approximately 3 inches (7.62 cm) x 2.5 inches (6.35 cm).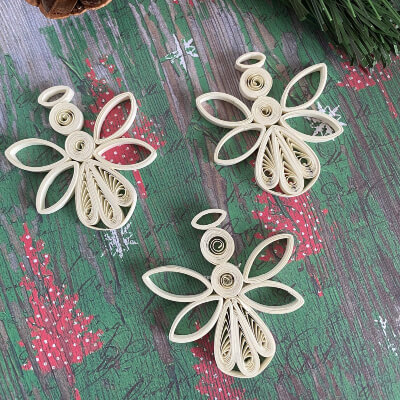 Find the Pattern from Craftquiller Here
3.

A quilled Angel Ornament made from white Quilling Paper Strips

Discover the beauty of quilled angels with this quilling tutorial. Using 5 mm white paper strips, these angels are carefully rolled, shaped, and glued together to create intricate details.

To make these angels, you will need a quilling pen, quilling board, and sewing thread or a thin cord. The tutorial includes step-by-step instructions and helpful photos.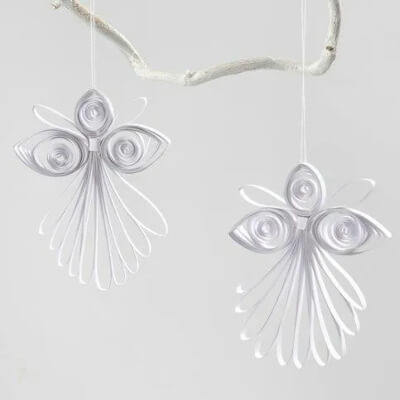 Find the Pattern from Creativ Company Here
4. Dazzling Quilled Angel Ornament
Pattern from All Things Paper
This paper angel quilling template is relatively simple to create, but it does take some patience. It should take approximately 80 minutes to complete. Most pieces are made using a quilling comb. Once complete, the sturdy angel can be hung from a tree branch with a ribbon or made into a brooch.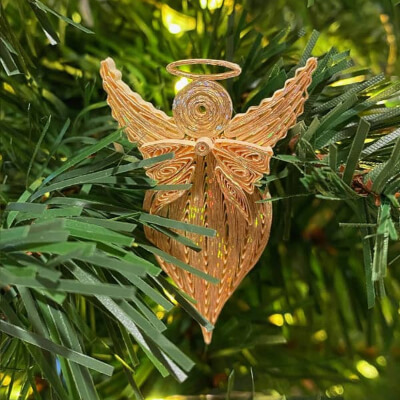 Find the Pattern from All Things Paper Here
5. DIY Paper Quilling Angel Pattern
from Customcrafter500
Do you want to create angel quilling embellishments but do not know how to start? Then this tutorial is for you. It will guide you through the process and show you exactly how to make one. The finished angel will measure close to 2.75 inches (6.985 cm) tall.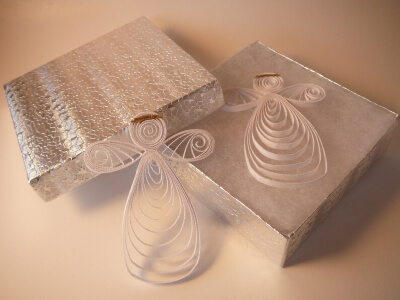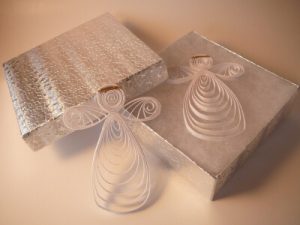 Find the Pattern from Customcrafter500 Here
6. Angel Watching Over Me DIY Paper Filigree Pattern
from NeverBoredCreations
The Angel Watches Over Me template is versatile and can be used in various ways. You can create a Christmas tree ornament, add it to a card, or frame it.
The size of the template is approximately 2.5 inches (6.35 cm) high, with a wingspan of about 2.25 inches (5.715 cm) from middle tip to middle tip. This digital download includes a single-page pattern, written instructions, and a placement picture.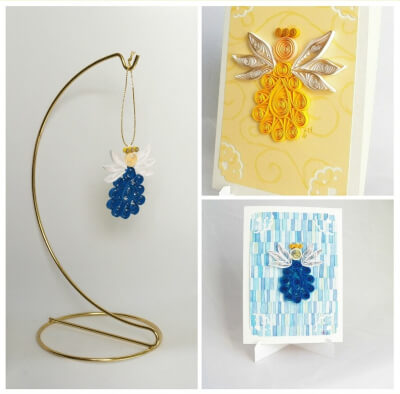 Find the Pattern from NeverBoredCreations Here
7. Christmas Quilling Angel O
rnament
Make a handful of small angel quilling embellishments to decorate your Christmas tree or greeting cards. In the tutorial, you will learn how to make angels using 5 mm paper strips, a slotted quilling tool, circle template, tweezers, glue, and flat back beads.
Find the Pattern from Quilling by Aurora Here
8. Christmas Angel Quilled Tutorial
You can create this stunning quilled angel by following along with this free video tutorial. This beautiful angel can be used as either an ornament or paper crafting embellishment.
To make it, you will need 5 mm strips, a slotted quilling tool, a quilling cone, and glue. It's important to note that the pattern is intricate and may not be suitable for beginners.
Find the Pattern from Kelly's Quilling Here
9.

Quilled Rainbow Angel

Here is a free video tutorial for creating a quilled rainbow angel Christmas tree ornament. The tutorial does not have any verbal instructions. You will need 5 mm quilling paper strips, glitter foam sheet strips, sparkling stones, strong glue, a quilling comb, and scissors.

Find the Pattern from UniQuill Creations Here
Frequently Asked Questions About Angel Quilling
Can I use Mod Podge for paper quilling?
Mod Podge is a popular glue for crafters. It is very versatile and can be used in a variety of projects. While Mod Podge can be used for quilling, it may not be the best choice. If too much Mod Podge is applied, the paper can warp. Additionally, not all Mod Podge is acid-free. Using glue with acid can cause the paper to yellow or deteriorate over time.
What kind of paper is best for angel quilling?
When it comes to angel quilling, it's often suggested to use text weight paper. This type of paper is thin and flexible enough to be effortlessly rolled and shaped. While also being strong enough to maintain its shape once formed. Text weight paper is heavier than printer paper but lighter than cardstock.
Do I need a slotted tool for angel quilling?
Making angel quilling embellishments without a slotted tool is possible. However, it is not recommended. The intricate designs of the angels can be challenging to achieve without a slotted tool. Using a slotted tool makes it easier to roll the paper strips into coils. The tool will save you time and frustration.
Do I need an angel quilling template?
While it is not always necessary to use templates for quilling, they are helpful. Templates ensure your quilling pieces are consistent in size and shape. You can find a variety of angel quilling templates online, or you can make your own. Ultimately, whether or not you use a paper quilling template is up to you.
Can I use angel quilling for scrapbooking?
Angel quilling designs can make beautiful scrapbook embellishments. Angels can add a touch of elegance and charm to your pages. You can also use angel quilling designs to decorate photo frames, greeting cards, and more.
Angel quilling is a fun and rewarding crafting technique that offers endless possibilities.
Here's a list of quilling patterns and ideas you can make next:
Whether you want to make angel ornaments or paper crafting embellishments, quilling is a wonderful choice. With a few simple supplies, you can create angel quilling masterpieces.