In this post, I've put together a list of bag sewing patterns, so you can choose the perfect bag to fit your style and functionality needs. You'll find options for handbags, backpacks, market bags, totes, zipper pouches, crossbody bags, and more!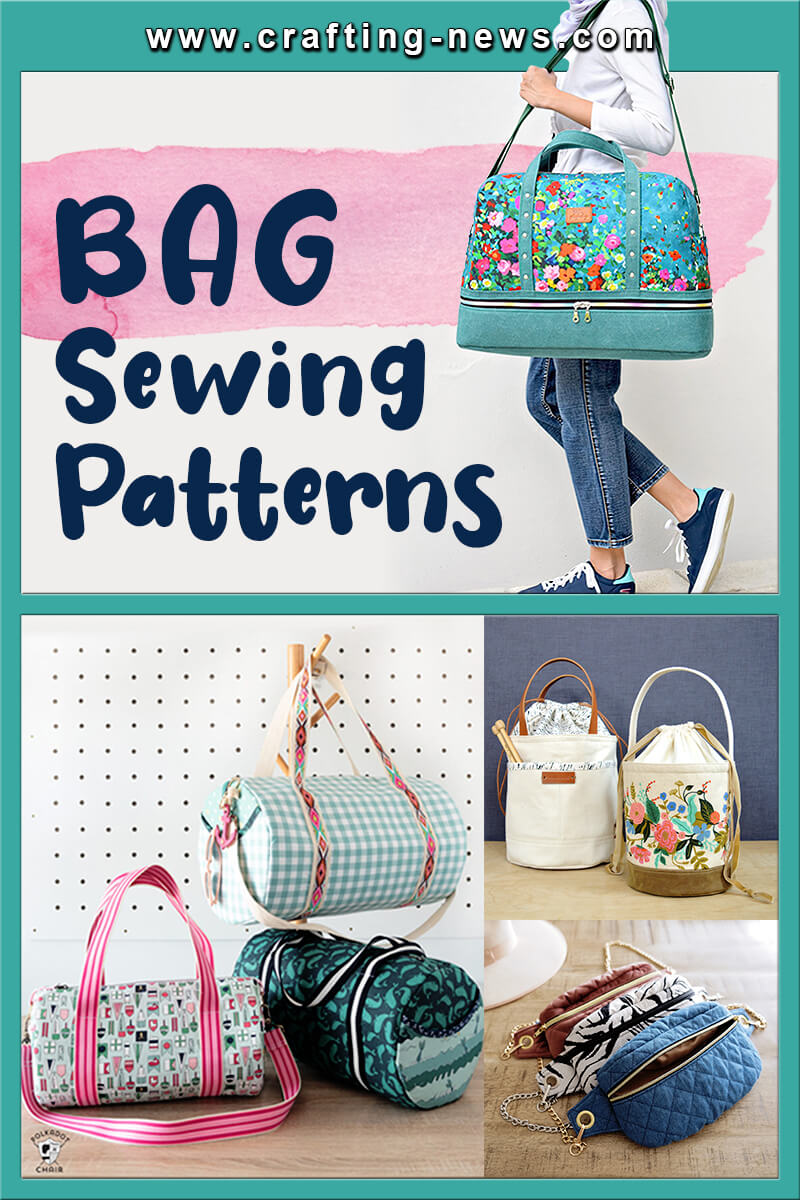 One of the greatest things about handmade bags is that they are extremely versatile. They can be used for any occasion, from something as simple as a tote bag to an elegant evening bag.
Also, bags can be as big or small as your heart desires, and you can choose the color and material that suits your personality. If you haven't noticed, there are a lot of bag tutorials on the web. I've narrowed it down to the cutest styles and my favorite ones. Scroll through and find a project that sparks you eye!
40 Bag Sewing Patterns
1. The Saturday Duffle Bag Sewing Pattern by Polka Dot Chair
Stitch up a duffle bag that is perfect for everything from a trip to the gym to an overnight trip. This round duffle bag sewing pattern is available in 3 different sizes and features a detachale shoulder strap and optional side pockets.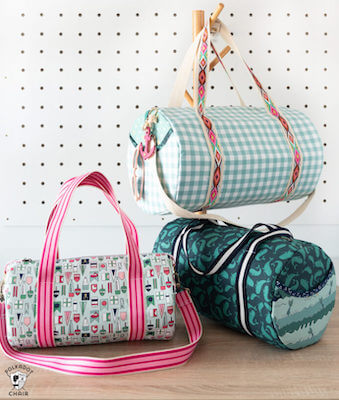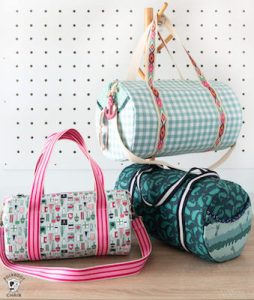 Get the Pattern here
2. Bucket Bag Sewing Pattern by Kandou Patterns
These drawstring bags are perfect for knitting, sewing or embroidery projects on the go. Choose if you want an external pocket, or if you want to use leather handles — instructions are given for fabric handles also.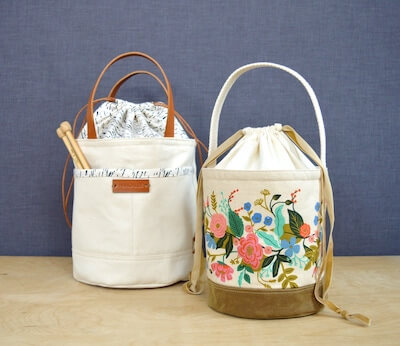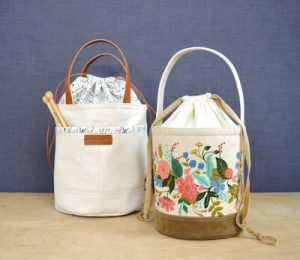 Get the Pattern by Kandou Patterns here
3. Ivalo Banana Bag Sewing Pattern by Atelier Miinsa
Discover and make this Ivalo Banana Bag. It's a mini format that will allow you to house your daily essentials (wallet, keys, laptop) — while having your hands free. This bag is lined and closes using a non-separable zipper. The chain brings it a chic side.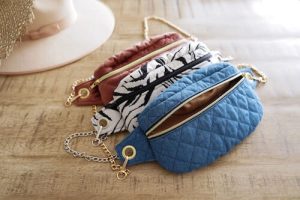 Get the Pattern by Atelier Miinsa here
4. Japanese Knot Bag Sewing Pattern by Motif Studio Patterns
These reversible bags are easy and fun to make and comes in handy for so many uses. Made from silk or dupion, the smaller ones look great worn round the wrist for a wedding. Made from linen or canvas, they make cute everyday bags and can even be used as a daily staple or even used as hanging storage around the house.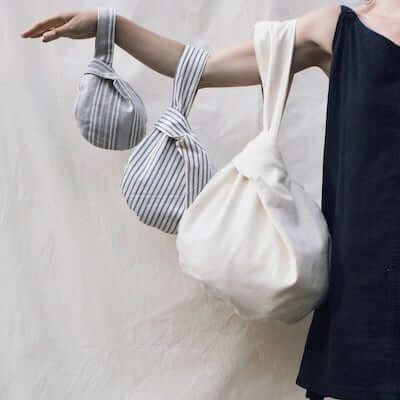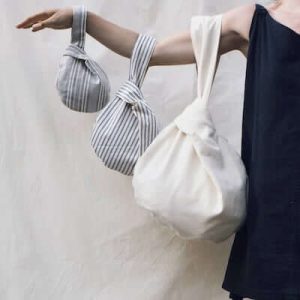 Get the Pattern by Motif Studio Patterns here
5. Denim Blues Bag Sewing Pattern by Yarnspirations
If you've got a pile of old jeans that are too good to throw away, repurpose them into this fun argyle pattern tote. It uses various blue hues, and even the pocket from a pair.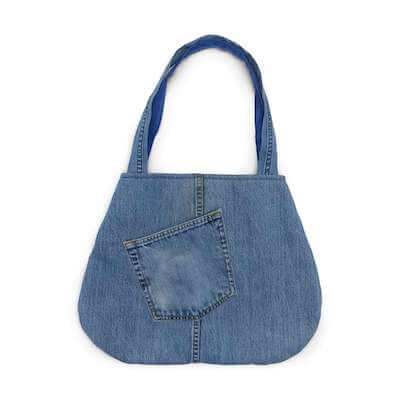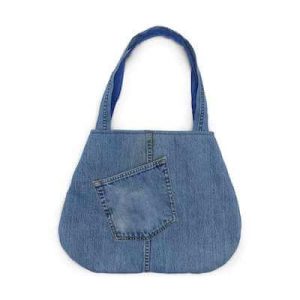 Get the Pattern here
6. Messenger Bag Sewing Pattern by Sew Can She
Learn how to sew an easy messenger bag with just one yard of fabric. This easy messenger bag sewing pattern is perfect for someone who is learning how to sew, or someone who just wants to make a a fast and easy bag!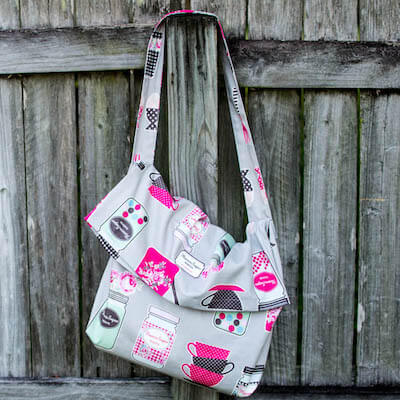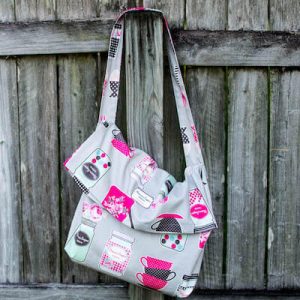 Get the Pattern here
7. Marsha Bag Sewing Pattern by I Think Sew Bags
A beginner friendly shoulder bag with its unique dart on the bottom giving it the much needed extra space we all need. Interfacing is an option you can take when constructing this bag. Without it, the bag will have a more natural shape than with it while the vice versa will keep the bags shape intact no matter what.
If the decision is not to use interfacing then it is recommended to use home decor fabric out of all the other type of materials. It does not matter what type of design on the fabric you use, anything from large print to small print can help make the pattern turn out gorgeous. At the end of making the bag the attachment of the ring will add a great glamour to it.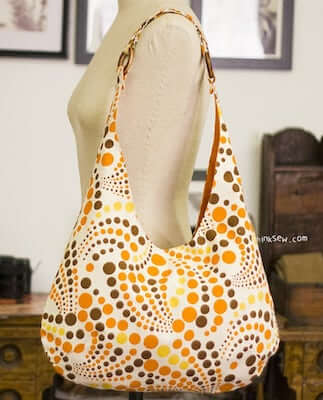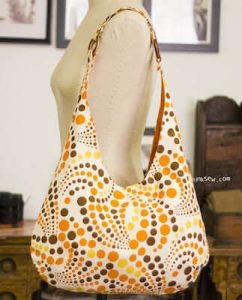 Get the Pattern by I Think Sew Bags here
8. Inner Circle Bag Sewing Pattern by Spencer Ogg Patterns
This Inner Circle Bag is a sophisticated Hobo shape bag which has the appearance of a full circle, featuring a continuous gusset and strap which can be embellished in different ways to become the main feature of this on-trend bag.
The bag makes up beautifully in most heavier weight fabrics, and can be made in a slouchy or structured style simply by selecting different interfacings. It's a deceptively roomy bag that can be worn comfortably over the shoulder.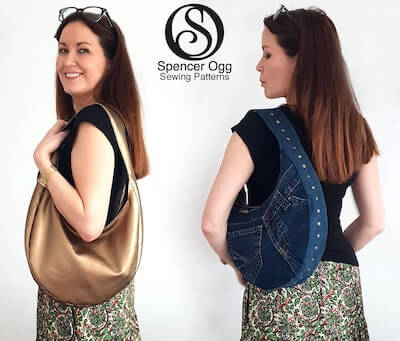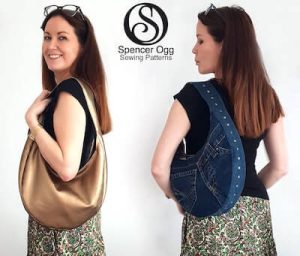 Get the Pattern by Spencer Ogg Patterns here
9. Heart Backpack Sewing Pattern by Sew Much Ado
This has got to be one of the cutest bag patterns I've ever seen! This Heart Backpack will keep any munchkin smiling all year long! This backpack is fully lined and has adjustable straps, making it perfect for all sorts of shenanigans.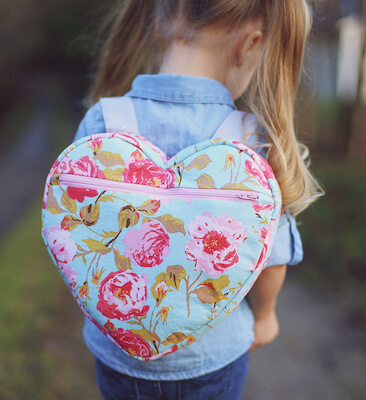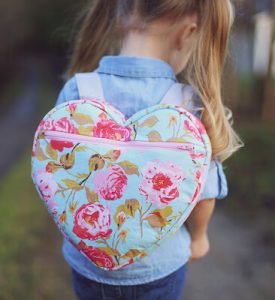 Get the Pattern here
10. Maker's Tote Bag Sewing Pattern by Noodlehead
This carry-all tote is for the makers, the creatives, and the go-getters. It's a spin on a classic doctor's bag, but designed with handy on-the-go storage in mind. Perfect for kids and adults alike, this tote will be sure to keep whatever you need close at hand and organized.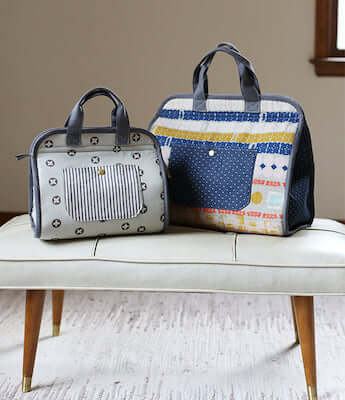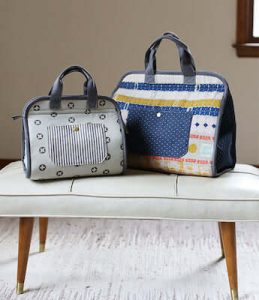 Get the Pattern here
11. Cavalcade Travel Bag Sewing Pattern by Sew Sweetness Patterns
This travel bag is a fantastic way to keep yourself organized on your next trip or outing! The main compartment of the bag is secured with the top zipper, and a second zipper near the bottom of the bag will allow you to stow other items separately, such as shoes. The bag also includes front handles and a removeable side adjustable strap.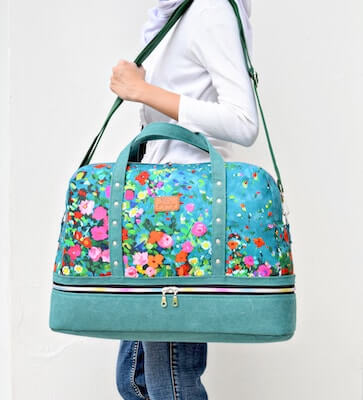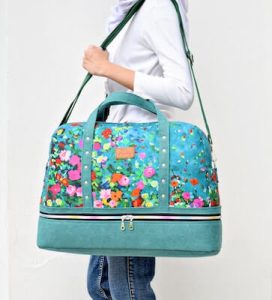 Get the Pattern by Sew Sweetness Patterns here
12. Peek-A-Boo Bowler Bag Sewing Pattern by Another Castle DIY
Here's a pattern to sew a classic bowler bag with trendy clear vinyl. Who says should clear bags be boring? Add a pop of color or a print with the contrast bottom, or make one side clear and one side opaque for a fun twist-and-reveal!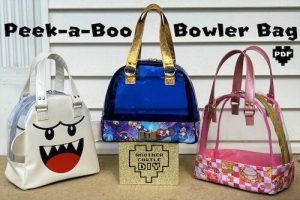 Get the Pattern by Another Castle DIY here
13. Clutch Bag Sewing Pattern by Gathered
Take your party outfits to the next level by stitching this stunning clutch pattern. It's the perfect accessory for any gathering and it's big enough to hold your makeup, phone or anything else you need to bring with you!
It would also be a fabulous accessory to bring to a special event, such as a wedding or a celebration. This Clutch Bag Sewing Pattern would make a lovely gift, too!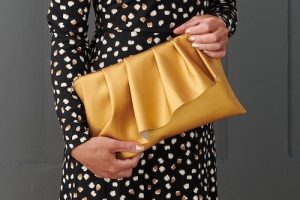 Get the Pattern here
14. Sweet Pea Saddle Bag Sewing Pattern by Blue Calla Patterns
This adorable cross body bag is perfect for children or adults who want a smaller sized bag for essentials. It is a simple, easy sew – one zippered pocket on the inside and a flap closure with instructions for an optional decorative tassel on the flap.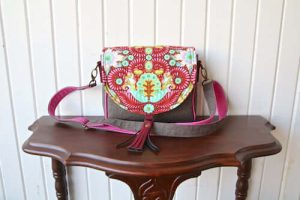 Get the Pattern here
15. Fair And Square Bag Sewing Pattern by Rosie Taylor Crafts
Surprisingly spacious, this adorable bag is so versatile. Perfect for projects at home or take it anywhere with you for sewing on the go or even as a handy toy bag to keep the little ones entertained while you're out. Choose some fun printed fabrics, the cute fabric combinations are endless or you might prefer something a bit more grown up!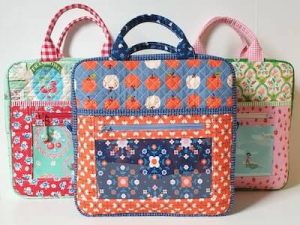 Get the Pattern by Rosie Taylor Crafts here
16. Loule Bag Sewing Pattern by Pink Pony Design
This Loule Bag is the perfect little shoulder sling bag for every occasion! It is beautiful and classic, while still a little edgy — thanks to the zipper piping, it's sure to find a place in every woman's handbag collection!
Its small but convenient size it allows you to bring a standard size wallet, but should you wish not to do so, it also offers 8 card slots for the occasions you wish to leave your wallet at home. There's naturally slip pockets for your cellphone and a few other necessities.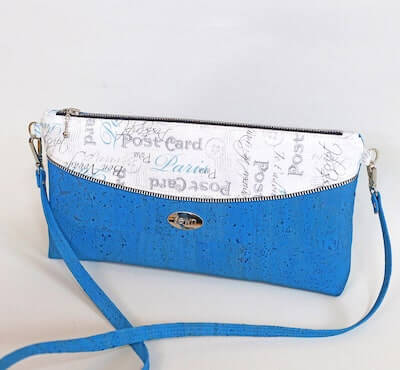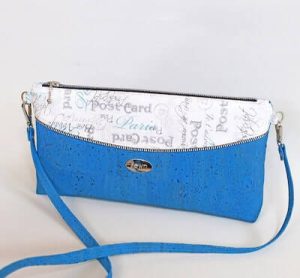 Get the Pattern by Pink Pony Design here
17. Dillan Lunch Bag Sewing Pattern by I Think Sew Bags
This Dillan Lunch Bag is an essential for school, work, or simply daily uses. The project is created for men, women, and children alike! Its large zipper opening helps fitting in large bottles to containers with ease.
Making the lining with waterproof fabric can make it more endurable with accidental spills and leaks from your lunch. Due to its spacious interior and many pocket spaces, it can fit all your lunch and snacks with no struggle.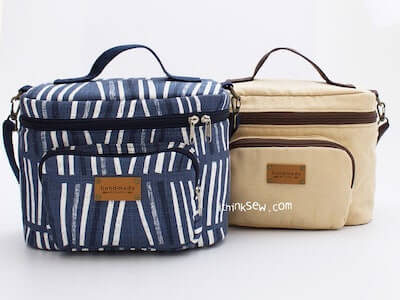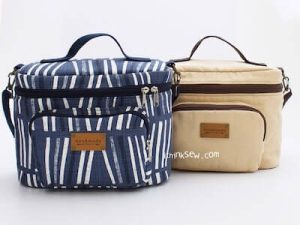 Get the Pattern by I Think Sew Bags here
18. Shark Tote Bag Sewing Pattern by Yarnspirations
Whether your kids love Shark Week or Baby Shark, they will love carrying this tote to the beach. Water and sand fall through the screen tote, and the big, snarky shark will protect what's inside!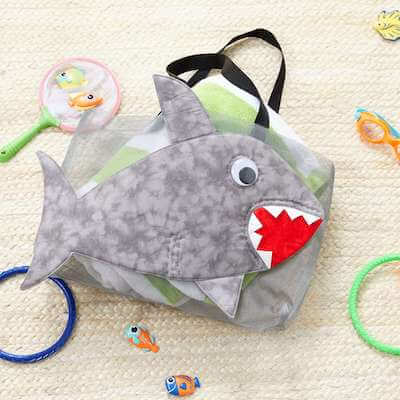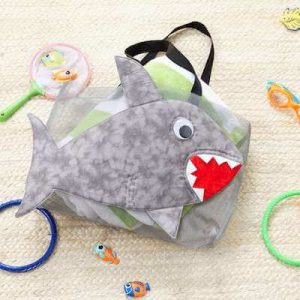 Get the Pattern here
19. Sofia Cinch Up Bag Sewing Pattern by Merge Patterns N Crafts
This Sofia Cinch Up Bag is the perfect pouch to hold all of your makeup. Its unique 8-sided octagon base is 12.5″ in diameter. The large open design allows you to see all of your items inside and the side walls prevent items from rolling out. This is a super easy pattern to sew and the color options are endless.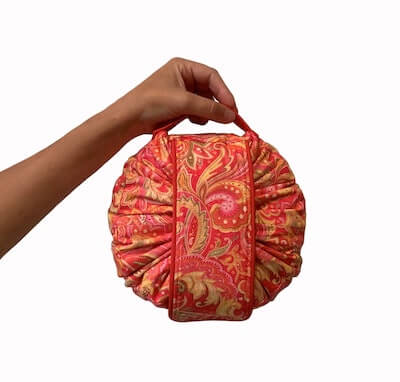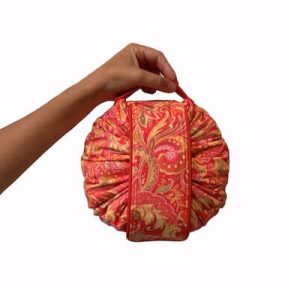 Get the Pattern by Merge Patterns N Crafts here
20. Overnighter Bag Sewing Pattern by Purl Soho
What's more fantastic than throwing a few things in a bag and taking a quick getaway? This Overnighter Bag celebrates the thrill of travel; with just enough room to fit the essentials, you'll never be weighed down or unable to catch the next train. This carefree attitude is reflected in the bag's straightforward construction and sturdy materials. It's beautiful but not too precious to toss in the trunk!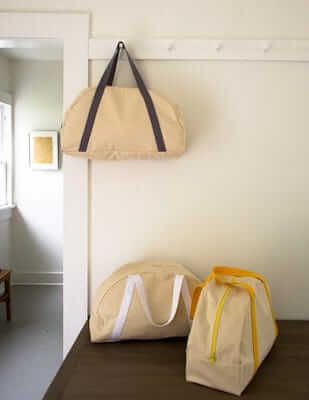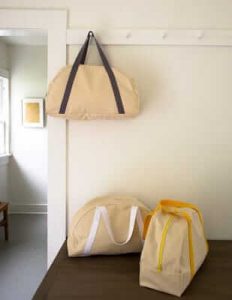 Get the Pattern here
21. How To Make A Drawstring Bag by Prima
Learning how to make a drawstring bag couldn't be easier with this free sewing pattern for a fabric backpack. It's a great project for those just beginning to sew – needing just two pieces of fabric and some cord, they're easy to run up on your sewing machine or stitch by hand.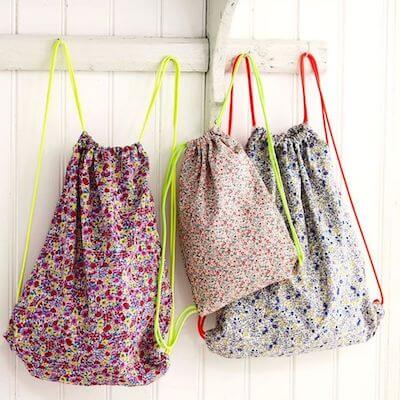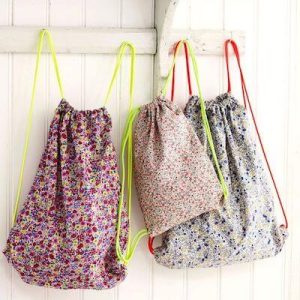 Get the Pattern here
22. Tri-Fold Toiletry Bag Sewing Pattern by Scratch And Stitch
This Toiletry Bag is the perfect size to pack the essentials. The bag unfolds and hangs to showcase your gear in one mesh and two clear pockets. When it's time to pack up, it folds up for easy carrying and packing. The zipper pockets and magnetic snap will keep your things secure and safe in between uses.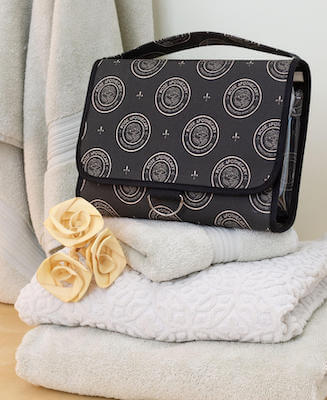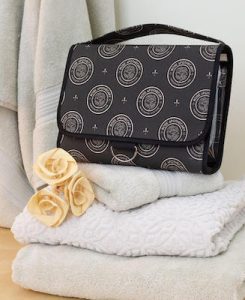 Get the Pattern here
23. Retro Style Sling Bag Sewing Pattern by Kandou Patterns
The design of this Retro Style Sling Bag is particularly versatile — it can be worn crossbody (great for cyclists!) across the chest or back, or over the shoulder for a more relaxed look. And if you like pockets, this is the bag for you! Three external, including two with zippers, plus one internal slip pocket to hold your tablet or notebook inside the bag.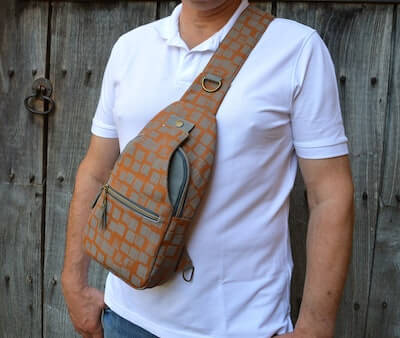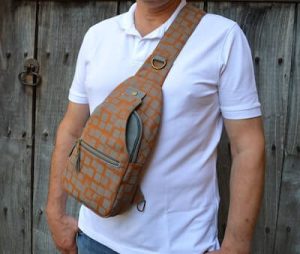 Get the Pattern by Kandou Patterns here
24. Craggan Men's Bag Sewing Pattern by Spencer Ogg Patterns
This pattern shows you how to easily make a men's tough crossbody bag. It has an adjustable crossbody strap and magnetic snap closure. A generous size, great for everyday use, large enough to accommodate an iPad and all his essentials and strong enough for the hardest working man!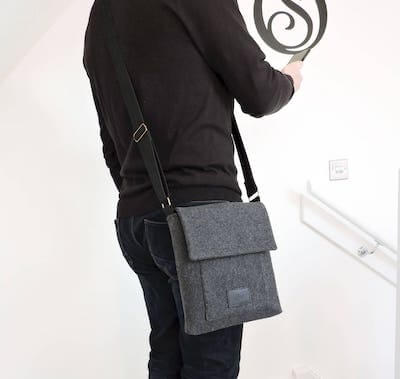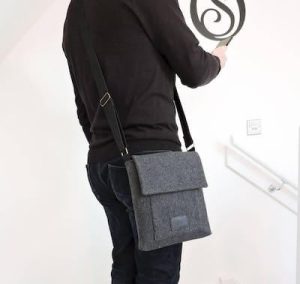 Get the Pattern by Spencer Ogg Patterns here
25. Tablet Carrier Bag Sewing Pattern by Craft Passion
The size of this tablet carrier bag is suitable for keeping your iPad, Kindle, Galaxy Tab, Google Nexus, and other handheld electronic devices of similar size. They are good for books, too, or a quick grocery store trip. Just dump your keys and phone in, and off you go!
This tablet bag sewing pattern comes in 2 versions, with or without a zipper. "With Zipper" will be for the intermediate level, and "Without Zipper" is easier and quicker to sew.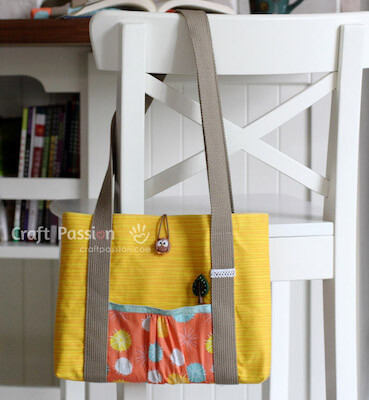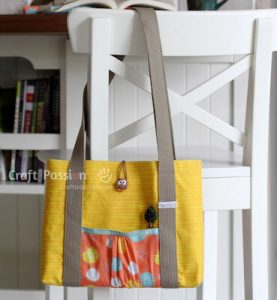 Get the Pattern here
26. Yoga Mat Bag Sewing Pattern by Gathered
Take your yoga mat to your next session in its own pretty yoga mat bag. This would make a wonderful gift for a yoga-loving friend or family member.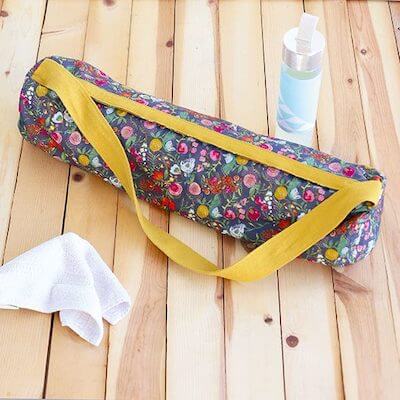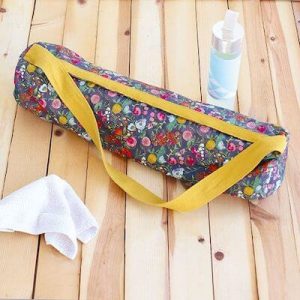 Get the Pattern here
27. Bumbastic Bag Sewing Pattern by Dora Crea Dora
This Bumbastic Bag contains plenty of pockets, so you can say goodbye to the days of searching for your phone in the bottom of your tote bag. The panelling of the bag makes it a perfect scrap buster, offering endless possibilities of combining different fabrics and colours to create your unique piece.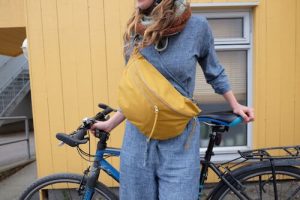 Get the Pattern by Dora Crea Dora here
28. Chubby Tote Bag Sewing Pattern by Sotak Co
Create your own super handy tote bags in four sizes using pattern. The small tote is just the right size to be used as a child's tote or a reusable gift bag, the medium and large sizes make wonderful shopping bags and everyday totes, and the x-large one can be used as a beach bag or a giant shopper.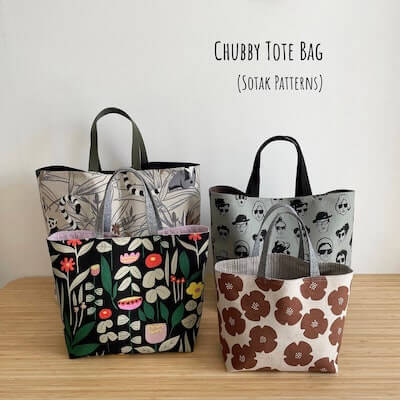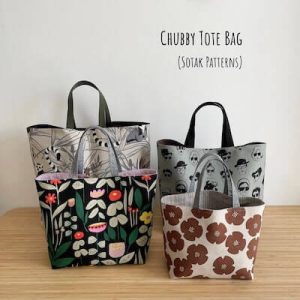 Get the Pattern by Sotak Co here
29. Slouchy Jeans Bag Sewing Pattern by Buki Buki
Make your own very simple but stylish and comfortable everyday bag using only one pair of jeans! The instructions and printable pattern are very simple and you can make this slouchy soft bag with almost any other fabric, but denim is always on trend!
The fun of this project is to keep that cool denim look: stonewashed effect, rips, seams and hems. Some jeans are so great-looking (but don't fit for instance), then it's really fun to turn them into a bag, something that you can still use and enjoy!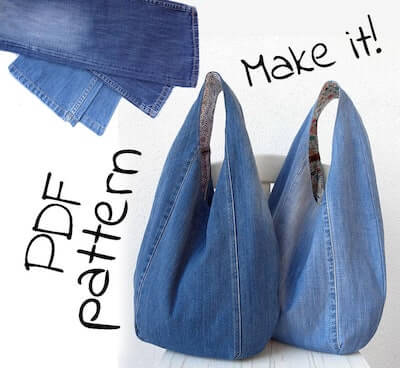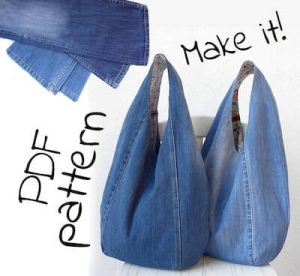 Get the Pattern by Buki Buki here
30. Little Messenger Bag Sewing Pattern by Life Sew Savory
This small messenger style bag has a front pocket and is the perfect size for small boys and girls to carry around their toys and treasures. You can adjust the strap for height. If it's too long, you can always tie a knot until your little ones grows.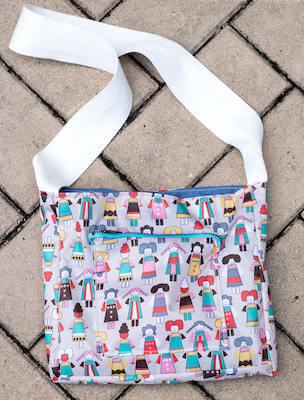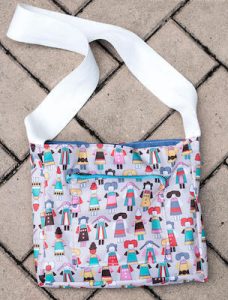 Get the Pattern here
31. Free Oversized Beach Bag Sewing Pattern by The Polka Dot Chair
As much as I try not to haul a bunch of stuff with me to the beach, I am never successful at "traveling light" when I'm beach-bound. There are just too many things that I like to take with me to the beach or the pool. If you're like me, this giant bag is perfect for us! It's large enough to hold 2-3 beach towels plus all other necessities!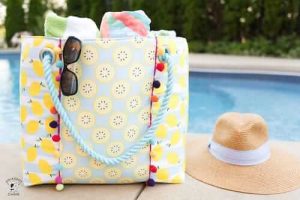 Get the Pattern here
32. Zipper Bags Sewing Pattern by Yarnspirations
One can never have too many zippered pouches—they're great for stowing everything from sewing supplies to travel cosmetics. These softies stack inside the largest for easy storage when not in use.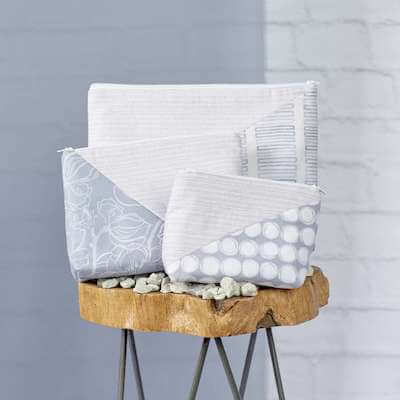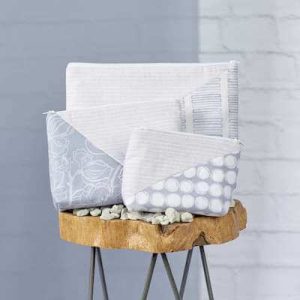 Get the Pattern here
33. Nora Doctor Bag Sewing Pattern by Swoon Patterns
Nora is a classic handbag inspired by doctor bag purses of the past. True to the style, this bag opens wide but does not require an expensive frame.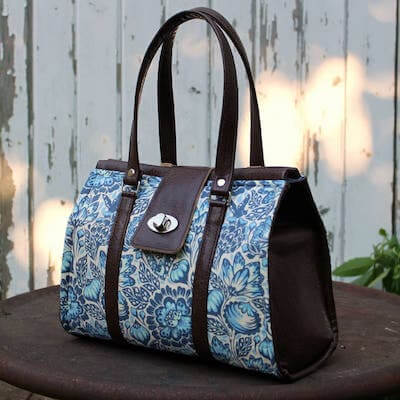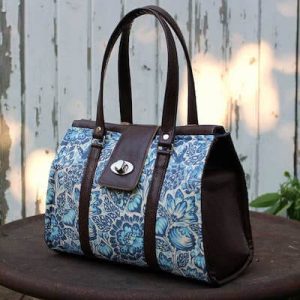 Get the Pattern by Swoon Patterns here
34. Tool Bag Sewing Pattern by Indigo Bird Design
No more digging deep into a bag or a box looking for tools! You will love this handy tool bag with many pockets for storing and carrying all your sewing, quilting, or crafting supplies! With 9 exterior pockets, organizing your tools has never been easier.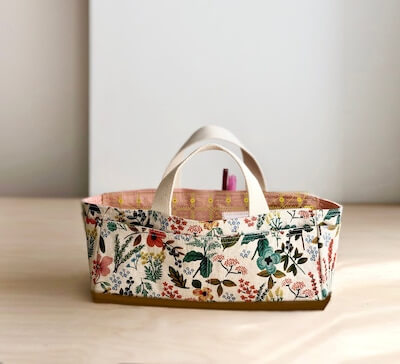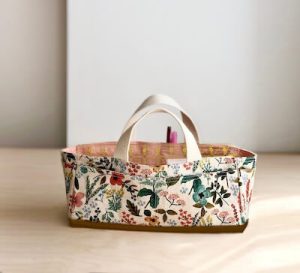 Get the Pattern by Indigo Bird Design here
35. Double Compartment Crossbody Bag Sewing Pattern by Sew Can She
Sew a cross body bag with 2 main pockets, a slim third pocket, plus a zipper pocket on the back! This free sewing pattern is a lot easier than it looks – thanks to some fabric folding you'll be doing to sew the parts together.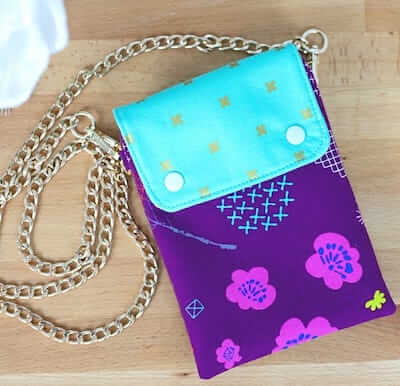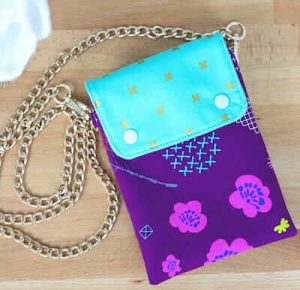 Get the Pattern here
36. Frou From Bag Sewing Pattern by Sew Sweetness
This one is suitable for an intermediate seamstress and features pretty ruffled flaps, snap closure, and an adjustable strap! The small front pockets are also 3-dimensional. The beautiful detailing on this bag combines with functionality – it has 4 inner pockets and can hold a lot of stuff!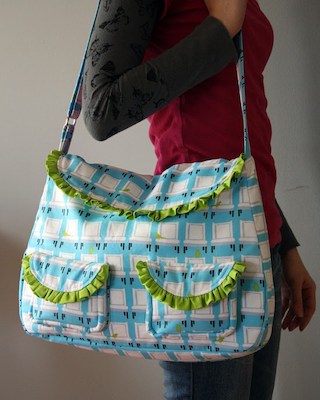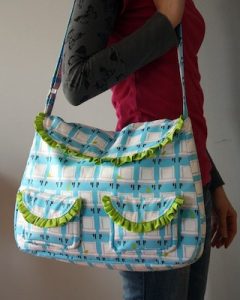 Get the Pattern here
37. Dorothy Clutch Bag Sewing Pattern by Charlie's Aunt
Inspired by the simple envelope 'clutch' bags of the early 1930's, this pattern is for a small, neat, easily constructed bag in the style of its 20th century predecessors. It owes its elegance to the striking asymmetric flap and choice of a single large bow or vintage style cabbage rose and leaf, stitched on at a jaunty angle.
This bag is a small size making it ideal for special occasions and can be made up in everything from bright patterned quilting fabrics to pretty pastel or polka dot needlecord.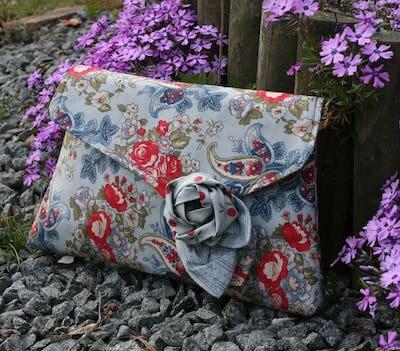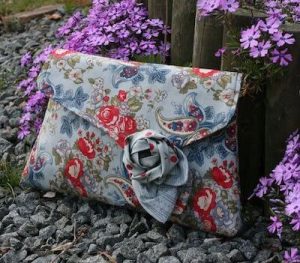 Get the Pattern by Charlie's Aunt here
38. Child's Tote Bag Sewing Pattern by Vicki Elle Handmade
This absolutely adorable ballerina tote bag is the perfect size for a toddler, pre-schooler, or even someone a little older. It's fully lined and is decorated with a tulle skirt and ribbon bow.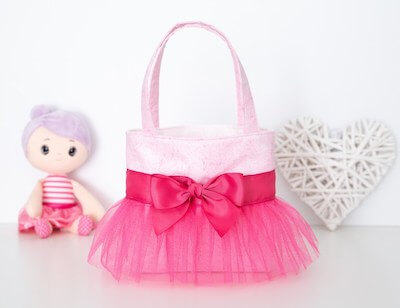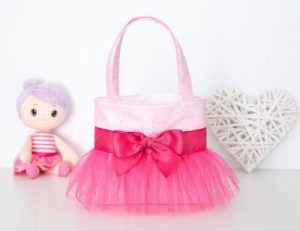 Get the Pattern by Vicki Elle Handmade here
39. Field Study Fold-Over Tote Sewing Pattern by Betz White
This Field Study Fold-over Tote adapts to your needs. This versatile bag features a zippered top closure with handles that fold down, allowing you to carry your essentials with ease.
There's a back pocket with a magnetic snap closure for easy access. Inside there's a zippered pocket and a padded slip pocket sized to fit a tablet. As needed, this bag expands to a tote with a removable shoulder strap, ready to handle whatever your day brings.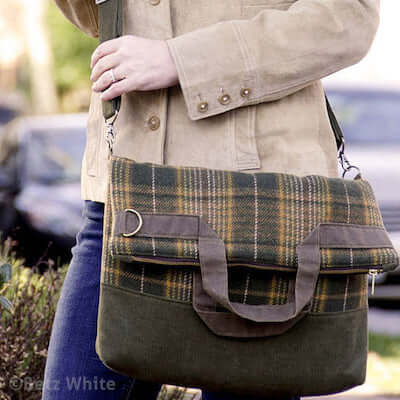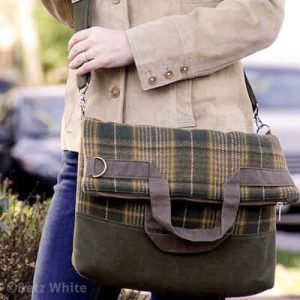 Get the Pattern here
40. Alyssia Clutch Shoulder Bag Sewing Pattern by RLR Creations Sewing
This Alyssia Clutch Shoulder Bag is part clutch, part shoulder bag, but most of all sure to become your favorite purse. As the name indicates, the shoulder strap can be removed and Alyssia can carried as a modern styled clutch using the crescent shaped top handle; but as a shoulder bag it is roomy enough to be carried during the day.
This bag is a gorgeous clutch/shoulder bag that measures 10 1/2″ wide, 6 1/2″ high, and 3″ deep that will double as a clutch for a night out and will easily accommodates your wallet, keys, and cosmetics. It's that kind of unique bag that people will ask you about wherever you go.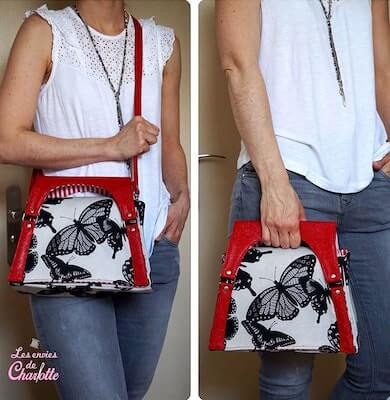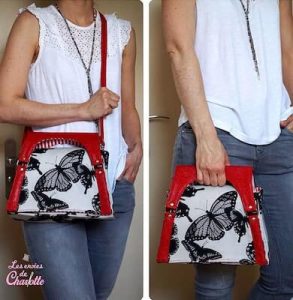 Get the Pattern by RLR Creations Sewing here
Bag Sewing Patterns Frequently Asked Questions
What's the best fabrics for bags?
The most important consideration when choosing fabric is the strength of the material and the intended use of the bag. Make sure to choose a very sturdy fabric such as heavy canvas, cork, or leather for bags that will receive a lot of wear and tear. This includes duffle bags, luggage, and backpacks.
For lighter-use bags, such as tote bags and purses, select a good medium-weight fabric. Light-weight fabric is almost never durable enough to use when sewing bags.
What thread do you use to sew bags?
Heavy-duty or coated fabrics won't matter if the thread holding it all together is thin and frail. Sew your bag together with a heavy-weight thread to reinforce the seams. Consider the thread's fiber content as well.
I enjoy sewing with cotton thread, but because it is a natural fiber, it will break under stress much sooner than a synthetic thread such as polyester.
What's the best sewing machine needle for bag-making?
Sew with strong needles. If you're sewing through a lot of thick fabrics and interfaced layers, choose a strong heavyweight needle to save yourself a lot of time and trouble. A lightweight needle will snap under the strain of sewing the heavy fabrics, sending metal flying — dangerous!
So protect your eyes and choose a heavy needle for the job! Leather needles are available in a variety of weights and have a wedge point end designed to pierce through leather, vinyl, and coated fabrics.
Do you need interfacing for bags?
Interfacing adds structure and support to the purse or bag you are making. It also makes the fabric stronger and more stable to prevent distortions and stop it from stretching out of shape. Without some type of interfacing, a sewn bag would simply collapse into a little pile of fabric.
How to choose the right interfacing?
When it comes to sewing bags, interfacing is your best friend. If your fabric can adhere to a fusible interfacing, you can strengthen it by ironing a heavy fusible interfacing directly onto it.
However, the fabric you choose for your bag may not respond well to fusible interfacing. To add thickness to those, simply sew a sew-in interfacing between the layers of the outer and lining fabrics.
You can also find sturdy and stiff interfacings for the bottom of a bag to create a firm and stable base, which is ideal for travel bags.
NO MATTER WHAT STYLE YOU PREFER, THIS COLLECTION OF BAG SEWING PATTERNS WILL HAVE SOMETHING YOU'LL FALL IN LOVE WITH!
If you make one, be sure to share your finished projects on our Facebook Page. I'd love to see those gorgeous handmade bags!
Looking for more bag sewing projects? Have a look at these 45 Tote Bag Patterns, 10 Handy Laptop Bag Patterns, and 25 Backpack Sewing Patterns. Or why not browse more accessory patterns to combine with your new bags.
With these bag sewing patterns at hand, you can make new accessories to match your wardrobe during each season of the year! Happy sewing!