Think lofty vaulted ceilings made of handcrafted wood beams in a grand and spacious cathedral with floor to ceiling stained glass windows. It's no wonder the Cathedral Window Quilt is so popular – its inspiration is so lovely!

These Cathedral Window Quilt Patterns are so much fun because they make such a different statement depending on the colors and materials used and how they're incorporated into designs featuring solely Cathedral Windows or alongside other quilt blocks.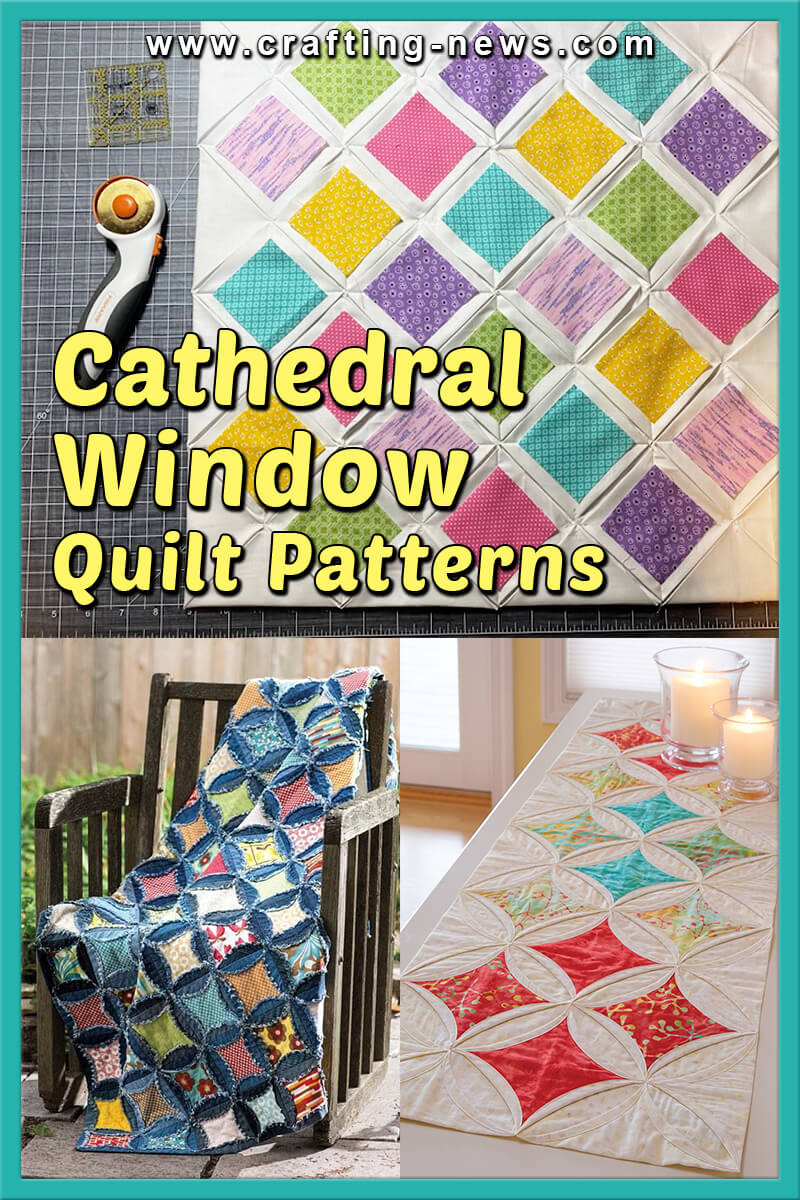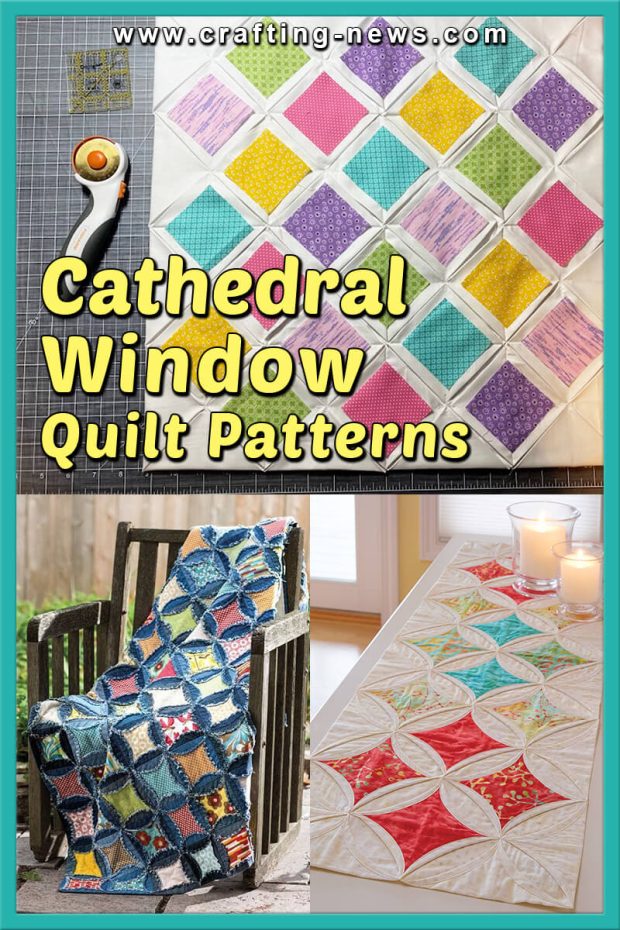 In the truest sense of the word, the Cathedral Window quilt is not really a quilt. It is not created with a backing and batting and has no quilting (hand or machine) stitches in it. But it is still a perennial favorite with quilters the world over, especially those who love hand work and don't mind spending a lot of time making it!
22 Cathedral Window Quilts Ideas

If this is something you haven't tried yet, I definitely recommend you do. It's one of those techniques that appears really hard to do but, once you get to grips with it, it's really not as difficult as it looks. Yes, it is time-consuming but it's so rewarding!

1. Modern Cathedral Window Quilt Pattern by Quilting Wemple
Modern Windows is a modern quilt pattern that takes a classic cathedral window quilt technique and gives it a fresh facelift by retrofitting the classic design to allow for using batting, backing, and binding.

This pattern has altered the traditional build of the cathedral window to allow you to create the beautiful design of a cathedral window quilt and still use the batting, backing, and binding methods we all know and love.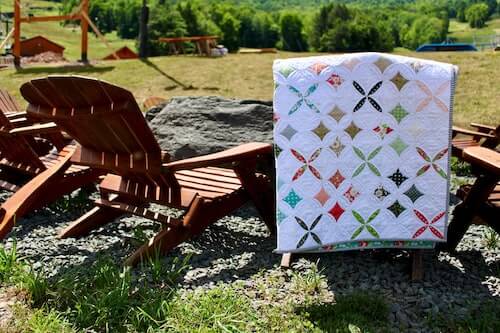 Get the Pattern by Quilting Wemple here

2. Easy Cathedral Window Quilt Pattern by Quilting In The Rain
This is a easy Cathedral Window quilt pattern that uses circles and is also Quilt As-You-Go! I really like the look of this quilt – it's refreshing to make something different from your traditional patchwork quilt for a change. It comes together fast and beautifully! Simply prepare your circles and then sew them together, and no binding needed!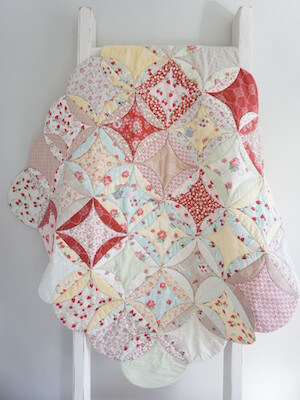 Get the Pattern here

3. Big Windows Quilt Pattern by Quilting Daily
Talk about vibrant! This quilt is the definition of vivid. The white fabric is the perfect neutral to ground the color explosion that gives this rainbow quilt its charm. An awesome detail about this quilt? It's a quilt-as-you-go project, so once the quilt is assembled, add the binding and it's done!

Having the option to finish the quilt top, quilt back, and quilting all at the same time is always a plus. Such a time saver!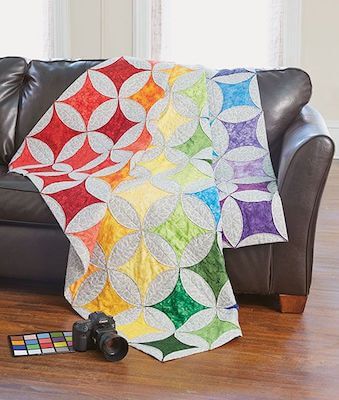 Get the Pattern here

4. Cathedral Window Pillow Quilt Pattern by A Spoonful Of Sugar
The classic cathedral window patchwork design has been given a modern make over in this cushion project. Floral and geometric prints have been partnered with some white quilter's muslin to create a contemporary cushion with a flange edging.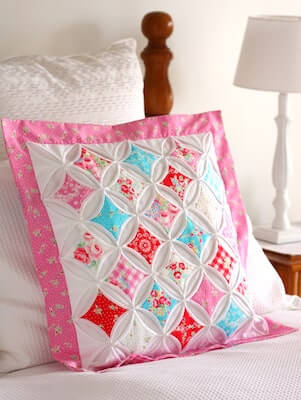 Get the Pattern by A Spoonful Of Sugar here

5. AmazIng Denim I Spy Rag Quilt Pattern by Hangry Fork
Refashion all of your old blue jeans into this Amazing Denim I Spy Rag Quilt. This quilt pattern has frayed seams and is made of scraps of denim and colorful fabrics to create an upbeat quilting design.

This tutorial uses a cathedral window quilt pattern to create a three-dimensional effect that reveals each uniquely printed fabric scrap.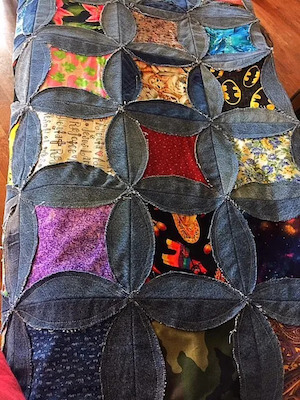 Get the Pattern here

6. Deep In The Woods Quilt Pattern by Meags & Me
I love this quilt. It features 7 different woodland creatures, mushrooms, and cathedral windows. The finished size is 32″ x 40″ – perfect for a nursery!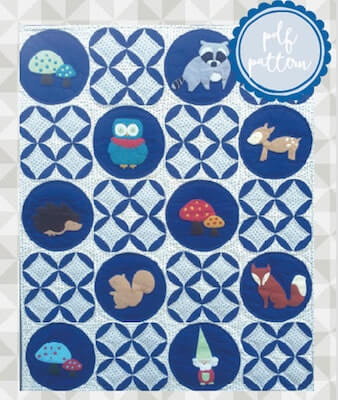 Get the Pattern by Meags & Me here

7. Cathedral Window Quilt Block by Jo Avery
Cathedral window quilt blocks may seem laborious due to all the folding and pressing, but as Jo Avery shows, this technique means no basting or quilting is required, so it's actually a pretty speedy way to make a really striking quilt or cushion!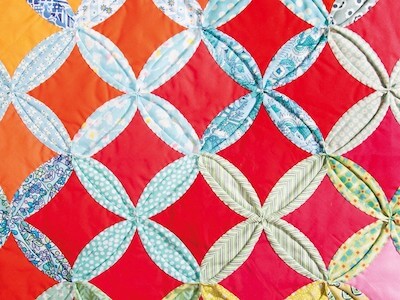 Get the Pattern here

8. Orange Peel Quilt Pattern by Quilting Daily
For a classic feel with an updated arrangement, this pattern uses two traditional blocks — the Orange Peel and Cathedral Window — in this quilt called Orange Peel. Combining two classic blocks like this does so much for a quilt: it ups the energy quotient, causing the eye to jump around a bit more, and may sometimes create a secondary design.

The white fabric throughout this quilt is a wonderful way to ground the otherwise vibrant fabric choices, helping everything to work together wonderfully.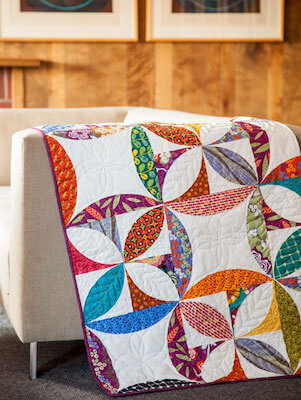 Get the Pattern here

9. Cathedral Window Baby Placemat by Amy Gibson
If you're like me, you're probably always on the lookout for cute, memorable baby shower gift ideas. Perhaps you'd like to gift something a little more "wow" than the usual onesies and burp cloths? Look no further!

This darling cathedral window baby playmat is like no other. It is constructed using a unique method that requires no basting, no traditional quilting, and no binding. Plus, it's nice and thick- super cooshie for that sweet little tooshie!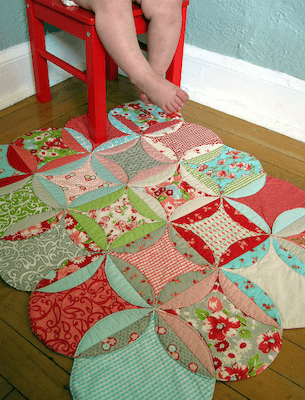 Get the Pattern here

10. Free Cathedral Window Quilt Pattern by Gathered
I love taking classic techniques and giving them a contemporary update. In this tutorial, pick a rainbow of bold bright fabrics in modern prints to center your Cathedral Windows and combined them with a fresh white backdrop to pull the design together and create color-popping diamonds.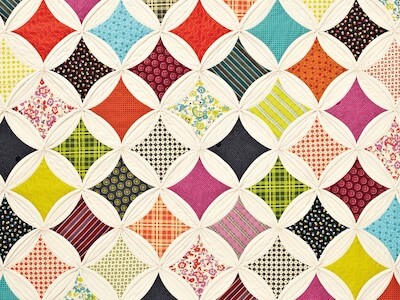 Get the Pattern here

11. Untamed Quilt Pattern by Happy Hippie Sews
6″ mix and match blocks including a Cathedral Window block come together in a simple to make and simple to customize quilt! Make it scrappy, make it designer, throw away the rules and make it yours!

The pattern doesn't include exact placement for each block, it's designed to be a whimsical and blissful process! Make all the blocks, then put them together intuitively.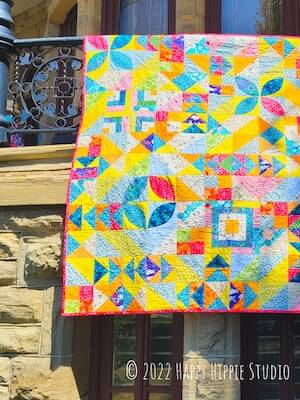 Get the Pattern by Happy Hippie Sews here

12. Calypso Table Runner Quilt Pattern by Quilting Daily
This table runner uses the traditional Cathedral Windows block, but made up in rich-hued batiks. It puts a cool, tropical spin on your table top!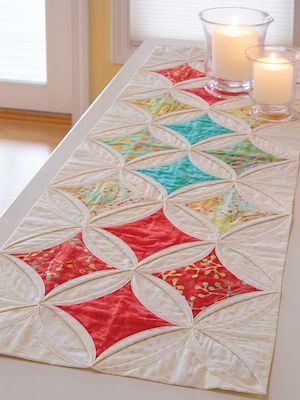 Get the Pattern here

13. Cathedral Window Quilt & Pillow Pattern by Shabby Fabrics
Create a romantic masterpiece with the Cathedral Window Quilt and coordinating pillow! This stunning quilt is sure to wow your friends and family with its intricate and complex look, but it is so much easier than it looks!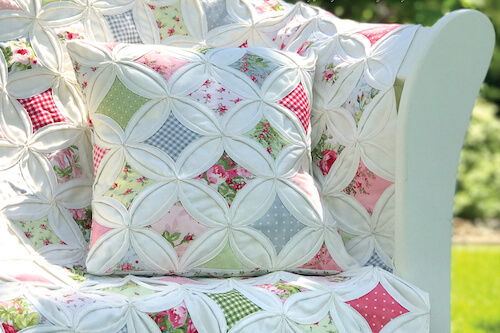 Get the Pattern here

14. Cathedral Window Quilt Pattern by She From The Valley Des
The Cathedral windows pattern is a big classic when it commes to quilts! And a lot easier than you would imagine! But instead of making a spread of little multi coloured windows, make them bigger to look more modern and fresh. This pattern pays homage to the traditional look of Cathedral Windows, while adding quiet calm through the white background.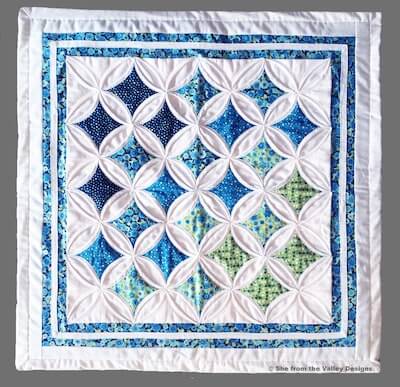 Get the Pattern by She From The Valley Des here

15. Cathedral Window Quilt by Quiltdom
With the steps and photos provided in this tutorial, the mystery and difficulty surrounding the cathedral window block should melt away. This tutorial will give you a finished mini quilt that you can use as a centerpiece, wall hanging, or the top for a pillow cover. Cathedral quilting is a great stash-buster project, so be colorful as you want your quilt to be!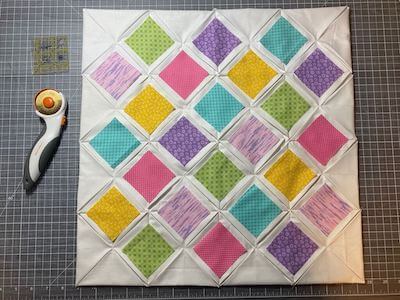 Get the Pattern here

16. Forever In Blue Jeans Quilt Pattern by Quilting Daily
Another fine example of a quilt featuring the Cathedral Window block is this Forever in Blue Jeans Quilt. Take old jeans and scrap fabric and combine them to create a quilt with a one-of-a-kind look that resembles a rag quilt.

I love this quilt! Not only does it offer a ton of visual interest, it's incredibly sturdy, as well. Make sure to use a hefty needle, like a denim needle, when piecing this one together!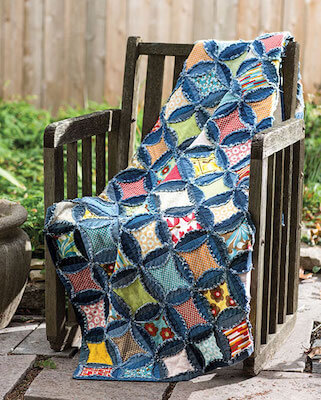 Get the Pattern here

17. Church Picnic Quilt Pattern by Kendra McCracken
Enjoy a pleasant outing with the family with the stellar Church Picnic Quilt. This gorgeous cathedral window quilt pattern comes alive with colorful quilt fabric, but still maintains the appeal of vintage quilt patterns.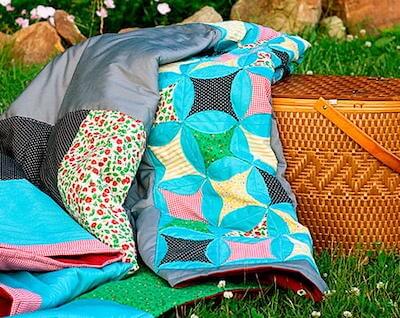 Get the Pattern here

18. Cathedral Window Baby Quilt Pattern by The Window Way
Here's another memorable baby quilt that steps away outside of the arena of typical (and boring) baby shower gifts. It will be wonderful in many color combinations. You can make it by machine or by hand and enjoy it!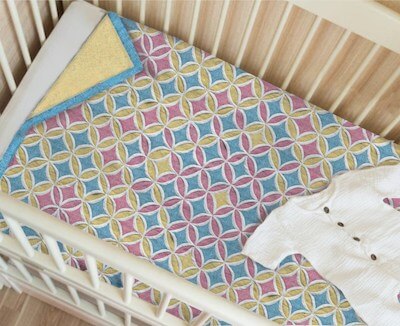 Get the Pattern by The Window Way here

19. Cathedral Windows Quilt by Bonjour Quilts
Looking to try out a cathedral windows patchwork project, but not ready for a full-sized pattern? It will be much simpler to learn the ins and outs of cathedral windows quilting using a simple mini quilt pattern like this one. Measuring in at 16 x 16, this pattern would be perfect as wall-hanging.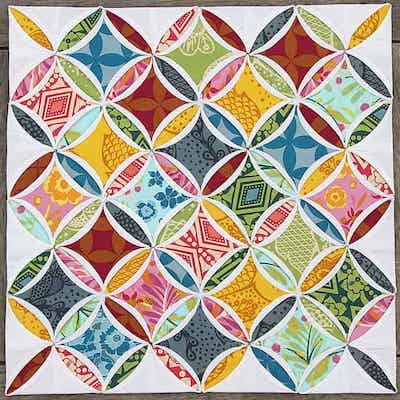 Get the Pattern here

20. Cathedral Window Block by Sometimes Crafter
Cathedral window blocks are a great way to add an elegant twist to your quilts, as they give you freedom to play with various fabric patterns and combinations. Try using a crisp white background with some pops of color to emulate the stunning combination you see in thi cathedral windows block pattern.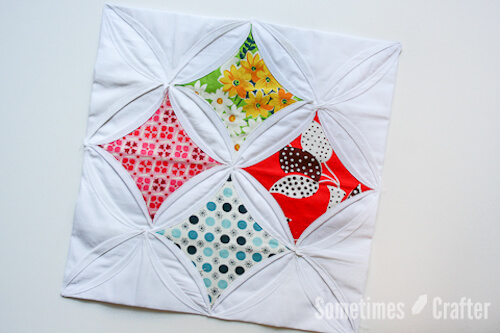 Get the Pattern here

21. Pieced Cathedral Windows Free Quilt Pattern by Burlap And Blossom Patterns
I absolutely love and adore traditional cathedral windows quilts! They're just so beautiful and intricate! This version of cathedral windows is so super simple to make and is 5"-pre-cut-square-friendly.

While the cathedral windows quilt is a classic, this pattern will allow you to use the traditional piecing method to make a simple quilt that gives a similar look and feel to the original cathedral windows design.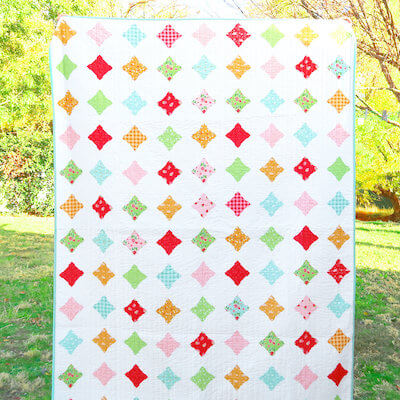 Get the Pattern here

22. Faux Cathedral Window Quilt Pattern by In The Hoop Online
This faux Cathedral Window quilt block is such a versatile block, you can make a nursery quilt or a bed throw for an adult. Play around with your fabric and thread choices to give you very different looks to your quilt.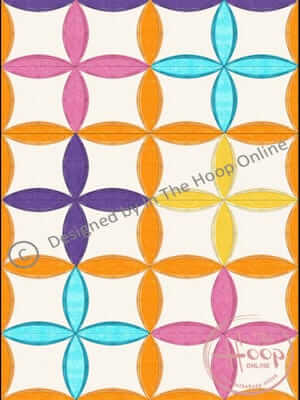 Get the Pattern by In The Hoop Online here
THESE CATHEDRAL WINDOW QUILT PATTERNS TRULY DESERVES TO BE FEATURED ON AT LEAST ONE OF YOUR QUILT PROJECTS!
Cathedral windows is a stunning pattern that really looks great with all sorts of a variety of scraps. Once you've finished making your versions, be sure to share a pic with us on our Facebook Page.

For more quilting designs you'll love, check out these patterns:
Be prepared to get hooked, these Cathedral Window Quilts are very addictive way of quilting, once you get it down. Inspired by beauty, it's no wonder this pattern is so special!