We all have those leftover scraps that we don't want to see go to waste. But after a while, those fabric scraps can tend to multiply until they start to take over your sewing space. Today, we'll give you a list of projects for putting those scraps to good use. Scraps both big and small will find a home in these scrappy quilt patterns below!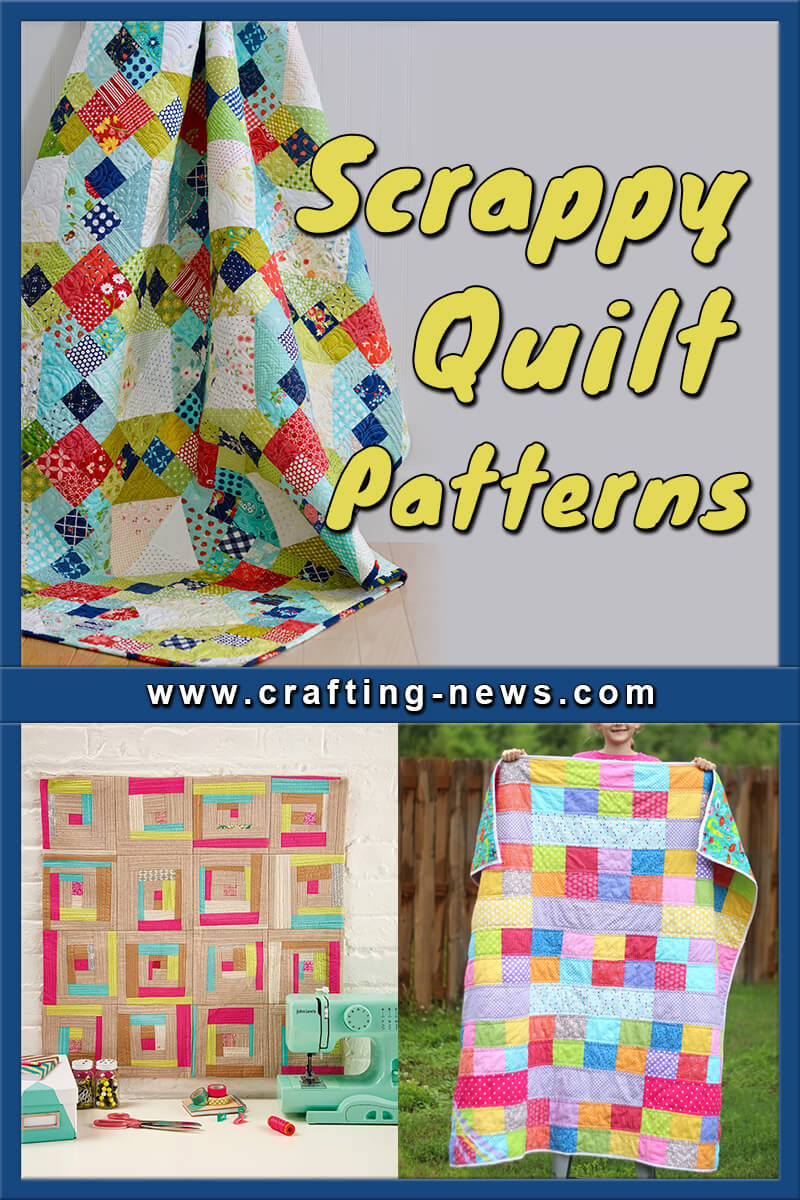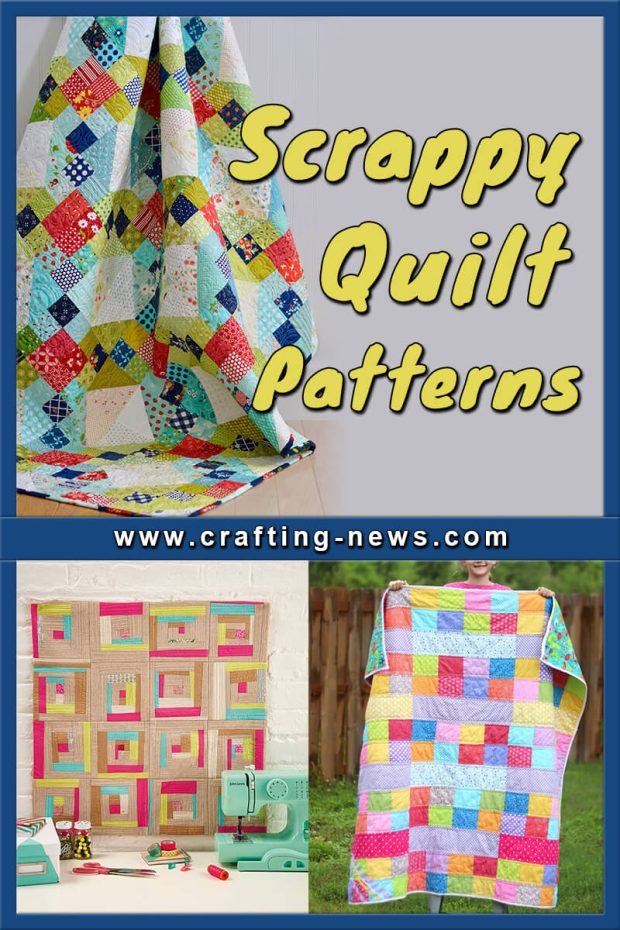 32 Scrappy Quilt Patterns to Help Use up Your Fabric Stash
Begin by looking through your scrap pile and look for anything that stands out. Once you get a better idea of what you have, including the amounts and the size of your quilting scrap pieces, it's time to pick a scrappy quilt pattern! There's so much to love!

1. Scrappy Columns Quilt Pattern by Quilt Woman Designs
This easy quilt is perfect to use up your scraps or you can use a jelly roll or four charm packs. You'll just need additional yardage for the background, borders, and binding.

You can make it look modern or classic, depending on your fabric choices. You'll be surprised at how fast the scrappy columns come together to create this stunning quilt.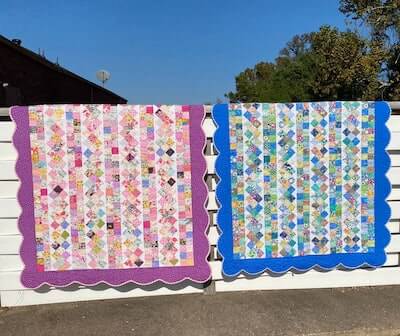 Get the Pattern by Quilt Woman Designs here

2. Bitcoin Quilt Pattern by Quiltville LLC
All the scrappy fun in a flash, with not a triangle in sight! See your scraps shine by building ladders and columns in a variety of lengths. Full color photos and graphics and detailed instruction are included in this Bitcoin Quilt Pattern to show you how each step of the way!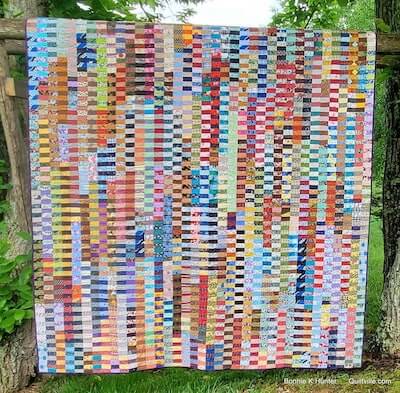 Get the Pattern by Quiltville LLC here

3. Scrappy Lines Quilt Pattern by Side Lake Stitch
Here's an original modern quilt pattern for any quilter from beginner quilters to advanced. This pattern is developed with the idea of making use of leftover fabric, or scraps.

The sizes include throw pillow, wall hanging, baby, throw, large throw, and bed. Since this pattern is block-based, you have the versatility to adjust sizes to your preference.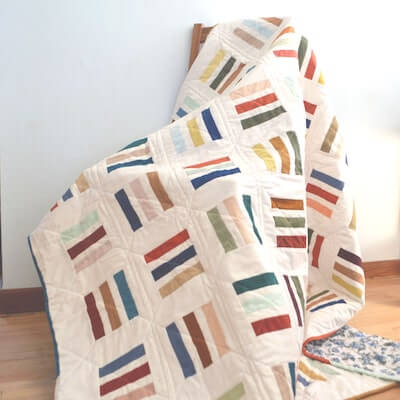 Get the Pattern by Side Lake Stitch here

4. Painted Forest Scrappy Quilt Pattern by Blue Nickel Studios
Create your own fantasy forest from all of your favorite scraps. You can use all of your floral scraps with various light or "low-volume" prints as I did in the model, or you can plant your forest in your own leftover bits.

How about a plaid forest in browns and reds? Or maybe a wintery forest in all blues and silvers. Or go super-dramatic with a black-and-white forest against a backdrop of various reds. The variations are about as limitless as, well, the number of leaves on a tree.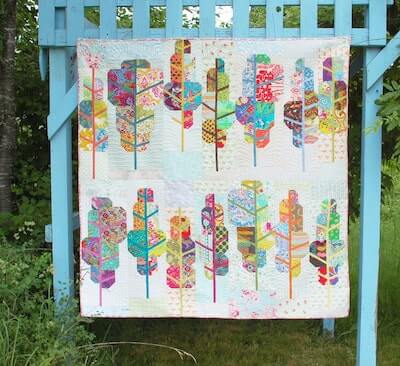 Get the Pattern by Blue Nickel Studios here

5. Modern Scrappy Quilt Pattern by Andrea Johnson 427
Here's a modern spin on a classic quilt block. This is a simple baby quilt pattern that goes together really quickly. It can be made scrappy and it can also be made with a charm pack or jelly roll!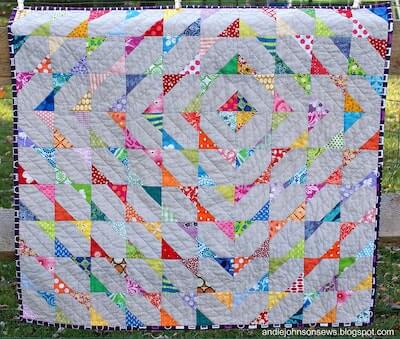 Get the Pattern by Andrea Johnson 427 here

6. Nancy's Closet Quilt Pattern by Quilting Daily
A large, lovely quilt that will put a major dent in your fabric stash! Big blocks are made with a scrappy selection of prints – every color and style is welcome in this project! Black-and-white prints in the sashings and setting triangles help to tame the wild assortment of prints.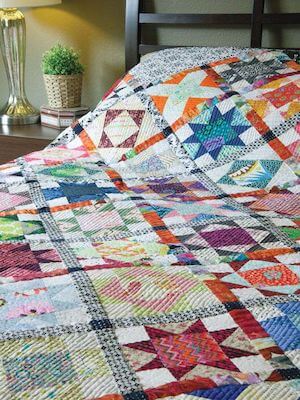 Get the Pattern here

7. Free Scrappy Quilt Pattern by Sew Can She
Sew the easiest plus quilt pattern and use up scraps at the same time. You will love how fast and easily this free queen sized quilt pattern comes together.

The plus motifs in your quilt really need to stand out, so make sure to use a bright or dark fabric that contrasts with the background fabrics. Your cross pieces don't have to be a single color, either. Use several colors from your stash or a jelly roll (you'll need 23 jelly roll strips for the plus pieces in this quilt)!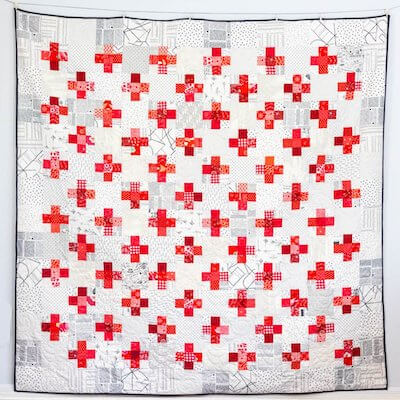 Get the Pattern here

8. Scrappy Lattice Quilt Pattern by Bonjour Quilts
Make a gorgeous rainbow scrappy quilt from this pattern which comes in five sizes: baby, lap, twin, queen and king. Bust your scrap and fat quarter pile! This Scrappy Lattice Quilt Pattern has several color-in sheets so you can design a layout that works for your own particular scraps.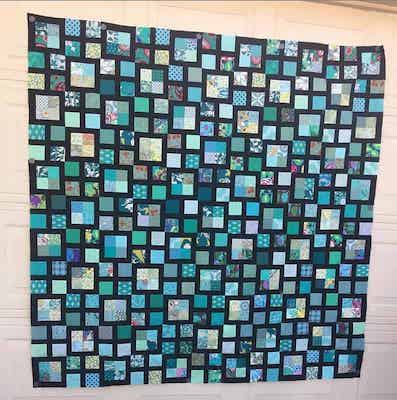 Get the Pattern here

9. Bright Birch Trees Quilt Pattern by Connecting Threads
No need to toss away all those small scraps that you think are just too small to use. This quilt will have you singing a different tune about what you decide to keep.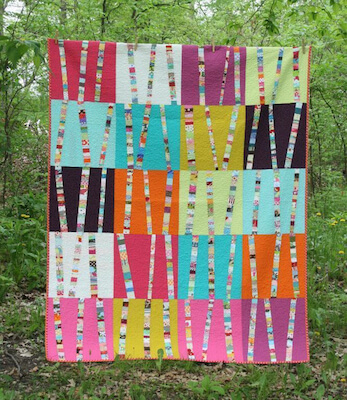 Get the Pattern here

10. Field Of Diamonds Scrap Quilt Pattern by The Spruce Crafts
Field of Diamonds is an easy scrap quilt pattern designed with a combination of two traditional quilt blocks: a block known by many names but most commonly called the X block, and the Sixteen Patch block. This quilt is very scrappy, but you can create a theme. You could even choose light to dark fabrics of the same color to create a monochromatic quilt.
Get the Pattern here

11. Grande Scrappy Tiles Quilt Pattern by Meadow Mist Designs
This pattern is very beginner friendly and be created using your favorite scraps, fat quarters, and/or 1/4 yard cuts. The finished quilt top appears to be a improvisationally pieced quilt top, but is actually a single 24" x 24" (finished) block rotated randomly within the quilt top. This pattern is perfect for your favorite fabrics that you do not want to cut into small pieces.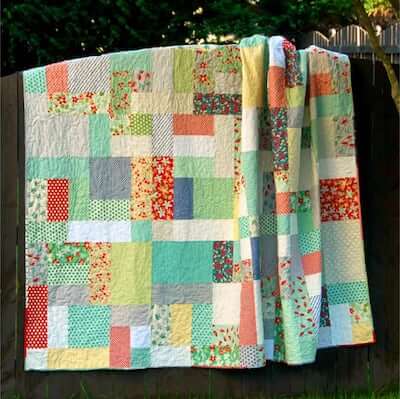 Get the Pattern by Meadow Mist Designs here

12. Scrappy Charm Quilt Pattern by Jedi Craft Girl
Bust out your scraps it's time to make a quilt! You will love how easy this quilt comes together! This quilt is made entirely with 5″ squares and 2 1/2 squares. A perfect quilt to make from your stash during quarantine!
Get the Pattern by Jedi Craft Girl here

13. Staggered Bricks Quilt Pattern by Modern Material Girl
This pattern is perfect for scrap-busting, and includes four different design variations and five different quilt sizes. For the baby and lap sizes, you can use leftover charm squares, jelly roll strips, or other small pieces, For the other sizes, you will need larger scraps.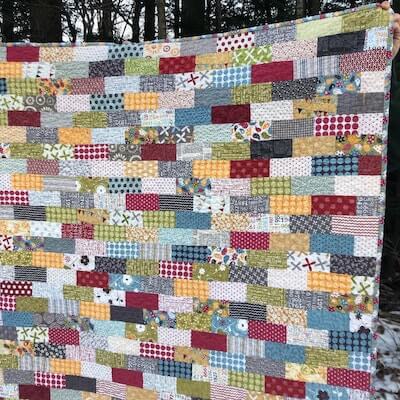 Get the Pattern by Modern Material Girl here

14. Strips Baby Easy Scrappy Quilt Pattern by Polka Dot Chair
This Scrappy Strips Baby Quilt is so easy to stitch up that you'll want to make a bunch to give away as baby gifts! It's also a great scrap busting quilt project. The best part of this pattern? Since it's made up of staggered strips, there are no corners to match!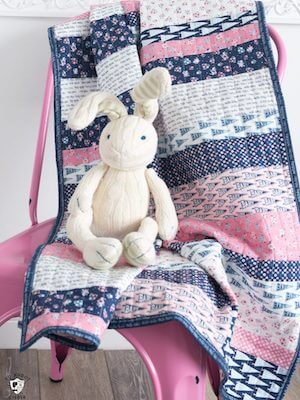 Get the Pattern here

15. Log Cabin Quilt Pattern by Gathered
Get scrap busting with this string-pieced Log Cabin quilt pattern! This Colour Cabins Mini Quilt uses solid brights and pretty prints against textured neutral shades to create a statement quilt. You can plan your blocks before you start or just go for random fabric placement for an improv look.

It's the ultimate stash buster project and is ideal for quilters wanting to try something new.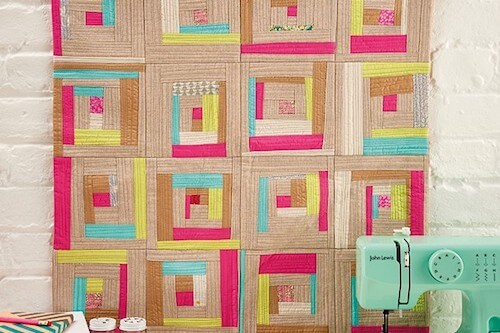 Get the Pattern here

16. Color Mashup Quilt Pattern by Karen Griska Quilts
Do you love dazzlingly colorful fabrics? Want a fast and easy pattern that shows them off? This is it. Mashup all your favorite colors and patterns with this Color Mashup Quilt. No stress!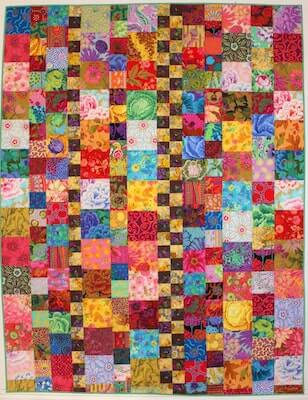 Get the Pattern by Karen Griska Quilts here

17. Around The Block Quilt Pattern by Rachelle Denneny
This Around the Block Quilt is a great pattern for using up those irresistable rolls or bundles of 2 1/2″ strips or fantastic for busting that stash. This pattern looks amazing in bright modern patterns but could be delightful in soft pastel batiks. Whatever your fabric choice, anything goes with this fun scrappy quilt.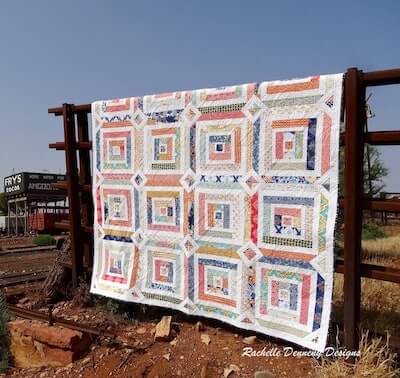 Get the Pattern by Rachelle Denneny here

18. Kids Scrappy Quilt Pattern by Gluesticks Blog
This scrappy quilt is so simple to make and is a great beginner project for kids. When all is said and done, they will have a darling 52″ throw to cuddle under.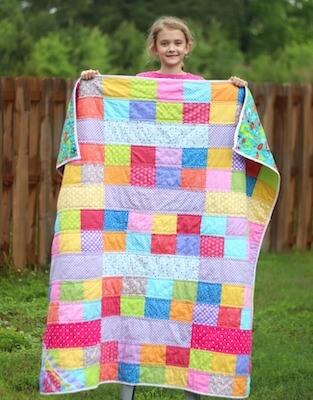 Get the Pattern here

19. Controlled Chaos Scrappy Quilt Pattern by Shiny Happy World
Break out your brightest scaps for this free quilt pattern that embodies all things color! A combination of traditional and modern quilt blocks, this Controlled Chaos Quilt Pattern has classic designs like the nine patch and log cabin block and is the perfect way to break out of your quilting routine.

Made using fabric scraps in rainbow colors, this easy quilt pattern is a fantastic long-term project for beginner quilters and is a great way to practice creating a detailed quilt without breaking your budget.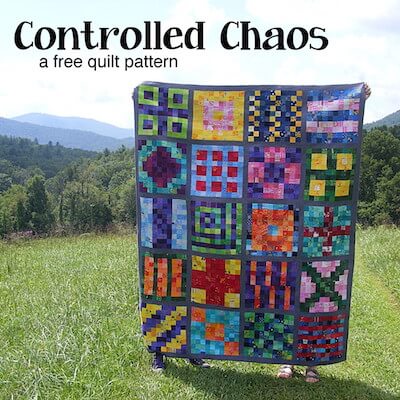 Get the Pattern here

20. Easy Patchwork Quilt Pattern by Sew Can She
Now, this is a scrappy quilt! Made entirely out of 2 1/2 inch squares, you can go wild using just about every scrap you have on hand. All different colors are used making it the ultimate scrappy quilt. This is sure to be a rewarding project for both experienced, and beginner quilters alike.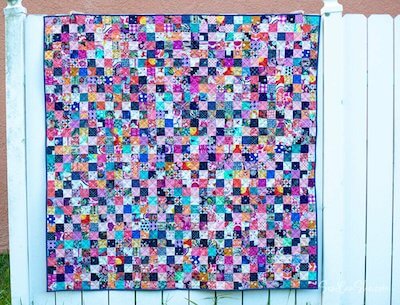 Get the Pattern here

21. Scrappy Cat Quilt Pattern by Quilting Up A Creek
Scrappy Cats is a great way to celebrate your feline and put your scraps to good use. Try using brightly colored scraps, downsize it a bit, and it would be a wonderful baby quilt.

This fun and perky quilt requires general quilting knowledge and foundation paper-piecing knowledge. It is an easy quilt to make, as long as you have a moderate knowledge of both.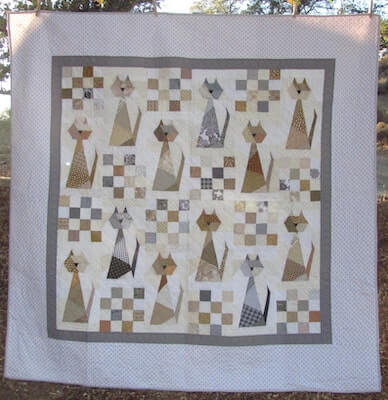 Get the Pattern by Quilting Up A Creek here

22. Exploding Heart Quilt Pattern by Slice Of Pi Quilts
What makes your heart burst with joy? Capture the feeling with the Exploding Heart quilt! This advanced beginner pattern makes a large 72" x 72" throw quilt and is fat quarter and fabric cutter friendly. Solid fabrics, batiks, and small scale, non-directional prints work great for this striking and modern heart quilt.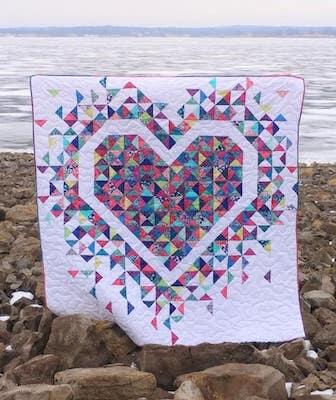 Get the Pattern by Slice Of Pi Quilts here

23. Grandma's Quilt Pattern by Under The Shamrock
This pretty quilt is completed on-point, making this an intermediate level quilt to make. Different sizes of squares show off different fabrics. You could choose certain colors or just use everything you have to make it even more scrappy.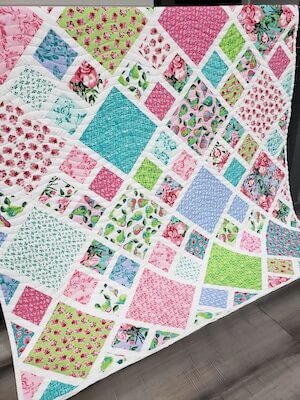 Get the Pattern by Under The Shamrock here

24. Piccadilly Circus Quilt Pattern by Quilting Daily
Play with color and have fun as you strip piece these crazy quilt blocks into a colorful quilt that is distinctively "you." Throw the rules out the window when piecing this beautiful throw quilt. It really speaks for itself, doesn't it? It's the perfect stash buster—what a showstopper!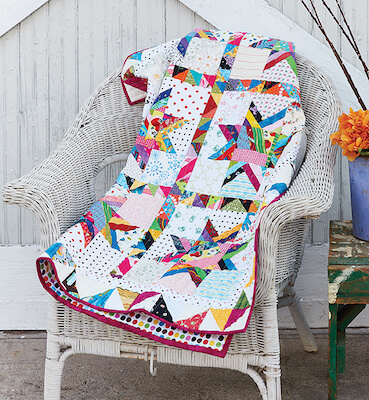 Get the Pattern here

25. Checkerboard Quilt Pattern by Red Pepper Quilts
What a great thought that those leftover bits and pieces can be transformed into something as beautiful as a quilt. Make this Checkerboard Quilt Pattern to do just that. Despite the small patchwork pieces, this checkerboard pattern came together really well.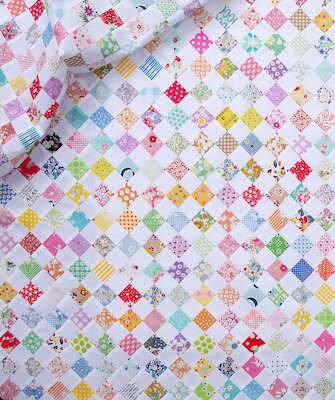 Get the Pattern here

26. Campfire Scrappy Modern Quilt Pattern by Suzy Quilts
Pulling inspiration from the traditional log cabin pattern, this design adds lots of negative space for a fresh, modern twist. Even though the pattern is written for those who enjoy buying yardage, Campfire is the perfect chance to make a scrappy modern quilt!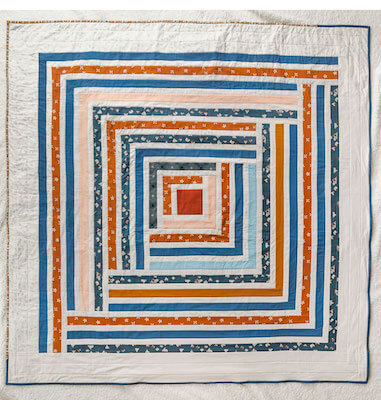 Get the Pattern here

27. Happy Scrappy Baskets Quilt Pattern by Coriander Quilts
Baskets are traditional in quilting, but this one mixes it up by filling them with a colorful burst of scrap fabric squares and triangles. This pattern proves that you can still have order in a scrappy quilt.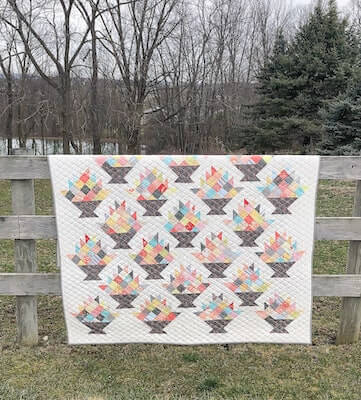 Get the Pattern by Coriander Quilts here

28. Boardwalk Modern Quilt Pattern by Karen Griska Quilts
This quilt combines the charm of a classic string quilt with the light and airy vibe of a modern quilt. The prints appear to float on the background.

Use all your favorite scraps to make this quilt including stripes, dots, novelties, black and white prints, batiks, retros, modern prints – the more the merrier.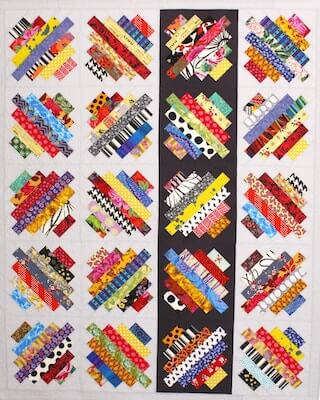 Get the Pattern by Karen Griska Quilts here

29. Irish Chain Quilt Pattern by Helen Philipps Designs
This Irish Chain is a classic quilt pattern. It is a traditional design using simple nine patch blocks set between plain blocks creating the classic chain effect.

It can be made from a whole variety of scraps or it can be made in two colors. It's an easy one for a beginner, but such a lovely quilt. It is appealing and enjoyable for any level of sewing.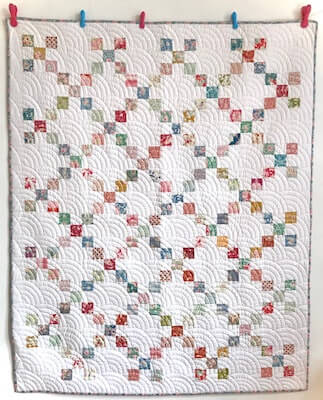 Get the Pattern by Helen Philipps Designs here

30. Make It Scrappy Quilt Pattern by Busy Hands Quilts
Make It Scrappy is a charm square or layer cake friendly quilt pattern in six sizes – baby, lap throw, twin, queen, and king. This stunning design is quick and easy to make.

Grab your favorite precuts, or simply cut the number of squares in the size indicated in the pattern, add in a sashing fabric and a border, and you're all set!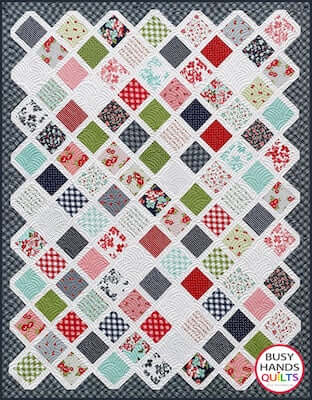 Get the Pattern here

31. Herringbone Scrappy Quilt Pattern by Maureen Cracknell Handmade
This Herringbone Scrappy Quilt is made with long panels rather than traditional "blocks". You will be using cotton batting as our foundation for easy string quilt piecing, making this the perfect project to use up those fabric strip scraps. You'll be very surprised with just how simple and quickly this quilt comes together!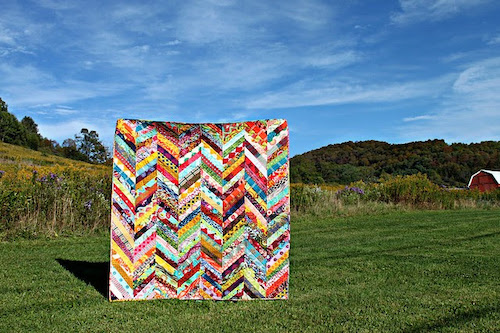 Get the Pattern here

32. Puzzle Box Quilt Pattern by Nancy Mahoney Designs
Puzzle Box combines two blocks to create exciting secondary designs that keep your eye moving around the quilt. The quilt comes alive with a variety of vibrant colors and prints, while black prints balance the design and act as a connector between the two blocks.

This graphic, stash-busting, throw-size quilt is fun and easy! The piano key border adds more scrappy goodness and completes the design.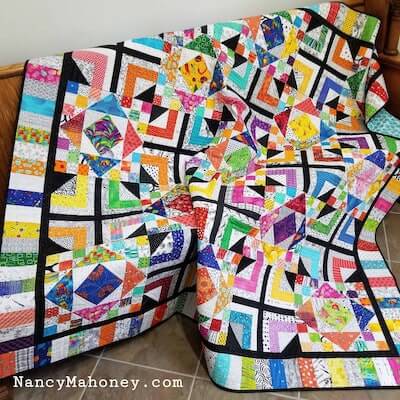 Get the Pattern by Nancy Mahoney Designs here
GIVE THESE SCRAPPY QUILT PATTERNS A GO AND LET US KNOW HOW YOU GET ON!
Post you scrap stash, your quilt progress, and your finished projects on our Facebook Page. We would love to know which pattern you'll be sewing your scraps up with!
If the quilts above haven't sparked your interest, we have more for your consideration. Here are more quilt patterns we can't get enough of:
Whether you dig through your scrap stash or mix and match your fabrics, these scrappy quilt patterns are sure to please. Happy quilting!