Hair scrunchies were a big fashion trend in the 80s. And they have made a huge comeback. What used to be a fashion faux is now a fashion must.
If you enjoy wearing scrunchies, you have come to the right place. There is no need to buy the plain old boring hair scrunchies that everyone else is wearing. Make your own. Learning how to make hair scrunchies is easy.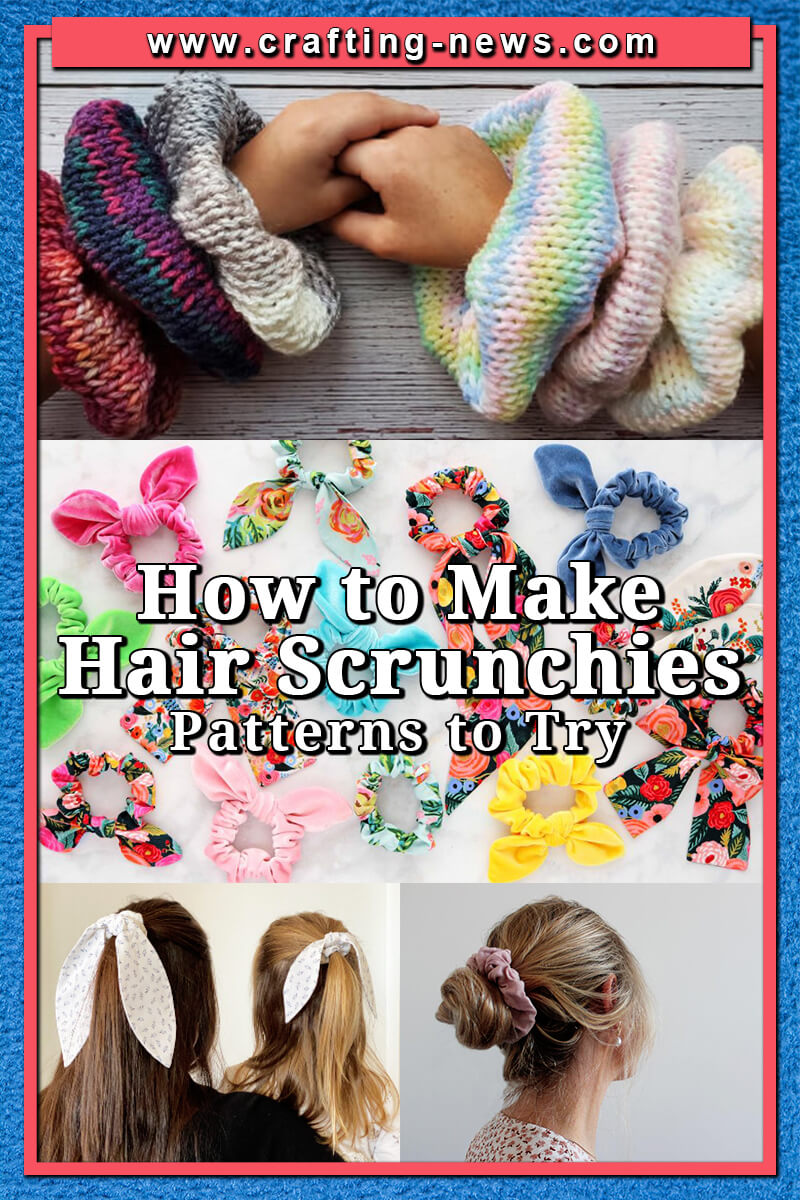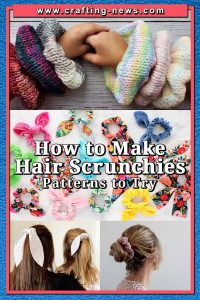 What is a Hair Scrunchies?
If you lived in the 80s, you know what a hair scrunchie is. They were all the rage and were worn by children as well as celebrities. A hair scrunchie is a hairband that has been covered with gathered fabric.
Hair scrunchies are stronger than regular hair bands. When you wear a scrunchie, you do not have to worry about it breaking and flying out of your hair. And since the elastic is not directly against your hair it will not cause damage.
They are also a great fashion accessory. Match them to your outfit or add a pop of colour. And if you want to take it out of your hair, wear it on your wrist as a bracelet. You can wear them around a high ponytail, low ponytail, pigtails, or around a bun.
Supplies Needed on How to Make Hair Scrunchies
Before you get started, gather your supplies. There are a few things you will need:
1/8 Yard of Fabric
8-10" of ¼" Wide Elastic (depending on the scrunchie size)
Matching Thread
Sewing Machine
Iron
Ruler
Scissors or Rotary Cutter and Craft cutting board
Straight Pins
Large Safety Pin
How to Make A Scrunchies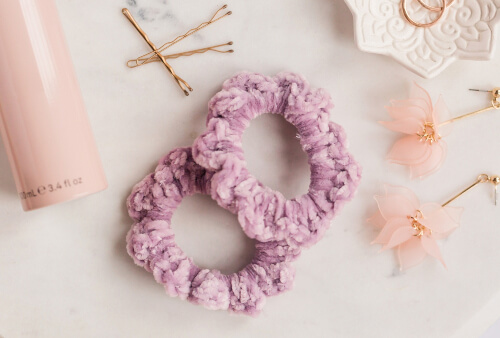 Scrunchies are easy to make. We hope this how to make hair scrunchies tutorial will help you make your own scrunchies.
1. Iron your fabric.
2. Cut your fabric. For a small scrunchie cut a 2.5" x 20" piece. For a large scrunchie cut a 3.5" x 22" piece.
3. Place the fabric face down. Turn over the short ends ¼" and iron flat.
4. Turn the fabric over. Fold the scrunchie in half by matching the 2 long edges.
5. Sew down the long edge of the fabric using a ¼" seam.
6. Cut your elastic. Use an 8" piece for a small scrunchie or a 10" piece for a large scrunchie.
7. Sew the elastic to one edge of the fabric. To do this lay it lengthwise on the fabric. Place one end of the elastic against the edge of a short edge. Make sure it is about halfway down and sew it on using a ¼" seam.
8. Turn the fabric right side out. To make this easier, attach a safety pin to the free end of the elastic. This way the elastic will not get bundles up inside. Use a pencil or chopstick to turn the tube right side out.
9. Sew the Loose end of the elastic to the closed end. This will be the same side of the scrunchie that you originally sewed the elastic to. Lay about ½" over the end and secure it using a ¼" stitch.
10. Close the scrunchie by working the end you just sewed into the open end. Make sure it is in far enough, so no elastic is visible, and the seam is equal. Stitch the opening closed.
11. Your scrunchie is now ready to wear.
27 Hair Scrunchie Sewing Patterns
Below are 27 of the simplest and cutest scrunchies on the internet. We have included free hair scrunchie patterns along with paid patterns.
1. Scrunchie Sewing Pattern by KraftsAmongUs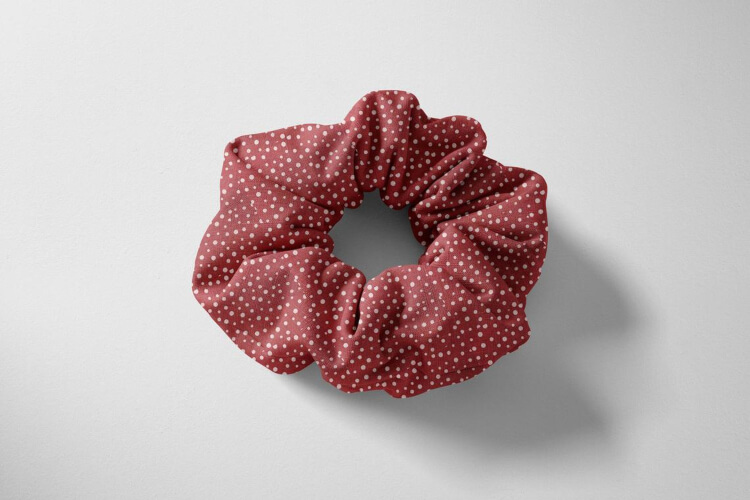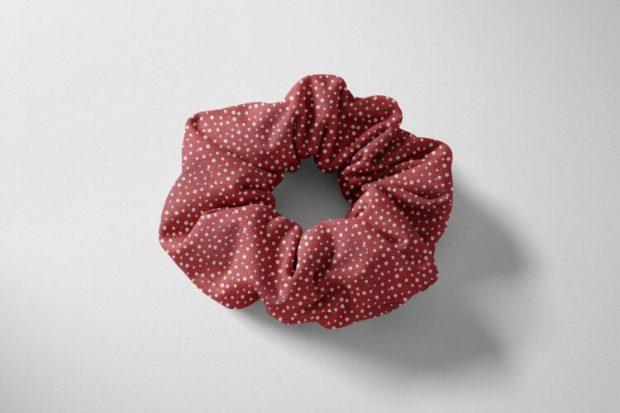 If you are looking for an inexpensive scrunchie sewing pattern, you cannot beat this one. This pattern creates a classic scrunchie.
Get the Pattern by KraftsAmongUs Here
2. H
air Scrunchie Pattern Free from Pleon Patterns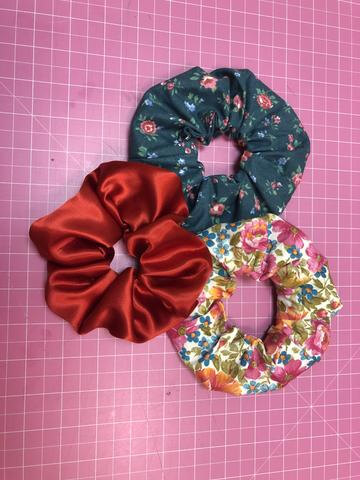 Here is a free pdf downloadable pattern by Josefine Hulten. Just print it off and tape it together. This project is great for using up vintage pieces of fabric.
Get the Pattern from Pleon Patterns Here
3. DIY Hair Scrunchie Pattern from 1HandstitchedStudio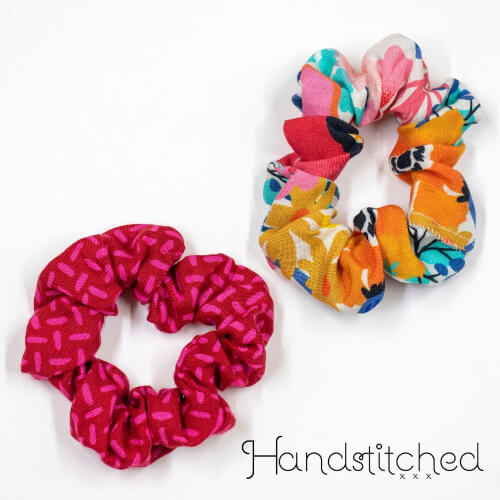 If you are learning how to sew, this pattern is for you. The project was designed with you in mind. This pattern can be completed with a sewing machine or by hand.
Get the Pattern from 1HandstitchedStudio Here
4. Easy Scrunchie Pattern by Coolbabycoolsewing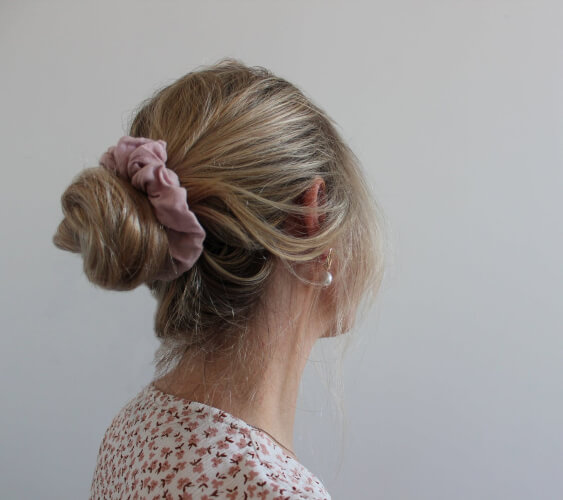 Here is a simple pattern that produces a classic scrunchie. It has instructions for 3 sizes: mini, regular and large.
Get the Pattern by Coolbabycoolsewing HERE
5. Beginner Friendly Easy Scrunchie Pattern from IntoStitchesPatterns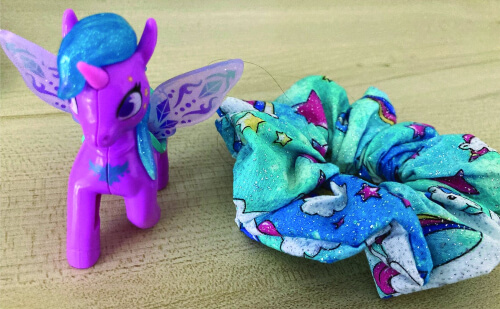 Sewing is fun and not everything has to be complicated. These scrunchies are simple and straightforward. Even a beginner can complete 5 to 6 of these in an hour.
Get the Pattern from IntoStitchesPattern Here
6. DIY Hair Scrunchie Pattern Free from Rosy Pena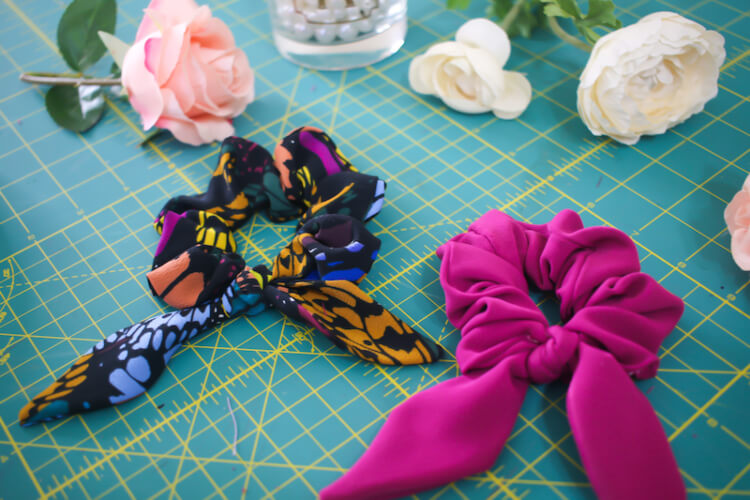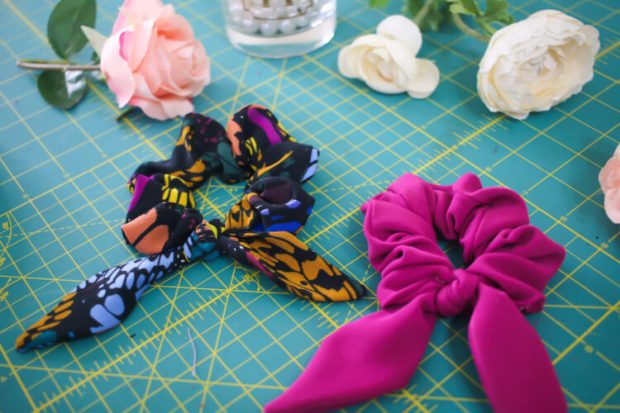 If you are looking for a quick and simple sewing pattern, this one is super easy. Gather your fabric scraps and make a bunch of these scrunchies for family and friends.
Get the Pattern from Rosy Pena Here
7. Hair Scrunchies with Bows Pattern by Patternosaurus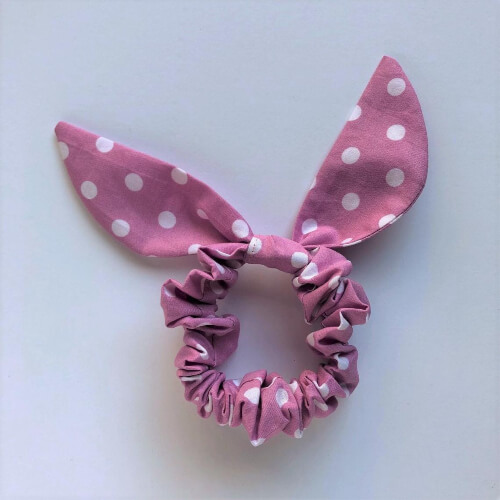 If you like the look of the old 50s style hair bow, you will love this scrunchie sewing pattern. Use a fun polka dot pattern or a solid black or red. This scrunchie is perfect for that classic look.
Get the Pattern by Patternosaurus Here
8. Velvet Christmas Hair Scrunchie Pattern by CanuckCreativityShop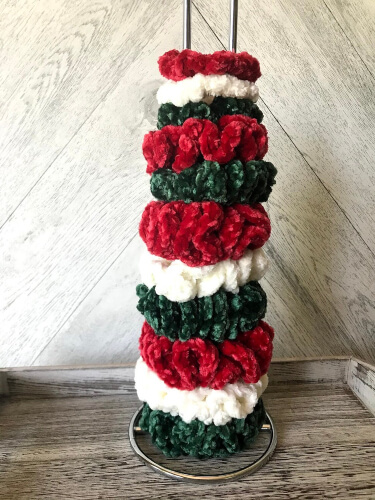 Everyone loves the feel of velvet. This easy scrunchie pattern is beginner friendly and can be completed quickly. These would make the perfect stocking stuffer.
Get the Pattern by CanuckCreativityShop Here
9. DIY E
asy Scrunchie Pattern Free from Lisa Mecham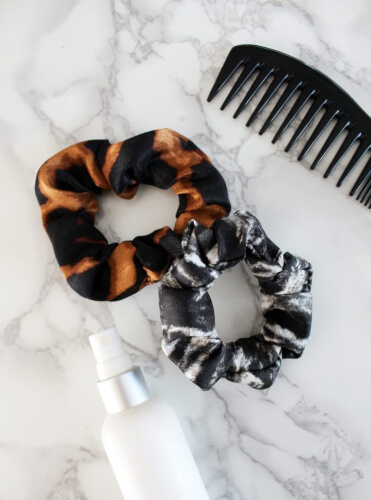 Not everyone can wear a silk scrunchie. They are smooth and can slip out. But if you can, they are better for your hair. They will not suck the moisture out. This pattern uses the smooth luxurious fabric.
Find the Pattern from Lisa Mecham Here
10. Easy Hair Scrunchie Pattern by ChestnutPonyDesigns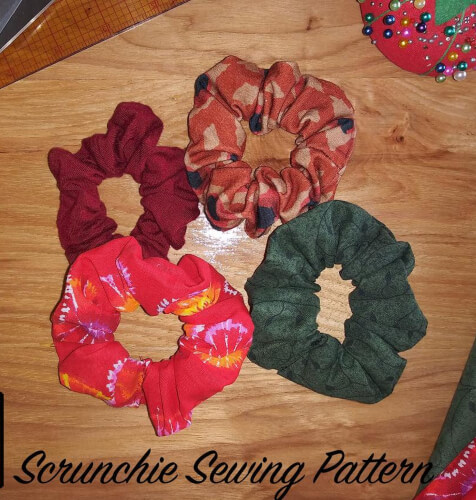 This scrunchie sewing pattern includes a lot of pictures that make completing this scrunchie straightforward and easy.
Find the Pattern by ChestnutPonyDesigns Here
11. Quick and Easy Velvet Scrunchie Pattern from WillowWayCrochet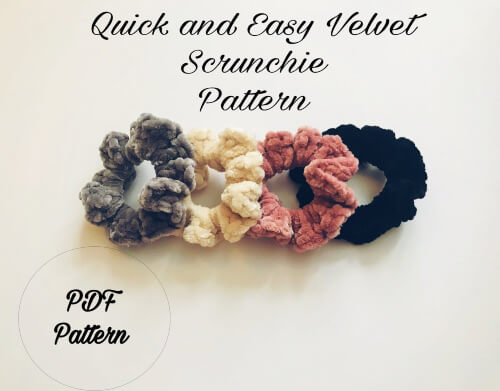 Do you know how to crochet? If so, you can make this beginner friendly scrunchie in as little as 15 minutes. Check out 20+ crochet hair scrunchie patterns.
Get the Pattern from WillowWayCrochet Here
12. H
ow to make hair scrunchies from SewArtByLisa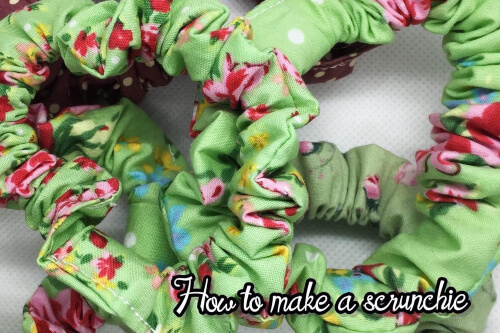 Here is a beginner friendly scrunchie pdf pattern. The pattern is very easy to complete.
Get the Pattern from SewArtByLisa Here
13. E
asy Scrunchie Pattern from Amy Bell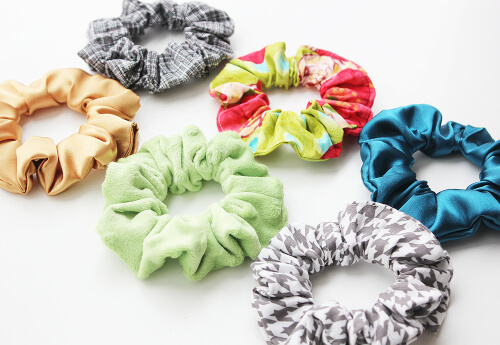 These handy scrunchies are super easy to make They are even perfect for a sewing beginner. They are made from scraps and can be completed in just a few minutes.
Get the Pattern from Amy Bell Here
14. Scrunchies with Bows Sewing Pattern from JayKaiy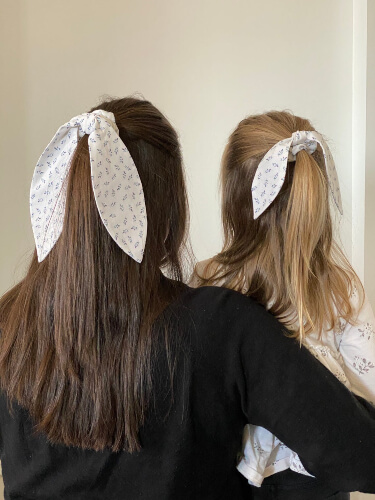 This pattern has instructions for and small kids size bow and a large adult size. There is also a YouTube video tutorial.
Get the Pattern from JayKaiy Here
15. R + L Knit Hair Scrunchie Pattern from TheRainbowLlama20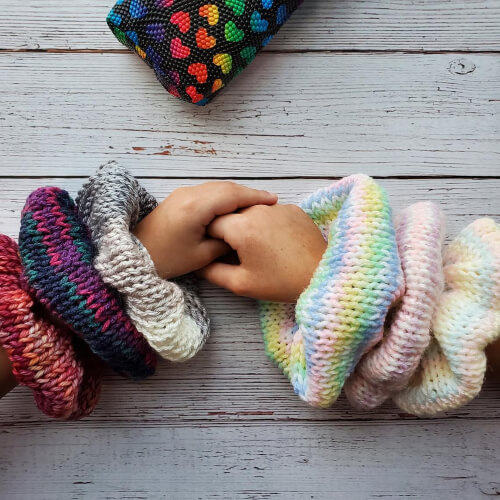 Scrunchies are not only made from fabric. If you know how to knit, you can create this knitted scrunchie.
Find the Pattern from TheRainbowLlama20 Here
16. DIY Fluffy Bow Easy Scrunchie Pattern from BeeLaBoo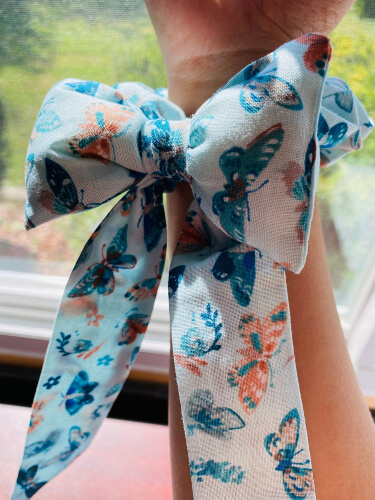 These large bow scrunchies are the perfect hair accessory for young girls. Use a fabric that matches their favourite dress. Nobody will ever believe it is a scrunchie.
Find the Pattern from BeeLaBoo Here
17. DIY H
ow to make hair scrunchies from Kimberly Coffin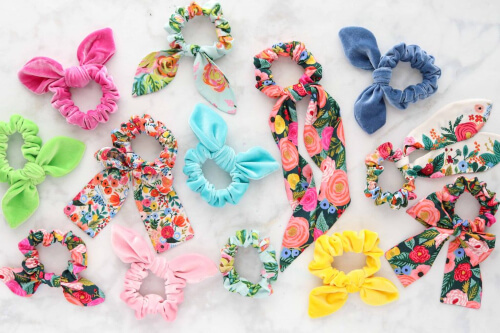 Wear these scrunchies upwards as a bunny for Easter. Or wear them down to mimic a bow. This pattern includes step-by-step instructions with photos on how to make hair scrunchies.
Get the Pattern from Kimberly Coffin Here
18. Scrunchie Sewing Pattern from SairisPatterns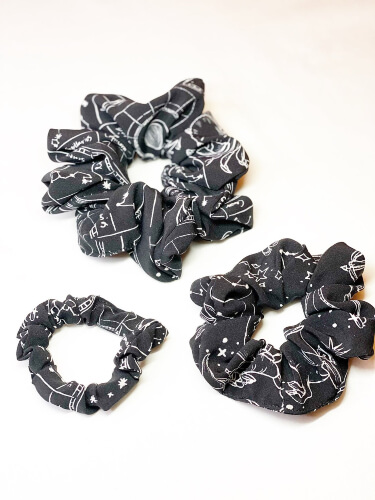 This scrunchie sewing pattern includes instructions for skinny, regular and oversized scrunchies.
Get the Pattern from SairisPatterns Here
19. Scrunchie Sewing Pattern from BouquetClothing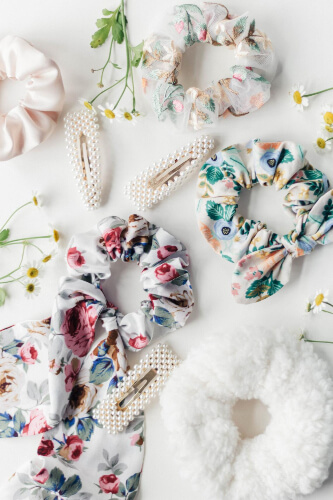 The little bow on this scrunchie is adorable. If you are looking for an easy pattern that is unique, this is a perfect choice. The pattern includes two options, a small bow, or a large bow. The pattern is perfect for beginners.
Get the Pattern from BouquetClothing Here
20. Hair Scrunchie Sewing Pattern from BonCoutureDesigns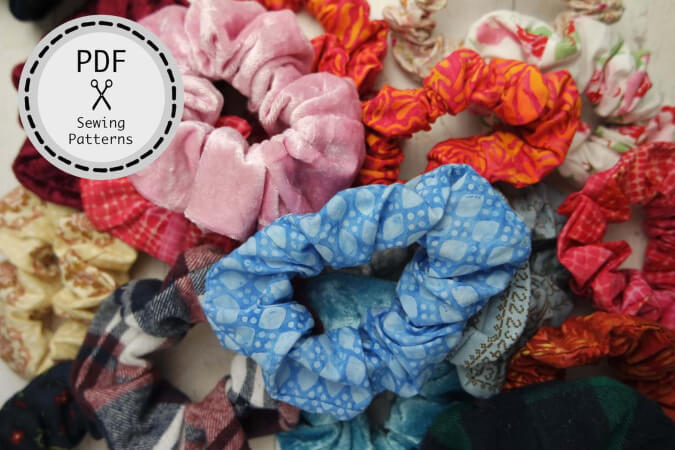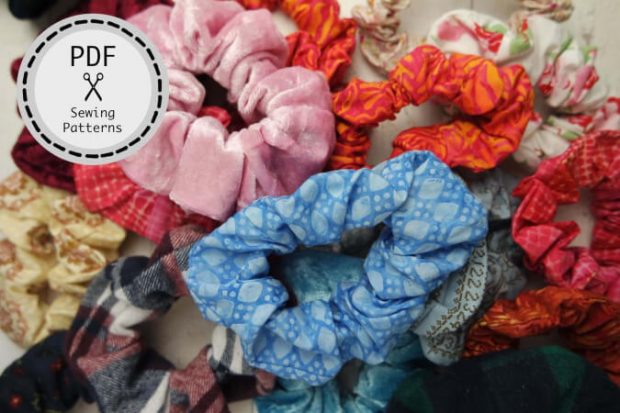 Learn how to make hair scrunchies with this beginner friendly sewing pattern. The suggested fabrics are cotton, polycotton, cotton poplin, velvet and jersey.
Get the Pattern from BonCoutureDesigns Here
21. DIY Hair Scrunchie Sewing Pattern from PatternsBySedaOzel
Are you ready to sew a set of awesome scrunchies? This pattern includes instructions on how to make a scrunchie in 5 sizes. There is a tiny x-small scrunchie all the way up to an x-large.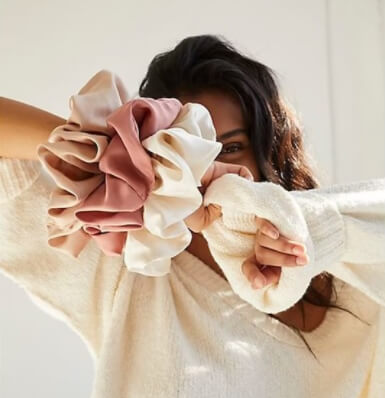 Get the Pattern from PatternsBySedaOzel Here
22. How to Make a Scrunchie – DIY Fastest and Easiest Method
Make a quick and easy scrunchie using the burrito method. And you do not have to waste time threading the elastic with a safety pin after turning it right side out.
The designer shows you an easier way, using a bodkin or a pair of chopsticks.
Get the Pattern by Notches Sewing Here
23. Sewing Up Some Cool Scrunchies
Gather up your fabric scraps and make some of these adorable scrunchies. The scrunchie is stylish and fun to wear.
This free how to make a scrunchie pattern can be used to make gifts or items to sell in your boutique store.
Get the Pattern from Ellie and Mac Patterns Here
24. Masiva Hair Scrunchie Pattern from SewiStudio
Extra-large scrunchies are magical and eye-catching! You can create this gorgeous, oversized hair accessory with this easy-to-follow how to make a scrunchie tutorial.
The sewing pattern is ideal for beginners. The finished product will measure approximately 8 inches (20.32 cm) x 8 inches (20.32 cm).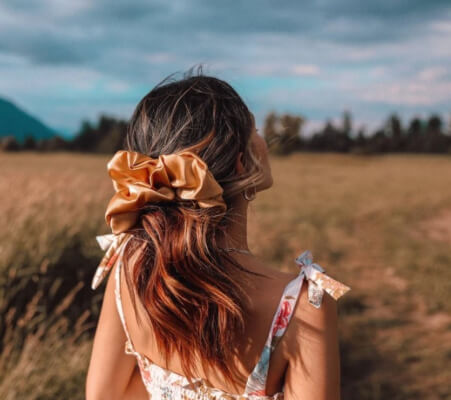 Get the Pattern from SewiStudio Here
25. Grande Style Hair Scrunchie Sewing Pattern by AuraPatterns
Here is another breathtaking large pattern. This cute scrunchie is easy to construct and is perfect for beginners or experienced sewists. It is a great pattern for using up your scrap fabric.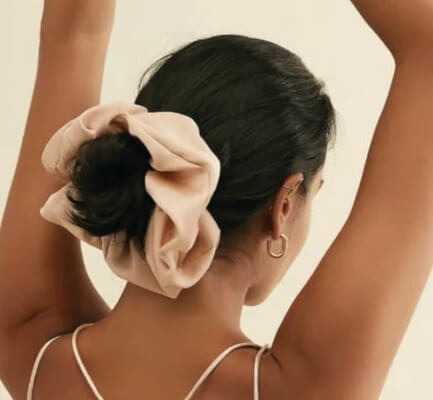 Get the Pattern by AuraPatterns Here
26. Hair Tie Scrunchie Sewing Pattern by DearDarlingPatterns
Make a bundle of these classic scrunchies for you and your little girl. The pattern includes 3 sizes from small to large. There are 2 bow options to choose from. The PDF tutorial has step-by-step instructions and images to help you easily complete the scrunchies with bows.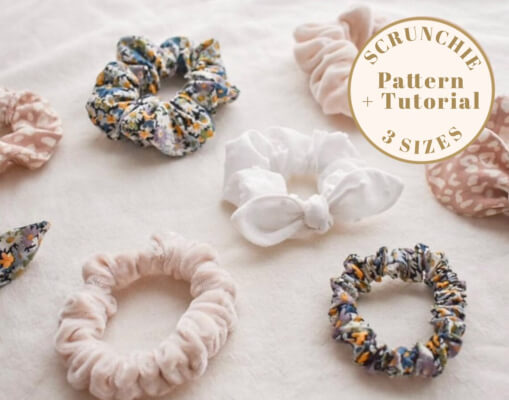 Get the Pattern by DearDarlingPatterns Here
27. Beautiful Scrunchie Scarf Sewing Pattern by HeyViviLondon
Are you trying to find an easy pattern that will teach you how to make a scrunchie scarf? This one is super easy to follow, and it includes 6 patterns. You get instructions for the bunny ears scarf, XL bunny ears scarf, cool scarf, XL cool scarf, angle scarf, and XL angle scarf.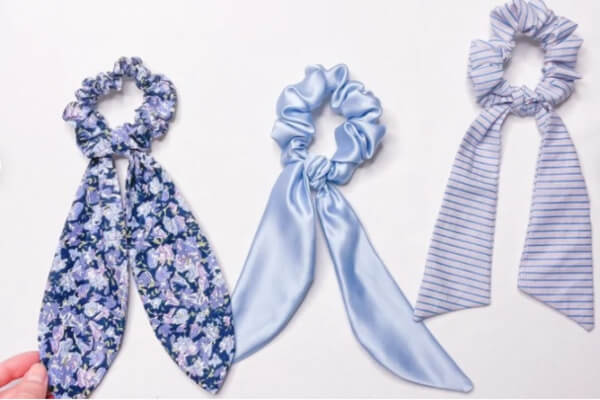 Find the Pattern by HeyViviLondon Here
SCRUNCHIES ARE FINALLY BACK IN STYLE. IF YOU ARE TIRED OF THE BORING SCRUCHIES YOU CAN FIND IN STORES, LEARN HOW TO MAKE HAIR SCRUCHIES.
Learning how to make hair scrunchies will save you a lot of money and is a perfect gift idea. For more crafting ideas, you might be interested in our Headband Sewing Patterns, How to Make Bows, How to Make a String Bracelet Tutorial and How to Make a Tail for a Costume Tutorial.
From retro 50s inspired scrunchies to basic designs we have included a pattern for every style. Make one for yourself or create a bunch of them and give them out as gifts.
And if your looking for a sewing machine to make these hair scrunchies, check our review on the best sewing machines and best mini sewing machines for reference.
We hope that our how to make hair scrunchies tutorial has inspired you to make your own.