Bugs can quickly put a damper on your time spent outdoors, and if you don't want to douse yourself in bug spray every time you sit on your patio, it might be time for these DIY citronella candles.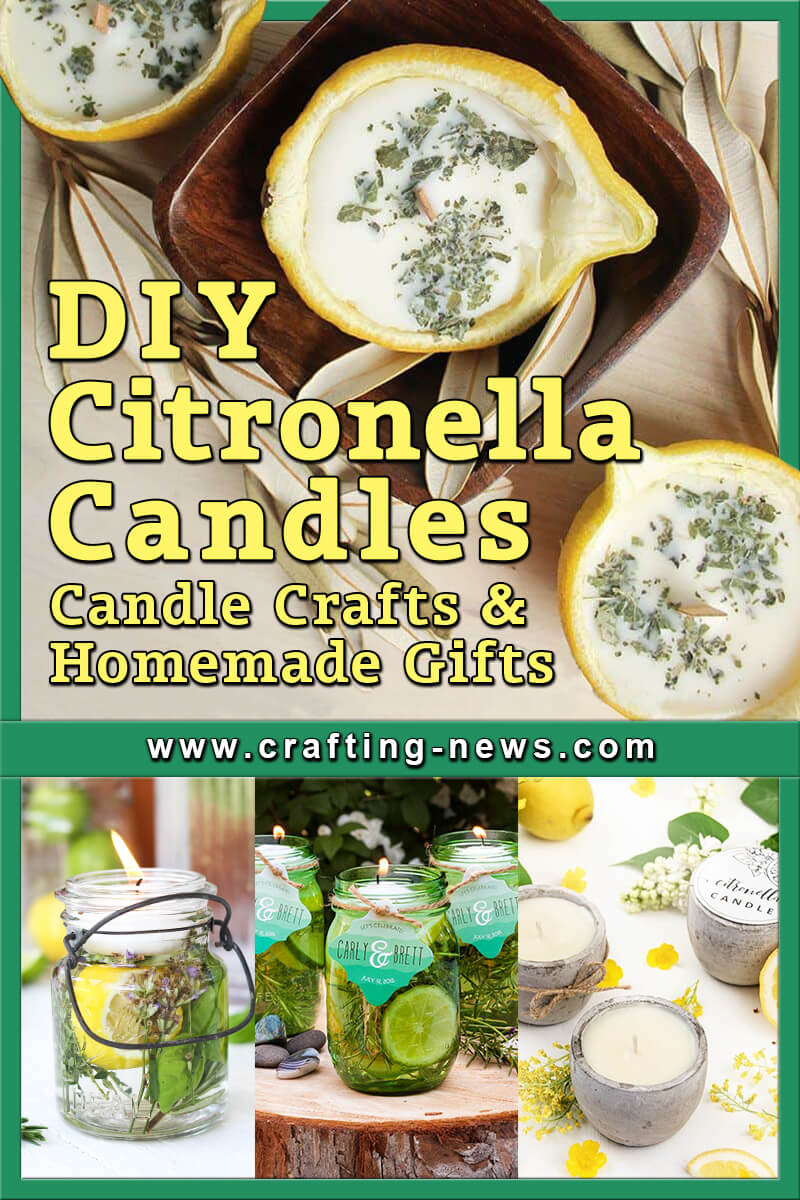 When used in candles, citronella helps to keep bugs out of the immediate area, which saves you from ending the night covered in itchy bug bites. While the store-bought versions can come in unattractive multicolored metal or glass containers, you can make your own version quickly and easily right at home!
1. DIY Citronella Candles by The Spruce Crafts
Add an extra layer of bug protection by setting up a perimeter of citronella candles. This essential oil helps deter these annoying pests while adding ambiance to your gathering.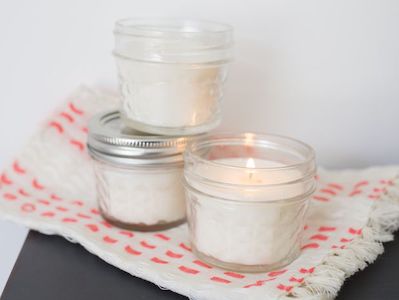 Follow the tutorial here
2. DIY Wine Bottle Citronella Candles by Hello Glow
Replace your old and weathered tiki torches with these beautiful, colorful DIY wine bottle citronella candles. They only take 15 minutes to make!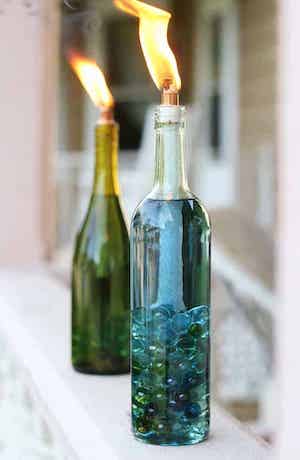 Follow the tutorial here
3. DIY Citronella Candle Recipe by Country Hill Cottage
This Homemade Citronella Candle Recipe ensures that you can enjoy summer evenings on the patio safe from pesky bug bites! The 20-minute soy candle making tutorial includes tips for how to make homemade mosquito repellent candles and printable candle labels for gifting.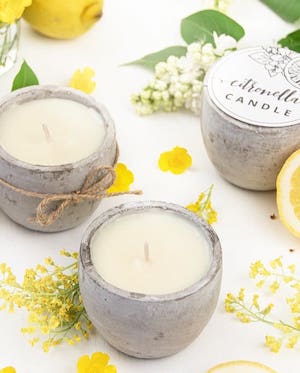 Follow the tutorial here
4. Lavender DIY Citronella Candles Mason Jar by A Cultivated Nest
The scent of these DIY Mason jar citronella candles is light and pleasant. It's probably because the other essential oils help even out the scent. So not only can you make a pretty DIY Mason jar citronella candle, but it also will smell better than anything you can get in a store (while still being effective)!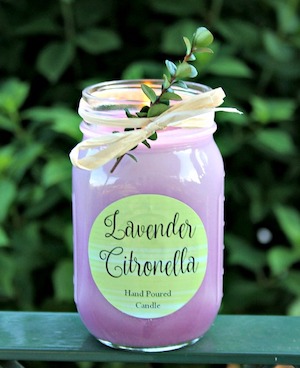 Follow the tutorial here
5. DIY Floating Citronella Candles by Positively Splendid
We absolutely love the look of floating candles for outdoor entertaining, and giving the candles bug-repellent powers makes a good thing even better!

Many people don't realize how simple it is to make citronella candles. All you need is some candle wax, some citronella essential oil and a few other readily-available ingredients to craft candles to keep mosquitoes at bay.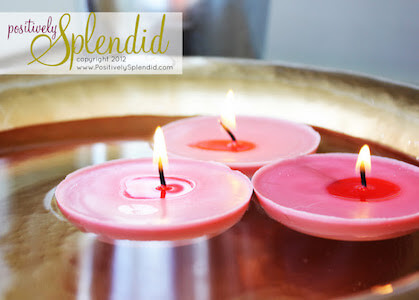 Follow the tutorial here
6. Mason Jar Citronella Candle by Kitchn
There's no better combination than herbs and citronella. These all-natural ingredients help you to win the battle against mosquitoes without chemicals.
Even better, you've probably already got the majority of ingredients on hand and can prep the candles while you're preparing dinner.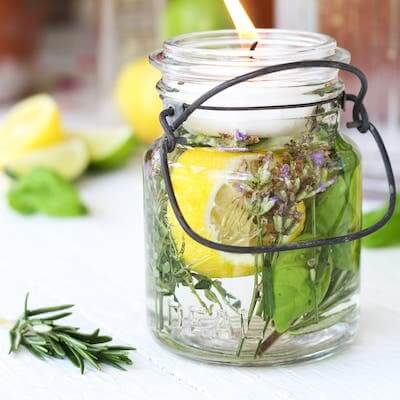 Follow the tutorial here
7. Easy DIY Citronella Candles by Your Beauty Blog
This DIY water candle is easy to make without using wax! Yes, without wax. It's a floating water candle that's so simple to make.
You'll need just a few ingredients, water, oil, and essential oils to learn how to make an oil candle that burns for several hours to naturally repel bugs outdoors.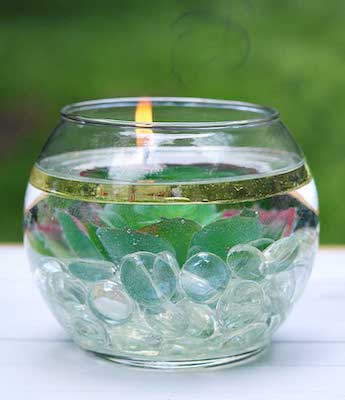 Follow the tutorial here
8. Citronella Jelly Candle by Down Redbud Drive
This Citronella Jelly Candle DIY is so simple, but will keep the bugs away in style the next time you want to sit outside! You only need a few supplies, and then it's basically melt and pour!

On top of this being super cute for Patriotic holidays or decor, it's also useful by keeping the bugs away. You can add a different oil, or candle fragrance, or leave it out all together of you want that as well.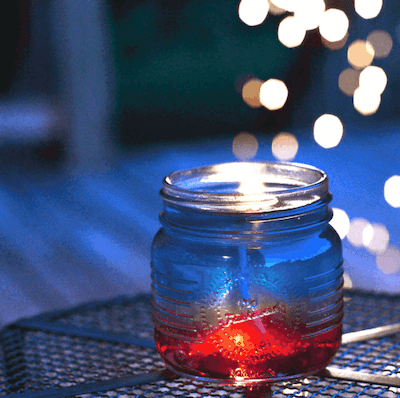 Follow the tutorial here
9. DIY Terracotta Citronella Candles by Purely Katie
When hosting a summer party or just spending time outside, don't let pesky bugs ruin your enjoyment. These DIY Terracotta Citronella Candles are so easy to make and have a cute watercolor factor that is on trend.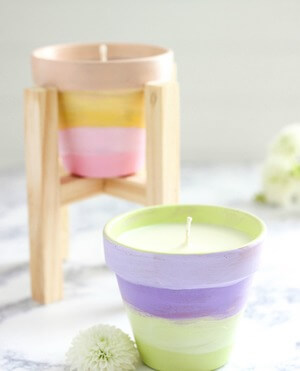 Follow the tutorial here
10. Recycled DIY Citronella Candles by Sugar And Charm
Grab your old tin cans and use them to make citronella candles you can burn outside all summer long! The nice thing about these DIY citronella candles, aside from the chic look, is that you can control how much citronella oil you put into the candle and also add in other scents to offset the smell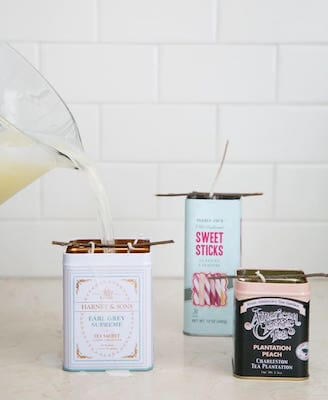 Follow the tutorial here
11. Homemade Citronella Candle by Live Laugh Rowe
A mason jar is a great container for such a candle and it's often at hand. This project will tell you how to make a cool soy wax candle with citronella and lavender essential oil to keep the bugs and mosquitos away.

The recipe is pretty simple, decorate the jars with lavender and twine and voila – you have a couple of stylish candles to keep the insects away and add style to your outdoor zone!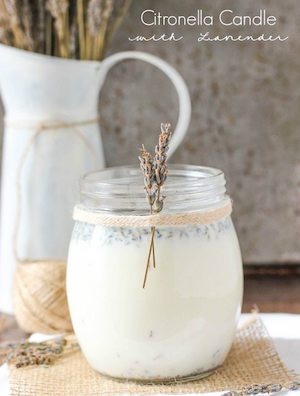 Follow the tutorial here
12. DIY Citronella Candles For Summer by Dans le Lakehouse
Choose some elegant porcelain dishes and tableware to make citronella candles, and they are sure to add a vintage or rustic feel to you space at once, depending on the containers you prefer.

This tutorial will tell you how to make super cute citronella candles but the main idea is to find something similar to these cute porcelain French onion soup bowls. rock some colorful ones, add several wicks to make them shine more! Enjoy!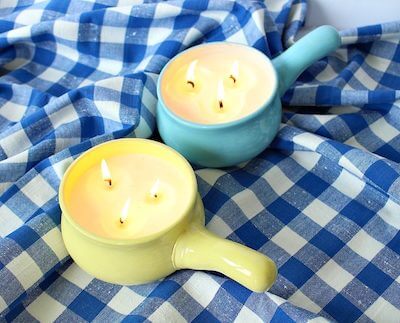 Follow the tutorial here
13. DIY Citronella Lemon Bowl Candles by Life N Reflection
What can be more natural than a natural container? This recipe for DIY citronella lemon bowl candles are super natural – the containers are lemon halves!

Each naturally repel insects with essential oils and dried herbs. Together they make a beautiful centerpiece or small arrangements on outdoor tables. Make an extra dozen to send home with guests for an evening you won't soon forget.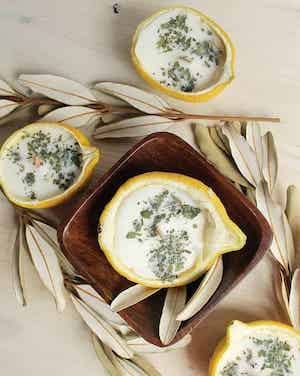 Follow the tutorial here
14. DIY Citronella Candles Mason Jar by Ever Mine
I love citronella! Not only does it smell amazing, but it is also a natural mosquito repellent, which is wonderful for me because I seem to always be the main target for mosquitoes.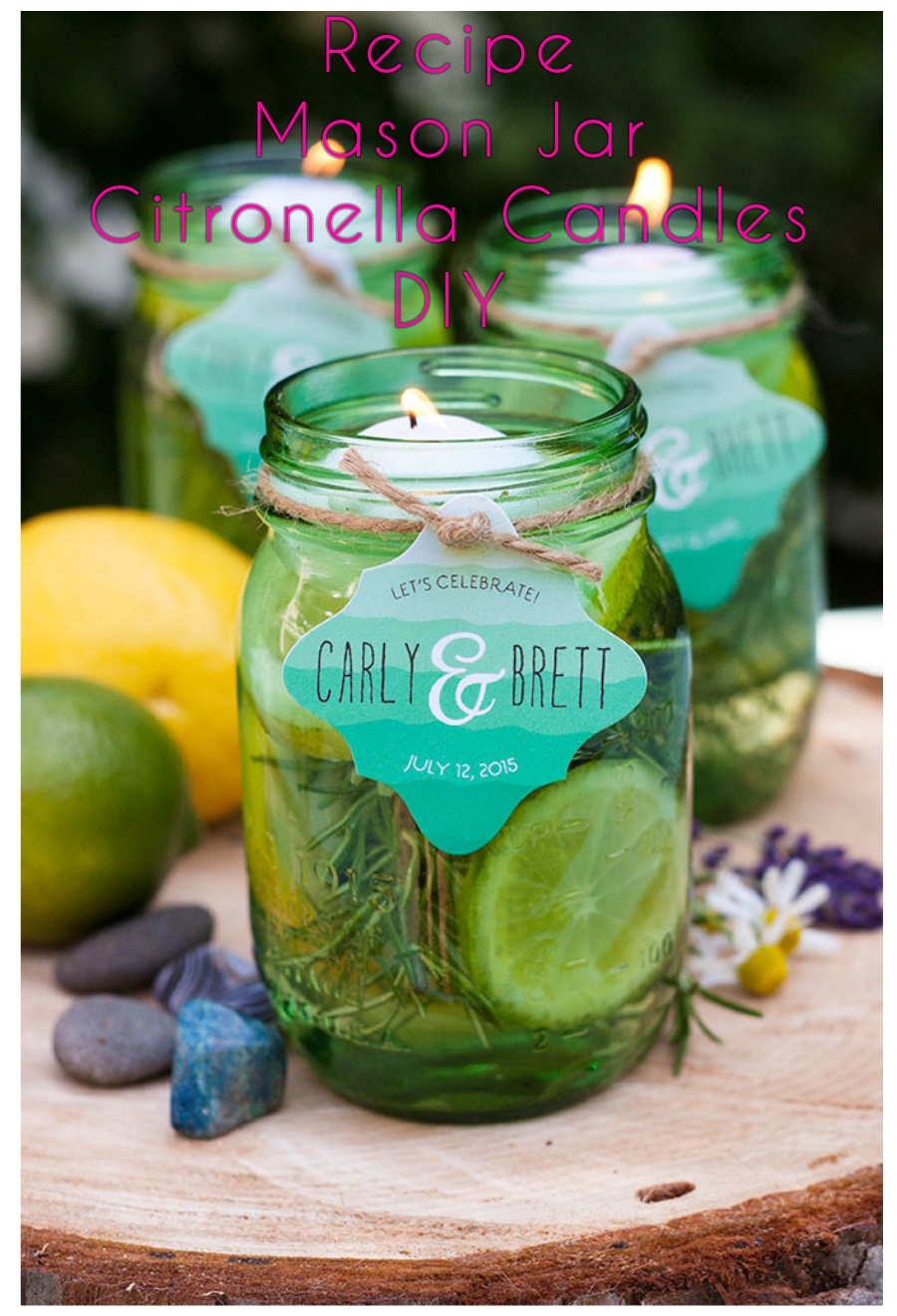 So I was ecstatic to find a tutorial on how to make mason jar citronella candles. The scent of these candles is ethereal and the look equally stunning to boot.
If you want to pass the afternoon making something that you will truly love then the mason jar citronella candles DIY are just the thing. Just the act of making these candles is satisfying.
Not to mention when you get to light one up, inhale the heavenly scents and sit outdoor without getting itchy bites all over you. The beauty of it is that the citronella is just one of the ingredients!
If you want to know what other scents were used you best keep on reading. So what do you need to make these heavenly candles?
Materials For The Mason Jar Citronella Candles DIY
What you need:
Floating candles
Lemons and limes
Citronella essential oil (I found mine at Whole Foods)
Fresh herbs
Favor tags
Twine or ribbon
The instructions I found on evermine.com were quite simple to understand, and you don't really to know anything about making candles to try it. The whole process is something you can do in a period of ten minutes.
Then you can have the rest of your day to enjoy the beautiful scents emanating from your candles. The basic procedure is to fill up the Mason jar with first water to halfway and then various herbs.
For this part, you can use any you fancy. I used rosemary because I also love the scent of fresh rosemary. Now you can add the citronella oil and then the sliced lemons and lime. Fill up the rest of the jar with water and then the floating candles.
The ribbons and tags are meant for decoration so you can use any you like since they are optional.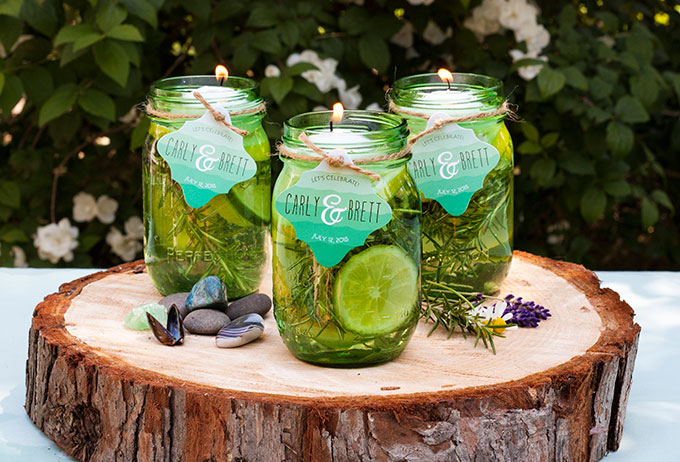 How To Use The Mason Jar Citronella Candles
The applications for the DIY Mason jar citronella candles are endless. On the site, they recommend trying to use them as table centerpieces for a wedding because they blend well with any setting. The clear jars with the right decorations will make for a stunning view.
You can use them as decorative pieces for a romantic dinner with your better half, or as décor for an outdoor night party in your backyard (insert celebration music for no mosquitoes!).
They also make a cute little gift for a loved ones birthday, a house warming or as a thank you gift.
A quick suggestion though; if you are transporting them as a gift it is best to put the lids on the jars. And keep the candles on the side to be placed in once they reach their destination.
A Perfect Summer's Night Mood Setter
The do it yourself Mason jar citronella candles have a way of pulling a scene together, and the scent is just exquisite. I find that they are just right for setting the ambiance of any laid-back function that you may have and tongues are bound to be wagging about them after.
So whether you are making them just for yourself or preparing them for a function, the mason jar citronella candles DIY won't disappoint you and will set the mood just right.
And, just to add your personal touch you can mix up the herbs and play with the jar decorations making each candle unique.
If you want my advice, I won't wait a second more not trying out these cool DIY Mason jar citronella candles. They are beautiful and smell so heavenly it's almost a crime not to have one.
So go try making one yourself and take yourself to heaven.
THESE DIY CITRONELLA CANDLES ARE NOT ONLY EFFECTIVE IN HELPING KEEP THE MOSQUITOES AWAY BUT THEY ARE ALSO VERY PLEASING TO THE EYE!
Do you want more DIY projects to keep yourself busy? Don't miss our DIY Fairy Jar Ideas, Pop Bottle Candles, DIY Sangria Gift Basket and DIY Wooden Phone Dock perfect for your home.
Please let us know in the comments below or share a photo on our Facebook Page if you try these out. We would love to see your take on these DIY citronella candles and how it works for you!

Close your eyes and imagine the warm breeze and good company while your homemade citronella candles chase away the bugs!