Are you a coffee drinker? Or are you looking for fun gift ideas? Mugs are always a good choice. As an alternative to buying mass-produced mugs, try painting mugs instead. Painted mugs give you the ability to be creative, and you can make personalized gifts.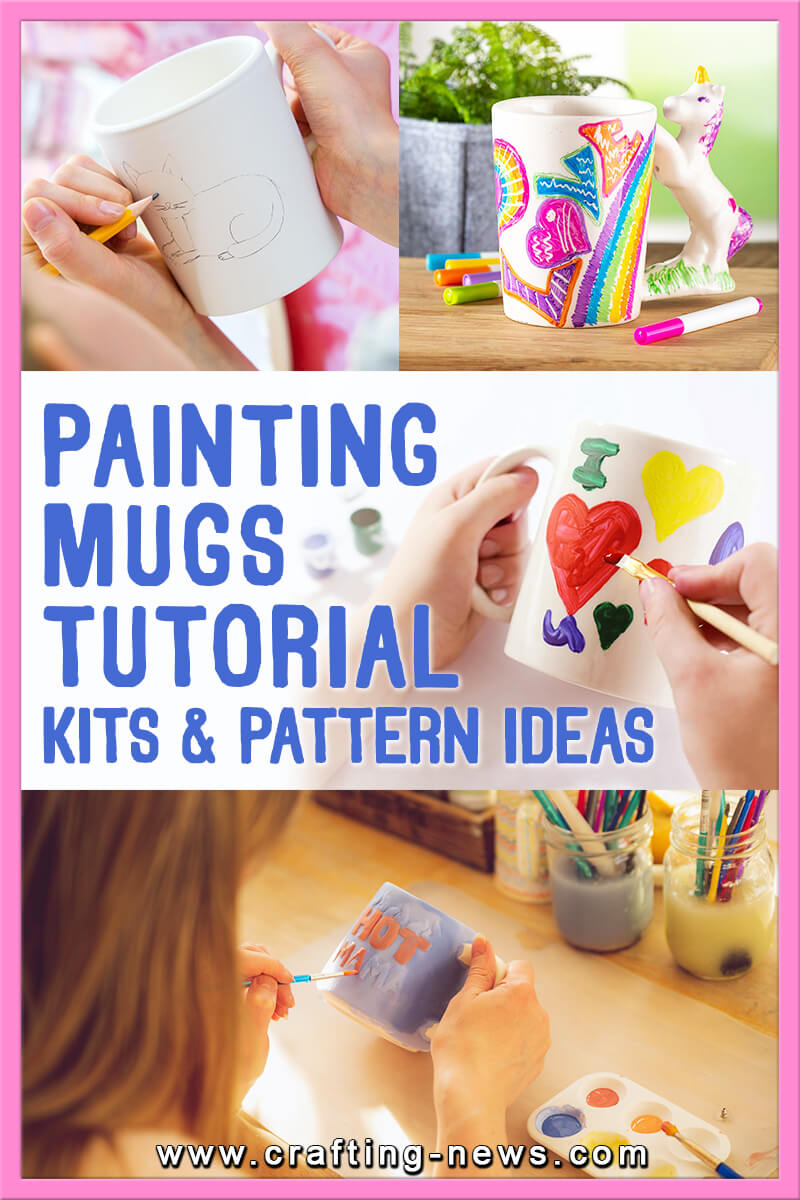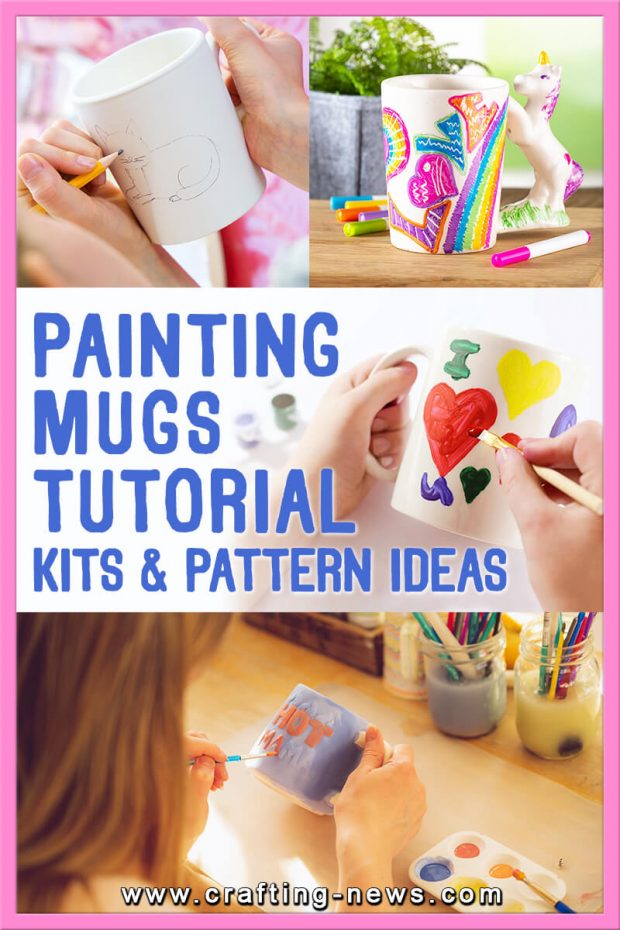 Painting Mugs
Not only are hand painted mugs fun, but they are also fairly cheap to make too. You can find low-cost mugs at dollar stores and thrift stores.
To get started painting mugs, there are a few basic items you will need, including:
You can use either clean glass or ceramic mugs. However, ceramic usually looks better painted than glass. Glass is often used for etching and glitter.
When you are painting mugs, you will want to find acrylic paint that is appropriate for ceramic or glass. The label will state if it is multisurface, porcelain or enamel.
Instead of acrylic paint, you can use other mediums such as sharpies, nail polish, Mod Podge, and etching cream.
You will need rubbing alcohol to clean your mug before painting it. The rubbing alcohol will remove dirt and oils.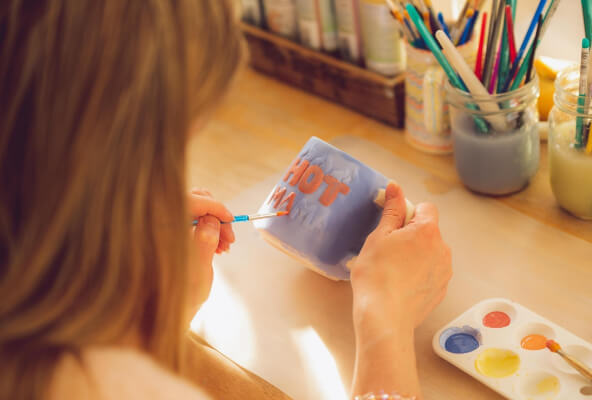 How to Paint Mugs
Painting mugs is one of the easiest projects you can do. This makes it a great indoor project for children as well as adults.
Basic Steps for Painting Mugs with Acrylic Paint
1. The very first thing you will want to do is prepare the surface of the clean mug. To do this, take the rubbing alcohol and wet a cotton ball.
Rub the cotton ball all over the mug to remove any fingerprint oils and dirt. Let the mug dry completely.
2. Create Your Design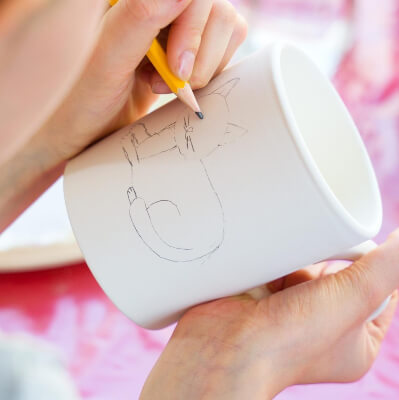 Get creative and make your design. You can sketch it out first, start painting freehand, use a stencil, or block off areas with painter's tape.
The possibilities are endless. Once you have your design figured out, paint the mug.
3. Let it Dry
It is best if you let the mu dry for 24 hours.
4. Set the Paint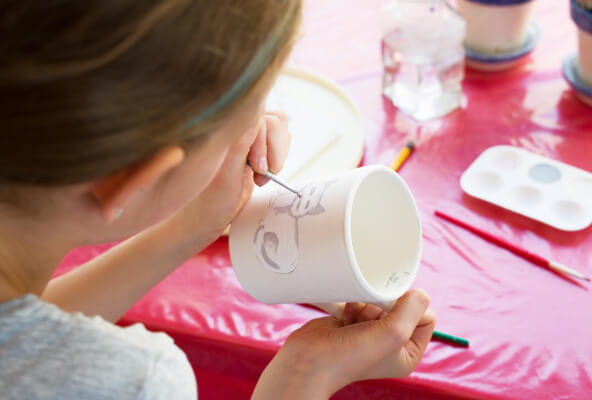 The paint will not be permanent until you set the paint. To set the paint, preheat your oven to 375 degrees.
Once it reaches temperature, bake the mug for 25 minutes. After 30 minutes, turn off the oven.
Leave the door shut and allow the mug to cool naturally in the oven.
Are Painted Mugs Dishwasher Safe?
Some mugs will be dishwasher safe, while others will not. It will all depend on the mug and paint you use.
Check the labels and follow the directions on the paint bottle.
If your mug is intended to be used and washed, we do not recommend using a sealer.
10 DIY Mug Painting Kits
1. Paint Your Own Mug Kits from Dreamairshop
These painting mugs are designed after the classic paint by number kits. Each mug comes with a printed design, numbered paints, a paintbrush, an easy-to-follow paint by numbers guide, and our instructions.
Once the mug is painted, let it dry for 24 hours, then place it in the oven for an hour. Once the paints have been set, the mug will be hand washable. There are 9 designs to choose from. They are a mermaid, unicorn, dinosaur, fish, mummy, daddy, Halloween, mommy, and mom.
The mugs are suitable for adults and children from age 7 and up (with supervision).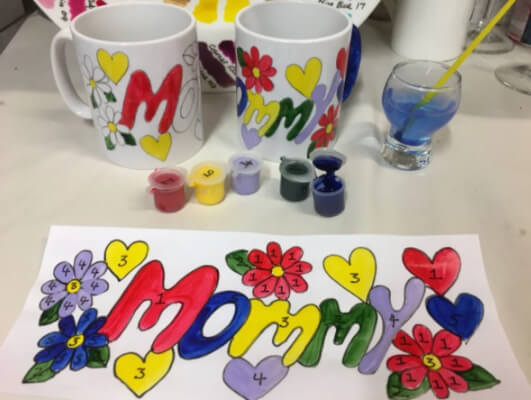 Find the Kit from Dreamairshop HERE
2. Paint Your Own Mug Kit
These paint mug kits would be a lot of fun. You can create a mug for yourself, paint one for someone special. Or give a kit to a crafty friend. The kits for painting mugs include a china mug, 5 pots of opaque quality paints, a paintbrush, and instructions. Along with the mug kits, the seller has trinket dishes, tray plates, wine glasses, and plates.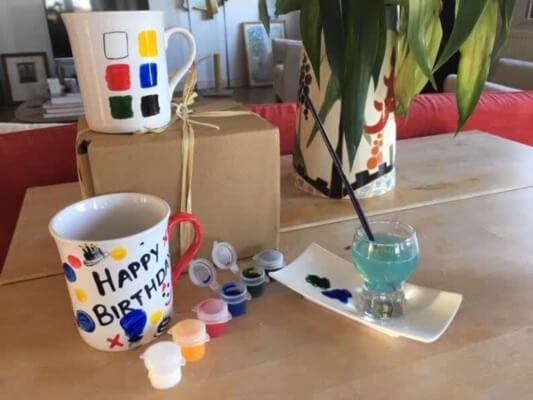 Find the Kit from Dreamairshop HERE
3. ArtMinds Ceramic DIY Mug Painting Kit
If you enjoy creating your own designs and patterns, you can use this basic ceramic mug kit. It has everything you need for painting mugs. The kit includes a mug, 4 colours of food-safe paint, and a paintbrush.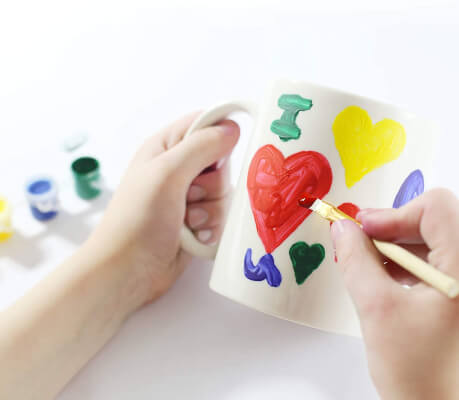 4. Personalized Coffee Mug Paint Kit
Have fun and let your imagination run wild with this mug painting kit. This is a great kit for anyone that would rather use markers. The kit includes a stainless steel coffee mug coated in enamel, a red marker, a green marker, and a blue marker.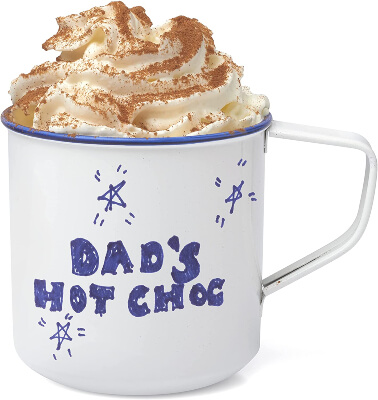 5. DIY Mug Stand + Two Mug Paint Kit from AdultsAndCraftsLLC
Here is the perfect piece of flair for any kitchen. This Mug Stand and Mug Kit comes with the precut wood pieces, two mugs, an oil-based black Sharpie, tools, and accessories. The classic black and white design is perfect for any decor.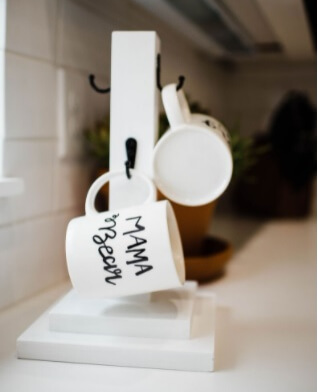 Find the Kit on AdultsAndCraftsLLC HERE
6. Baker Ross Design A Mug Paint Kit
Painting mugs is always a fun activity for children. Here is a classic kit that many of us used as children. Your kids can use their own markers, pencils, and crayons to create their art mugs. Included in the kit are 2 plastic mugs and inserts.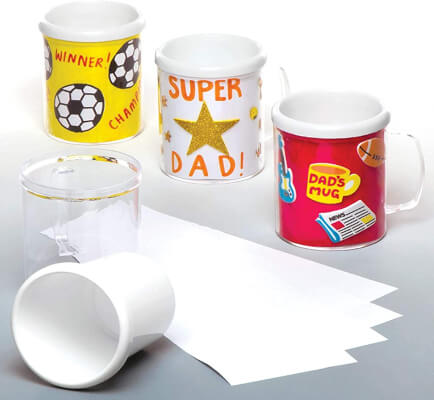 7. Coffee Mug Paint Kit from SareBearEverywhere
Get comfortable and grab your best friend and a bottle of wine and have fun painting mugs. This kit includes 2 two coffee mugs, paintbrushes, paints, and instructions.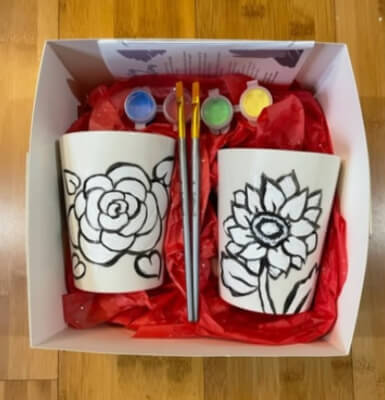 Find the Kit from SareBearEverywhere HERE
8. Painting by Number Mugs Craft Kits from Dreamairshop
Painting mugs has never been easier. This kit uses the painting by numbers idea. Each mug comes with our own printed design, numbered paints, a paintbrush, and instructions.The mug painting kits are suitable for ages 7 and up.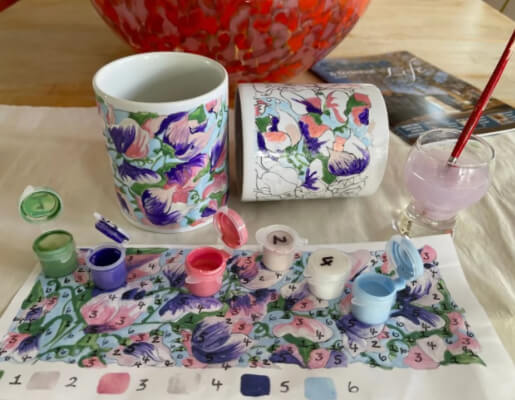 Find the Kit from Dreamairshop HERE
9. Color Pops Paint-Your-Own Character Mugs
Are you looking for a unique, rainy day craft idea? Kids will adore these unicorn and dinosaur mug painting kits. The kits include a set of two white mugs, six markers, and instructions. Once your children have painted the mugs, an adult can bake the paint on to make it permanent.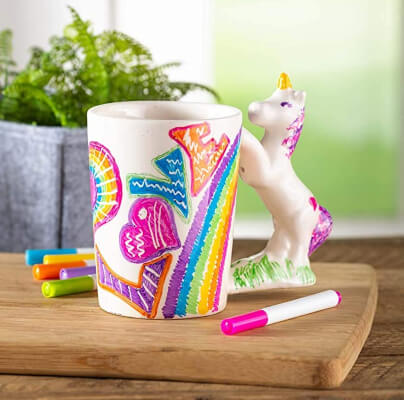 10. Alex Craft Paint and Sip Ceramic Mug Kids Art and Craft Activity
The Paint and Sip Ceramic Mug kit lets you decorate your own cup. You can use the finished mug for beverages or use it as a pencil holder on a desk. The set includes 6 ceramic paints, a paintbrush, and a mug with pre-printed floral artwork for easy decorating. The kit is recommended for children 8 years of age and older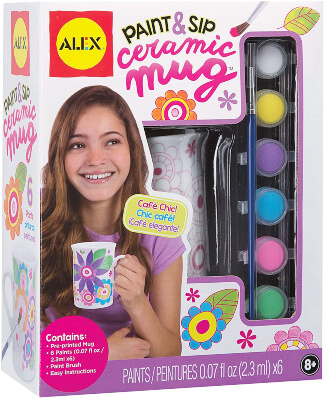 Mug Painting Pattern Ideas
1. Use Chalkboard Paint
This is a super easy way of painting mugs. Instead of having one permanent pattern, you can change the design every day using chalk. Draw a cute little design or write a message. The choice is yours.
2. Polka Dots are Always Fun
Polka dots never go out of style, and they are fun and easy to create. This is a project that kids would enjoy working on. Simply clean the outside of the mug with rubbing alcohol and tap the end of a Sharpie all over it. You can use a black sharpie to create a monochromatic mug or have fun and use a wide variety of colours.
You can create an awesome marbled design by mixing nail polish with hot water. It is a very easy technique. Simply, fill a disposable container with how water and gently drop a couple of drops of nail polish onto the surface. Swirl it together with a toothpick. Then quickly dip the mug. Allow the mug to dry upside down on a paper towel.
4. Spray Paint the Mug
Here is another super simple way of painting mugs. You can use this technique to create mugs with fun geometric patterns. Simply take some painter's tape and tape off any part of the mug surface you do not want to be painted. Then spray the mug. Once the paint has dried, remove the tape.
Who does not love gold? You can create designs, make a monogram, or write a saying with a gold leaf pen. And the colour looks good on a white mug and has a totally different feel on a black mug.
6. Create Some Stripes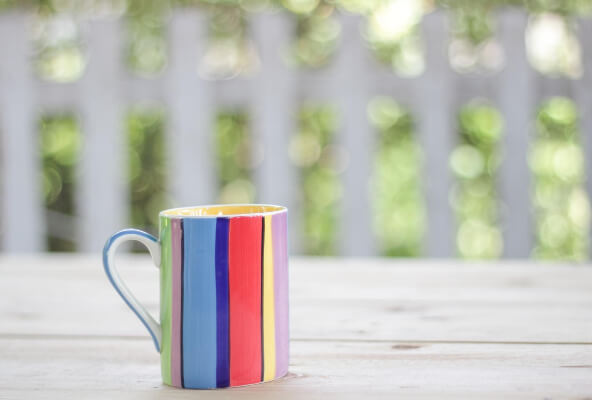 If you like stripes, create some fun colourful striped mugs. You can use paint or markers. And you can eyeball your design to create an interesting handmade feel. Or preplan the lines using painter's tape.
7. Use a Stencil
You do not have to freehand all your work. Instead, find a stencil you like or create your own. If you are creating your own stencil, use a peel and stick vinyl to make the project even easier. Create your own stencil with the help of a stencil maker machine.
8. Use Negative Space
Instead of painting an image or design, use the design as your negative space. To do this, cut the image out of peel and stick vinyl. Place the vinyl on your mug, then paint around the vinyl. You can use brush strokes or polka dots with a sharpie. Once the mug has dried, remove the vinyl, leaving the negative space.
9. Make Bubble Mugs
By mixing paint, water, and dish soap you can create some amazing patterns on your mug. Combine the ingredients, blow some bubbles, and dip the mug.
10. Use Simple Brush Strokes
By using simple brush strokes in a variety of colours you can create an artistic mug. Space out the single strokes or overlap them slightly.
11. Paint Splatter
Splatter painting can be used in a variety of crafts, including painting mugs. This technique is fun, and no two mugs will ever look exactly the same.
12. Write a Message
Do you have good penmanship? Use a sharpie to write a message on a mug.
13. Add Some Glitter
Add some sparkle to your mugs with glitter and Dishwasher Safe Mod Podge. Paint on the Mod Podge and sprinkle on the glitter. Continue doing this until you have the perfect coating. Once done, add an another layer of Mod Podge to protect all the glitter.
14. Draw a Moustache
Make a fun and whimsical mug by painting a moustache on it. You can create a whole set and use a different moustache design on each mug.
15. Paint a Mandala
Mandalas are not only beautiful, eye-catching designs. They are fun and relaxing to create. Once you start painting mugs with mandala designs, you will want to make more.
Painting mugs is an activity everyone in your family can enjoy. And they make great gifts.
Are you looking for a rainy-day crafting project? Or are you searching for a new way to be creative? Painting mugs is enjoyable and rewarding. You can also do this with your kids.
Looking for more creative crafts to make with the kids? Check out our Kids Crafts like these Paper Plate Jellyfish Crafts, Ways On How To Make Slime, DIY Fairy Jar Ideas, Hot Air Balloon Crafts, Castle Craft Ideas for Kids, Creative Pottery Painting Ideas and Paper Weaving For Kids Patterns if you need more ideas to keep the kids entertained.
Once your done painting mugs, don't forget to share a pic over on our Facebook Page. We'd love to see them.