I cannot be the only one who has a big 'ol bucket of fabric scraps — or two. I diligently fill my bucket with every last fabric scrap, certain that I will turn them into something beautiful. I have a long list of scrap fabric projects in mind. If you're thinking about what to do with your leftover fabric scraps like me, you are at the right place! Dig into your stash and make something!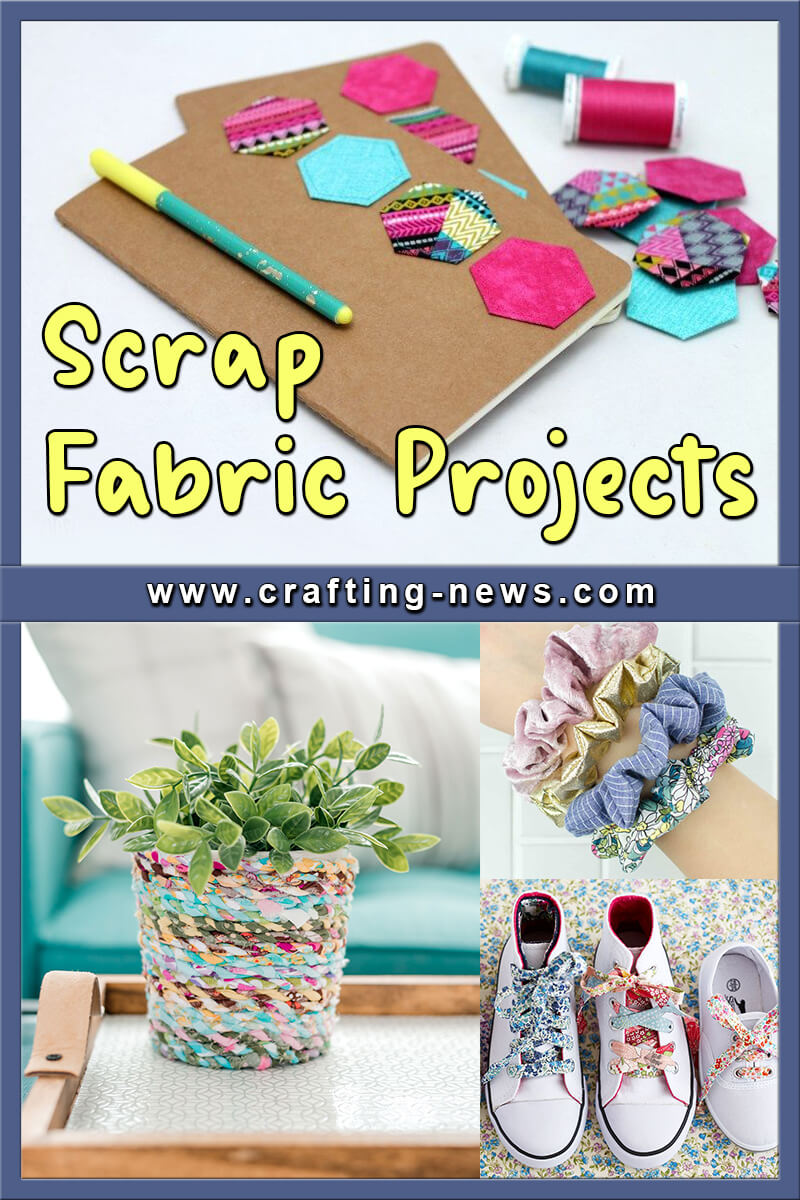 Determined to whittle my scrap pile down, I've listed a few quick scrap fabric projects below that will surely make a dent in my stockpile while providing some fun, creative time. These projects make use of scraps of various sizes—some large, some small—but they all involve cute, creative, easy, and fun things to do with fabric scraps! ! So, let's jump into it. Here are some of my favorite ways to use up fabric scraps.
30 Scrap Fabric Projects
1. Easy Quilted Fabric Coaster by Scattered Thoughts Of A Crafty Mom
Looking for a quick and easy scrap-busting project that is actually useful? Then you need to make these adorable Fabric Coasters! The best part about these little quilted fabric coaster tutorial is that they are super simple to make with whatever scraps you have on hand. There's no binding so these quilted coasters finish up in a flash.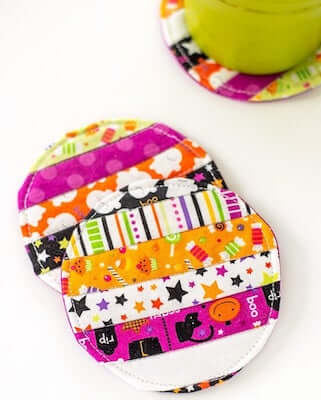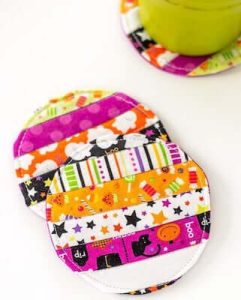 Follow the tutorial here
2. DIY Scrunchies From Scrap Fabric by A Little Craft In Your Day
If you're nostalgic for the 1990s or you just need something soft to tie your hair back, then you're in luck. It's fast and easy to make your own fabric hair scrunchies! Scrunchies are cute and versatile, and a great way to use fabric scraps.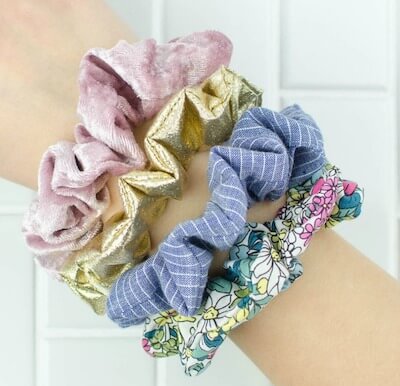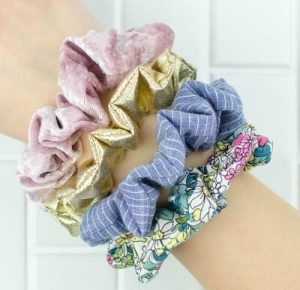 Follow the tutorial here
3. Easy Fabric Scrap Bookmarks by The Crafty Mummy
This easy DIY fabric scrap bookmarks tutorial is a quick project to turn the stash of fabric scraps and trimmings into something that would be a perfect gift for someone who likes to read.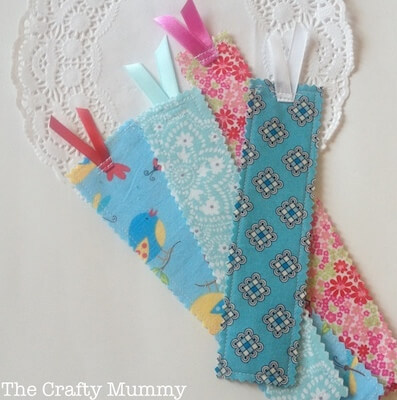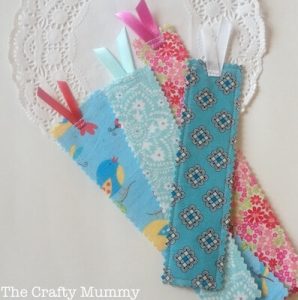 Follow the tutorial here
4. Scrappy Pet Leash Sewing Tutorial by Sew Can She
Sew up a new leash for your favorite pet – it's so easy! All you need is some fabric scraps, a bit of interfacing, and a lobster claw clasp. You could piece lots of squares together or you can also use a single long strip of fabric for your leash.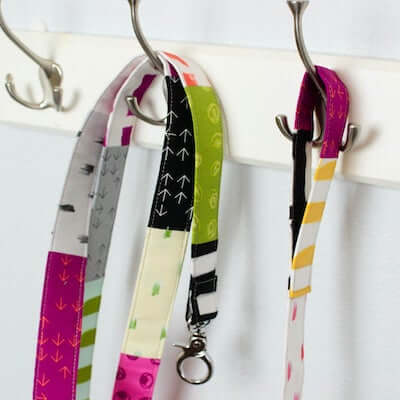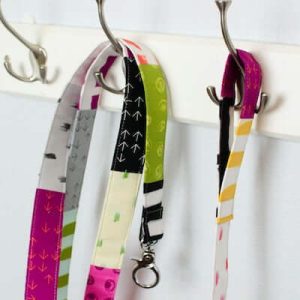 Follow the tutorial here
5. DIY Scrap Fabric Garland Scrap Buster Project by Ideas For The Home
This DIY fabric garland is so simple you'll want to make it for dressing up windows, decorating for a party, or just to swap out your color scheme for a season. You can use any color combo and cut them to just about any size.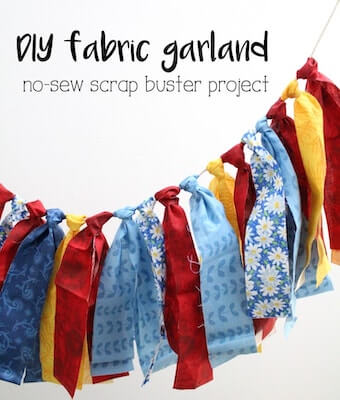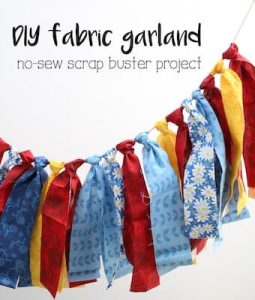 Follow the tutorial here
6. DIY Fabric Wrapped Bangle Bracelets by Sarah Hearts
Simply cut or tear fabric scraps into long 1″ strips and then wrap an old wood bangle bracelet. Coat with Mod Lodge and you have a colorful new accessory.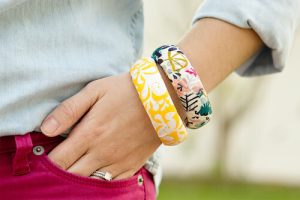 Follow the tutorial here
7. DIY Fabric Cord Holder by Crafty For Home
If your earbuds and phone charging cable are always getting tangled up in your bag, this is a handy project. This easy sewing tutorial makes DIY fabric cord holders from charm packs by using four different fasteners.
With this cable holder, there would be no more tangle and out of place cords. I know that I can use a hair tie or even a rubber band, but making the fabric one is prettier.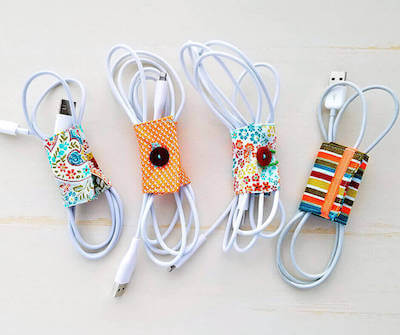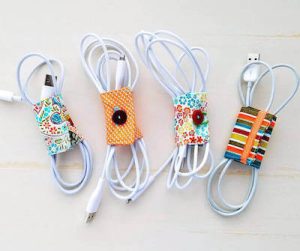 Follow the tutorial here
8. Scrap Fabric Bowls by Paper & Stitch
Another great no-sew project that makes something beautiful and practical. These bowls are just gorgeous! When you look at them, they seem like they'd be soft to the touch (especially the ones with visible fabric layers). But they're actually hard to the touch and function great at bowls for office supplies, jewelry, makeup, etc. Basically anything that's not food-related is fair game with these.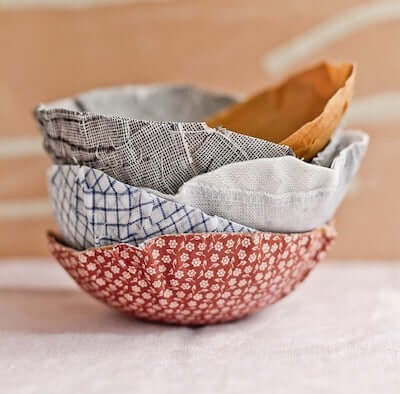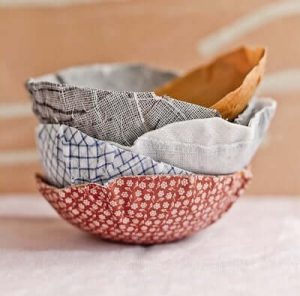 Follow the tutorial here
9. Scallop Neck DIY T-Shirt Refashion by Polka Dot Chair
Spruce up one a simple tee with a bit of fabric to create a cute summer t-shirt! This project starts with a basic plain white t-shirt which gets refashioned very simply, into a t-shirt with scallop detail around the neckline. I love the pop of bright colors on the plain white tee — I think it looks great with jeans.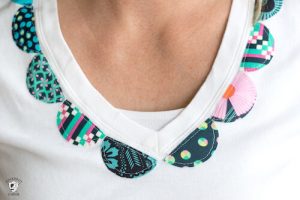 Follow the tutorial here
10. Scrap Fabric Shoe Laces by Prima
We all love our white canvas pumps – they're comfy, versatile and go with everything in our wardrobes, but what if you want to stand out from the crowd? This simple craft idea—making shoe laces with fabric scraps—will give your pumps a stylish flourish and looks fabulous with your favorite pair of denim jeans or a classic summer dress.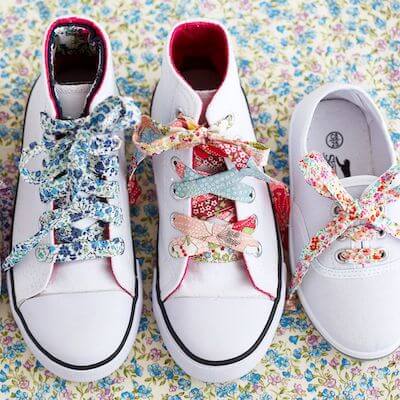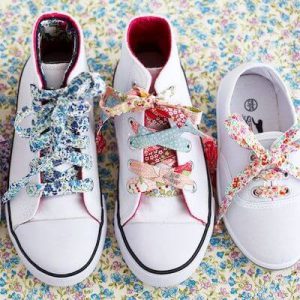 Follow the tutorial here
11. DIY Paper Pieced Hexagon Notebook by Swoodson Says
I love how paper piecing is an easy, portable way to sew by hand and use up fabric scraps. This cute notebook DIY is a simple way to use up spare hexies or a great beginner EPP project!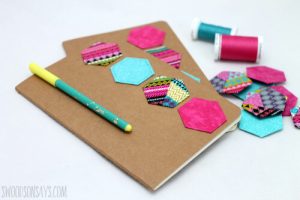 Follow the tutorial here
12. Fabric Covered Buttons by Easy Peasy Creative
Fabric covered buttons are not an upholstery only attribute anymore, these cute notions are more and more used in sewing and craft projects, too! These lovely buttons are a great project for some of those fabric scraps you have no use for! And make a super cute addition to any garment, where they can play a functional or decorative purpose. These little notions can add so much personality to a plain outfit so I encourage you to incorporate them in your sewing projects.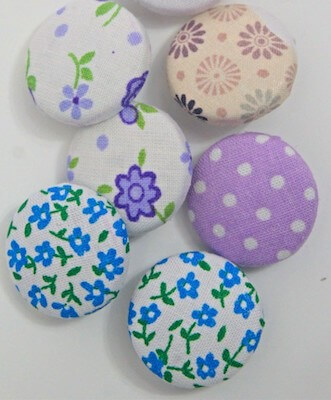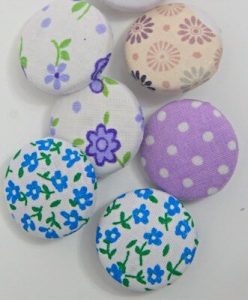 Follow the tutorial here
13. Easy Fabric Coffee Sleeve by Positively Splendid
There is something so satisfying about quick and easy sewing projects that can be made in just a matter of minutes! This Fabric Coffee Sleeve Pattern is so simple to sew, and they are terrific handmade gifts when paired with a reusable travel mug. This is perfect for using up fabric scraps since each coffee cozy you make requires just a little bit of fabric.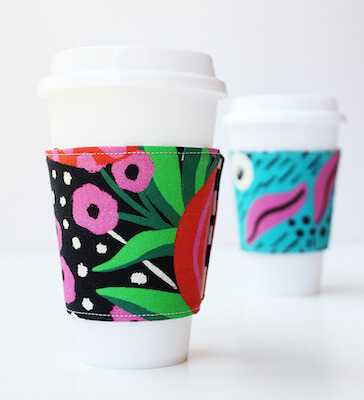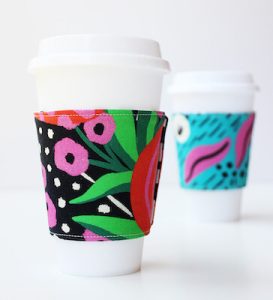 Follow the tutorial here
14. DIY Rope Flower Pot by The DIY Mommy
This DIY, beautiful, twisted rope is a fun scrap fabric project, and you can use the twine to make a boho-inspired flower pot for Spring! You can make this with small strips of fabric, and use multiple colors and patterns for a boho-inspired look.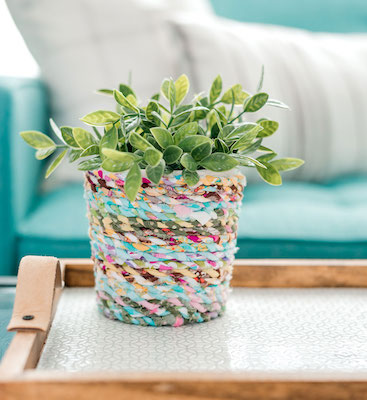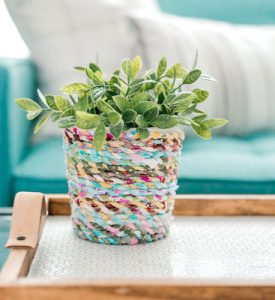 Follow the tutorial here
15. Fantastic Scrap Fabric Project by Sew Much Online
This is a fun way to use up some scraps and upcycle a tired pair of jeans. Also, a great way to get those teens off their phones and interest them in an easy sewing project where they can use some creativity and learn or improve some sewing skills, too. Start by gathering some scraps and a pair of jeans.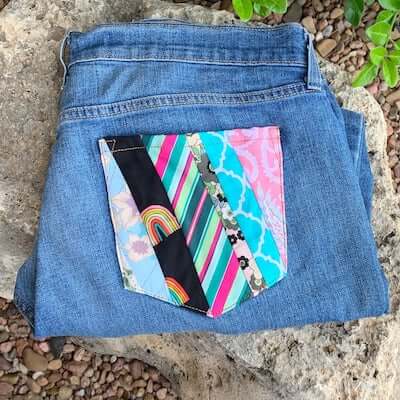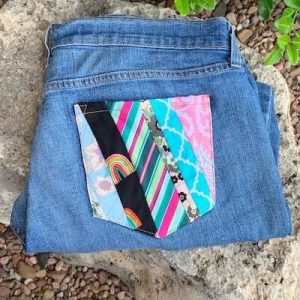 Follow the tutorial here
16. Mini Fabric Envelope Sewing Pattern by The Polka Dot Chair
These mini-fabric envelopes are so cute and fast to make that you'll want to make them by the dozen! They are created using pieces from a ten-inch pre-cut fabric pack, but you can also use any fabric scraps you have! Turn them into adorable Valentine's Day decorations, or gift them with a sweet treat inside!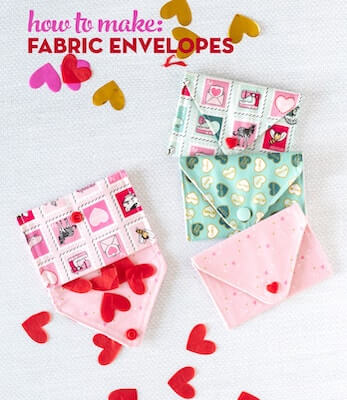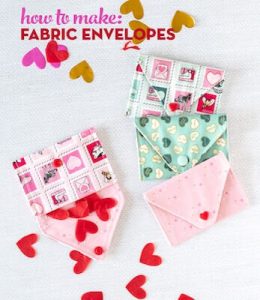 Follow the tutorial here
17. Fabric Birdhouses by Pillar Box Blue
These fabric birdhouses make a lovely decoration or handmade gift. They are very simple to make and affordable as they just use cardboard and fabric scraps. Personalize your birdhouses by using a favorite old shirt to make them with and add your own touches such as a pom pom trim. They look great on a gallery wall in a variety of sizes.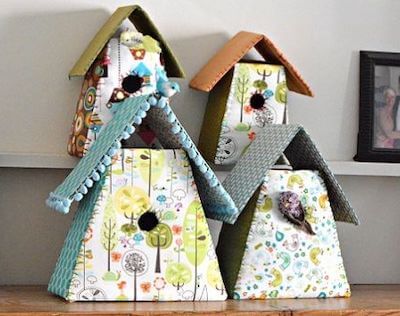 Follow the tutorial here
18. Fabric Flower Headbands by Elizabeth Made This
These simply fabric flower headbands are a quick little project you can make from scrap fabric. These would make a great wearable addition to an Easter basket and a fun, anything goes project that's suitable for beginning sewists and up. Make your fabric flowers simple or make them as elaborate as you want, you cannot mess this up!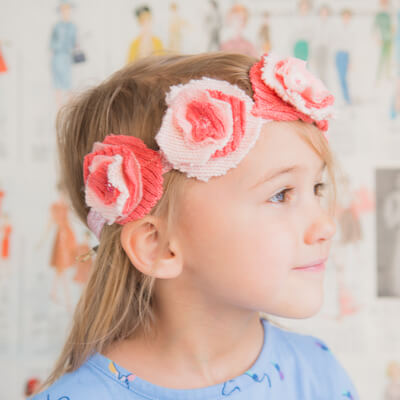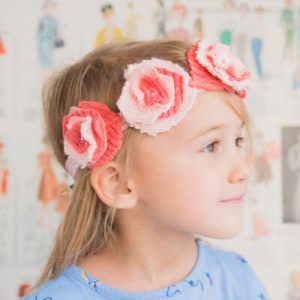 Follow the tutorial here
19. Easy Corner Book Marks by Quilters Candy
These quick fabric corner bookmarks can be made from fabric scraps, take no time at all and would be great paired with a book or bookstore gift card!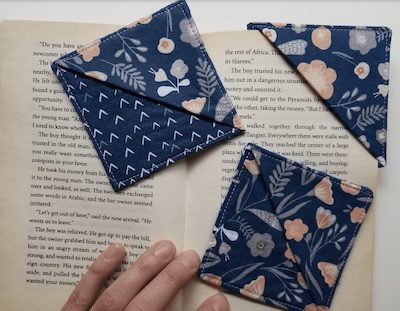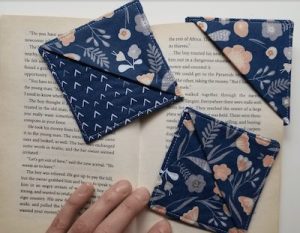 Follow the tutorial here
20. Stuffed Fabric Letters by Sew, Jahit
Transform fabric leftovers into big letters stuffed with filling like plush toys. Spell out your kid's name or your favorite quote and set them onto the wall, bed frame, shelf, or the top of the closet as a creative and unique decorative piece.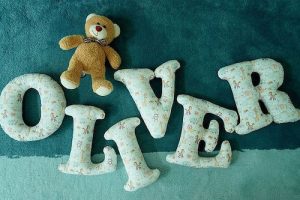 Follow the tutorial here
21. Origami Fabric Butterflies by Hello Sewing
I can see these DIY fabric butterflies in silver and white on Christmas trees, attached to girls scrunchies, as pretty décor on parcels, or as place name holders. Each butterfly takes just a few minutes to make.
You can decorate them with the tiny but beautiful bits of lace that you haven't been able to throw away, and the eyes on the butterfly wings can be made from odd beads and sequins you have been saving.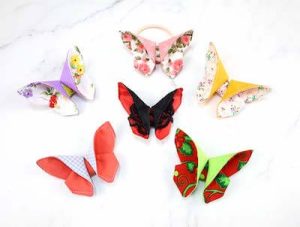 Follow the tutorial here
22. No-Sew DIY Pencil Case by Everyday Dishes
Be original when it comes to school supplies! Send your student off with a cool-looking DIY pencil case that's one of a kind and easy to make. What's the best part? No sewing required! Sift through your scrap fabrics or splurge on material you think your little one would like. You don't need much so it won't break the bank.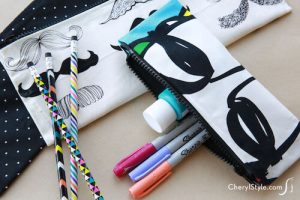 Follow the tutorial here
23. Scrap Fabric Project by Collective Gen
Here's how to use all your leftover fabric — Frame it! This is just as easy as it looks, simply insert your fabric into the frame, replace the back and away you go! This is especially good to do with printed fabrics that have lots of character and fit in with your existing colors and palette.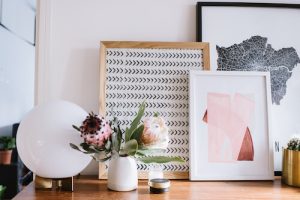 Follow the tutorial here
24. Scrap Fabric Pillow Project by Online Fabric Store
With leftover scraps of fabric you can create this fun, decorative throw pillow. No machine is required, just hand stitching. You can stitch the shapes closer together or farther apart depending on how full you want the pillow to look. It's a great way to use up those leftover scraps of fabric and re-use them.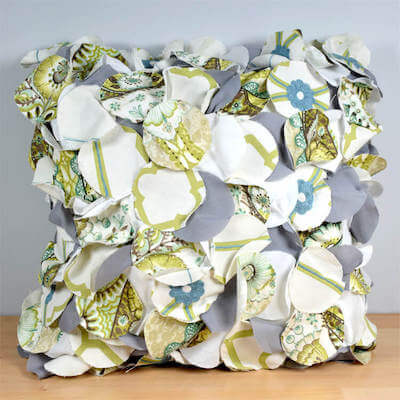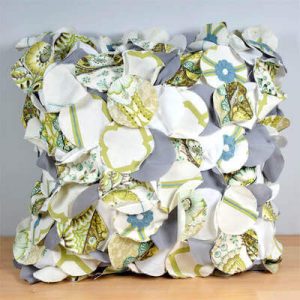 Follow the tutorial here
25. Scrap Fabric Appliqués by I See Fabric
Appliqués from fabric scraps can really transform an item. Not only are they great fun fir children's clothing and accessories, but they can also be used to patch up holes or hide stains, thus expanding the lifespan of your favorite items. Add a special touch to your project with appliqués!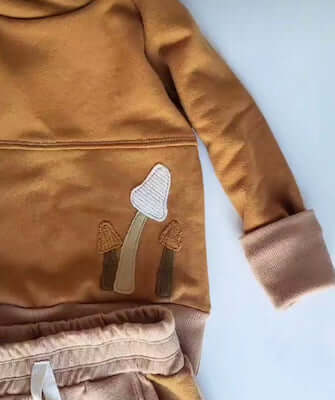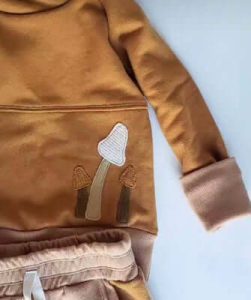 Follow the tutorial here
26. Fabric Reusable Bowl Covers by Wunderlabel
Ditch your plastic wrap and opt for fabric bowl covers, instead! These are a super cute way to store leftovers in your fridge or to bring a dish to picnics! Just stretch the cover over and reuse it again and again!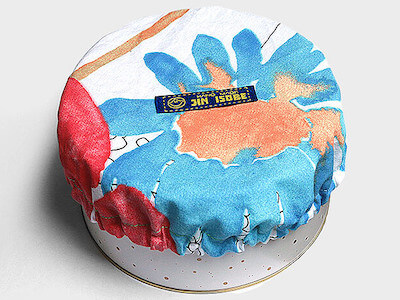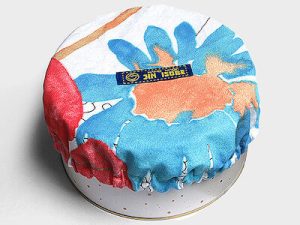 Follow the tutorial here
27. Upcycled Fabric Gift Tag by Swoodson Says
Skip the cheap little stickers that will end up in the trash and make some fun tags from your fabric scraps and old jeans instead!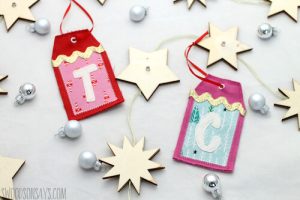 Follow the tutorial here
28. Quilted Fabric Scrap Zipper Pouch by DIY Joy
Pencil case, accessory bag, snack pouch—whatever you choose to do with this DIY zippered pouch, you'll be reducing waste by using scrap fabric that would otherwise be thrown away.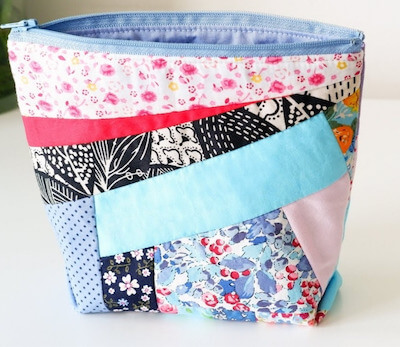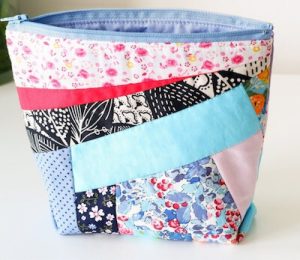 Follow the tutorial here
29. Fabric Flip Flops by Practically Functional
My favorite crafts are both functional and adorable, and that's exactly what these fabric strap flip flops are. They are super cute, totally customizable, totally comfortable, plus you can make them in about fifteen minutes, and they cost less than $5 to make!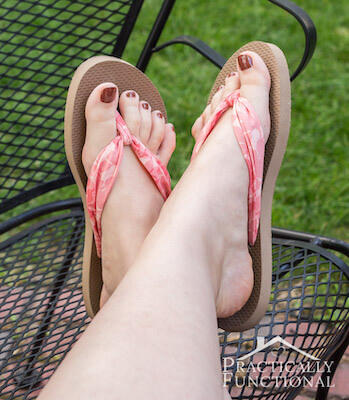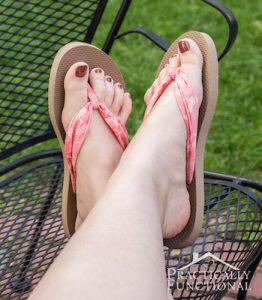 Follow the tutorial here
30. DIY Fabric Wrapped Hangers by Epicycle My Stuff
Use leftover fabric scraps to give your drab clothes hangers a stylish makeover. This easy hack also makes your hangers non-slip so your clothes stay put instead of sliding off the hanger.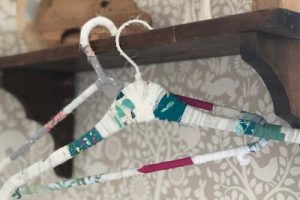 Follow the tutorial here
Scrap Fabric Projects Frequently Asked Questions
Should you keep fabric scraps?
If you often find yourself working with little pieces and doing small scale piecework, you'll probably want to hold onto even the smallest scraps. If you're not interested in doing that, only save scraps the size that you think you'll actually use.
What size of fabric scraps should I keep?
When deciding what to keep, I keep most scraps that are at least two by two inches up to almost a fat quarter size. Holding onto super small scraps you won't sew with will only clutter up your space! For larger pieces, if a piece is around a fat eighth (9″ x 21″), I usually keep it folded in my stash versus storing it with my scraps.
What scraps to use?
Trimmings and leftover material from other sewing projects, Even the smallest of scraps can be patchworked together to make larger pieces.
Old clothes–including jeans, sweaters, and silk items–that have seen better days. Just cut up the good bits of fabric into scraps to use.
Smooth silk may not be as easy to work with as more durable fabrics, but even small pieces can find a second life.
How should I organize my fabric scraps?
sort by color – if you find that you are short on a few colors, then combine those together to save space.
sort by size – if organizing by color doesn't appeal to you, organizing by size is also a great option. This is especially true if you find yourself using a certain size block or strip frequently, or if you have a specific project in mind once you collect enough scraps.
sort y designer – if you are a big fan of a specific designer, then store all of your fabric bits from them in one container.
USE UP SOME OF THE FABRIC SCRAPS TAKING OVER YOUR SEWING SPACE BY MAKING ONE OF THESE CUTE SCRAP FABRIC PROJECTS!
I hope you liked this roundup of pretty and easy scrap fabric projects! If you found at least one you really loved and get to make it, please let me know how it turned out by sharing what you've made on our Facebook Page. I'm excited to see your works!
More Fabric Project Roundups:
From accessories to home decors and more, you'll run out of fabric long before you run out of ideas with these scrap fabric projects!